Tips for Surviving as a Photographer Mom & 11 Inspiring Examples
Being a photographer mom is like trying to solve a Rubik's cube while riding a unicycle. It takes a lot of skill, patience, and dedication to get all the pieces in the right place without falling down.
But when you finally get it right, you feel like a total boss (for a while, because let's face it, this feeling doesn't always last for too long).
On a more serious note, as a photographer and a mother, finding the balance between work and family life can be quite challenging.
What do you do when you're in the middle of an important call with a client and your kid is smiling up at you as they smear some sticky jam – which they miraculously managed to reach on the kitchen counter – all over the carpet?
With children requiring – and deserving – your attention and the demands of running a photography business, it can be overwhelming to juggle both responsibilities.
In this article, we'll provide 5 tips for surviving as a photographer mom and maintaining a healthy work-life balance.
Read on to find inspiration from 11 Aftershoot Ambassadors who are also proud photographer moms.
1. Establish boundaries
As a photographer mom, setting boundaries between work and family life is essential.
Establish specific working hours and communicate them with your family members to ensure they understand your availability.
For example, if you have young children, you may want to schedule your shoots during their nap time or when they are at school.
Taking breaks to spend time with your family and recharge is also important.
Communicate with your clients and set their expectations for the timeframe of your work. Being clear about your availability will prevent misunderstandings and conflicts.
If you have a family emergency or event, it's okay to let your clients know and reschedule your work.
Remember, your clients are people too, and they will appreciate your honesty and professionalism.
2. Prioritize and delegate
Being a mom and a photographer are two very different roles. It can be challenging to balance your responsibilities as a career woman and a mom.
Prioritize your tasks by setting realistic goals and deadlines for yourself.
Delegate tasks that are time-consuming or outside your area of expertise, such as administrative tasks and bookkeeping.
You can also outsource some of your work to other professionals or hire an assistant to help with your workload or in backing up your images.
In photography, outsourcing some tasks, such as editing, can free up your time to focus on the creative aspects of your business.
But why outsource editing to another person when you can give it to the most competent AI editing assistant ever – Aftershoot?
You can also delegate non-essential tasks, such as social media management, which can be time-consuming.
By outsourcing or delegating, you will have more time to spend with your family or focus on other essential aspects of your business.
3. Take advantage of workflow hacks
Workflow hacks are excellent ways to speed up the time spent on photography tasks.
Consider investing in photography software that automates processes such as culling, editing, and proofing gallery or online store design.
Aftershoot saves photographers hundreds of hours annually with its AI-powered culling and editing software.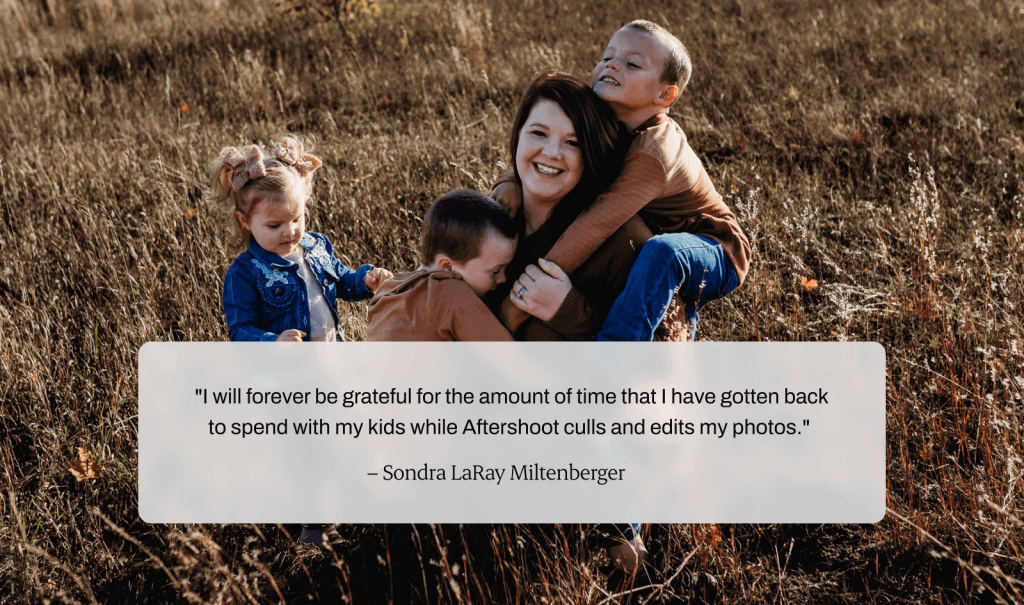 Best of all, Aftershoot works offline, so you can run the photo selection or editing functions while waiting in the car to pick the kids up at school. Start your 30-day free trial to try it out.
Besides using AI-powered culling and editing software, there are some great business management tools on the market too.
Studio Ninja is the world's highest-rated photography business app that will help simplify your administrative workflow.
We've partnered with Studio Ninja to bring you an exclusive offer!
New subscribers can now get a 30% discount on any Studio Ninja subscription by using the code AFTERSHOOT30 at checkout.
Streamlining your workflow will help you get more done in less time and free up time to spend with your family.
By investing in the right software, you can save time and still achieve consistent results.
4. Be present
As a mom, it's important to be present with your family when spending time with them.
When you're not working, put your phone and laptop away and focus on enjoying quality time with your children.
Turn off notifications and set aside dedicated family time that is free from distractions.
It is important to disconnect from work and focus on building strong relationships with your children.
Remember, your children grow up fast, and spending time with them is a precious gift.
5. Practice self-care
As a busy photographer mom, it's easy to get caught up in work and family responsibilities and neglect self-care.
Remember to take time for yourself by doing things you enjoy, such as exercising, reading, or simply taking a bubble bath.
Self-care will help you recharge, reduce stress, and improve your mental health.
Taking care of yourself will also help you perform better at work and be present with your family.
It is okay to take a break and do something that makes you happy! Doing so lets you approach your work and family responsibilities with a clear mind and a positive attitude.
You can take all the breaks you need while Aftershoot culls and edits for you. Start your 30-day free trial today!
Inspiring words from 11 photographer moms
You're not alone! Here are some words of encouragement and inspiring notes from 11 highly successful professional photographers who also happen to be great moms.
Maria Del Valle Presser
Follow Maria on Instagram
Below is a photograph of Maria Del Valle Presser and her daughters, followed by examples of her beautiful work.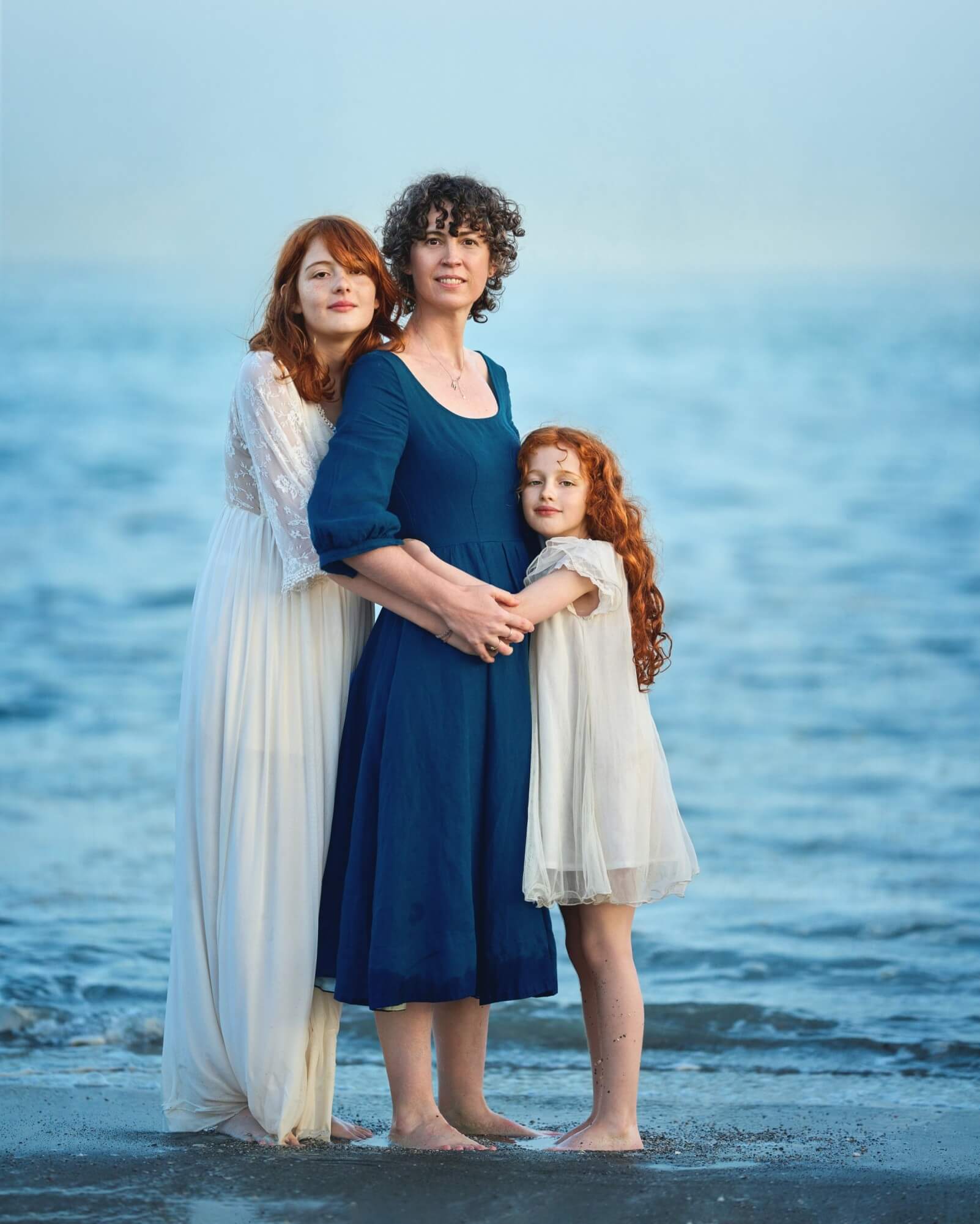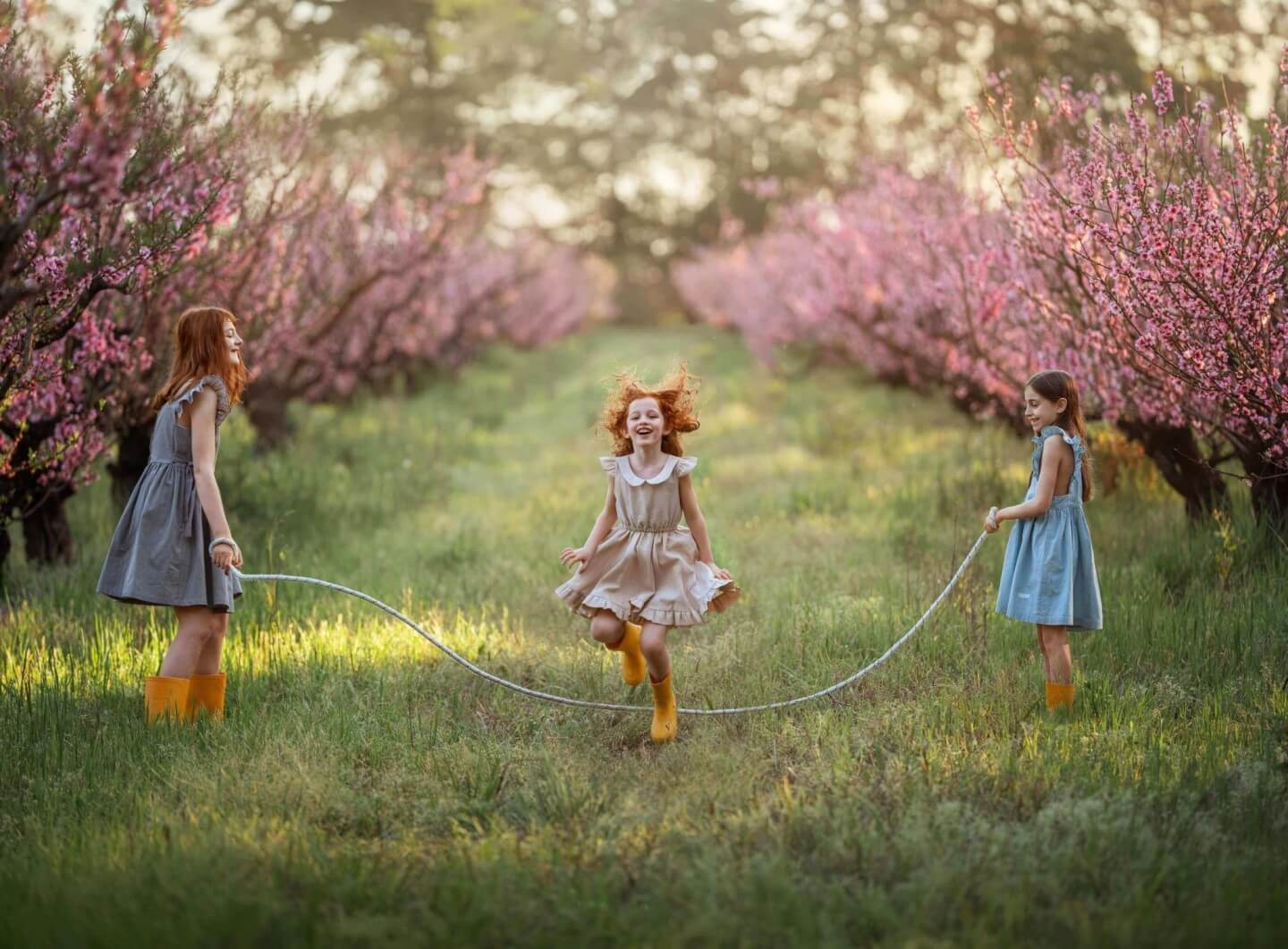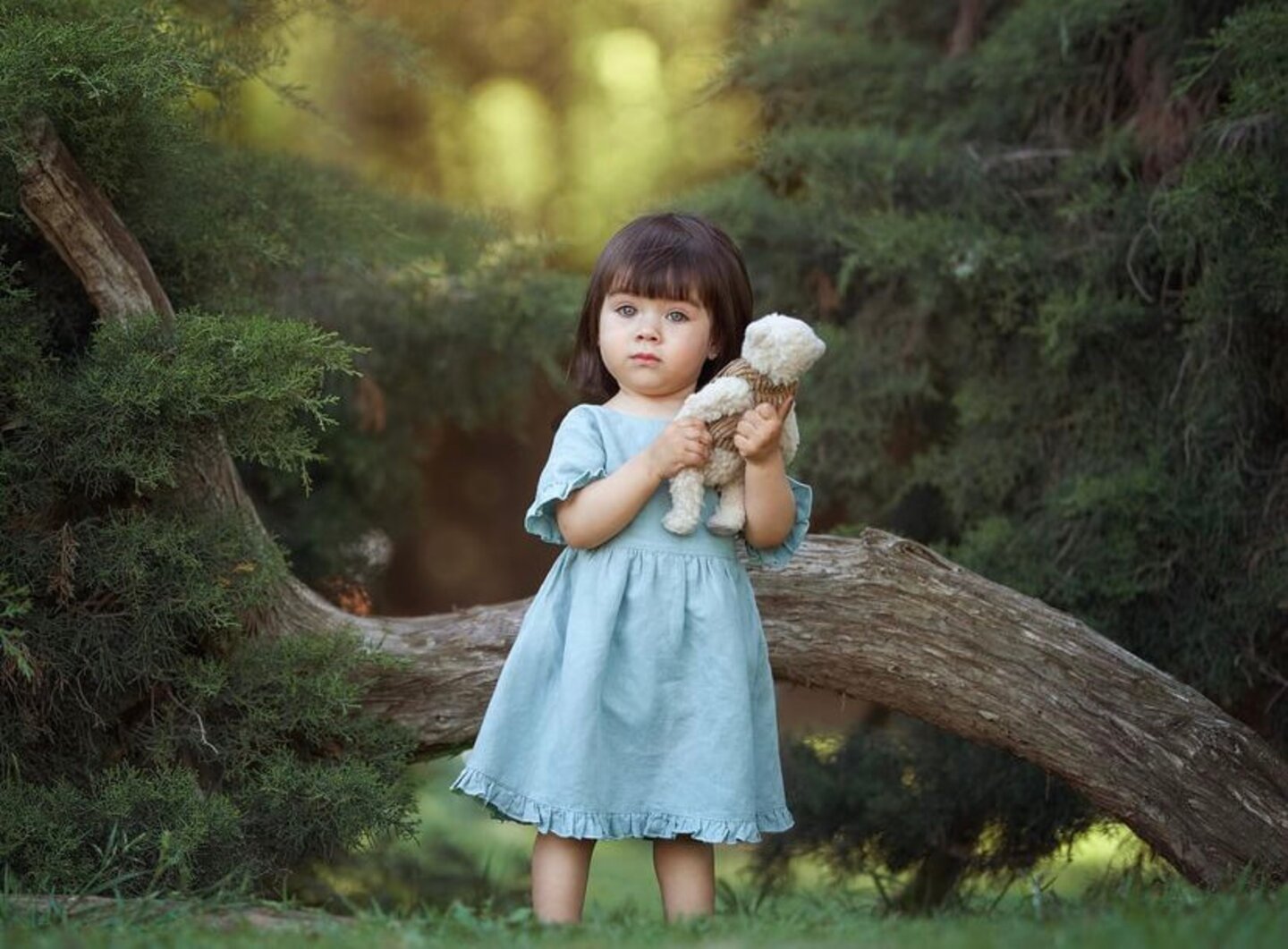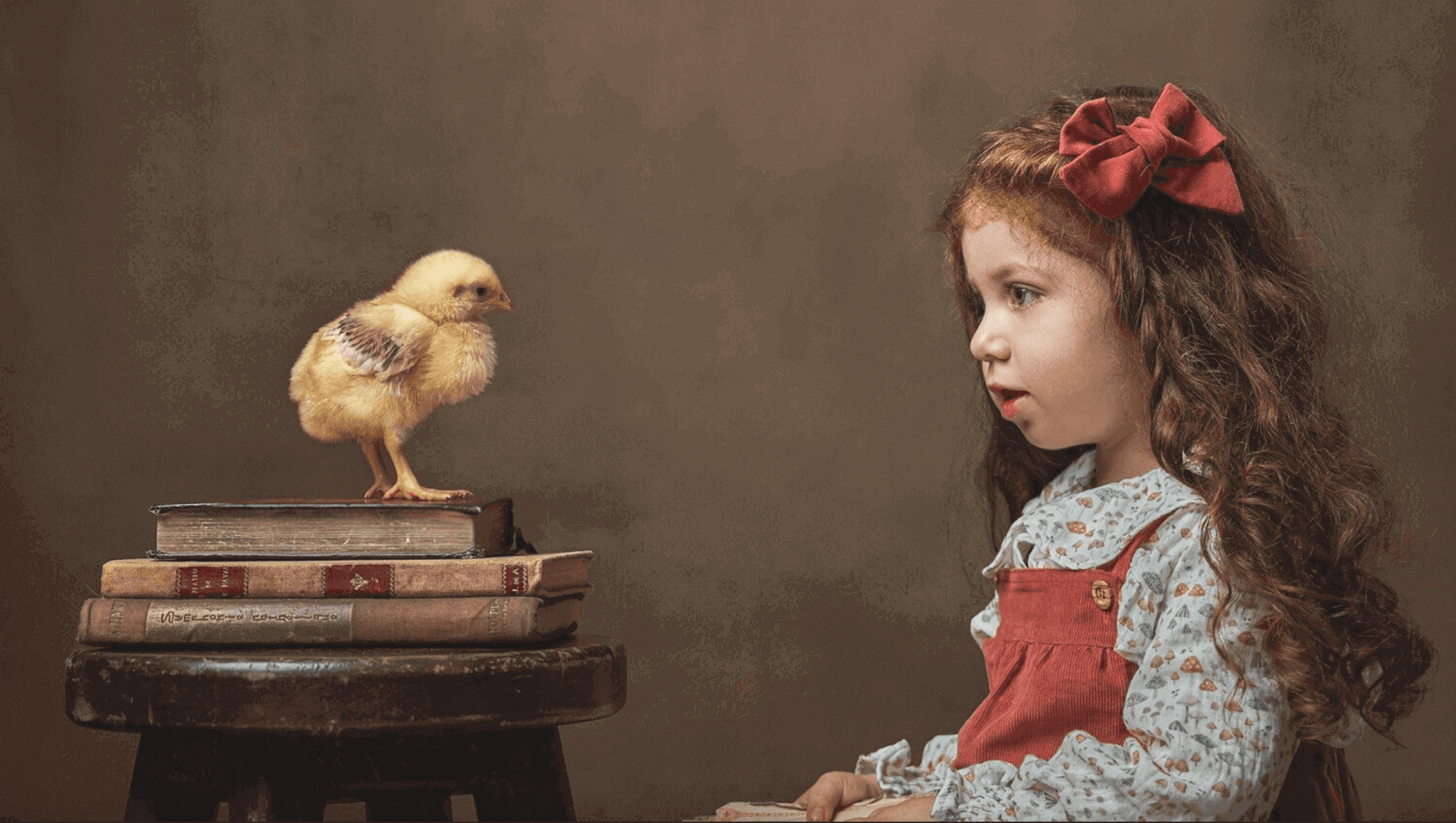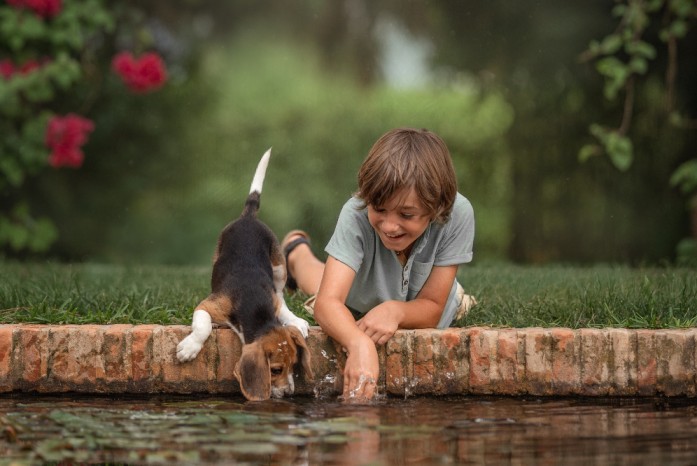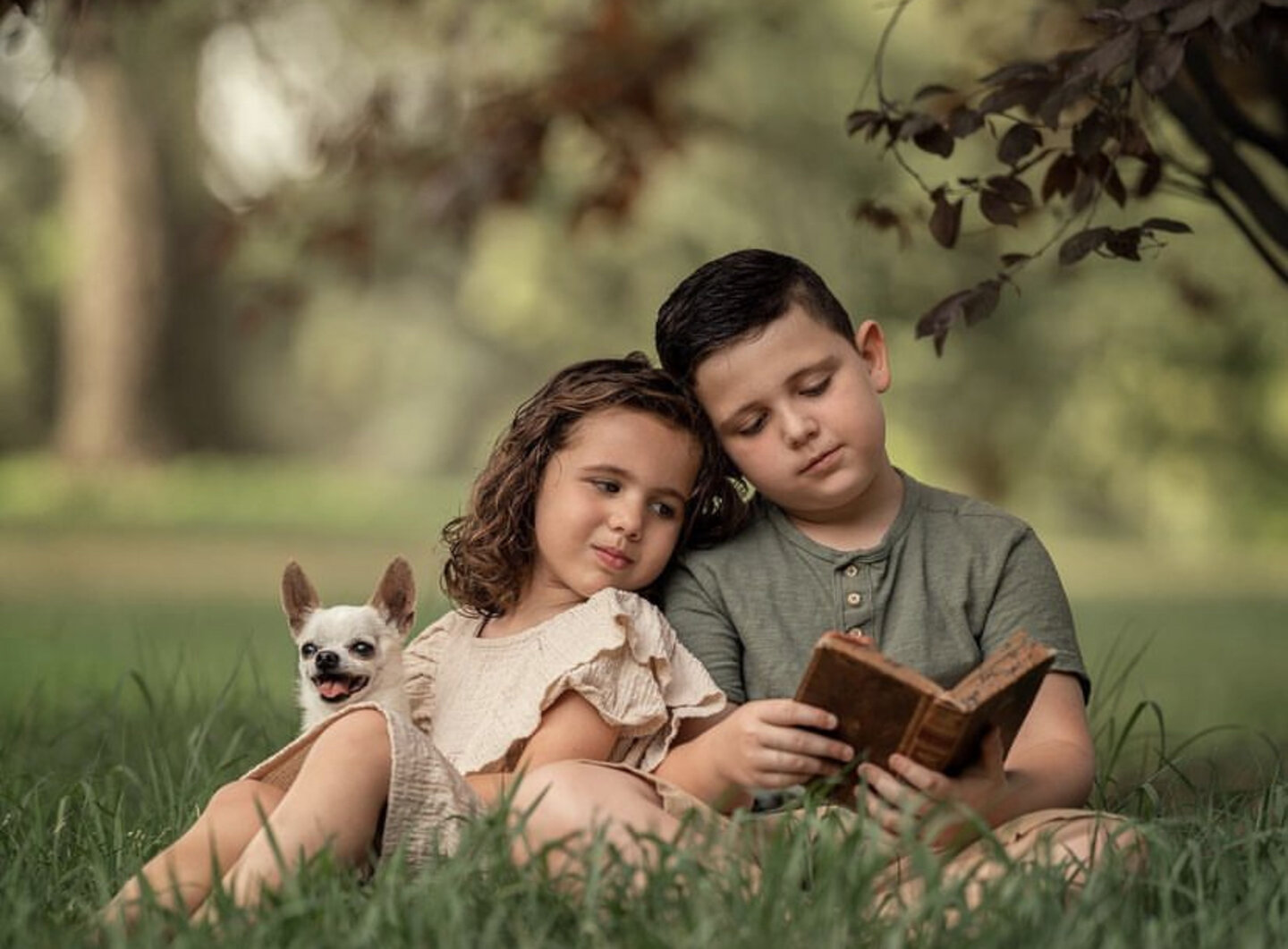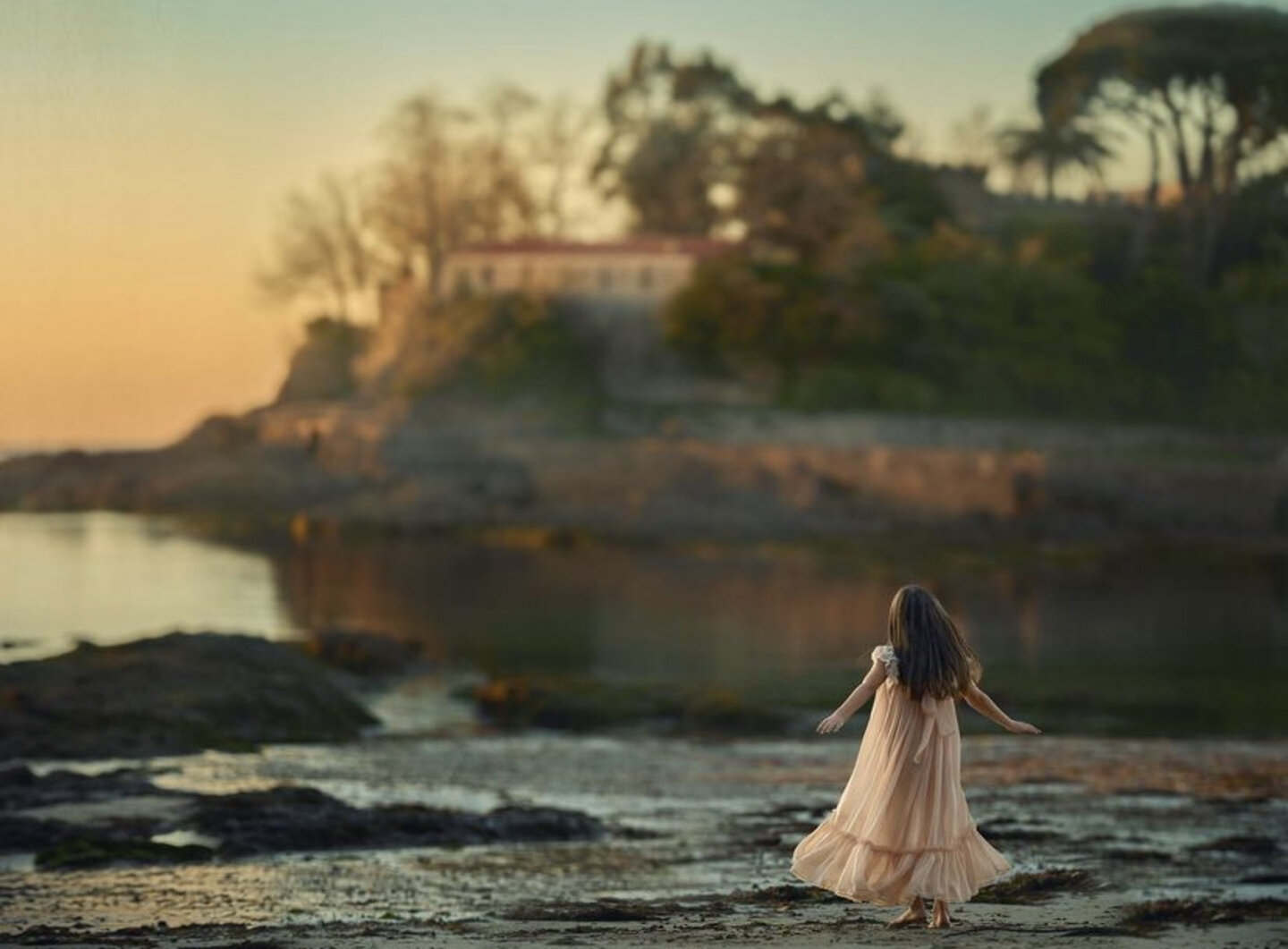 My daughters are my inspiration, my motivators, and the ones who push me to be the best version of myself.
I want them to learn that women are powerful and capable of achieving our dreams.
The challenges I have faced as a woman photographer I believe are quite common to other professions and are not limited to photography. Many of them are related to being a mother.
Starting a family is a choice I have made very consciously, however, I believe that one is not really prepared for all that it entails and one learns by doing it.
The first years of motherhood are hard for us because although we have a wonderful partner – as in my case – we are the ones who must carry out the pregnancy, childbirth, puerperium, and breastfeeding.
There are many physical and emotional changes in a short period of time. Many of us have to deal with fatigue and an overload of tasks.
Sometimes it is not easy to achieve a balance between having a successful career and a happy family. Guilt is a feeling experienced all too often.
Katrina Cross
Follow Katrina on Instagram
Below is a photograph of Katrina Cross and her children, followed by examples of her vibrant work.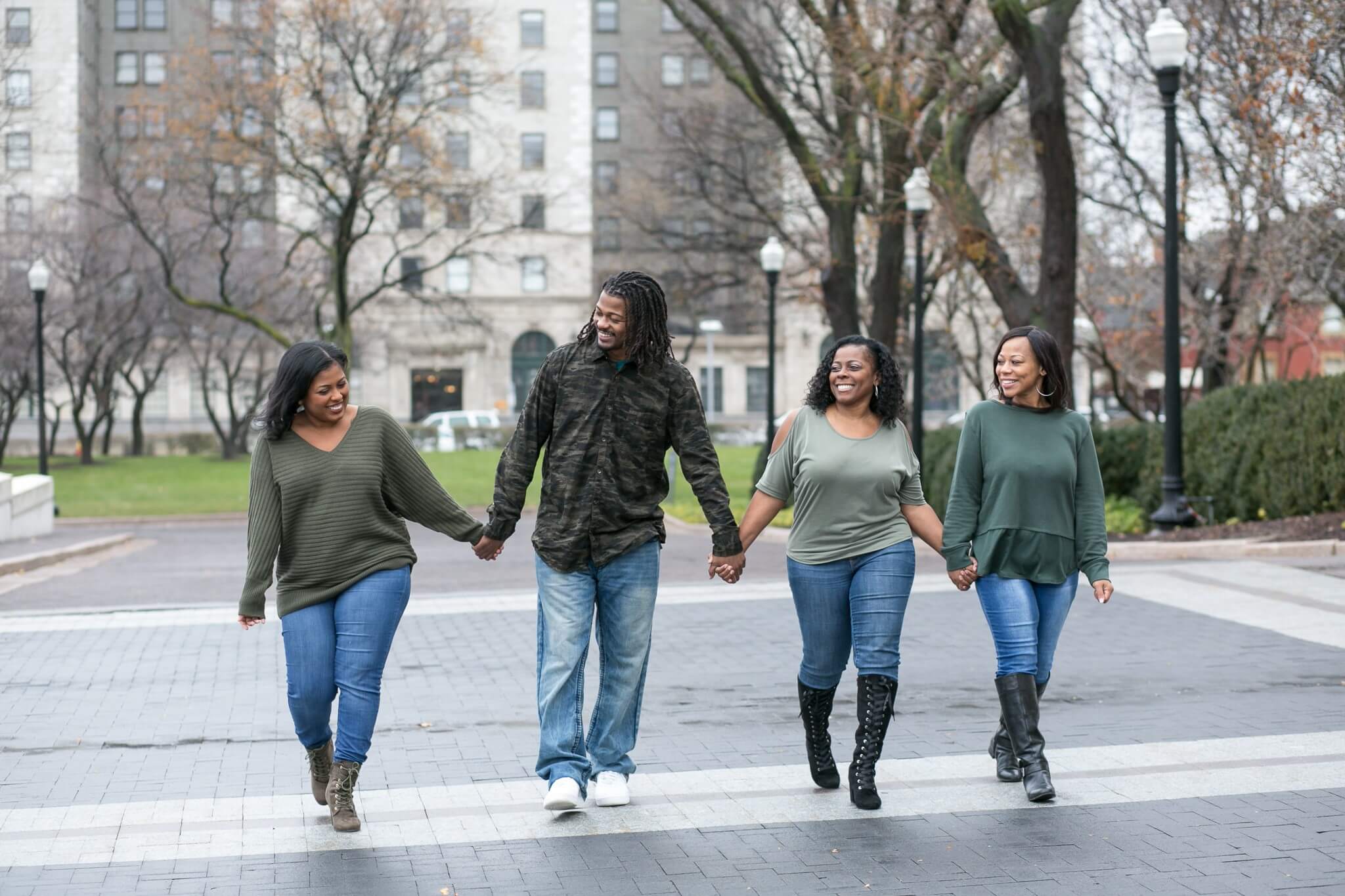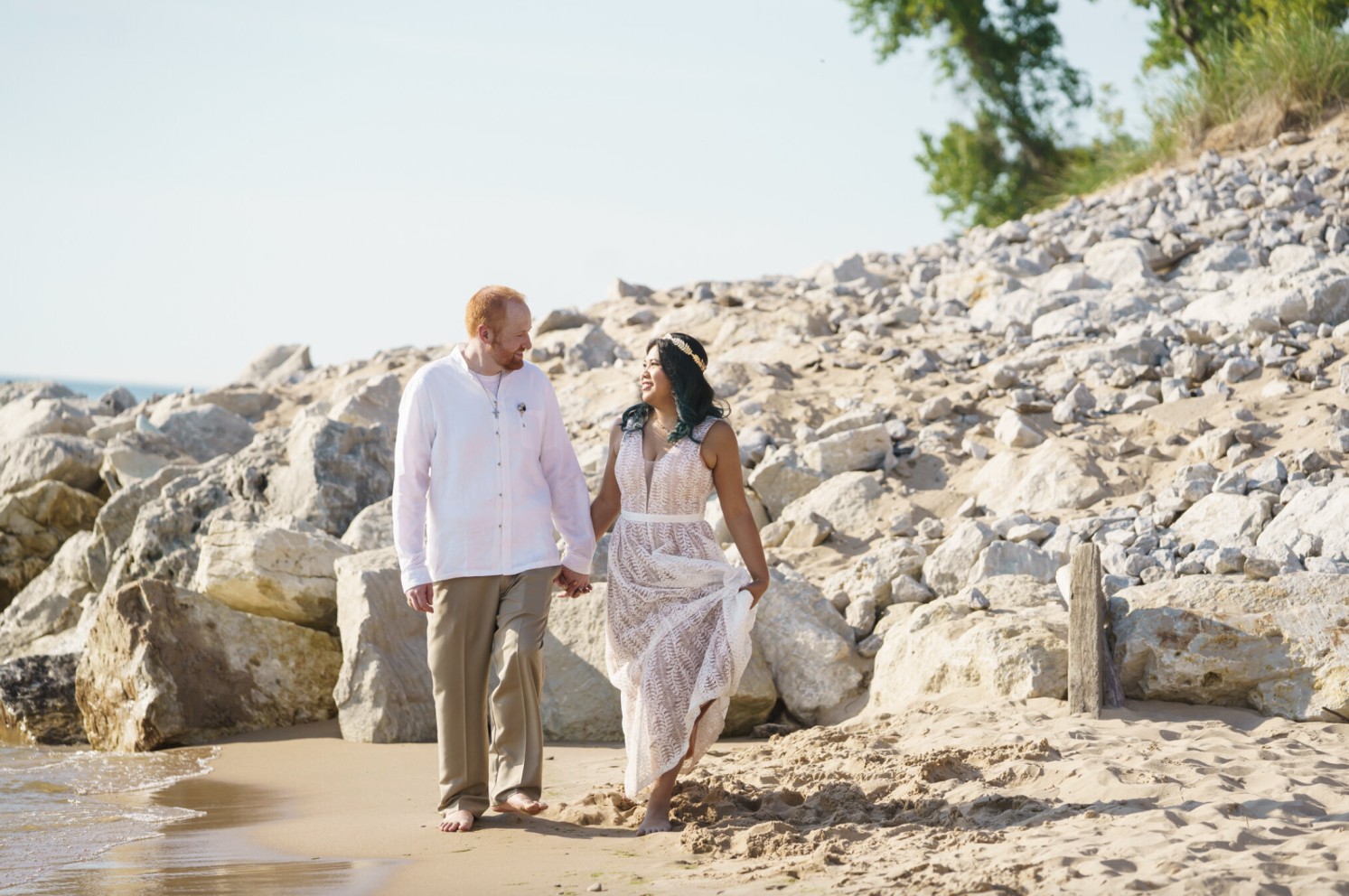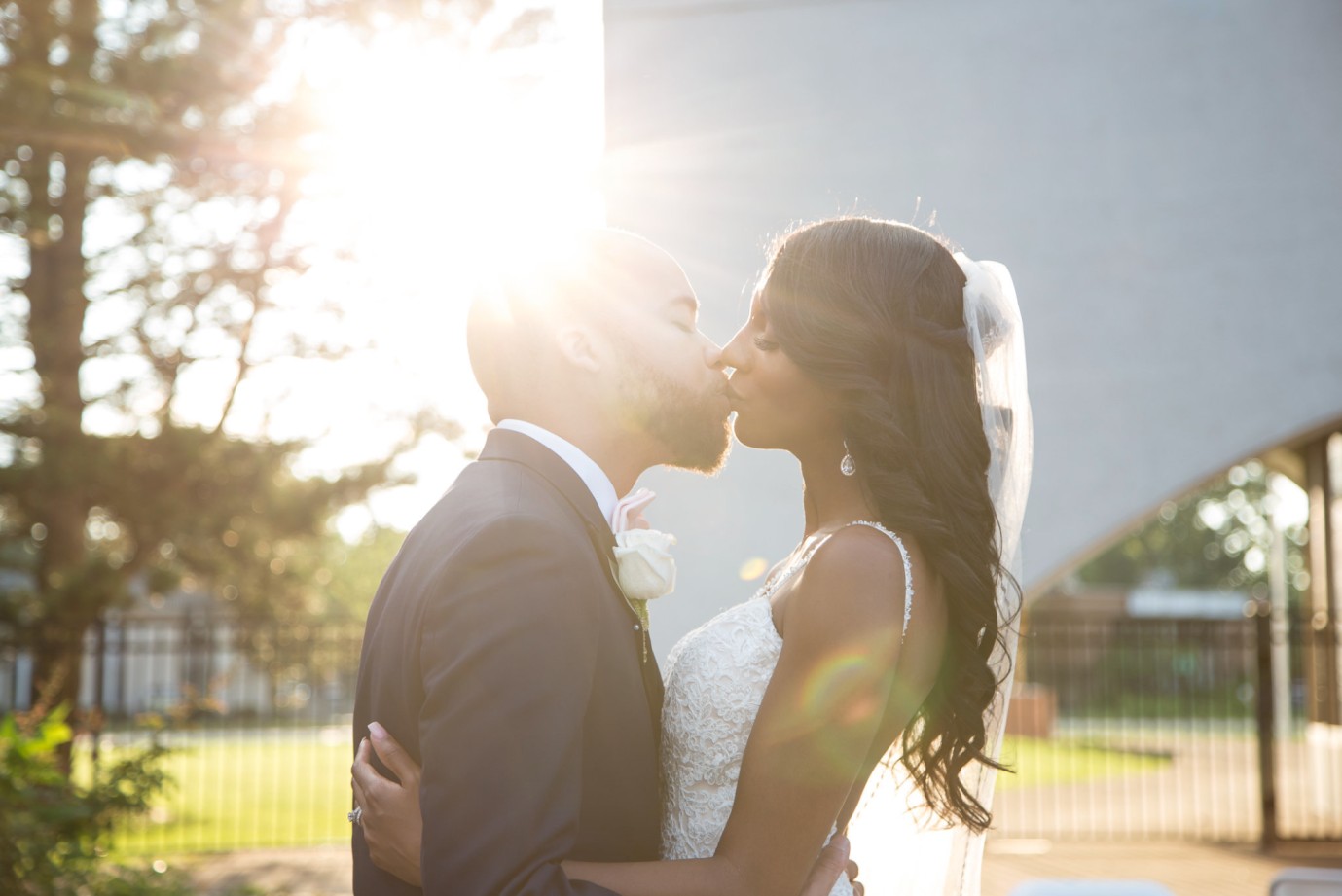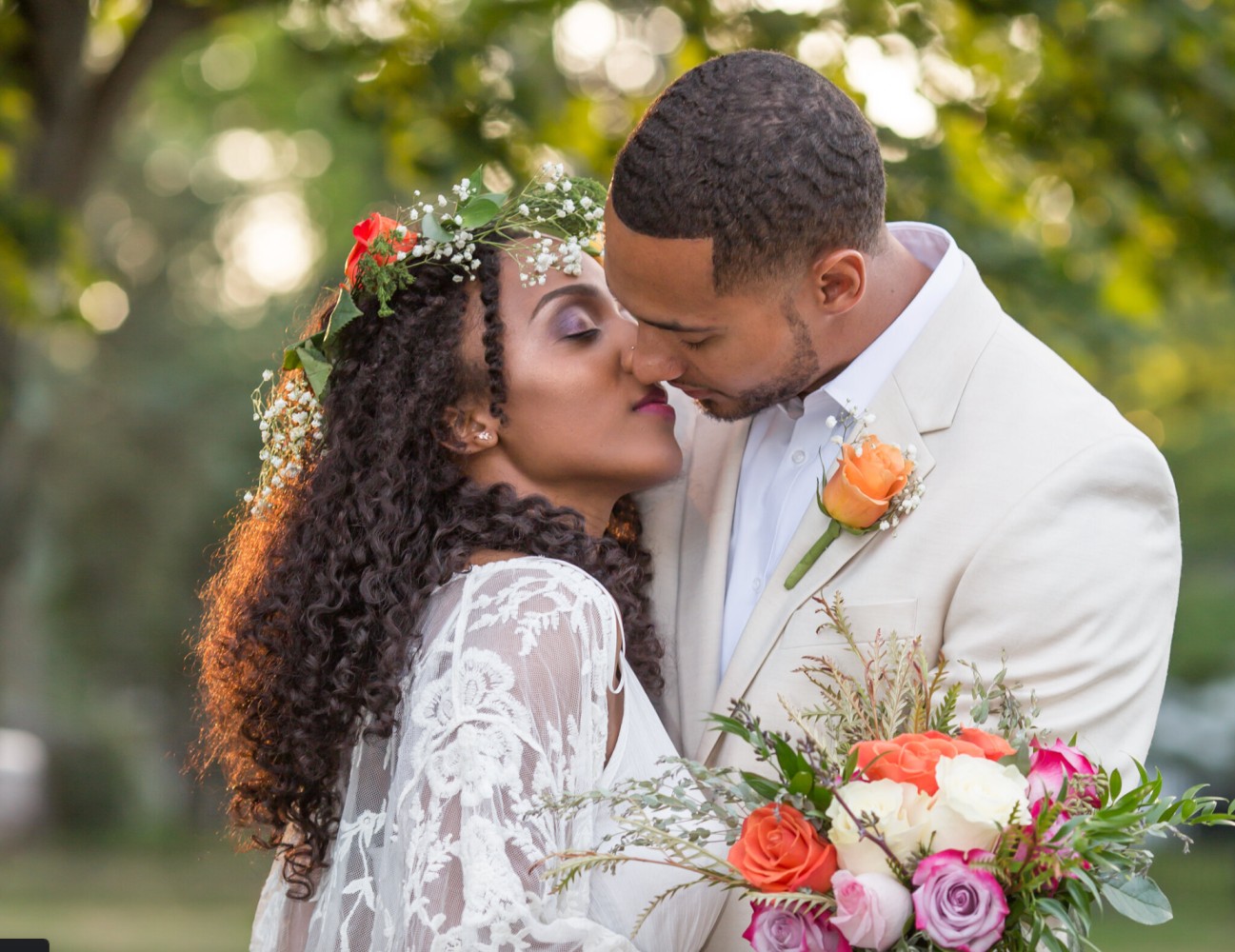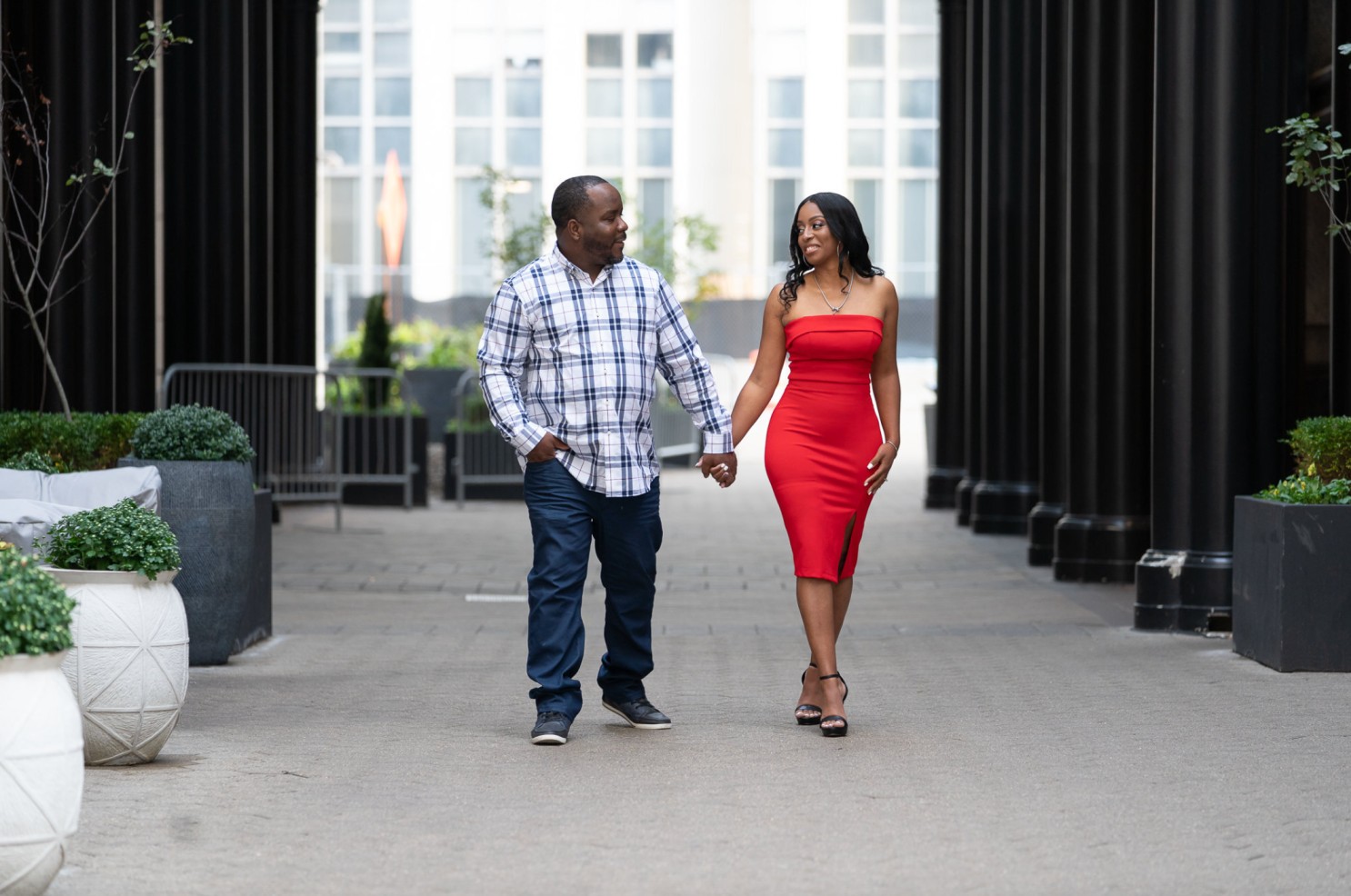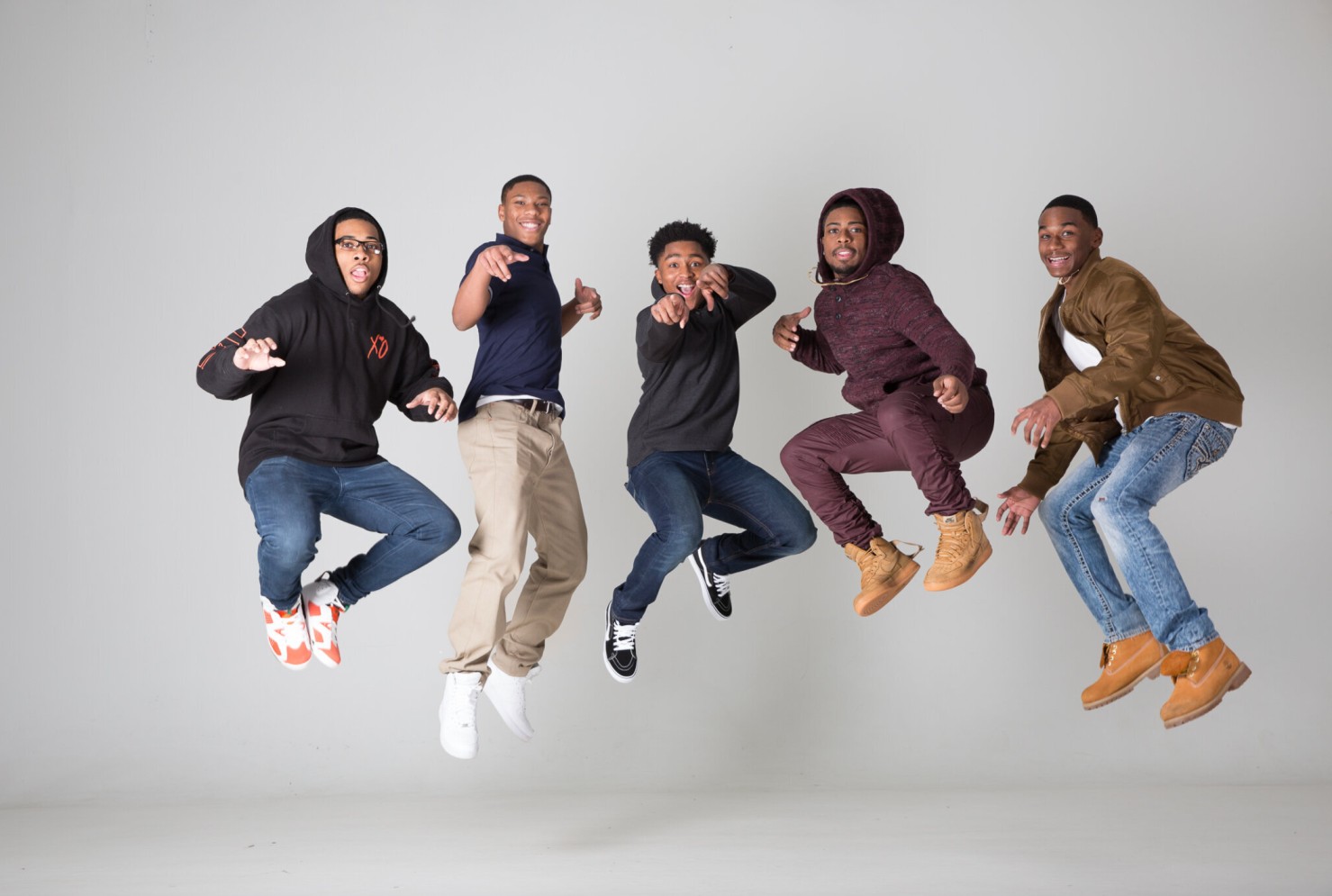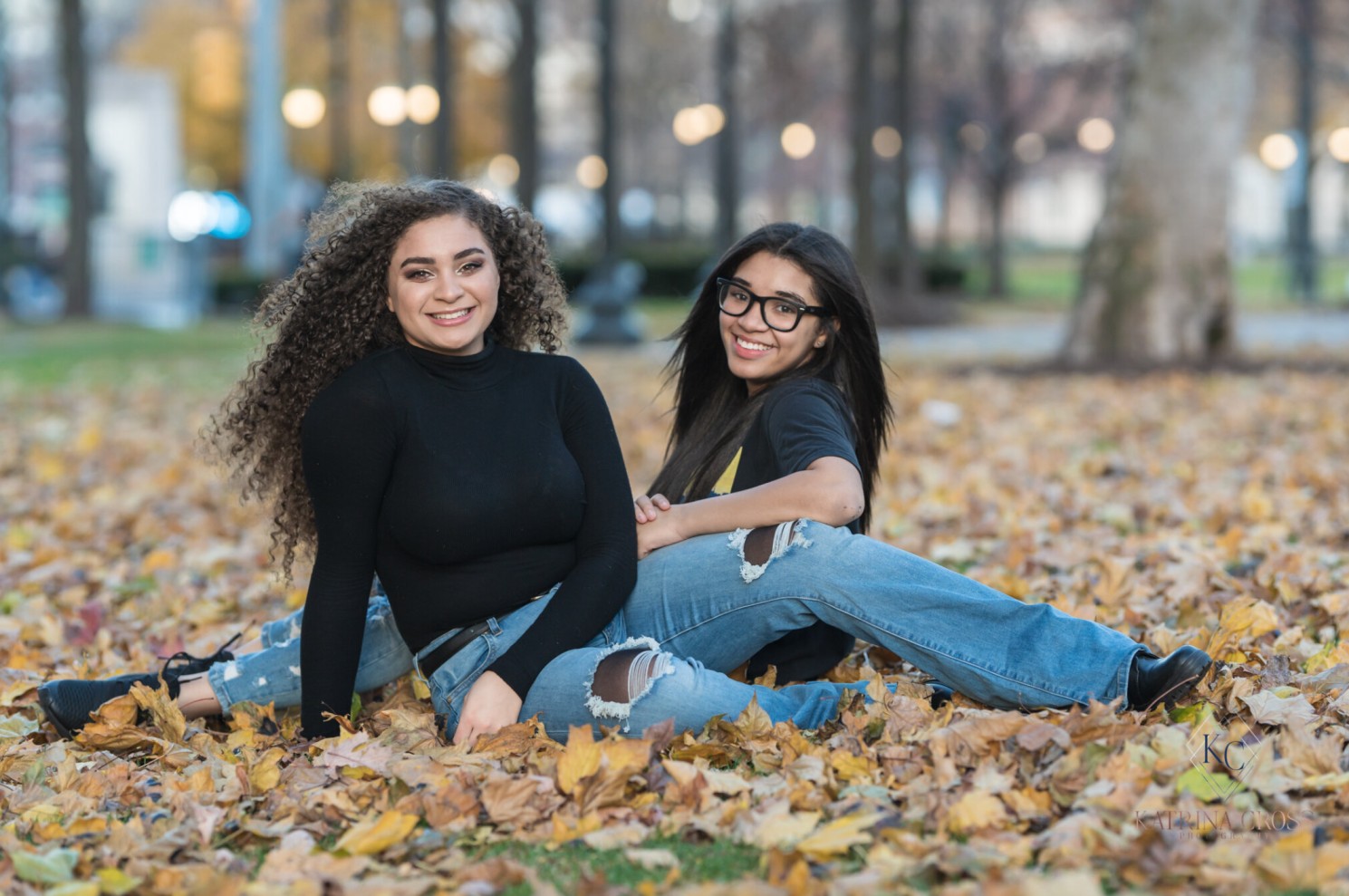 As a teenage mother, I faced many challenges and obstacles on my journey of motherhood. But today, I couldn't be prouder of the amazing adults my children have become.
Watching them grow up and become positive, influential people in their industries has been one of the greatest joys of my life.
I am also very proud of the person I have become. As a teen mom and mother of three, I never would have imagined I would be the wedding and boudoir photographer I am today.
Photography has truly changed my life and opened doors that allowed me to walk away in 2020, in the middle of a pandemic, from my corporate 9-5.
Being a full-time photographer, I learned how important it is to have systems and automation in place.
Adding Aftershoot to my workflow has truly been a game changer for my business, giving me hours of my day back. I can't thank Aftershoot enough, and love being a part of the team.
As a mother, I always wanted the best for my children, and it's truly amazing to see them achieving their goals and making a difference in the world.
From the long days and sleepless nights of their childhood to the ups and downs of their teenage years, to the challenges they faced as young adults, I have always been there to support and encourage them.
Now, as they embark on new adventures and challenges, I am filled with pride and gratitude for the amazing people they have become. They inspire me every day.
Being a mother has been the greatest privilege of my life, and I am so grateful for the love and joy that my children have brought into my life.
To my wonderful children, thank you for making me the proudest mother in the world. I love you more than words could ever express.
Sondra LaRay Miltenberger
Follow Sondra on Instagram
Below is a photograph of Sondra LaRay Miltenberger and her kids, followed by examples of her gorgeous work.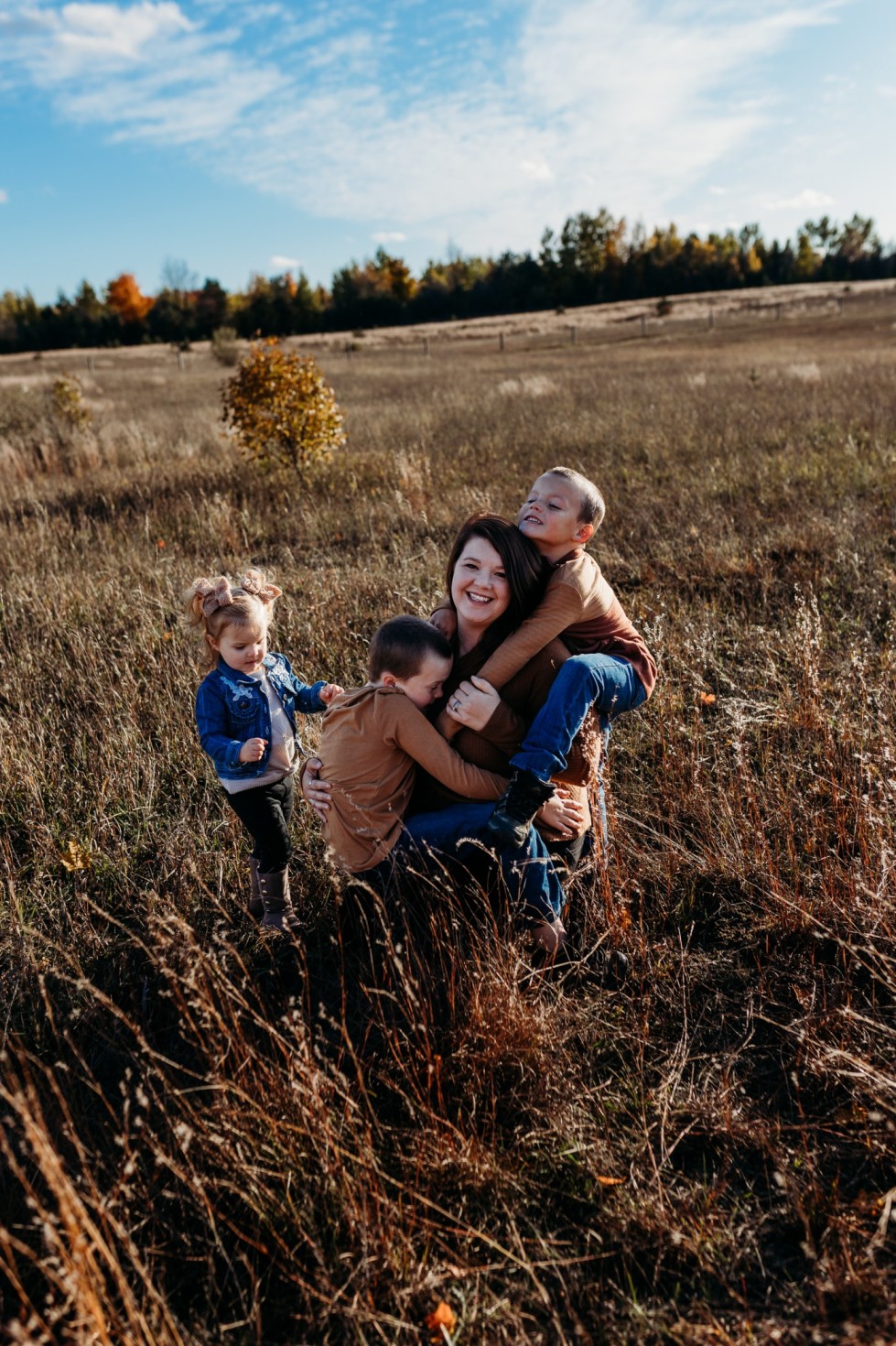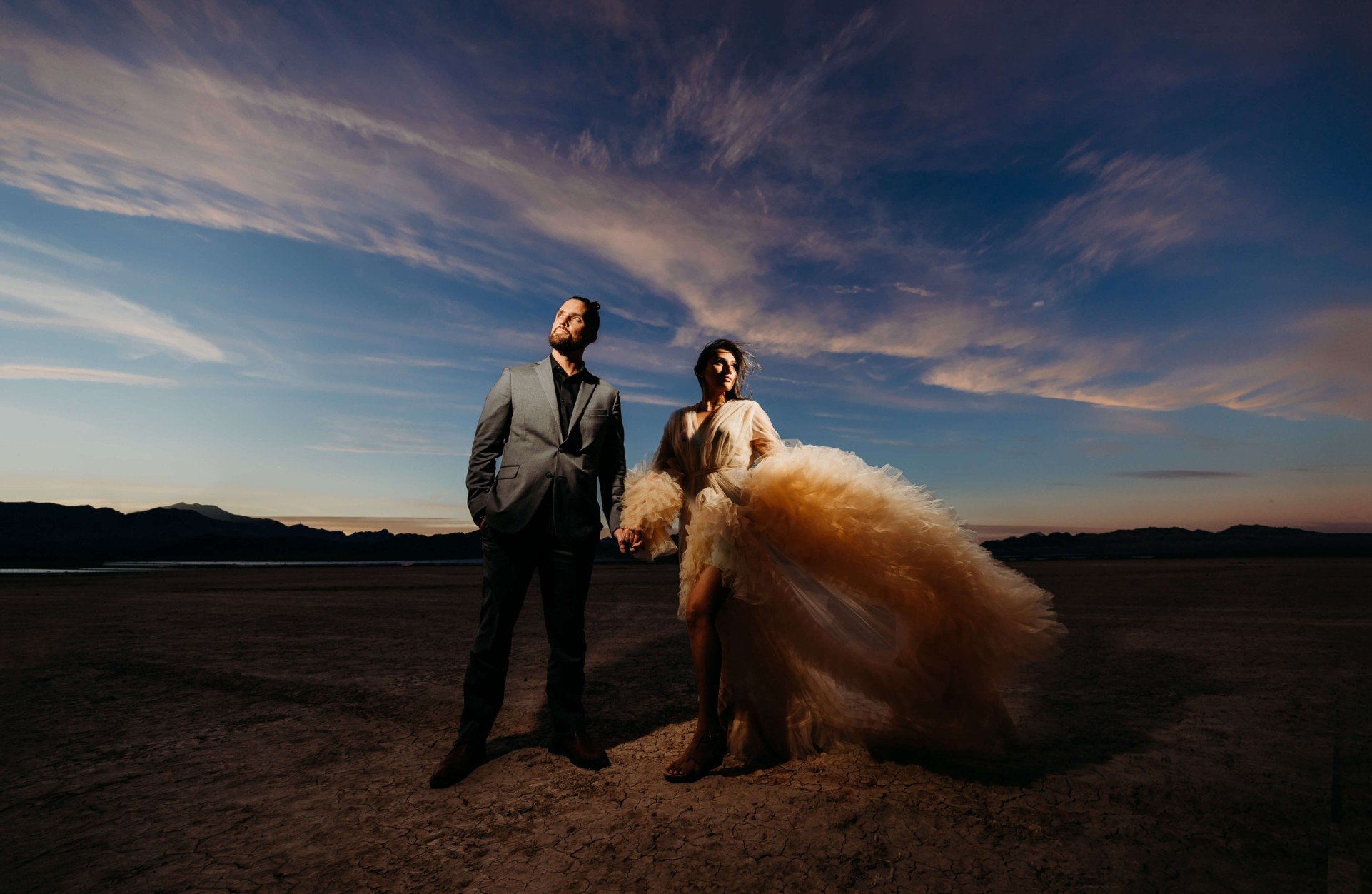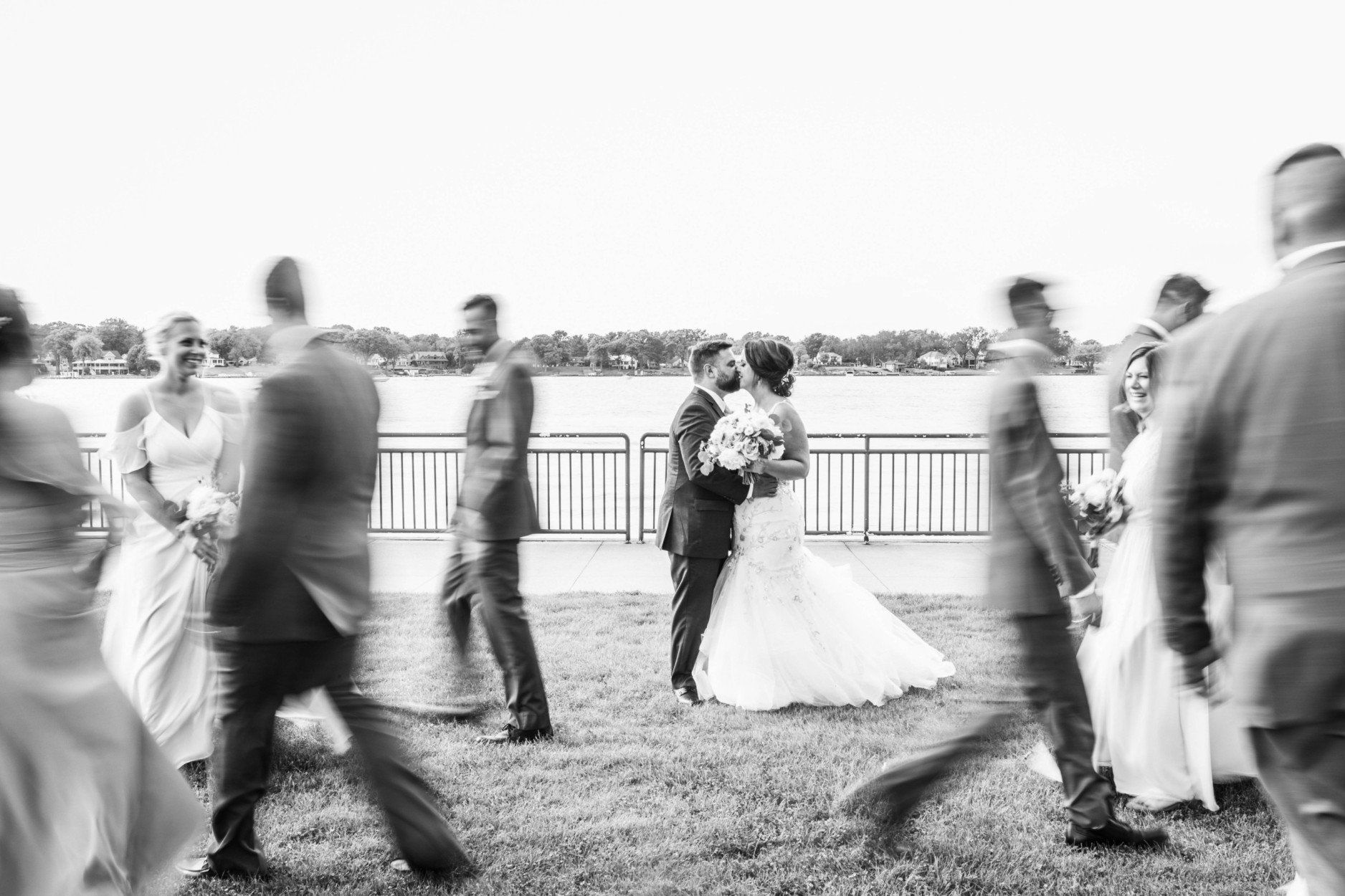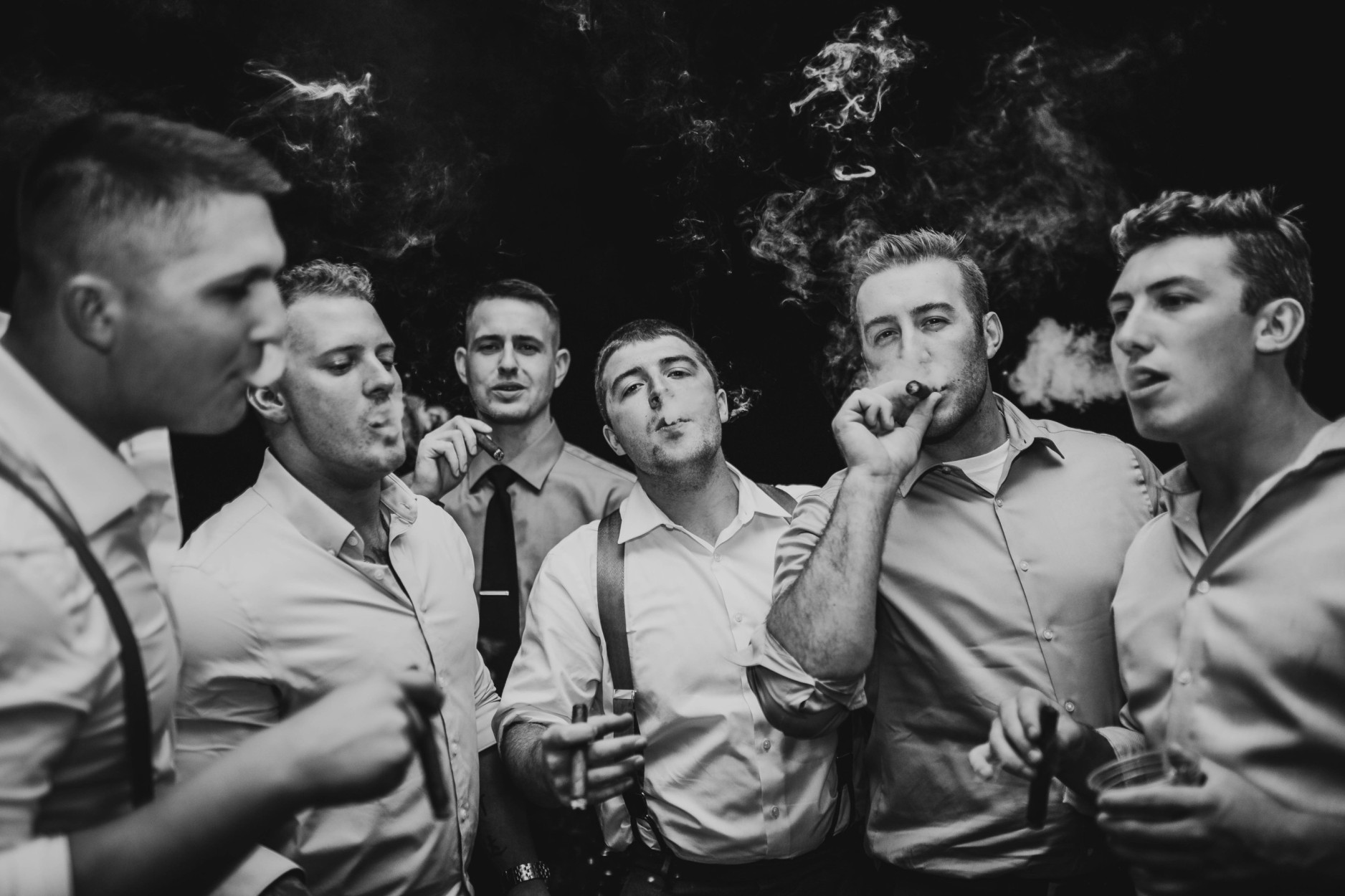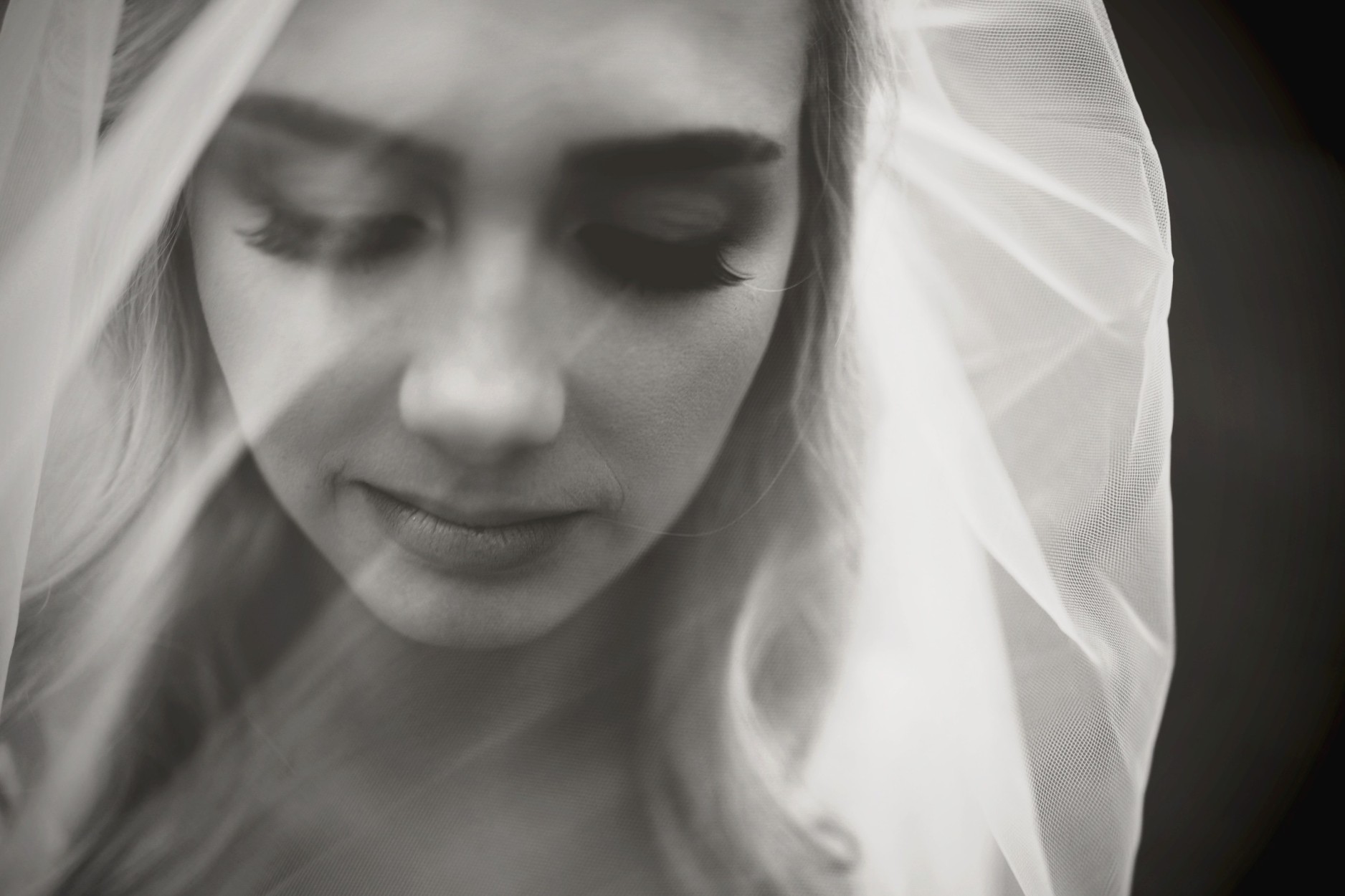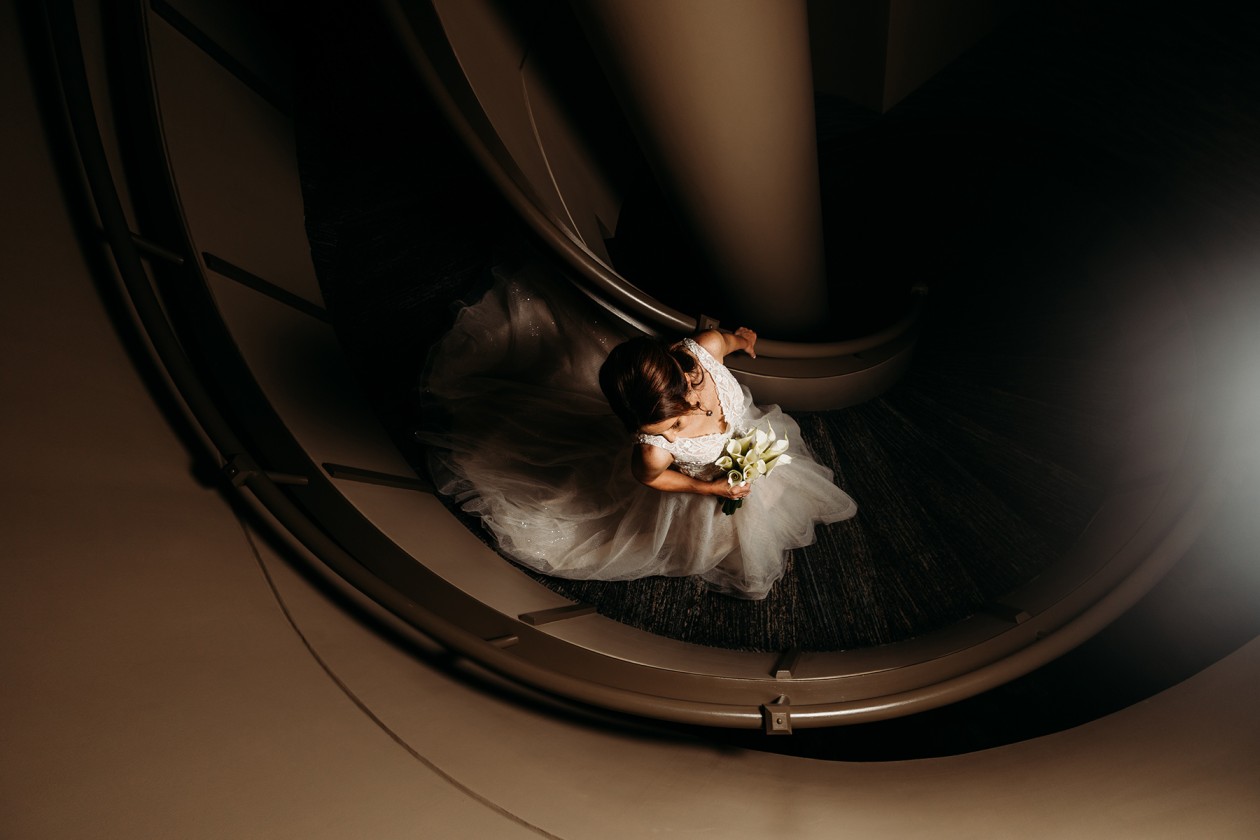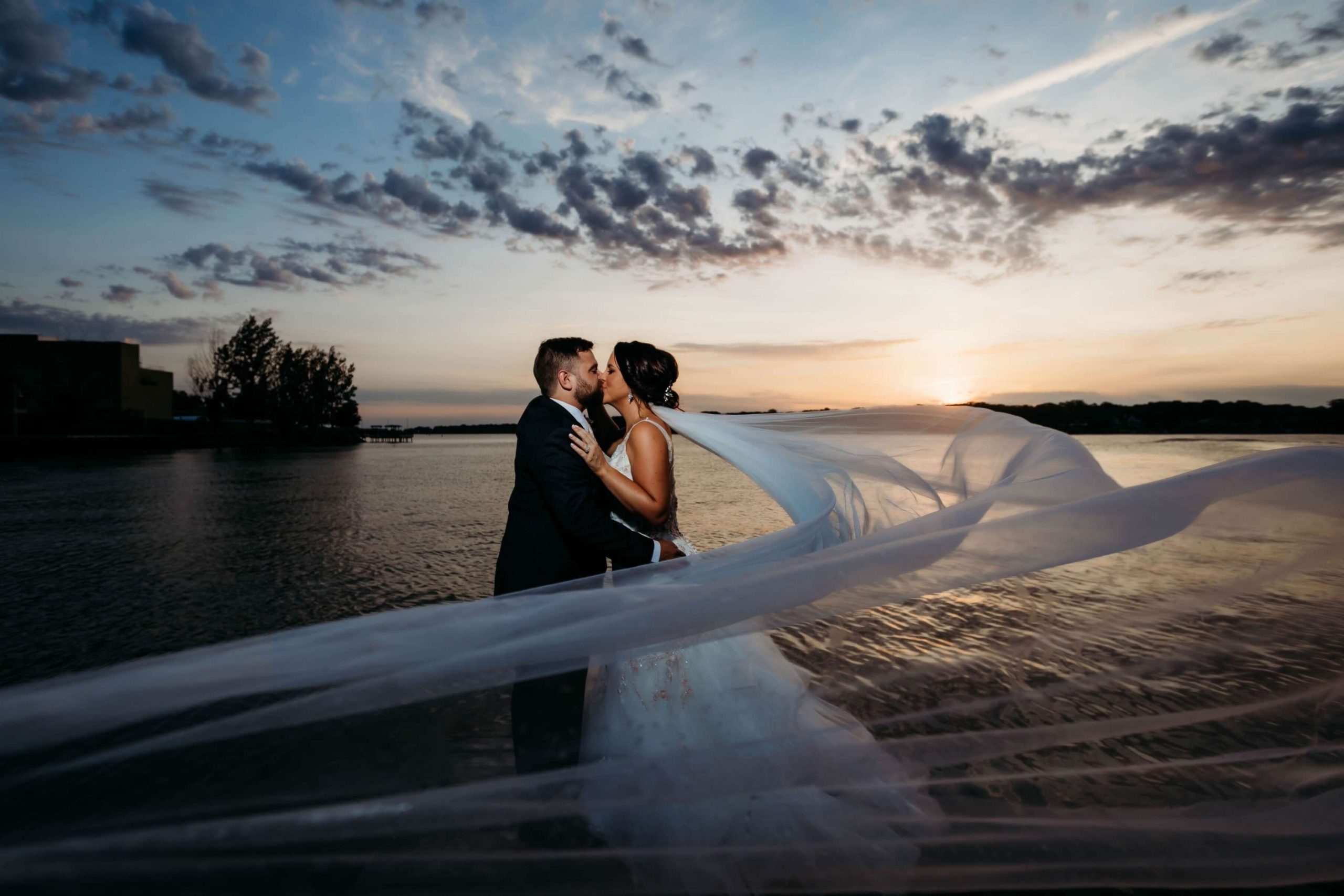 I want to just start by saying thank you to Aftershoot.
I'm a mom of three crazy, chaotic, sweet, and loving kiddos. We go outside and ride four-wheelers, go-karts, play make-believe, and so much more.
The amount of time that I have gotten back to spend with my kids while Aftershoot culls and now edits my photos, I will forever be grateful.
I hit a button and can fully trust Aftershoot and walk away and make dinner or play with my kids, and let me tell you, that is a game-changer!
LaJune King
Follow LaJune on Instagram
Below is a photograph of LaJune King and her two little ones, followed by examples of her striking work.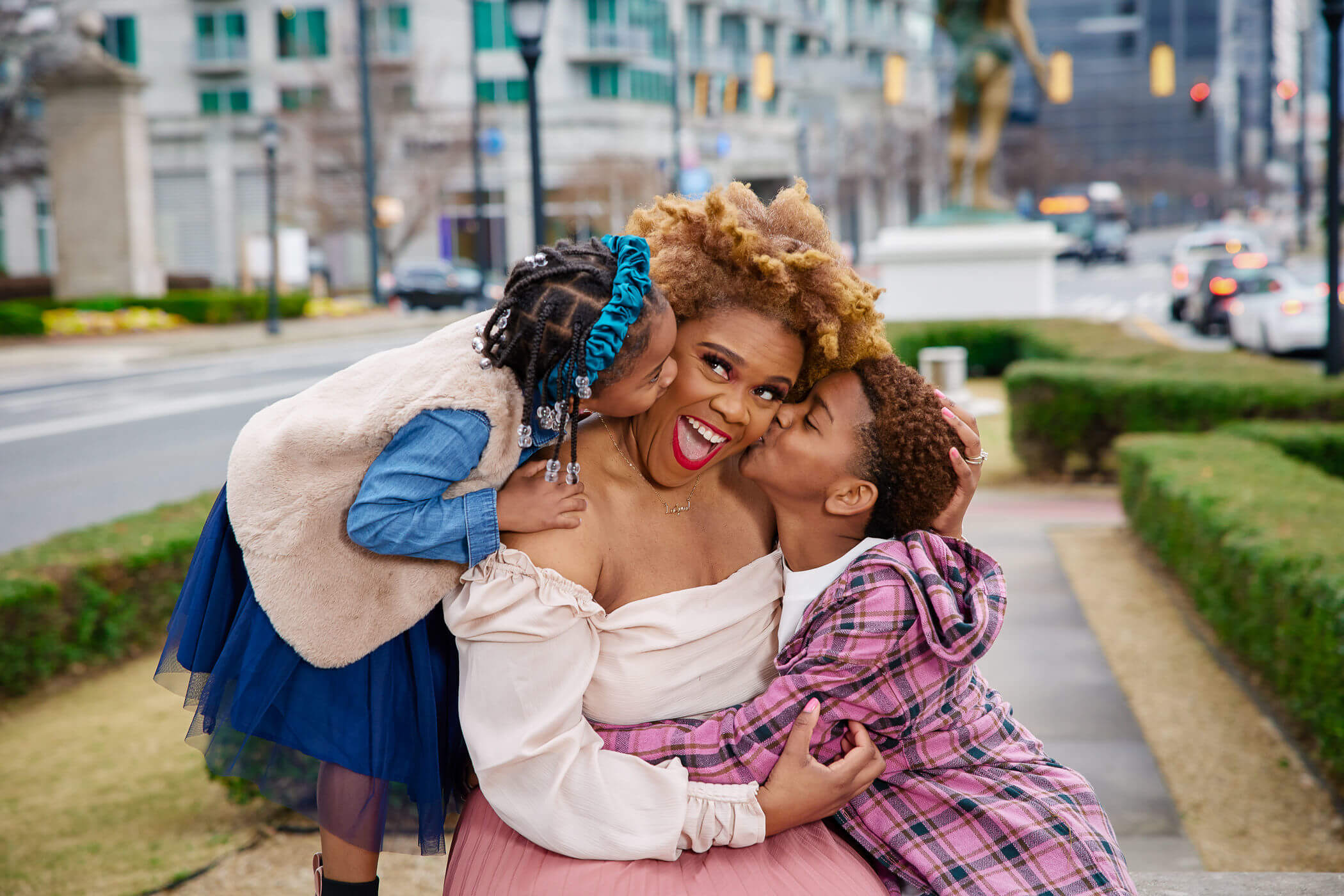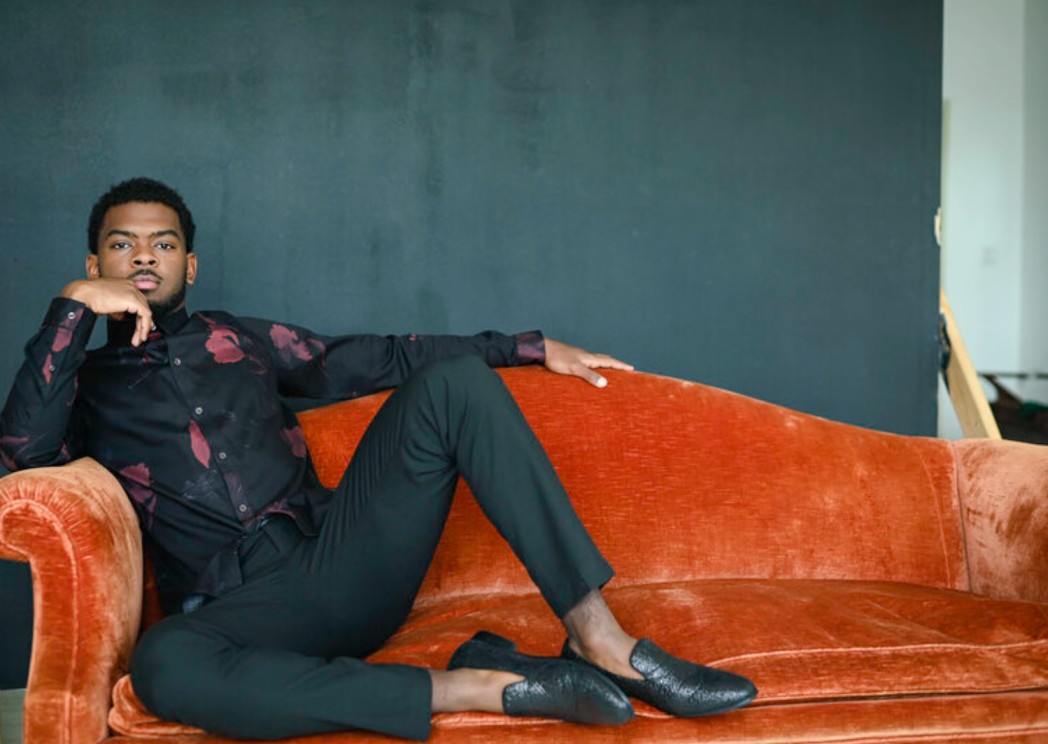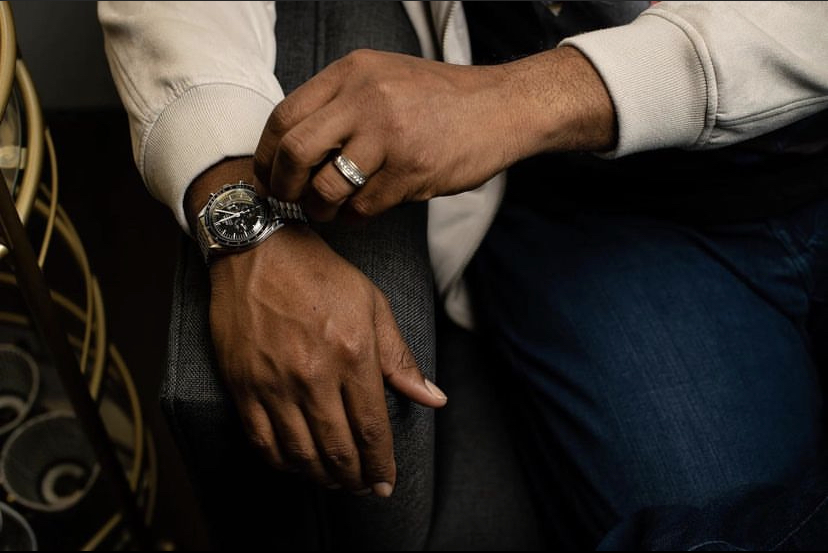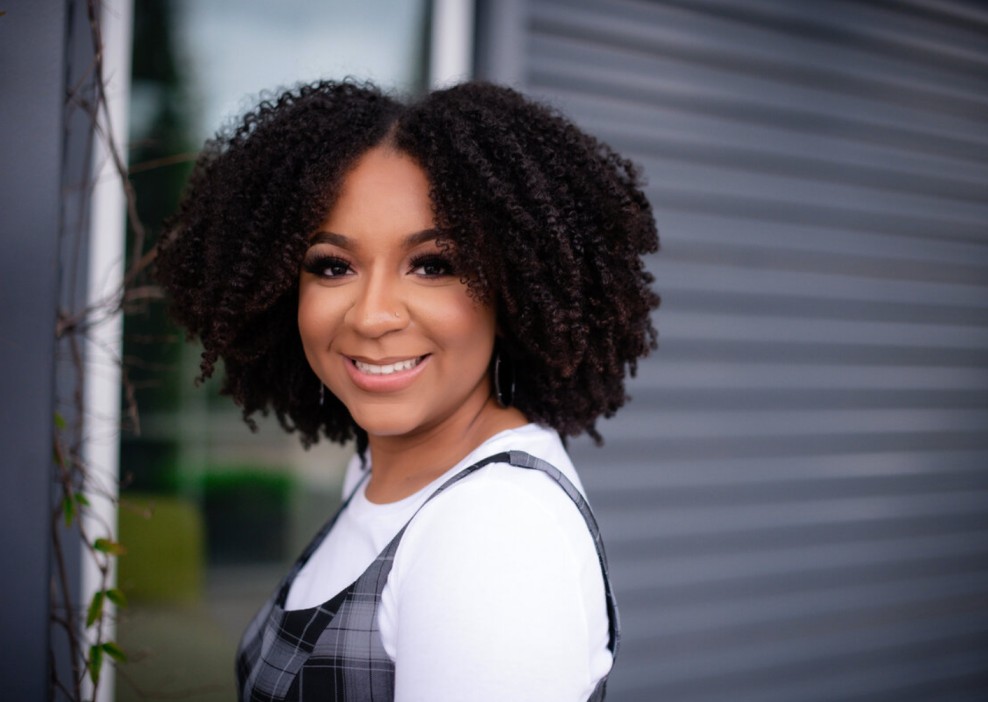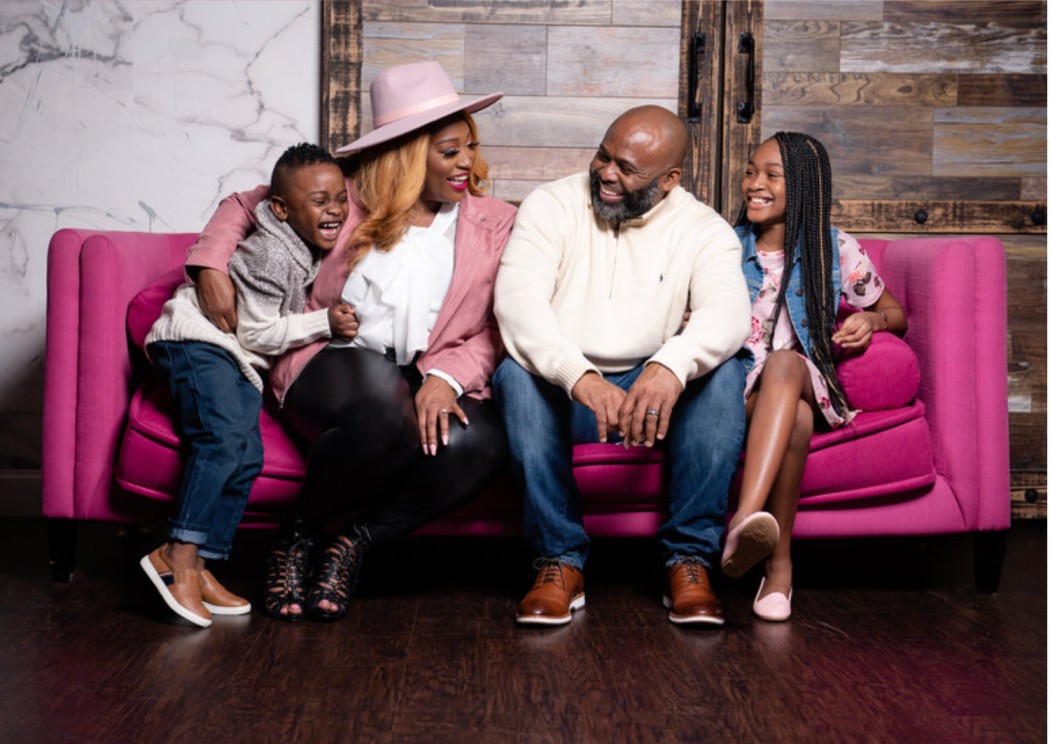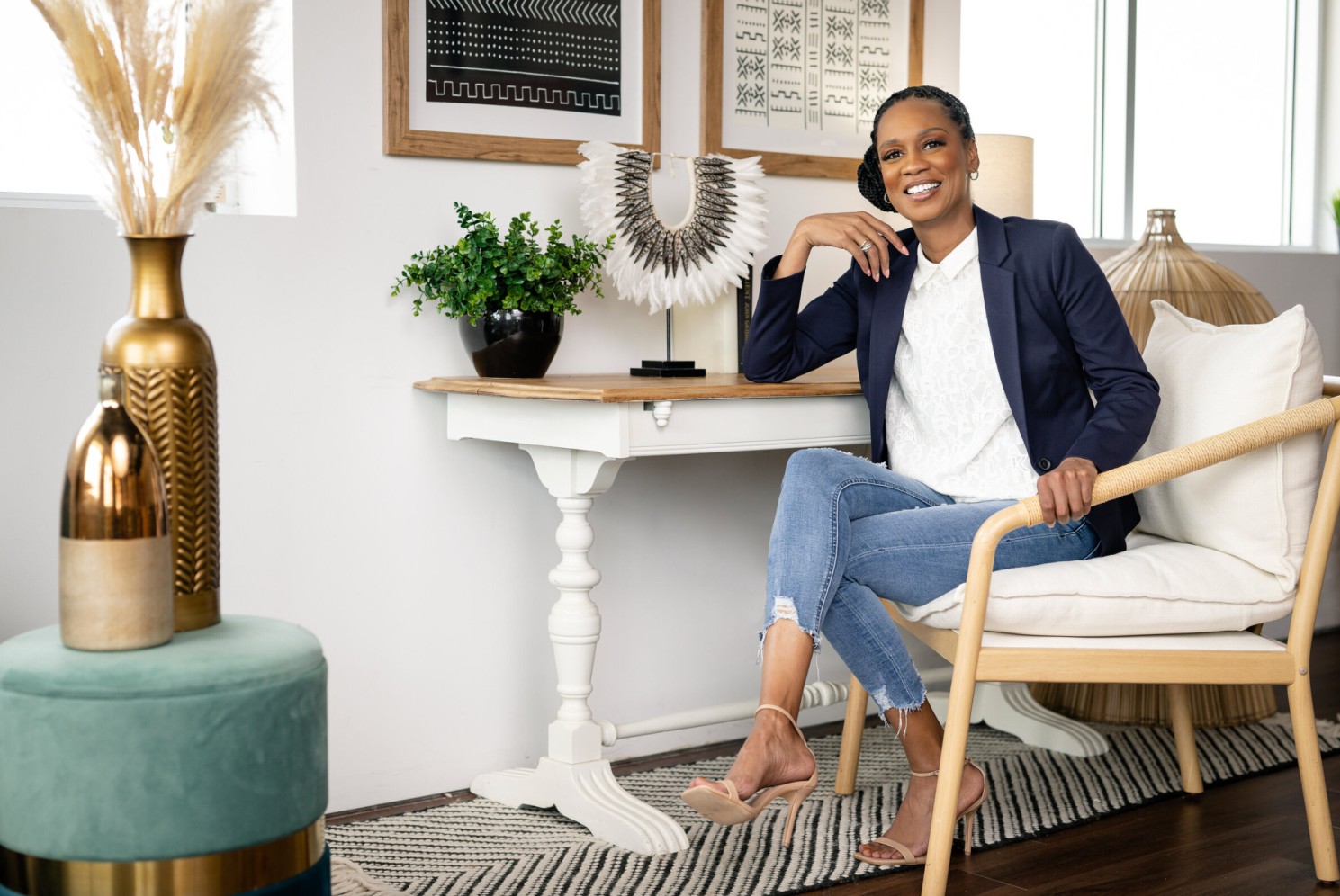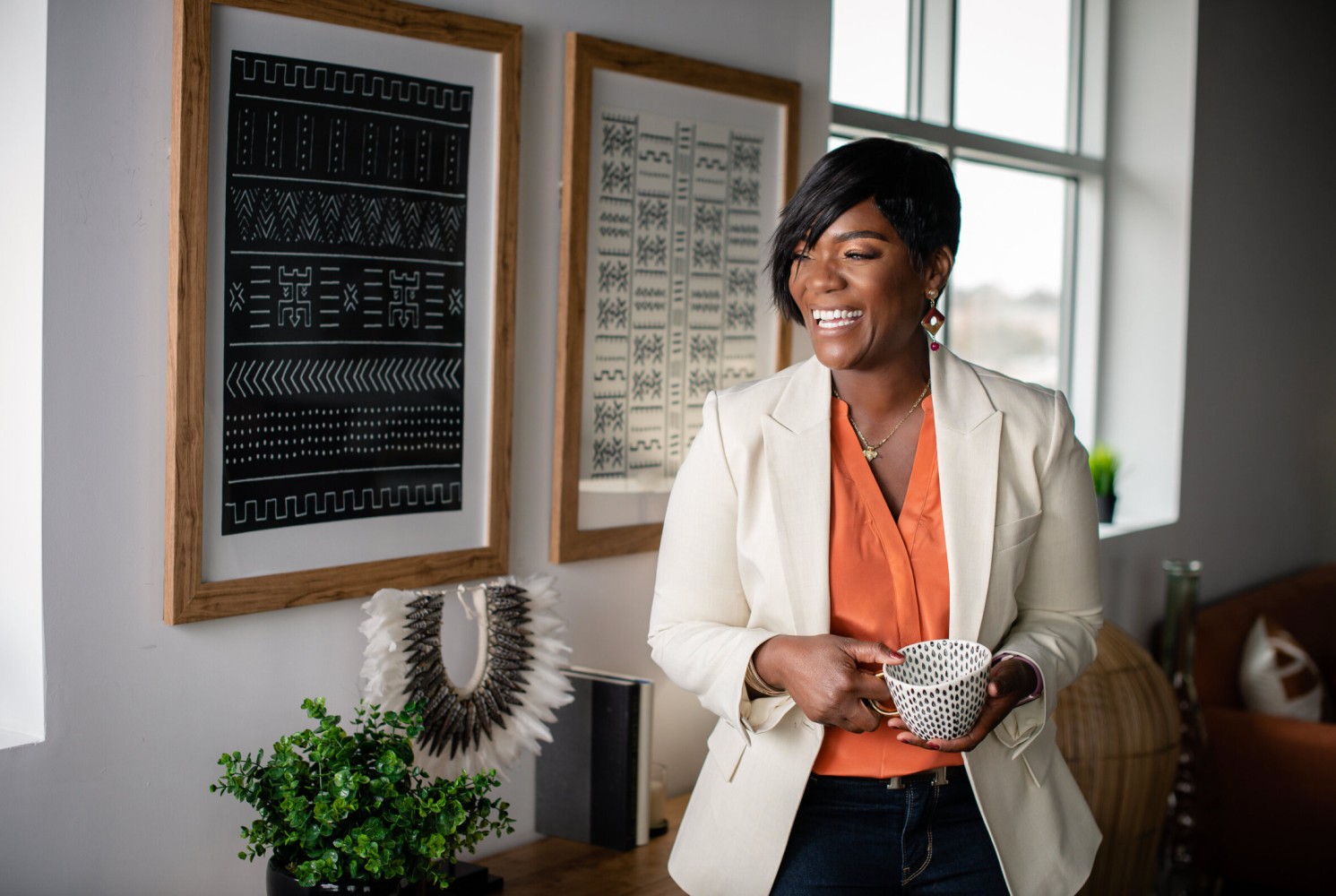 I don't have to miss my babies' milestones. Aftershoot has helped me as a mommy in business in so many ways.
It used to take me hours – up to a day – to cull the right images, especially during the mini-session season.
Sadly, sometimes I'd sacrifice a game or performance to meet my client's expectations. Aftershoot actually meets my expectation with boundaries plus allowing me to get my time back with my family.
I don't have to miss many milestones from culling anymore. Nothing beats a 2 minute culling like Aftershoot does.
Maydeline Ines Rivera
Follow Maydeline on Facebook
Below is a photograph of Maydeline Ines Rivera and her daughter, followed by examples of her stunning work.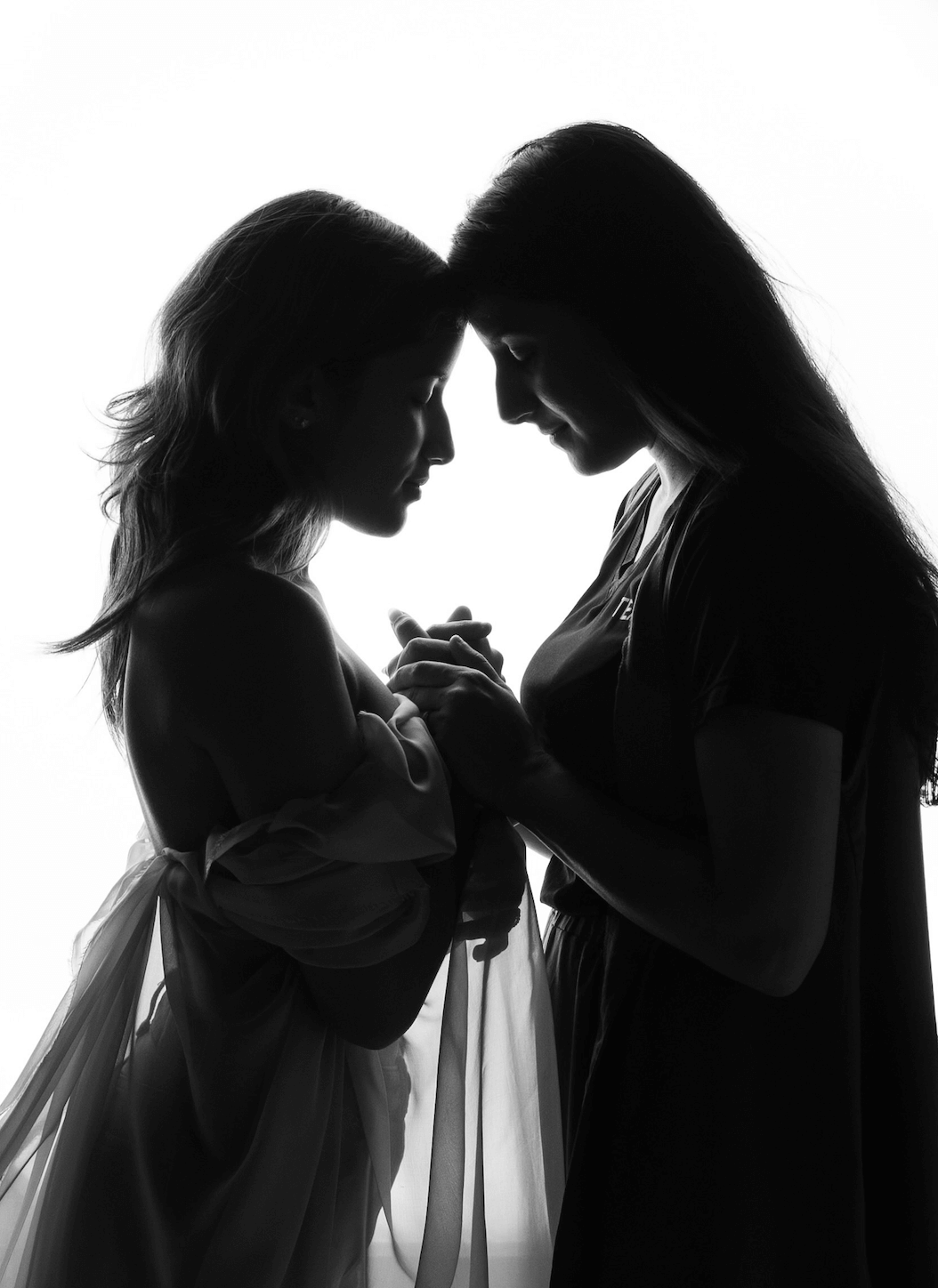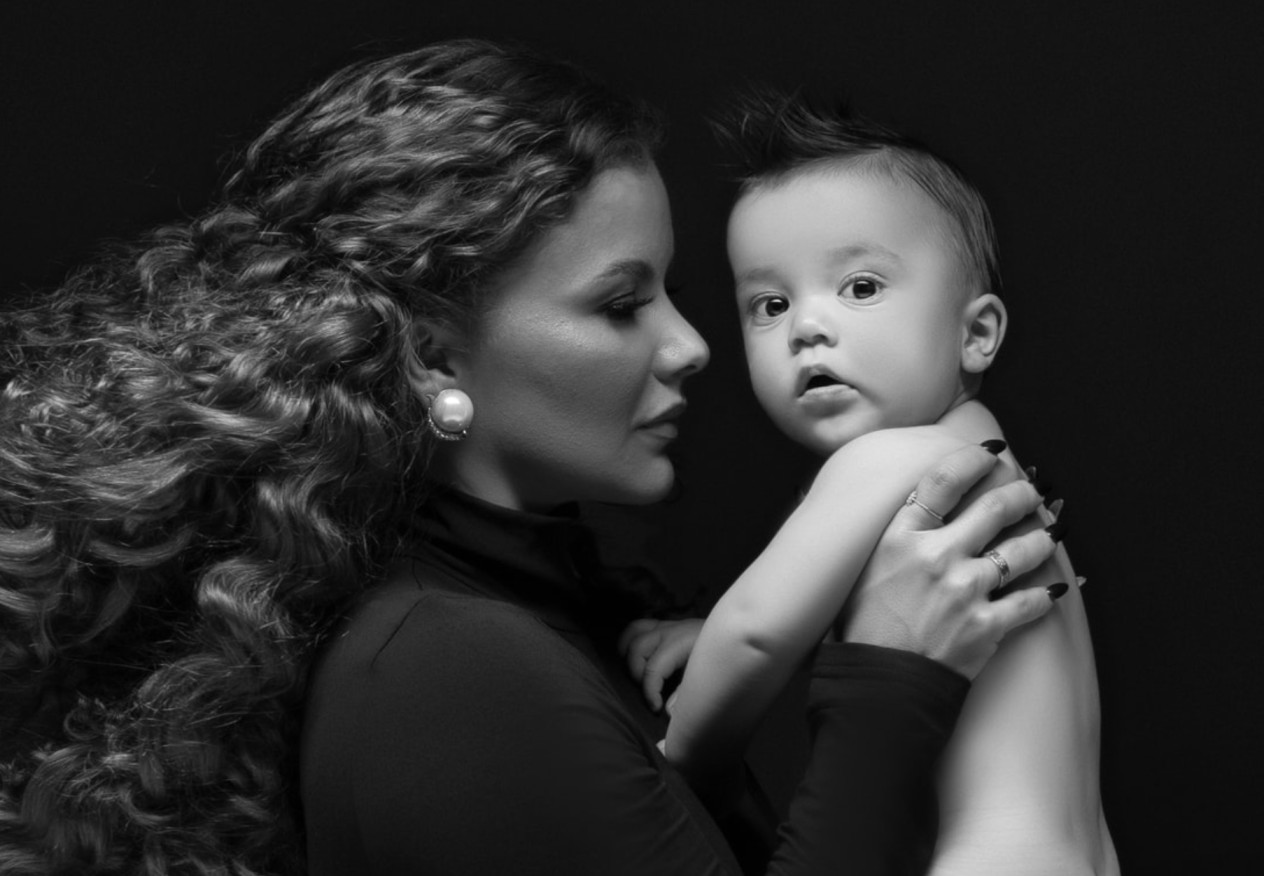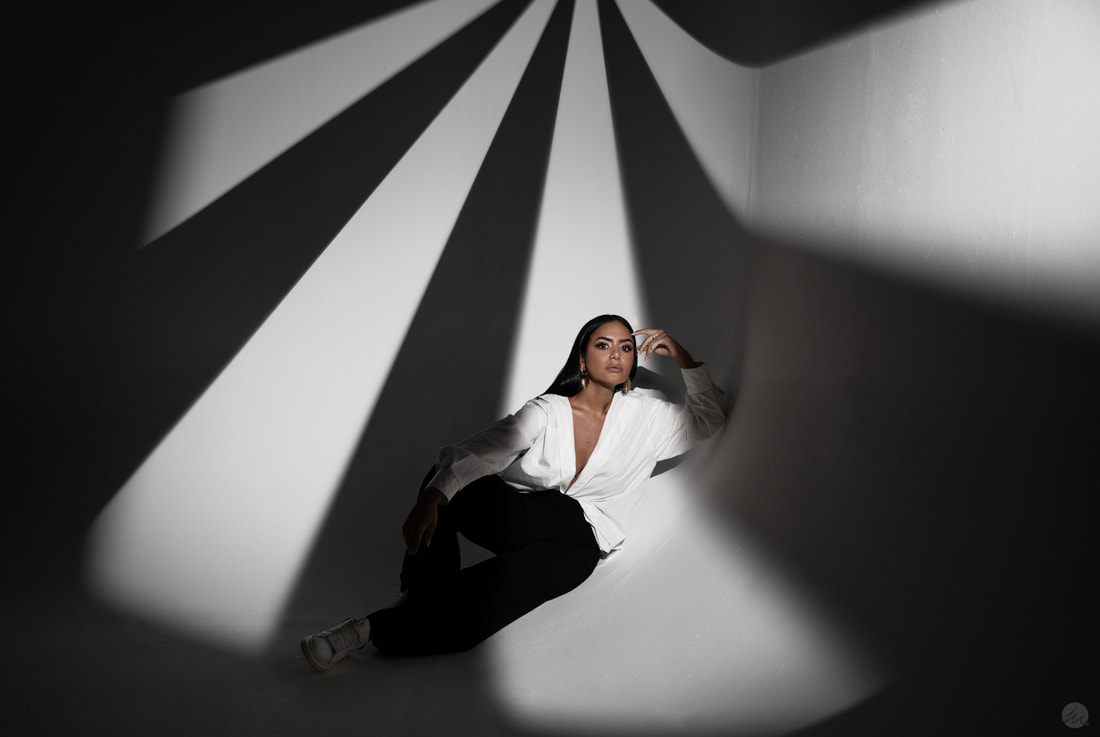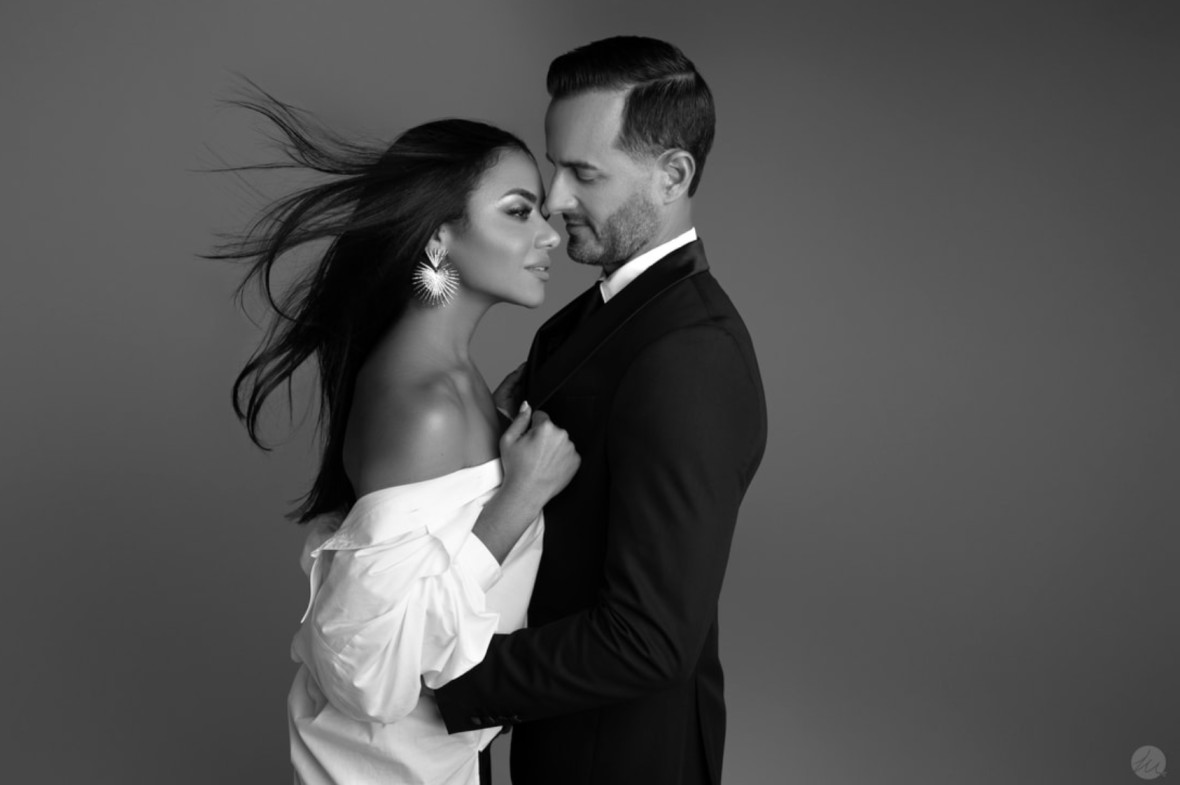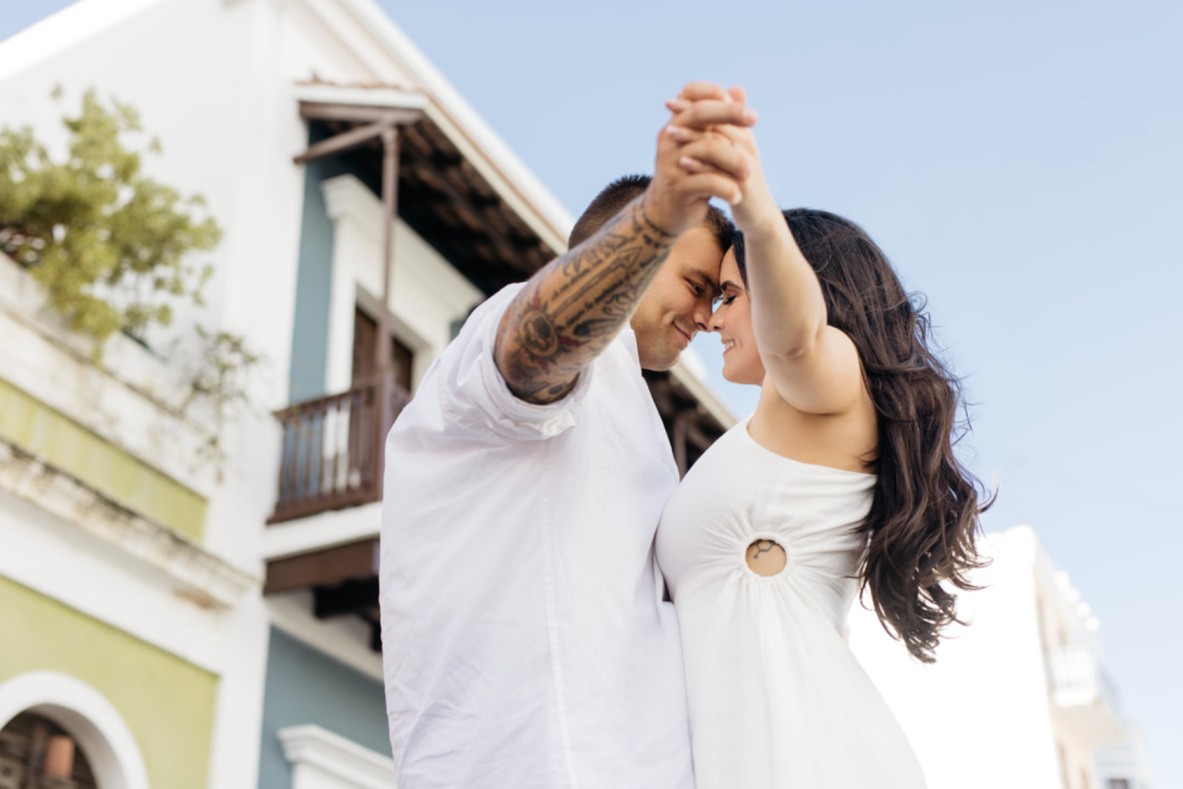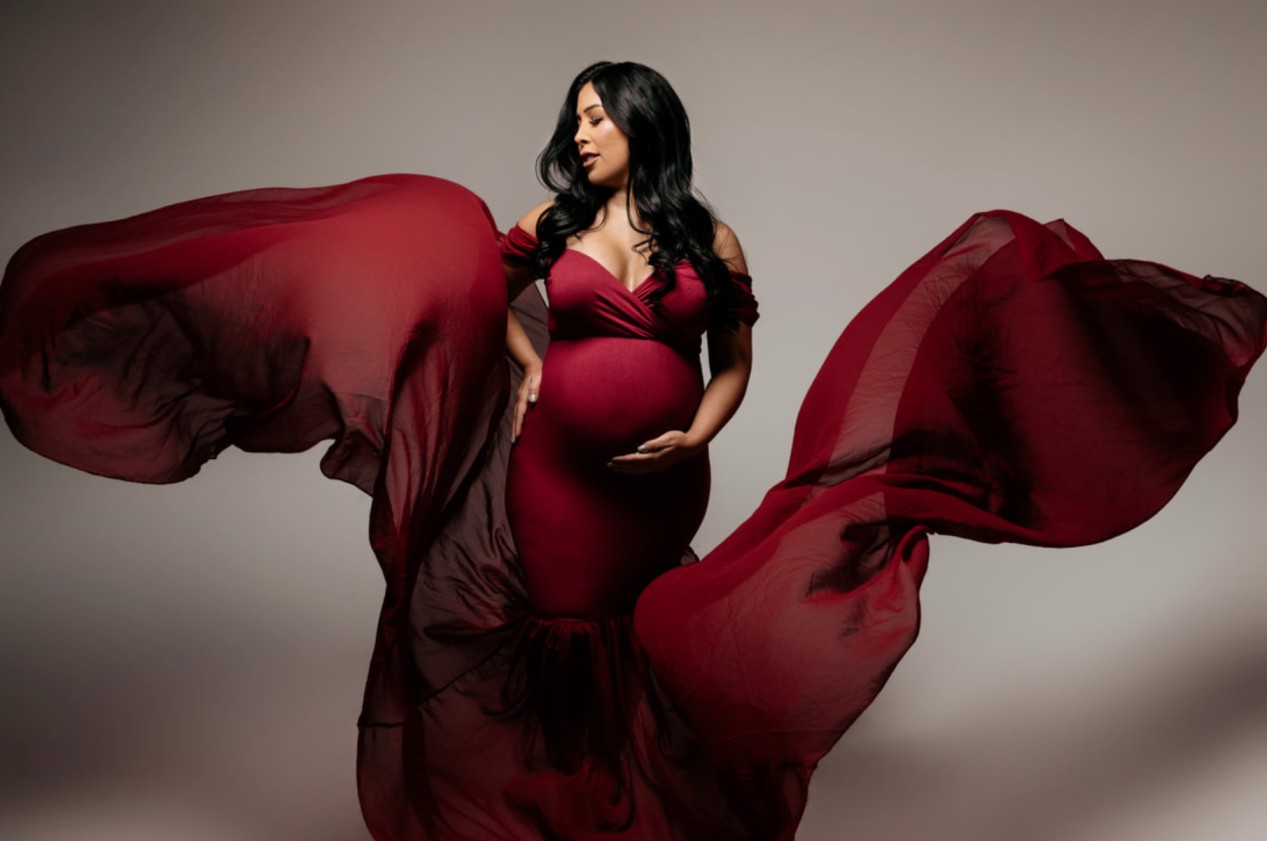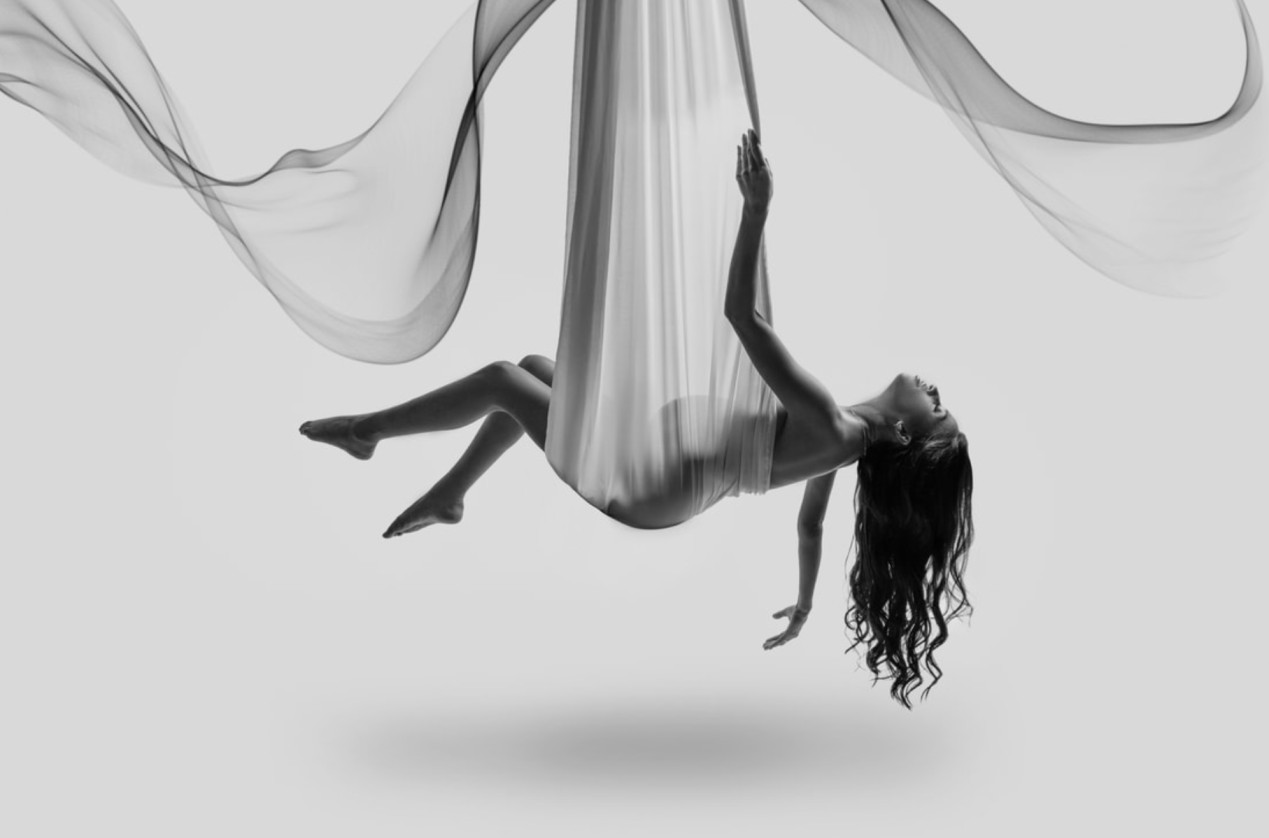 Being a mom and a photographer is the best thing that ever happened to me.
It has helped me teach my daughter the value of dedicating herself to her passion.
That value is not only in the money we can earn. The most significant value is in the time I can dedicate to her.
Angela Nelson
Follow Angela on Instagram
Below is a photograph of Angela Nelson and her children, followed by examples of her wonderful work.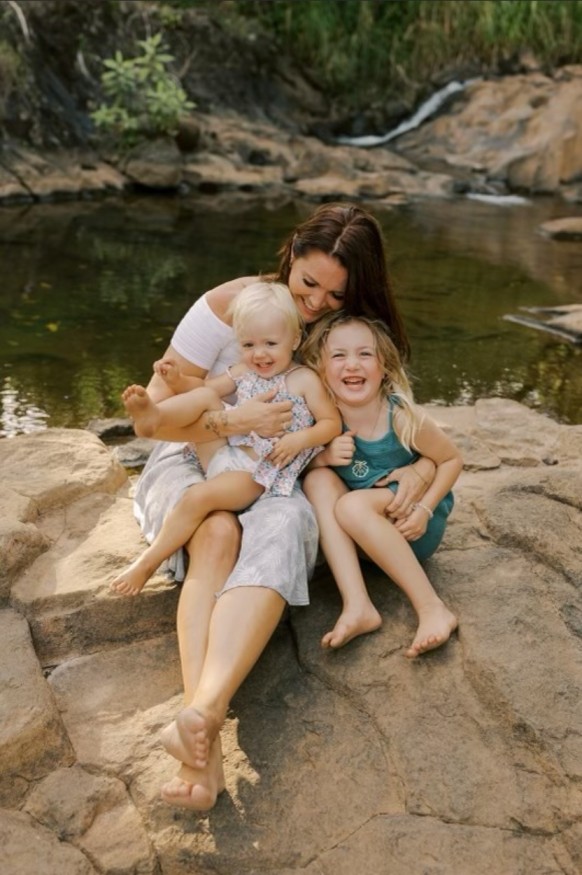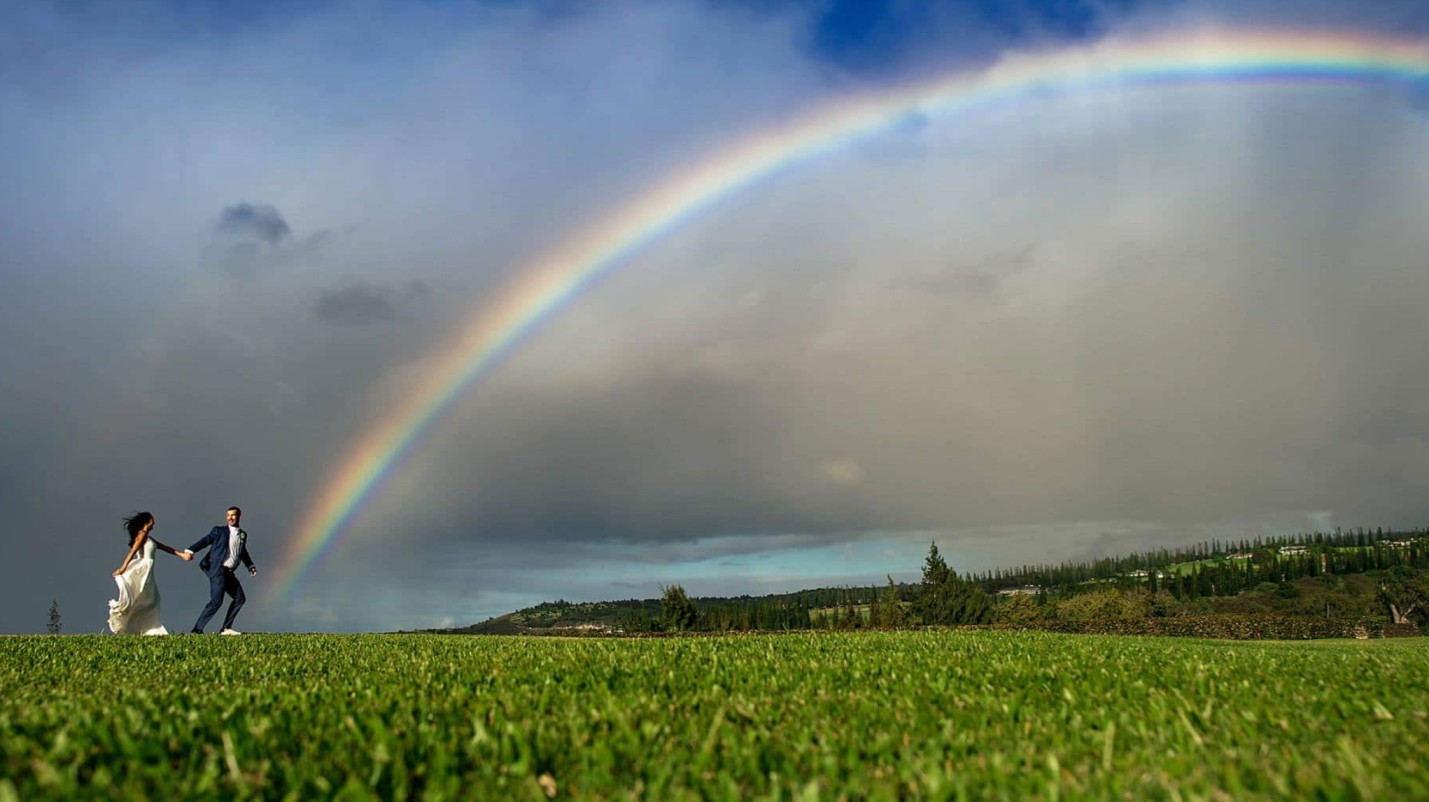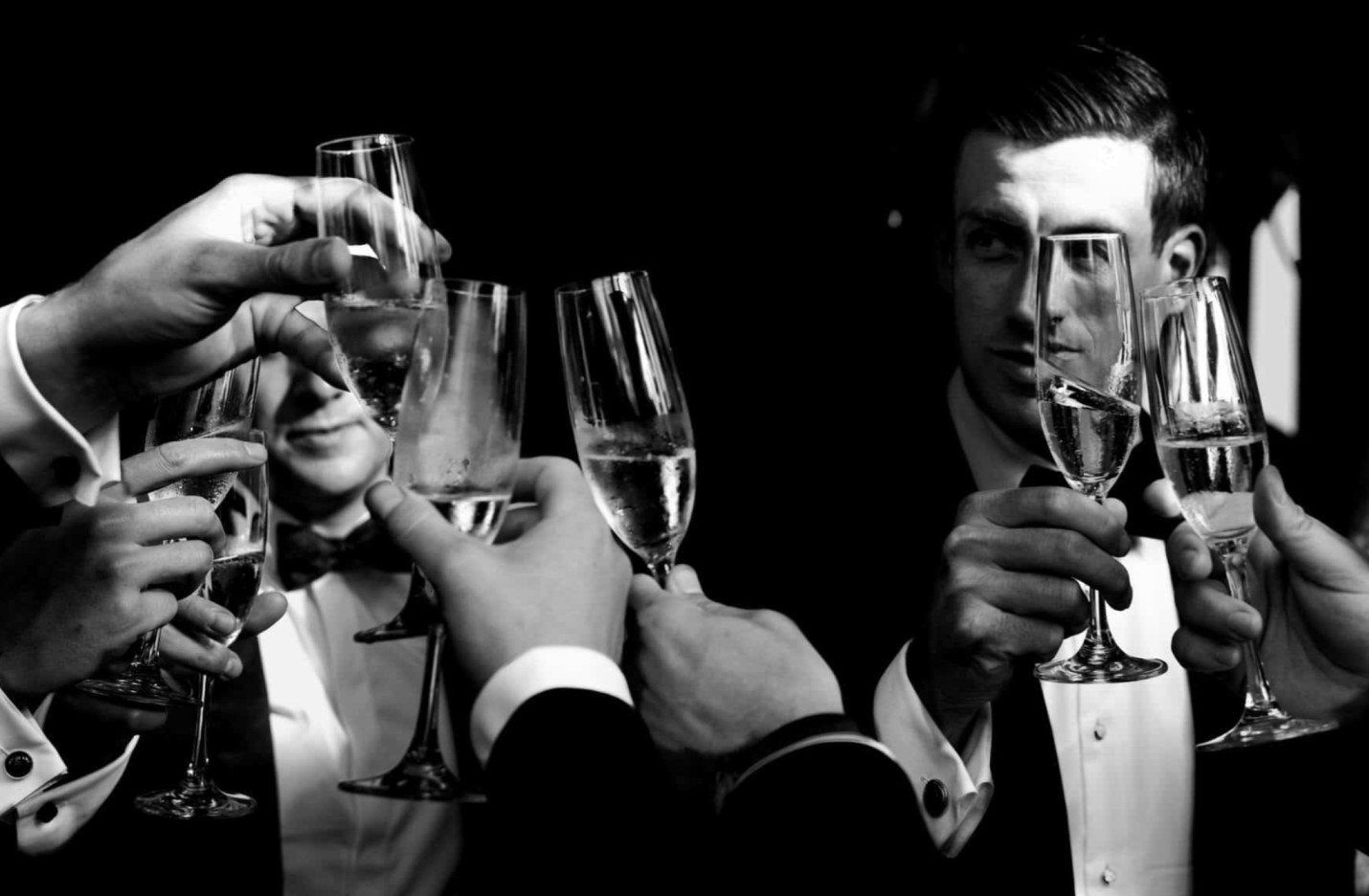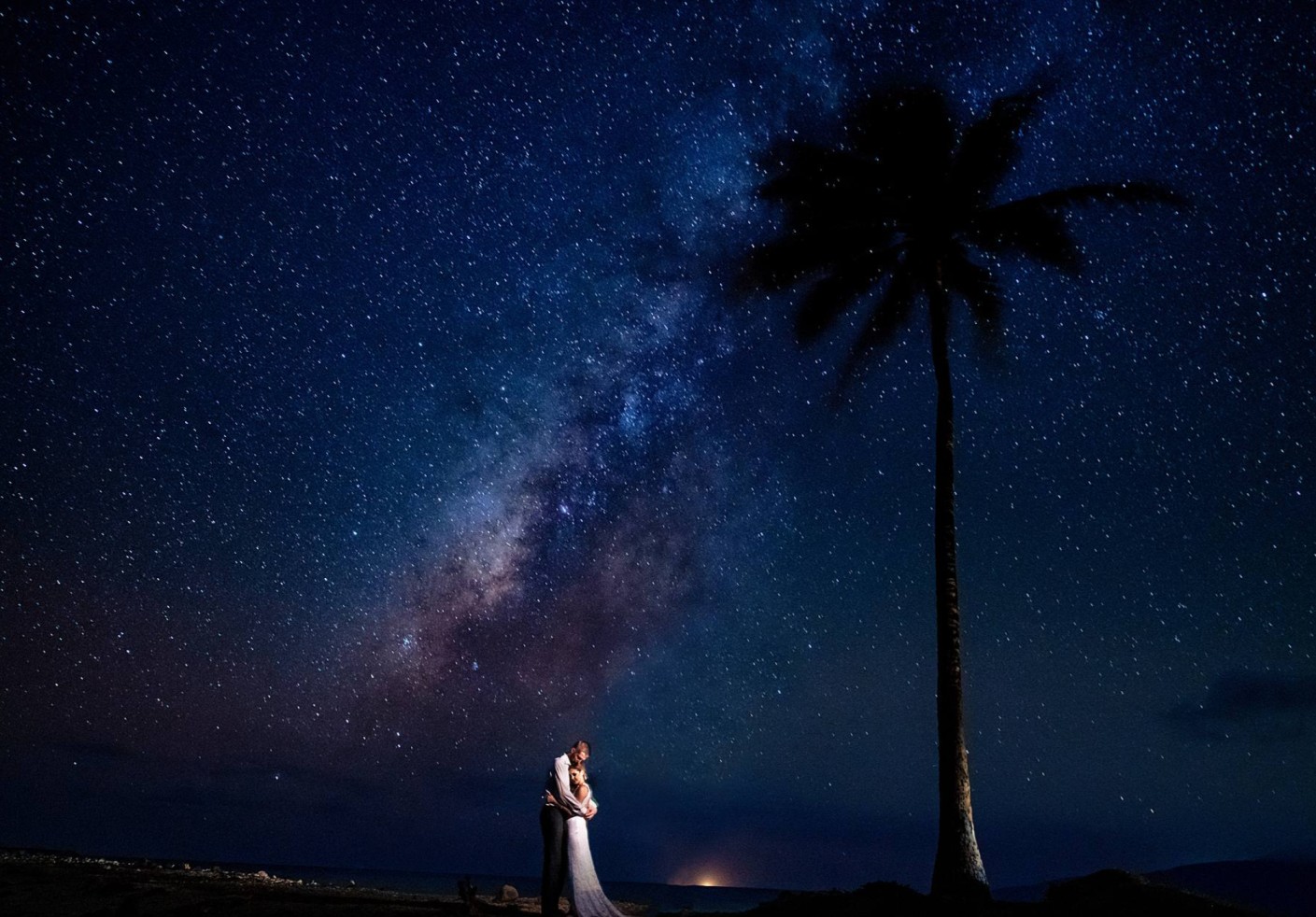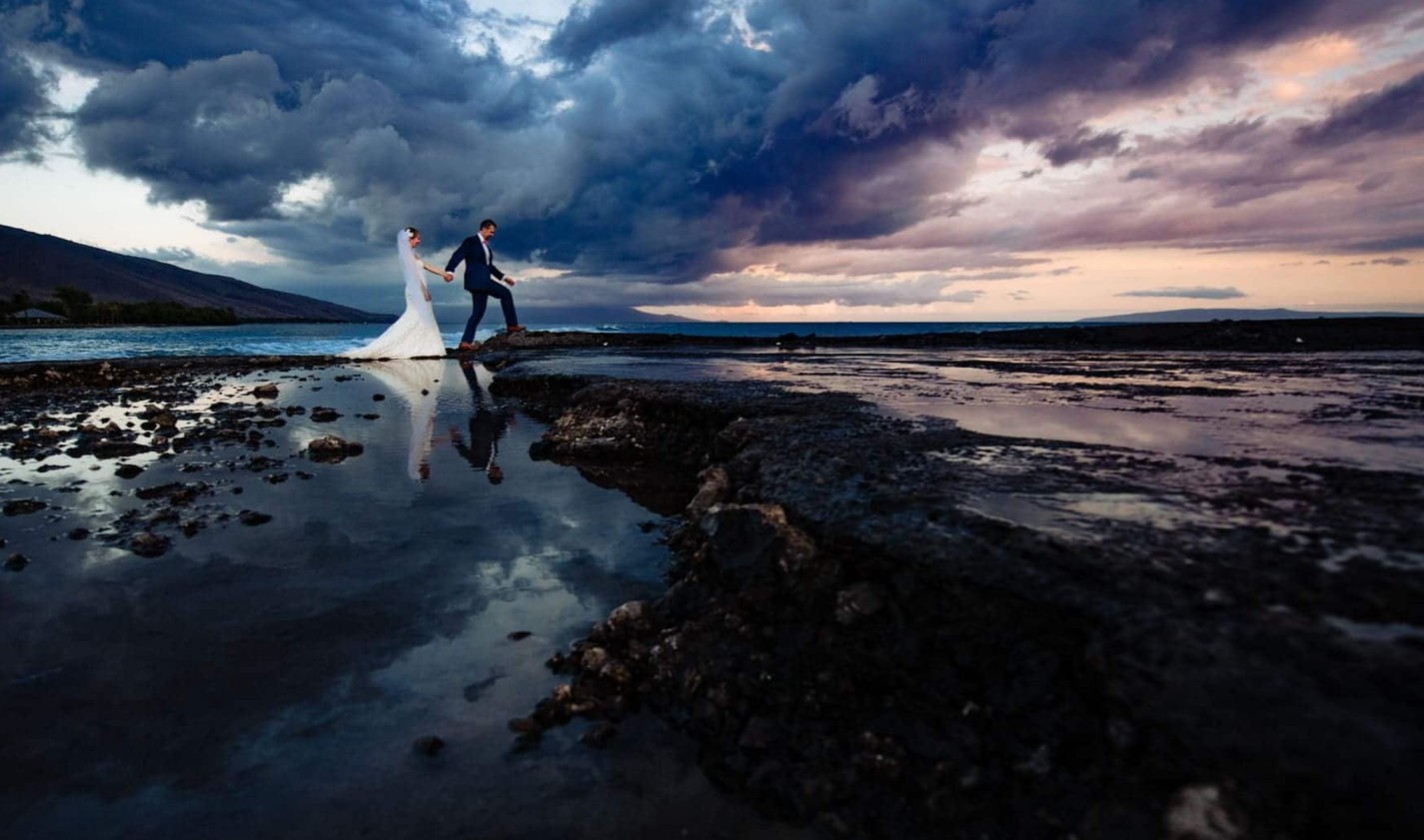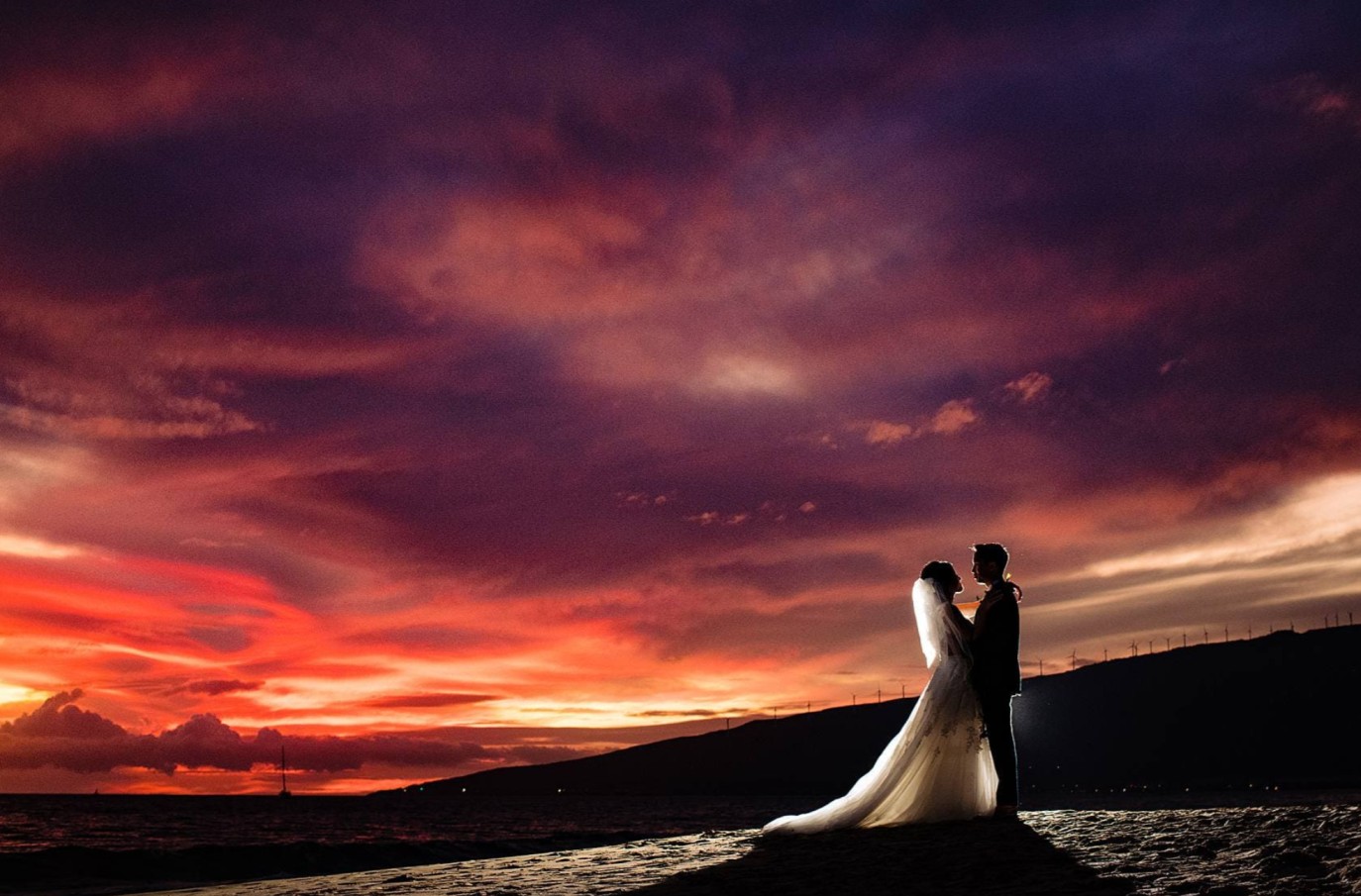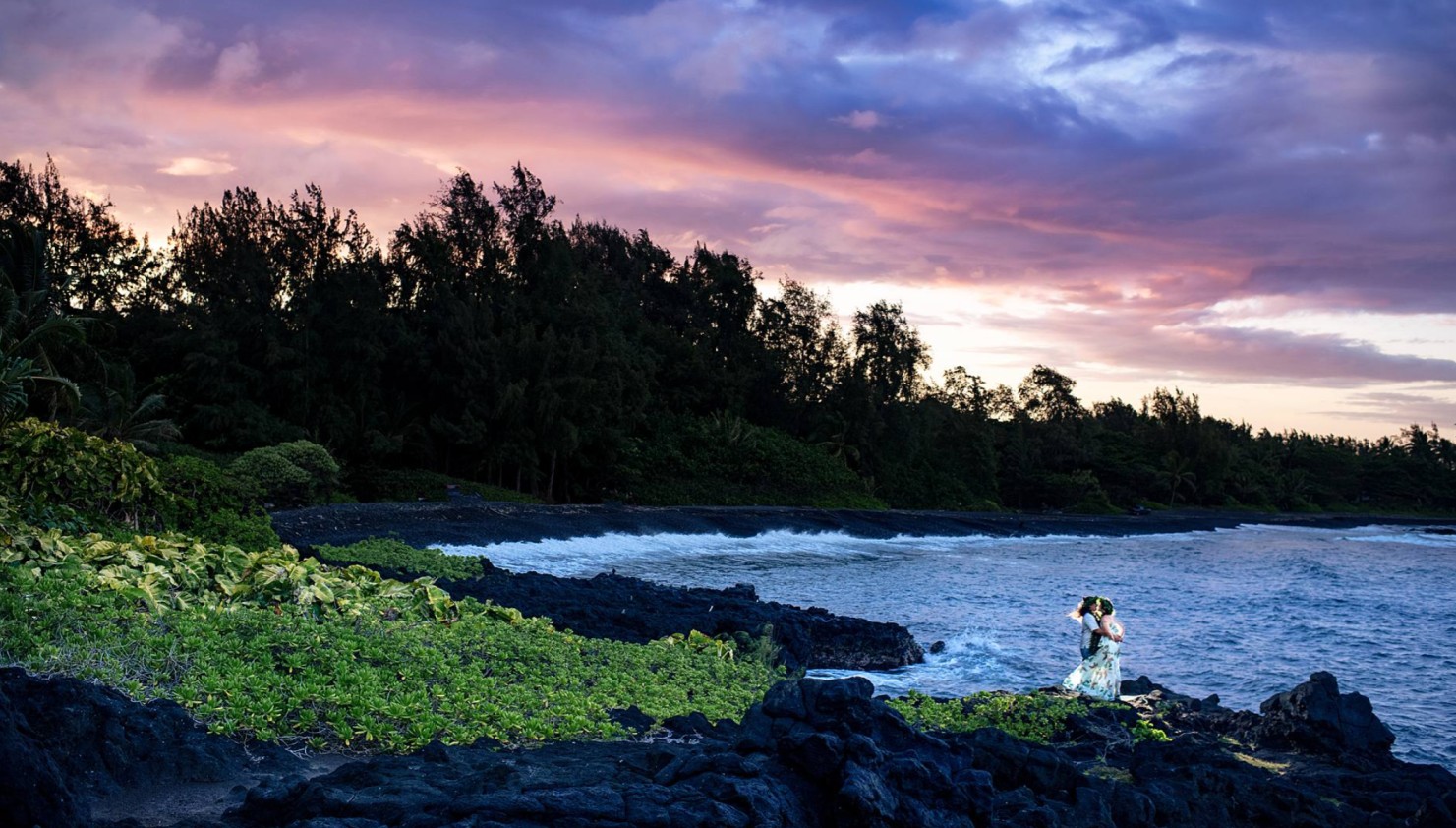 The most important job I'll ever have is being a mom.
So having more time I can free up to be with my girls is always the aim.
Thanks to Aftershoot I'm able to add hours of time back to my week to spend time with what matters the most.
Michelle Sheehy-Black
Follow Michelle on Instagram
Below is a photograph of Michelle Sheehy-Black and her kids, followed by examples of her fantastic work.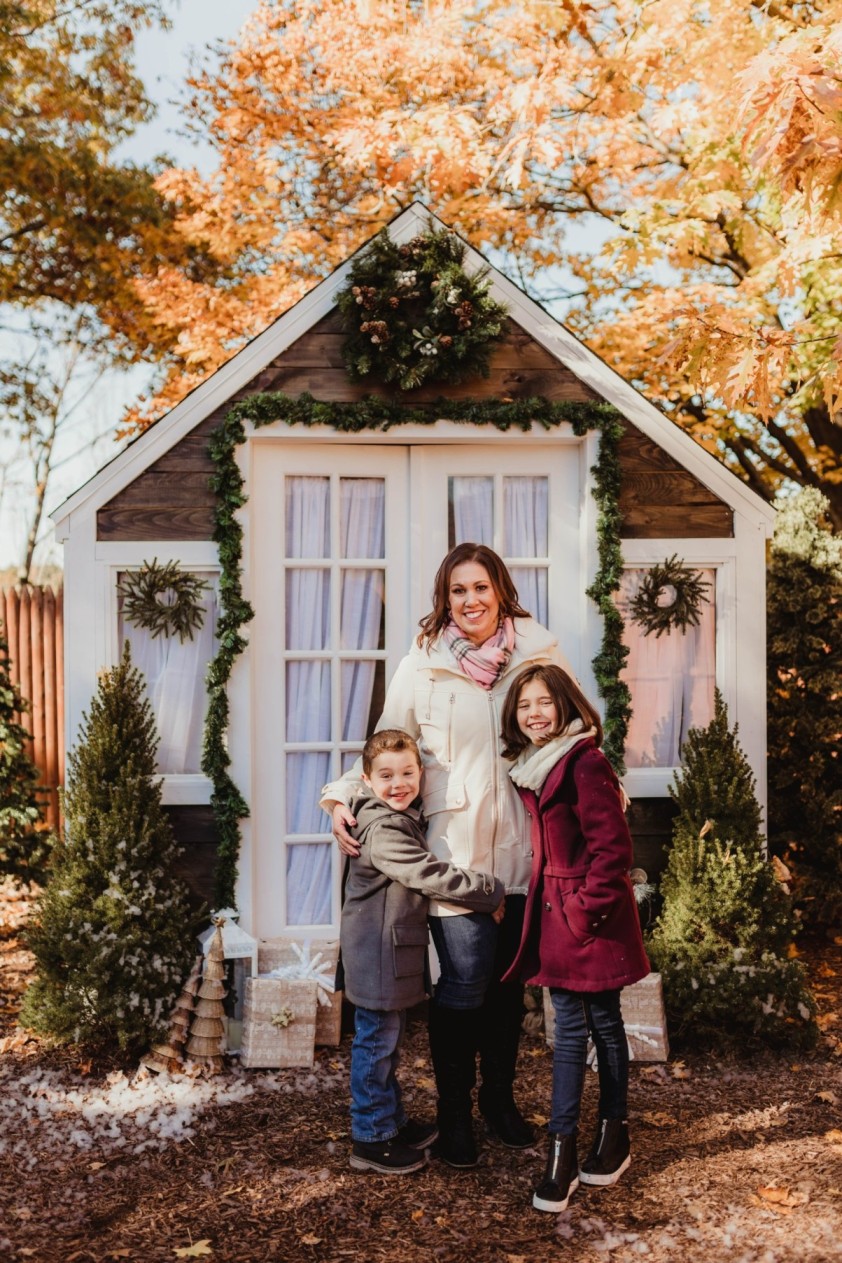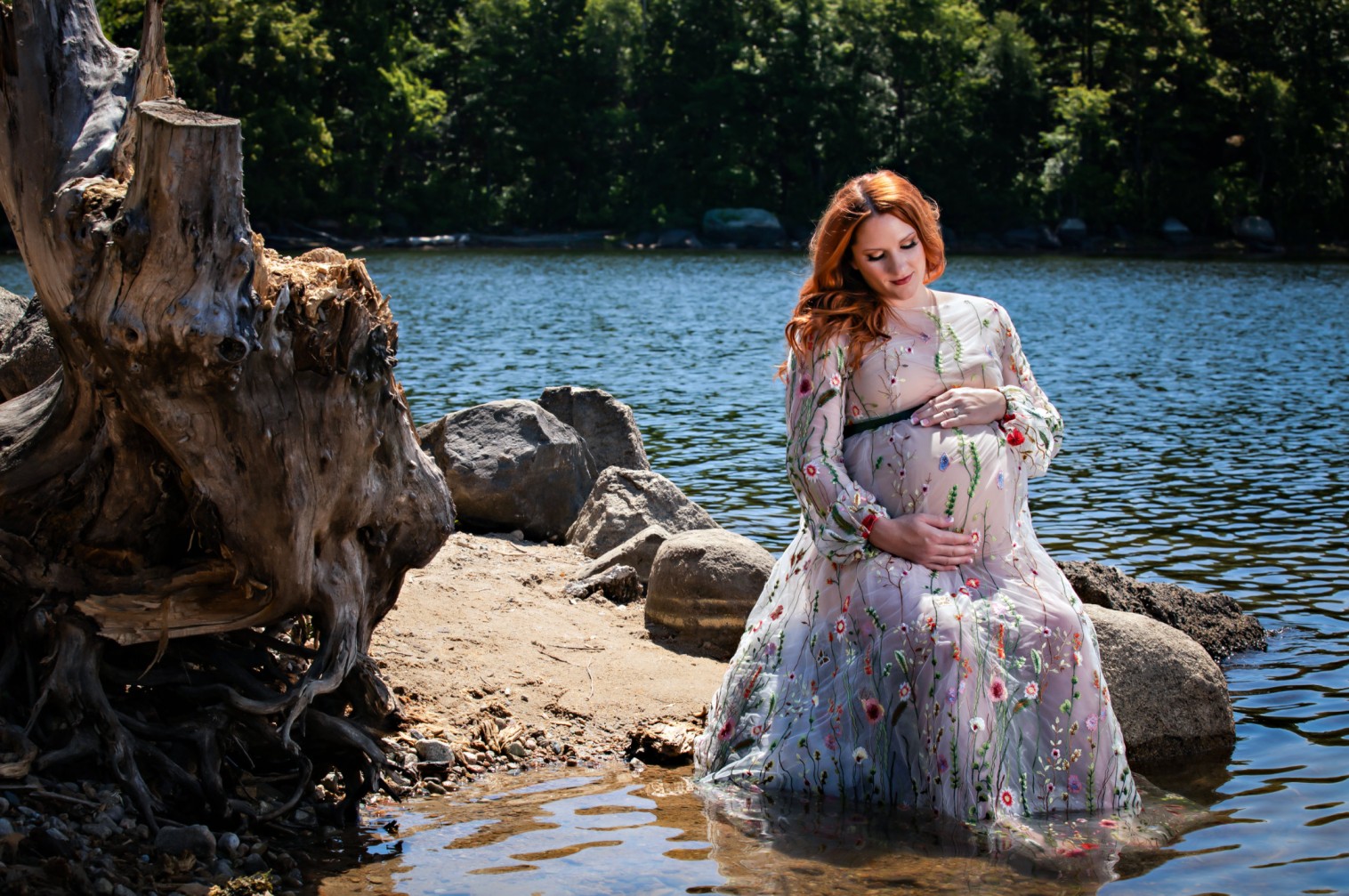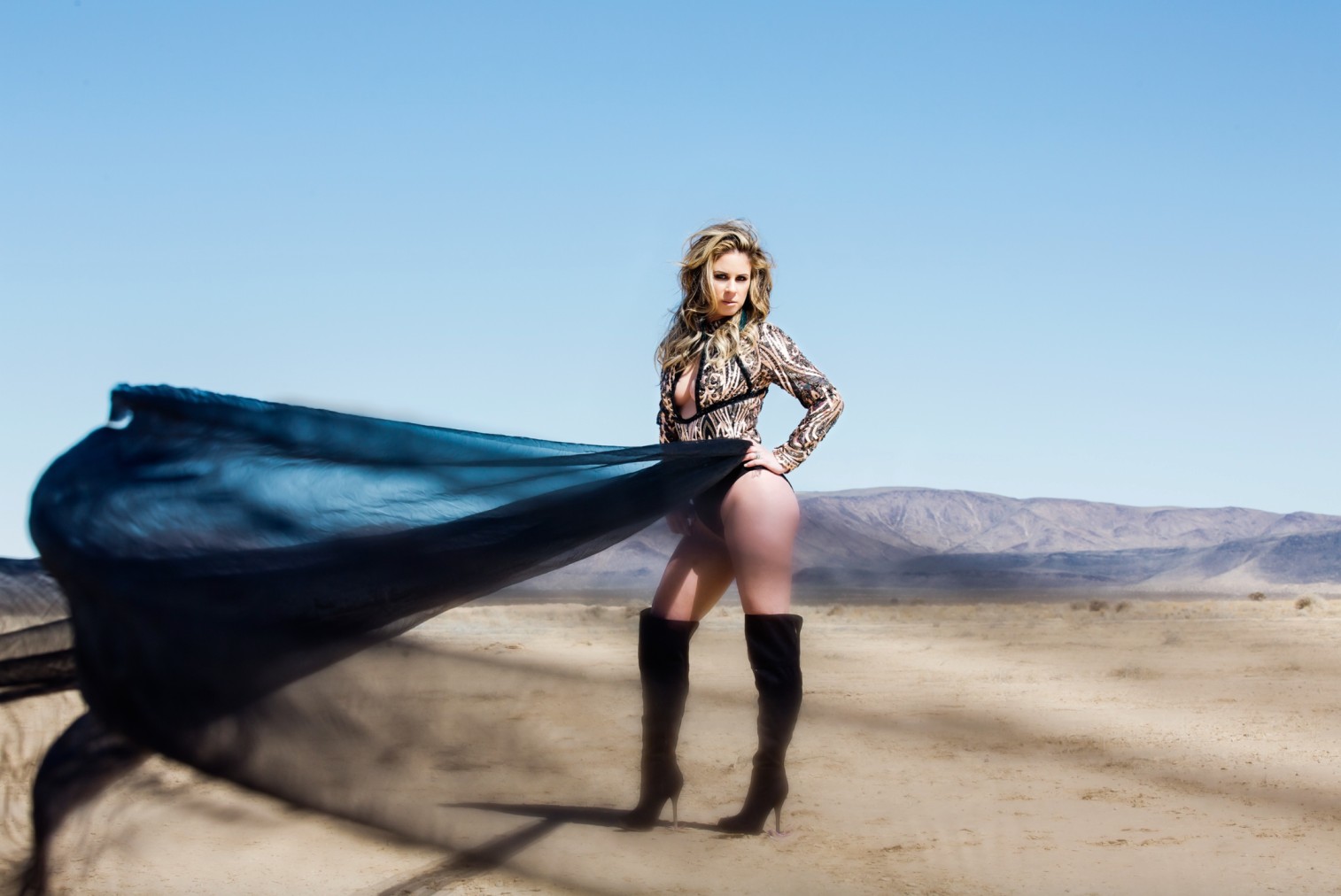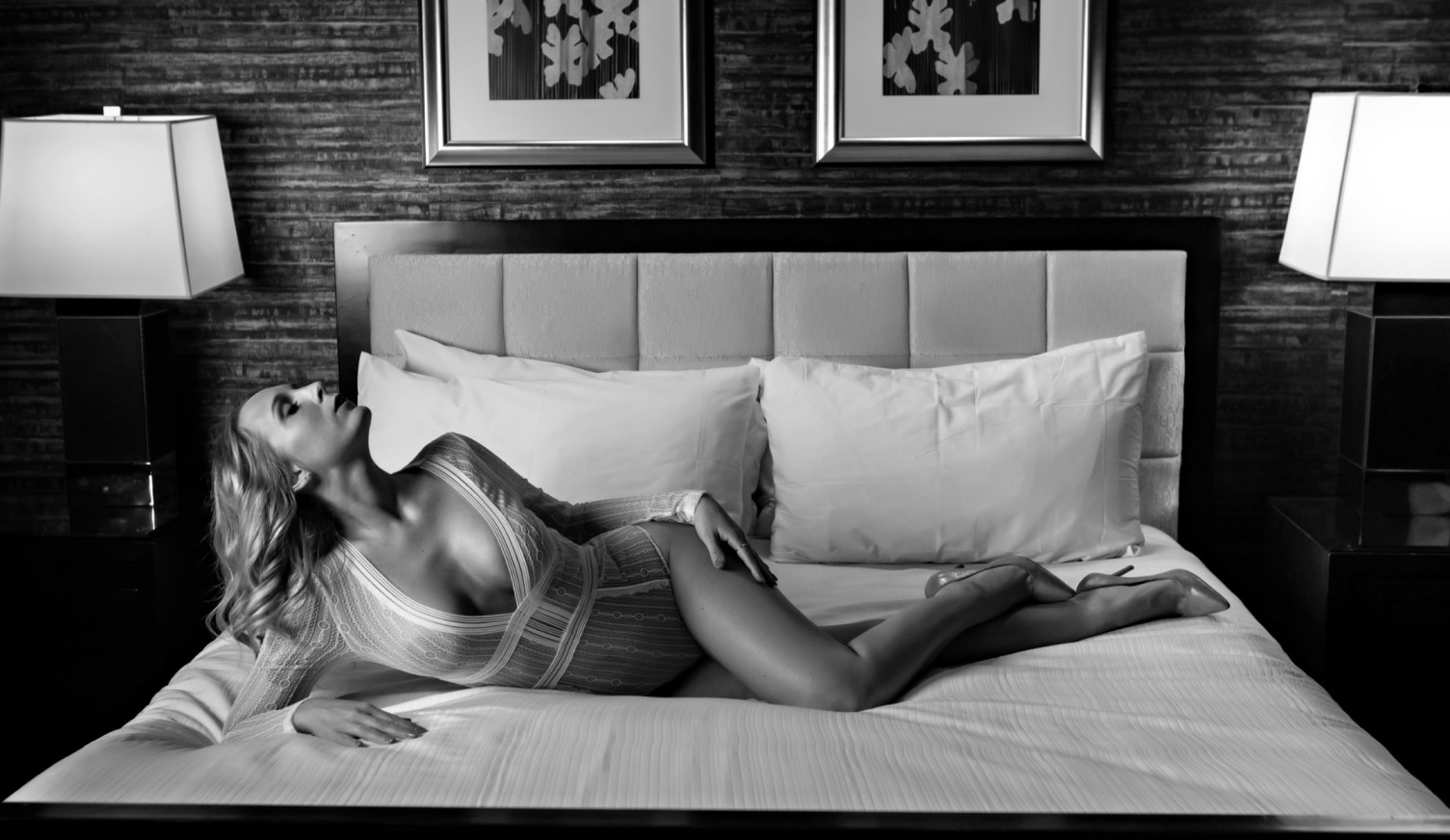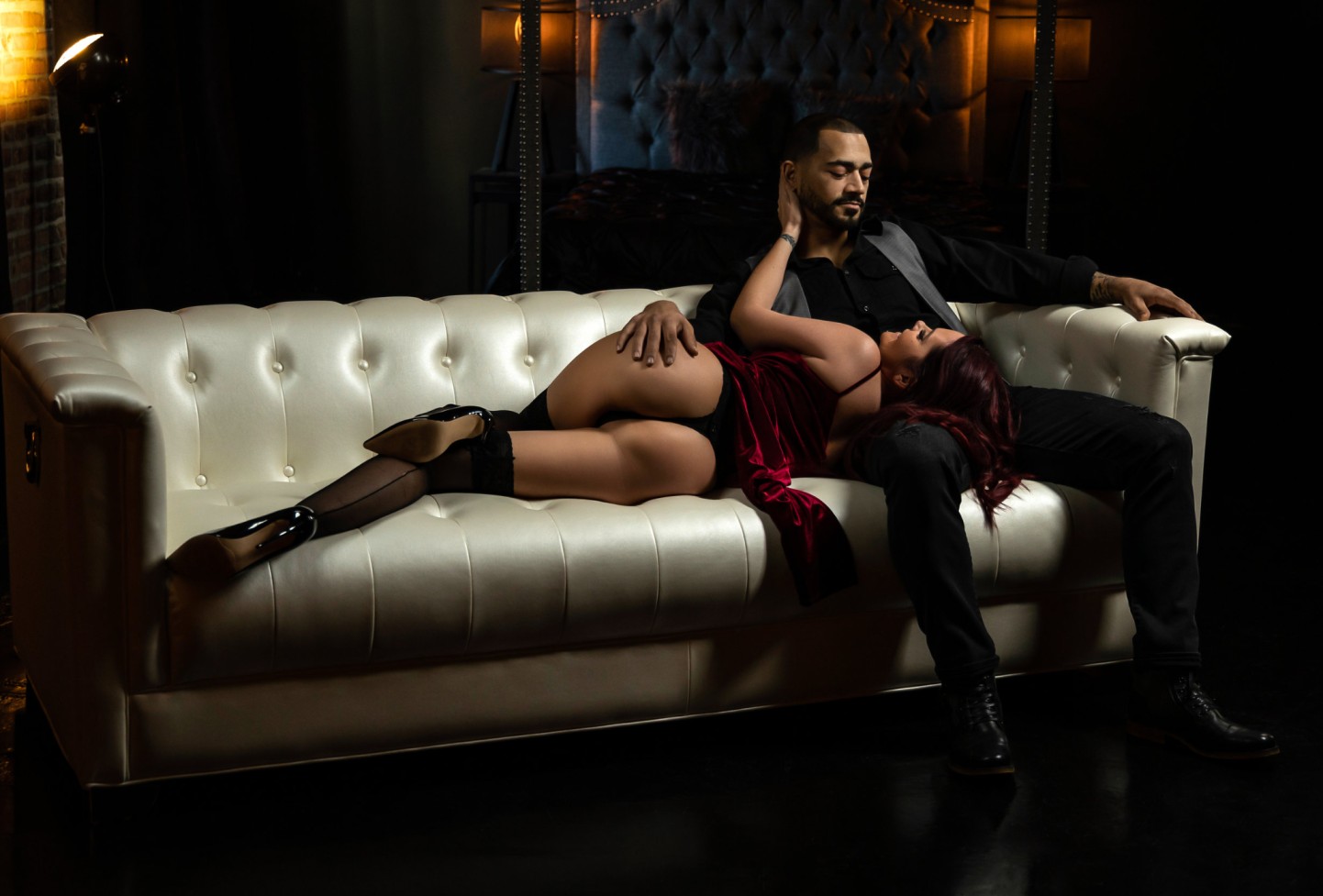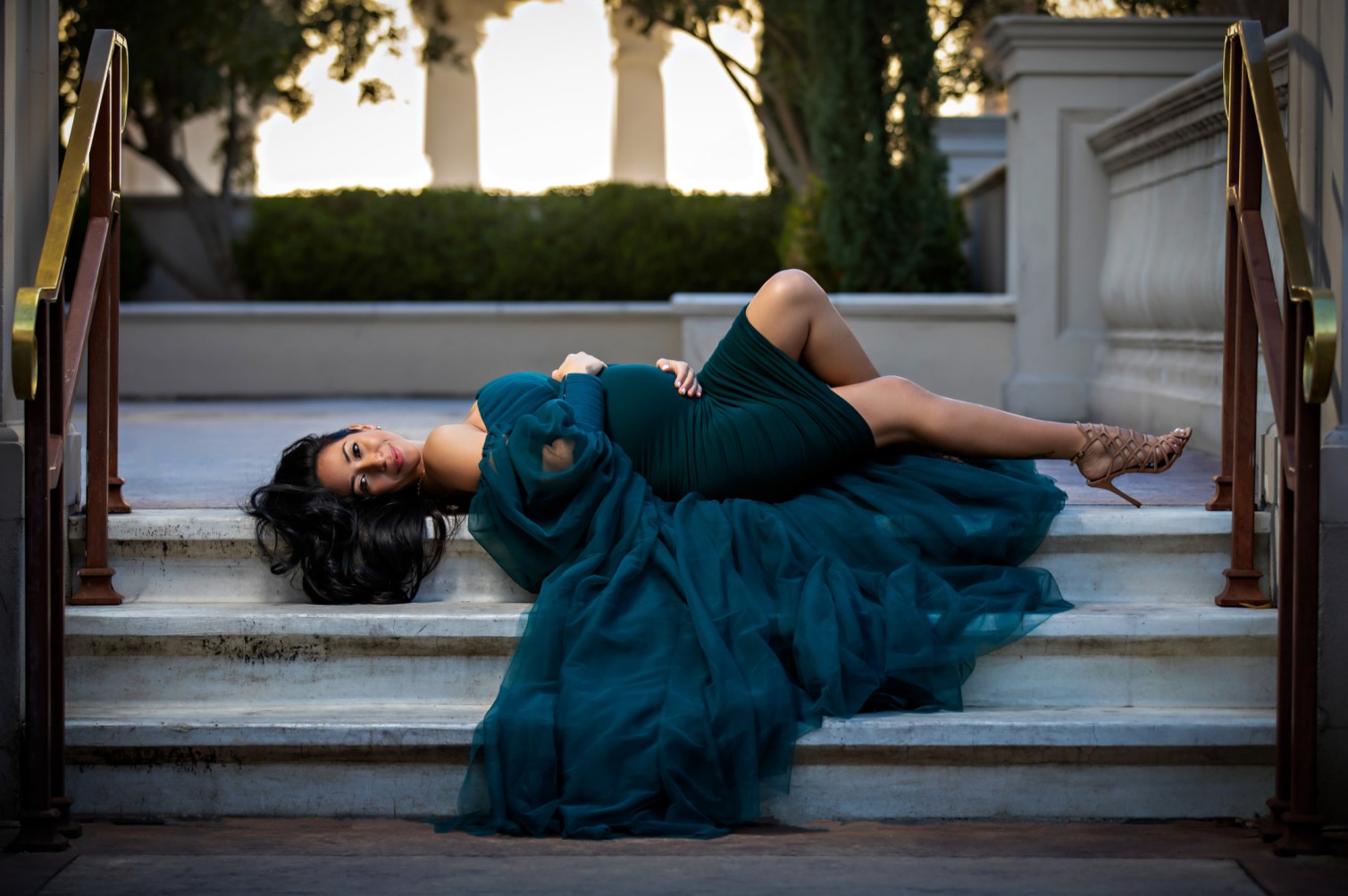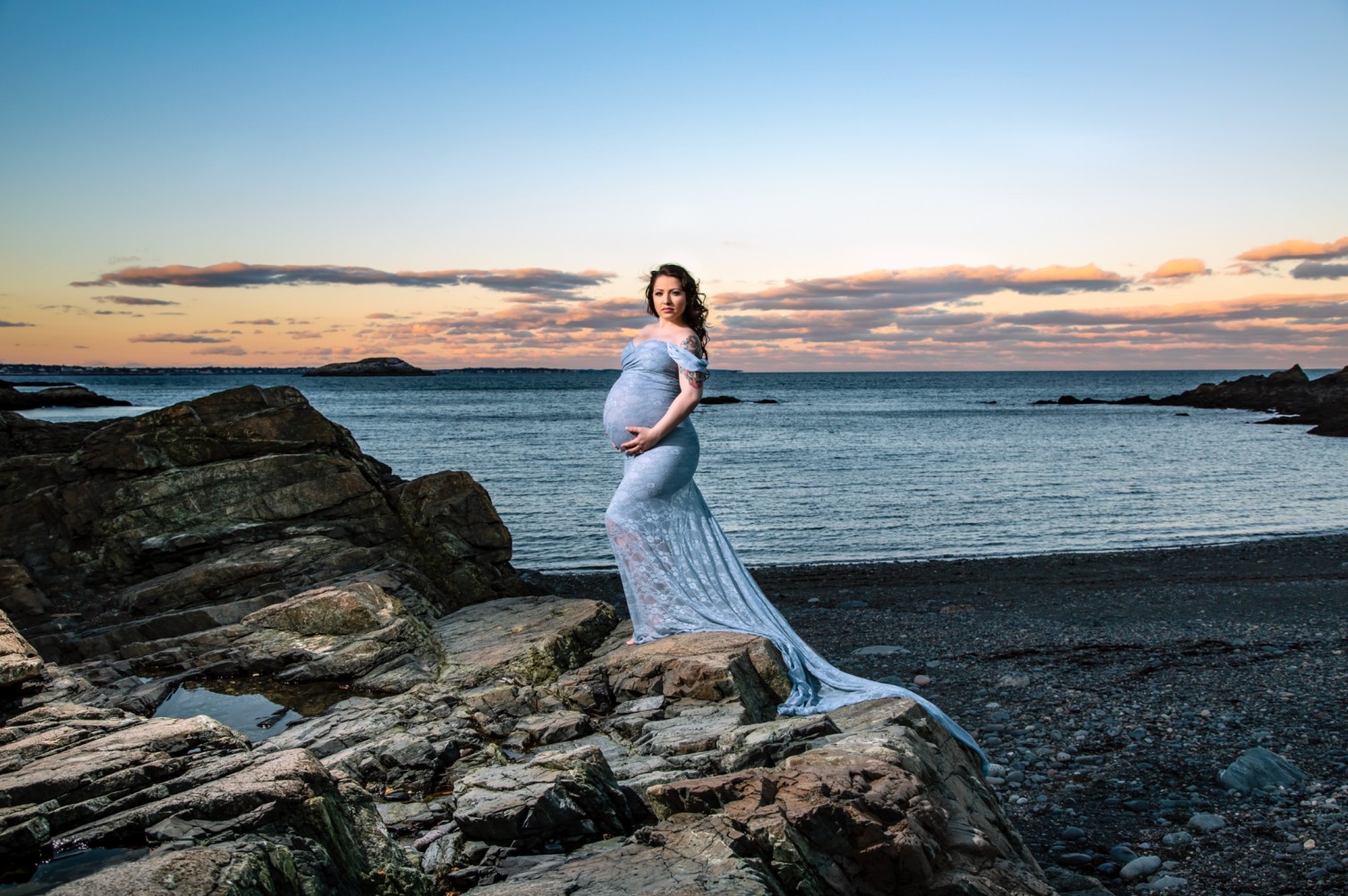 I'm lucky that our photography business AIBP has allowed me to be present with my kids.
For years I worked in a corporate setting where my schedule was dictated by someone else. I felt like I was missing out on time and the most important people in my life.
The photography business that my husband and I have worked hard to grow has allowed us to dictate a schedule that works for our family.
As much as I love our business, raising these two little humans is the best job ever and I'm so fortunate to be present for them.
Being mainly in the boudoir genre has also been a blessing thus far. It has made it easy to teach my children about what it means to be beautiful. It has eased the conversation about self-awareness and self-worth.
Catalina Avila
Follow Catalina on Instagram
Below is a photograph of Catalina Avila and her sons, followed by examples of her marvelous work.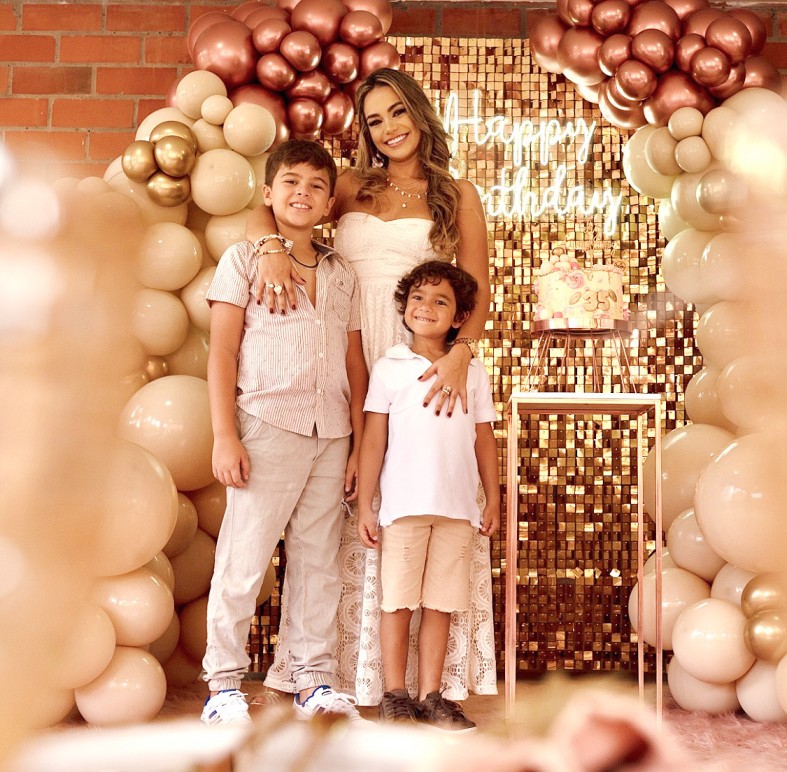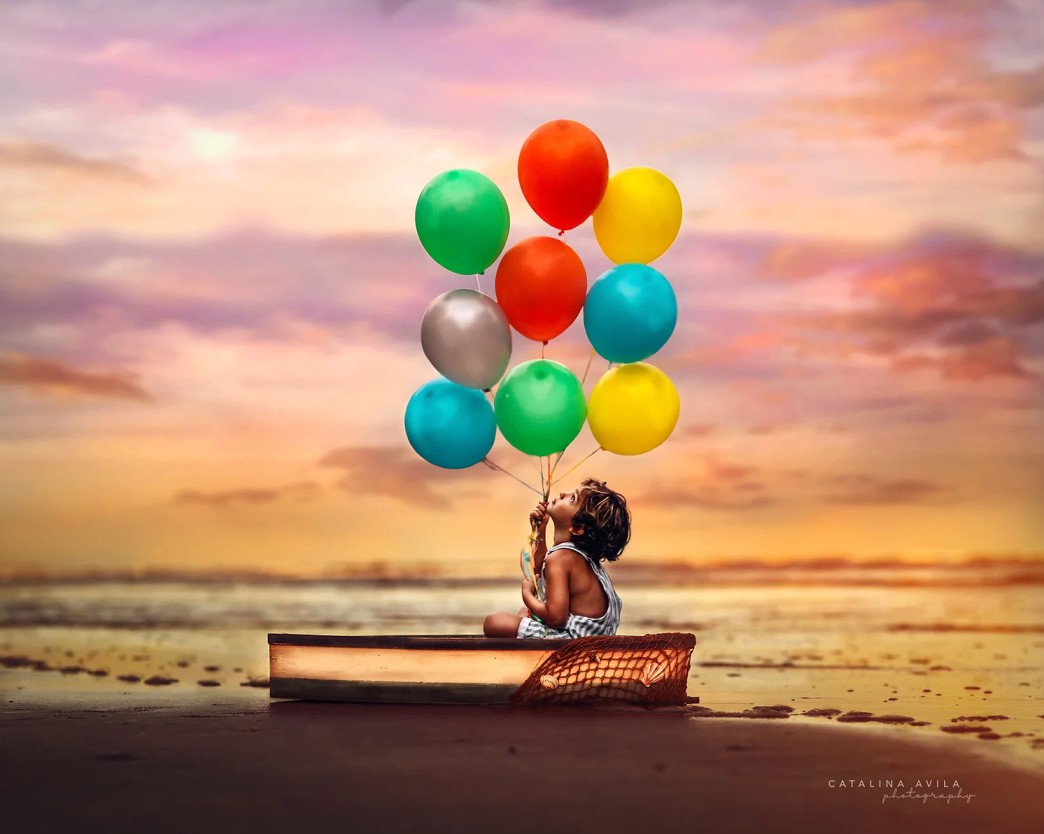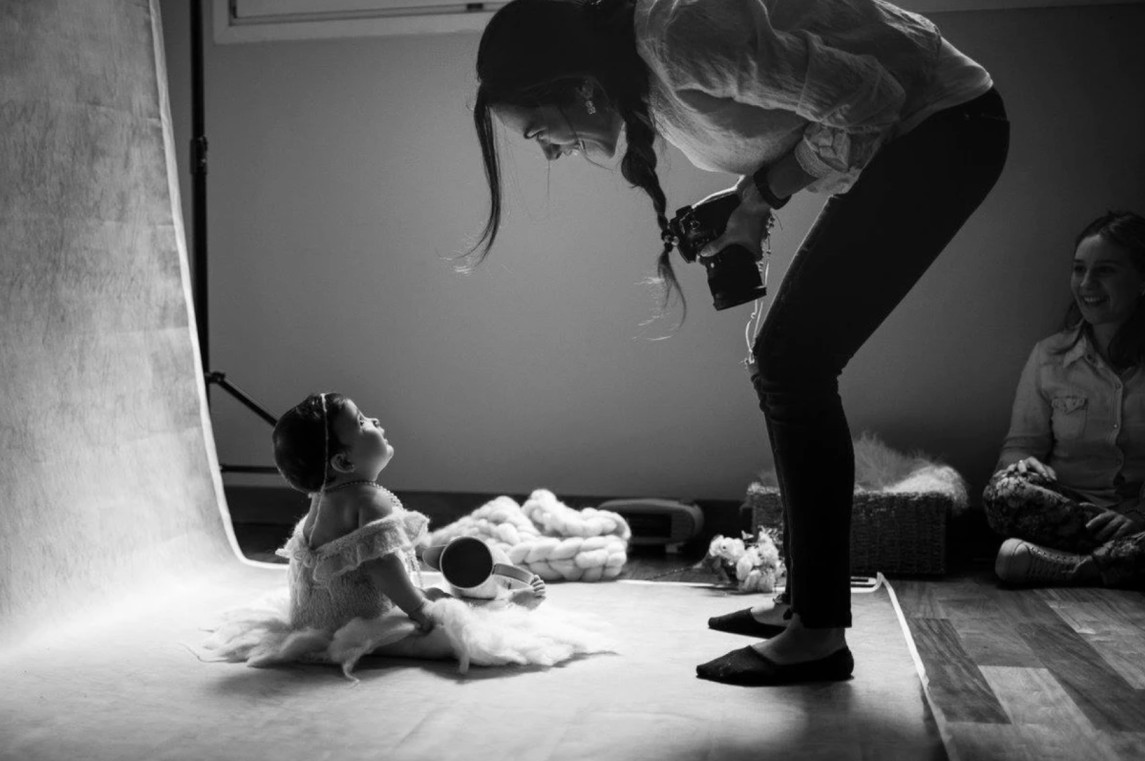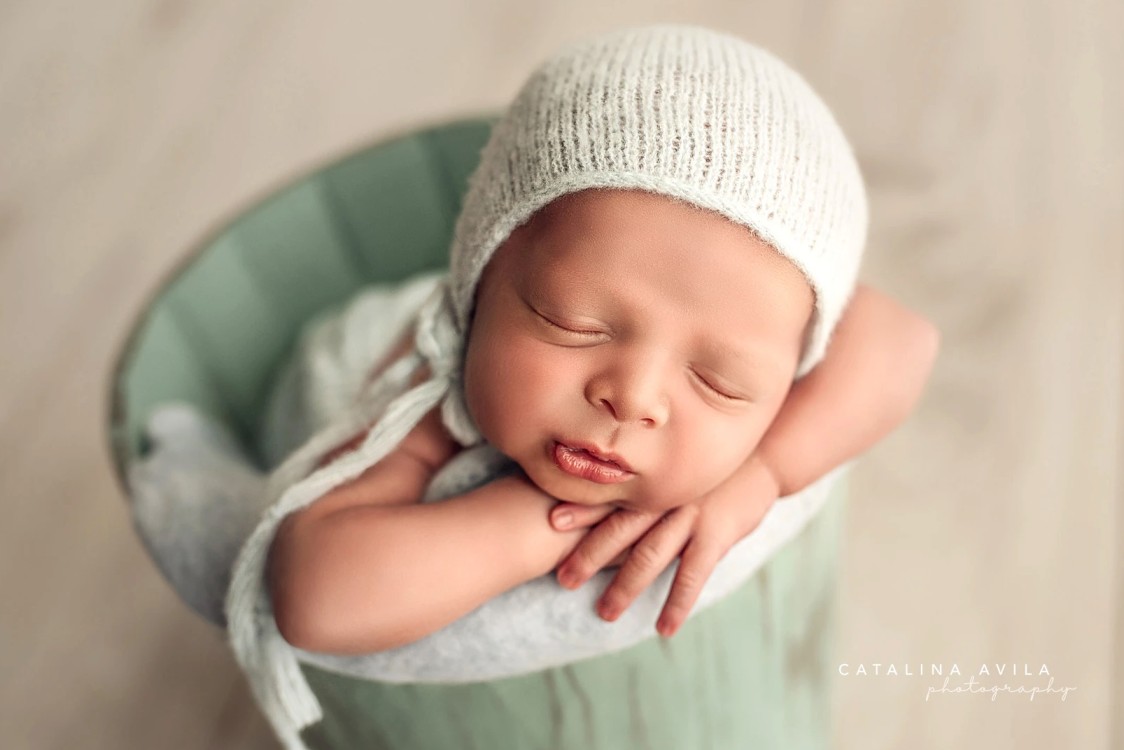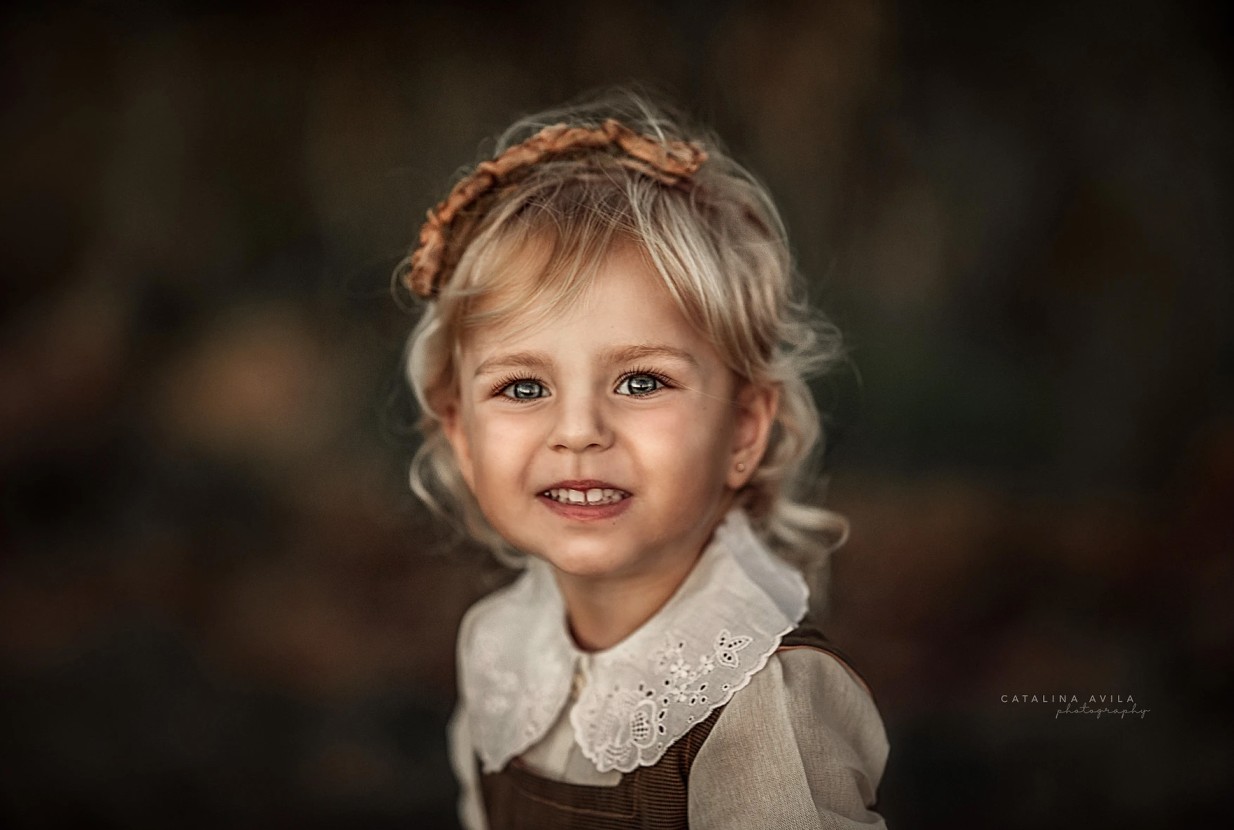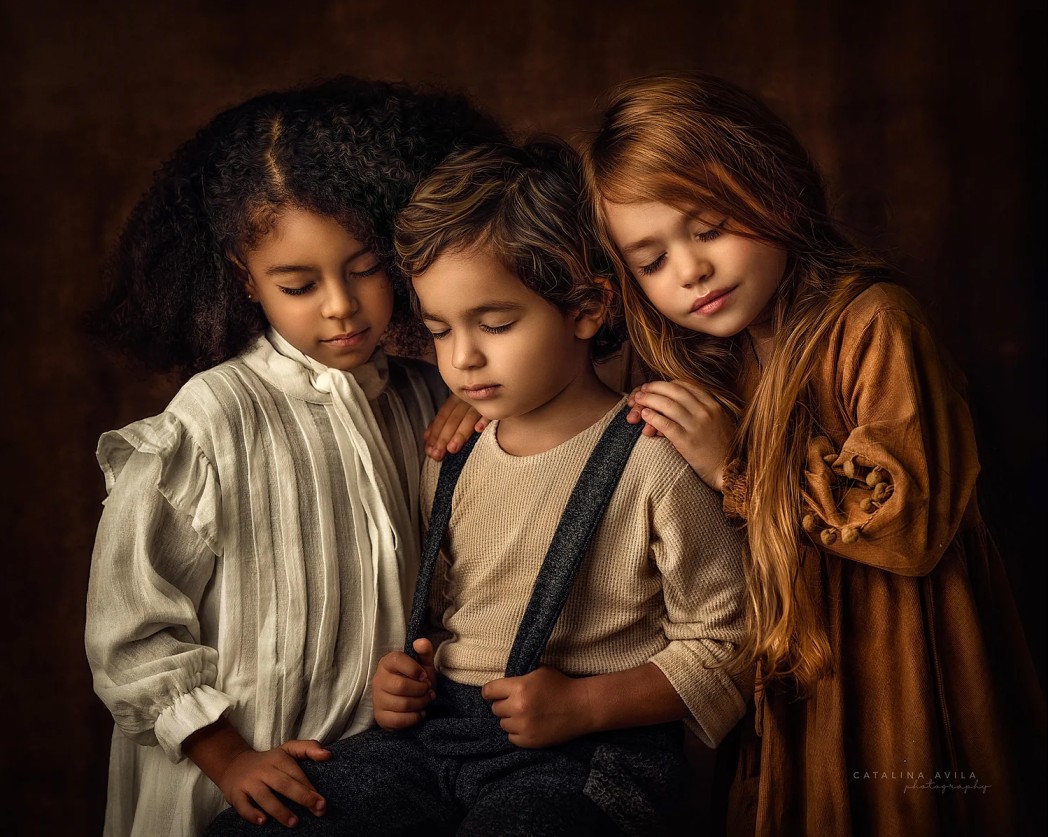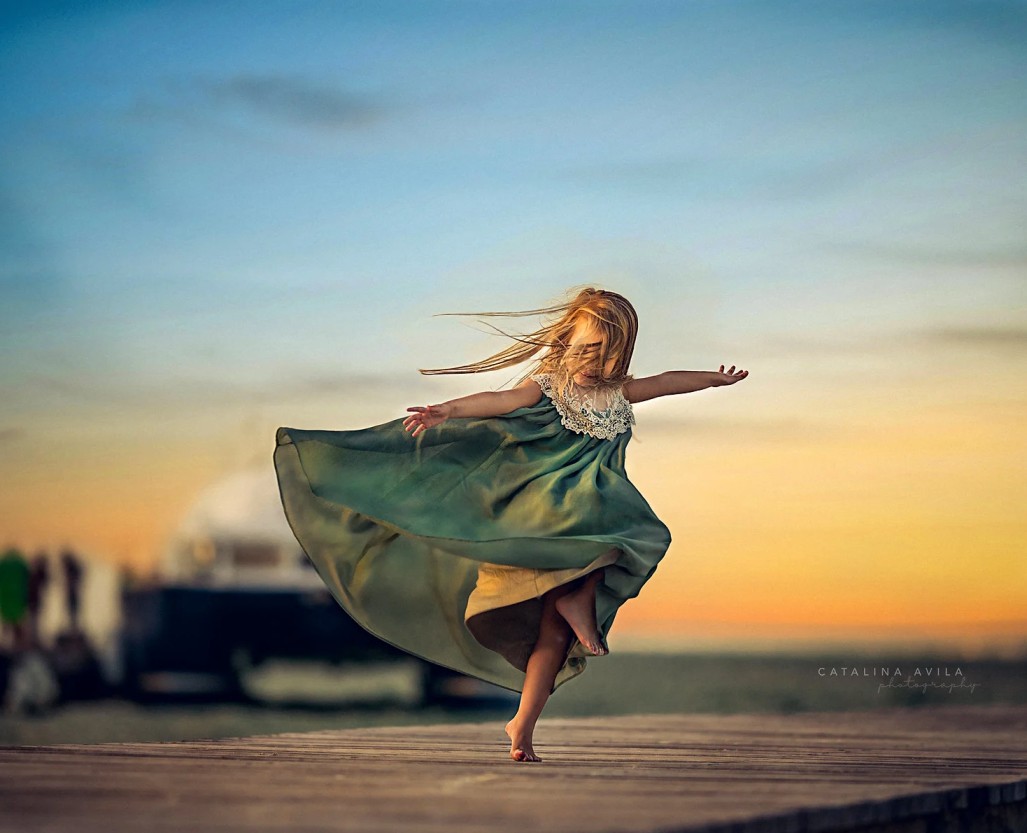 I was named among the 50 best portrait photographers in the world, I have been an official Nikon influencer for Latin America for several years, and I have trained more than 5,000 photographers around the world.
But success is not success if it takes you away from the people you love. That's why I love Aftershoot.
It allows me to have more quality time with the ones I love the most!
Meredith Ryncarz
Follow Meredith on Instagram
Below is a photo of Meredith Ryncarz and her children, followed by examples of her wedding photography work.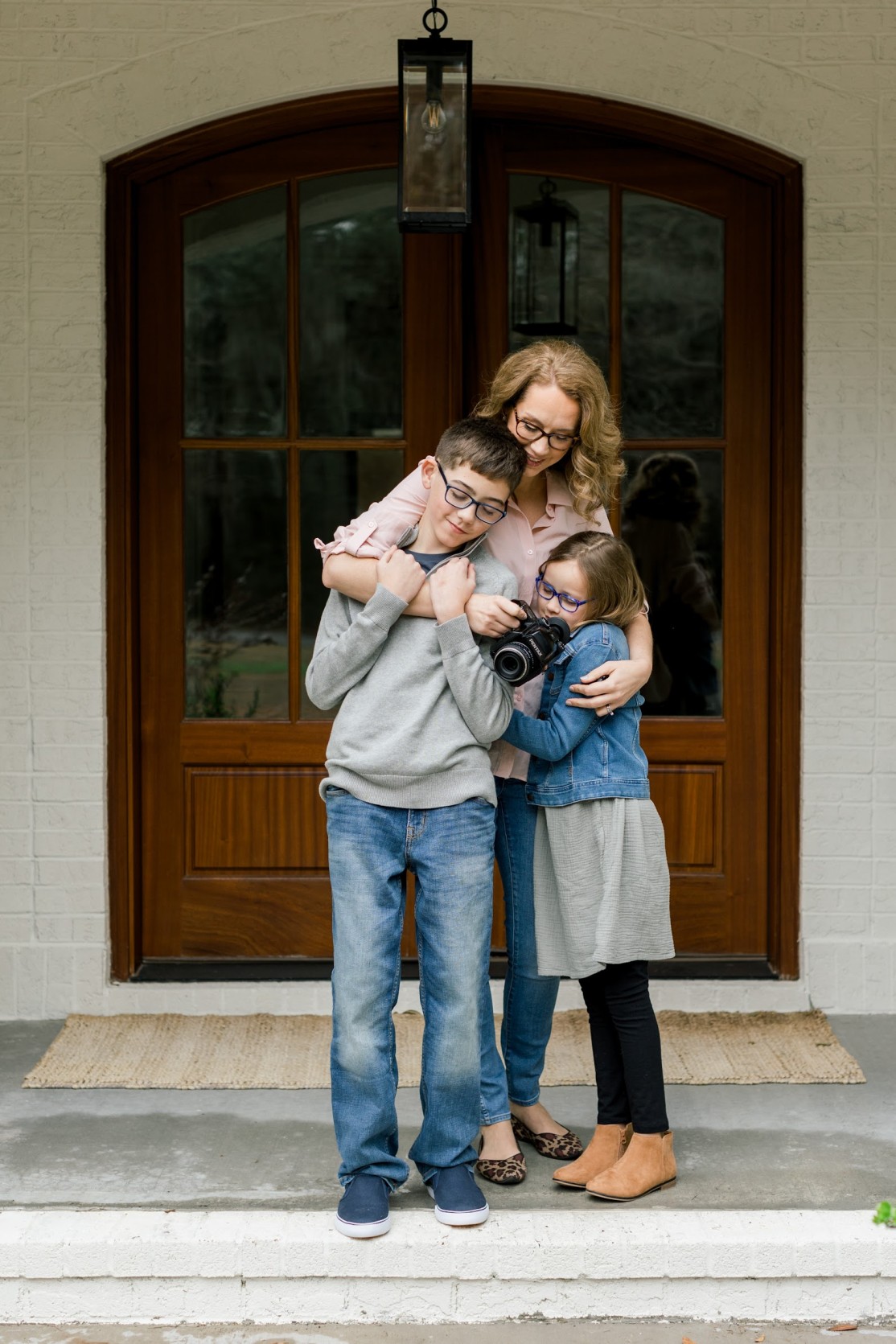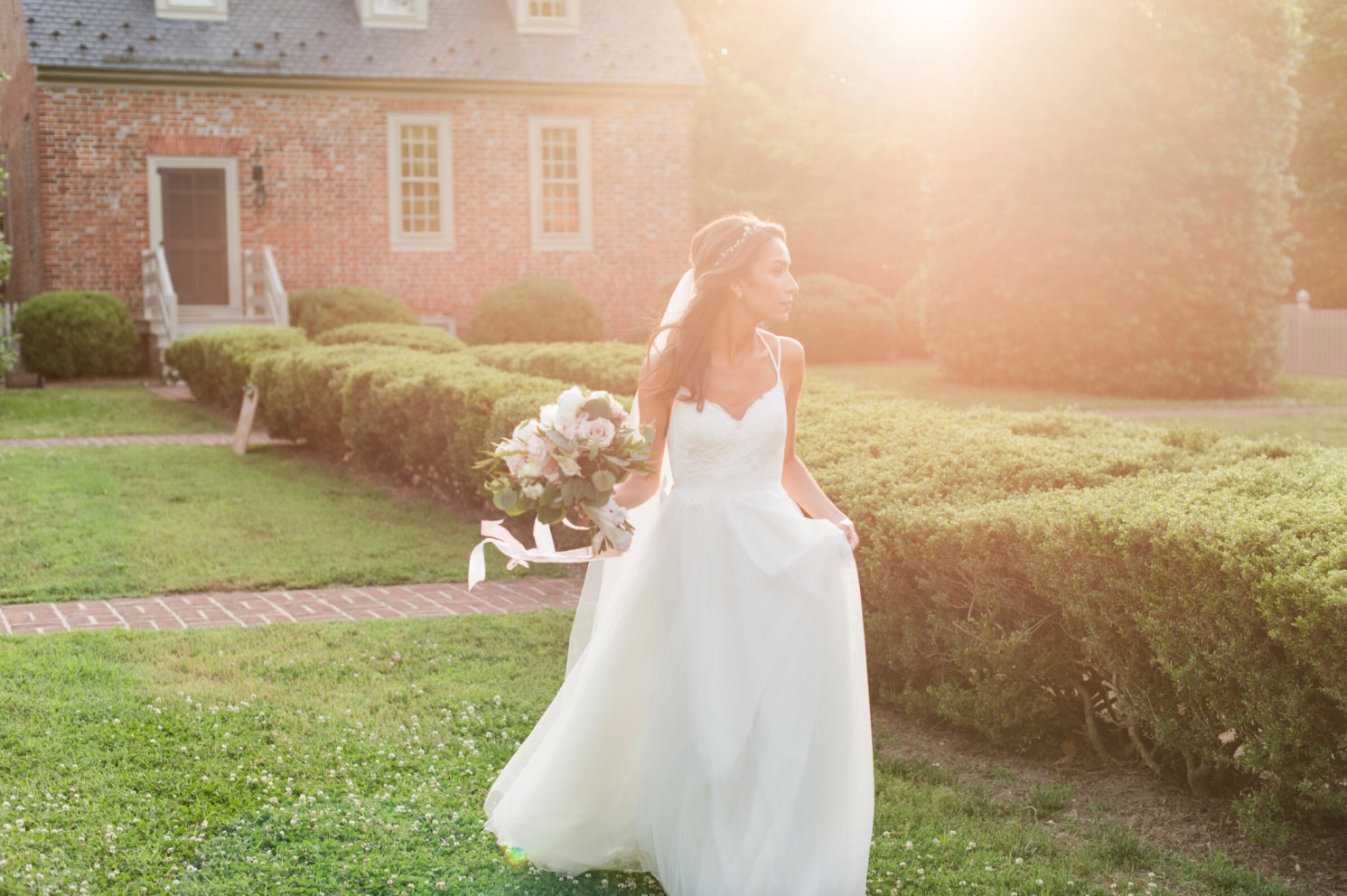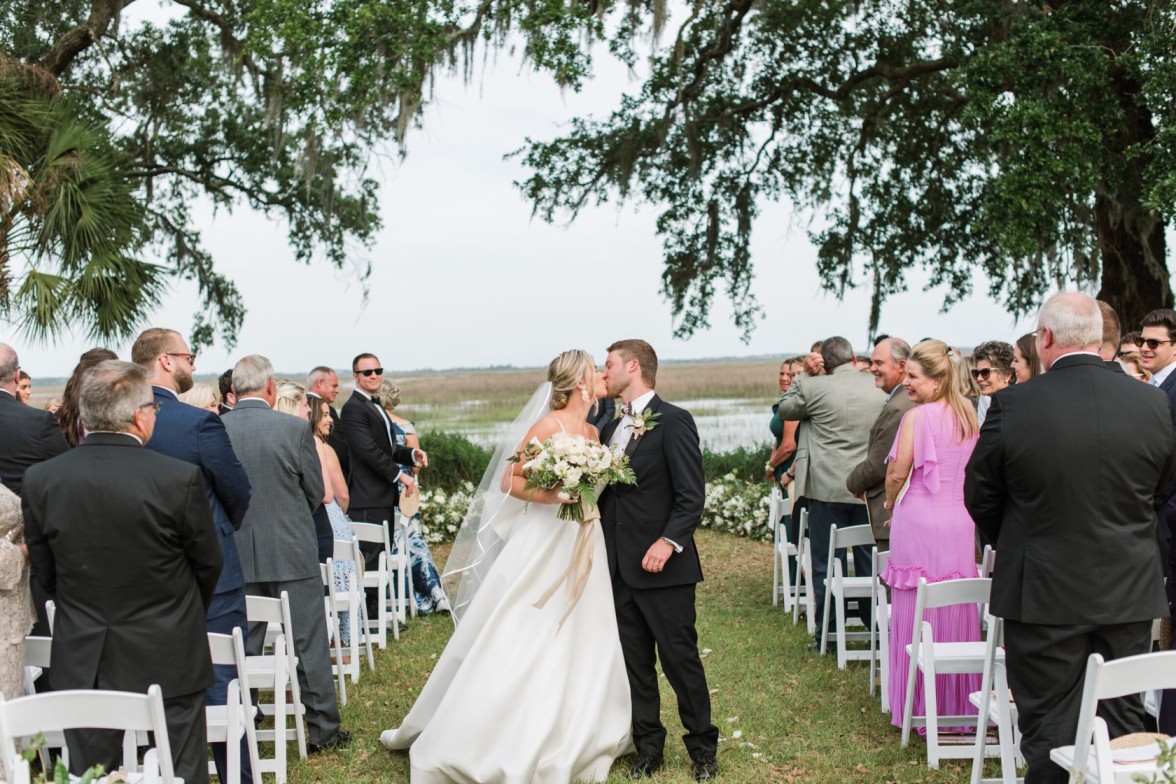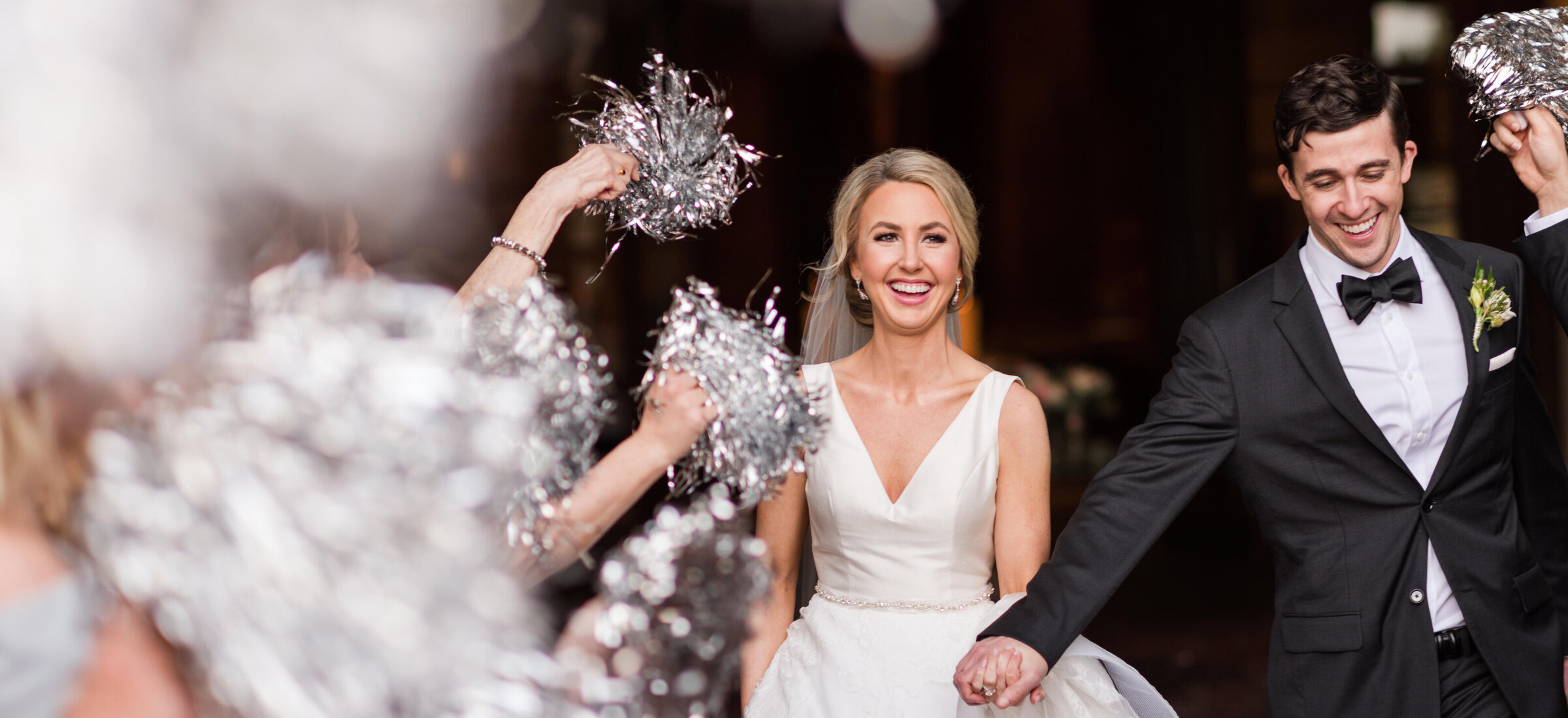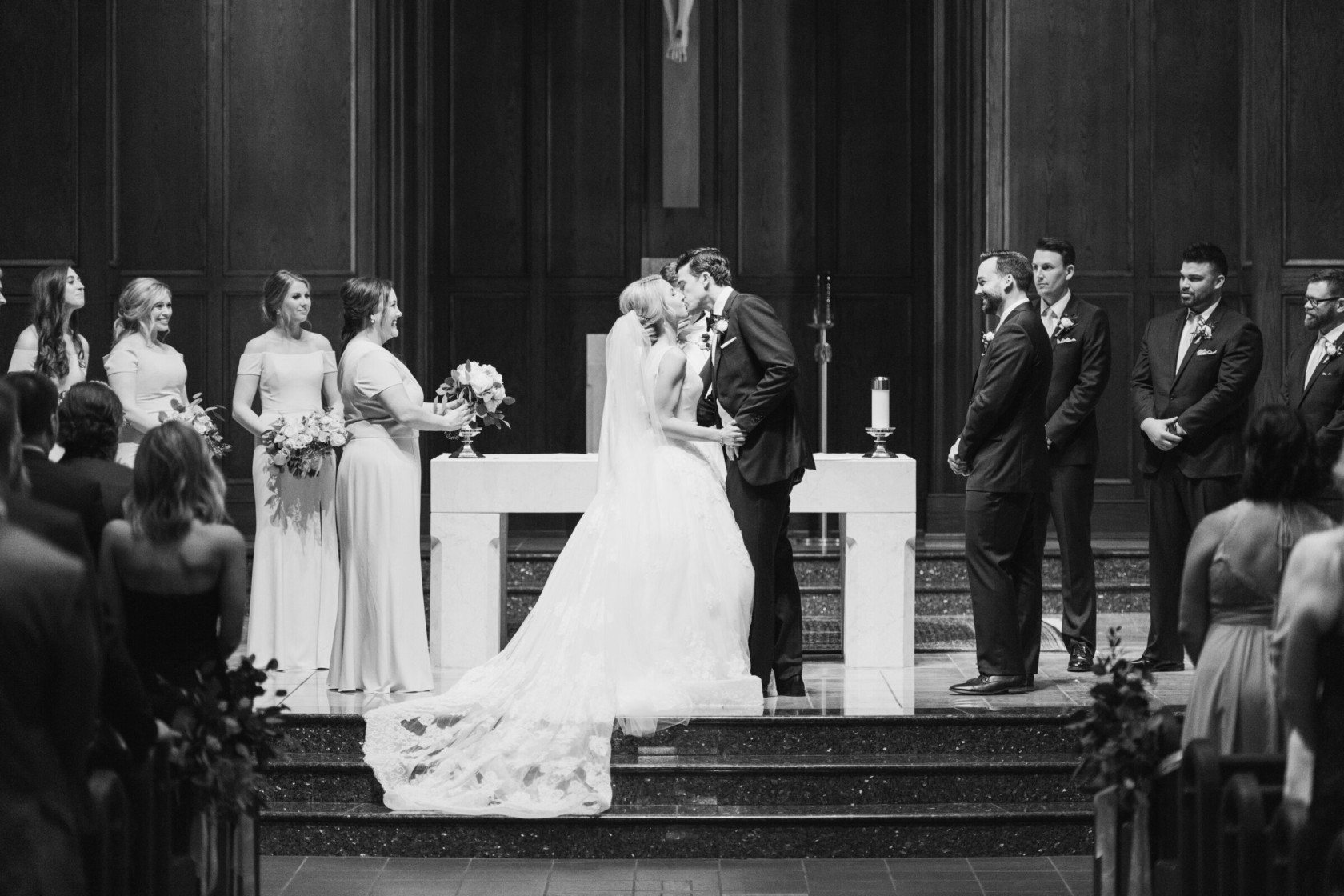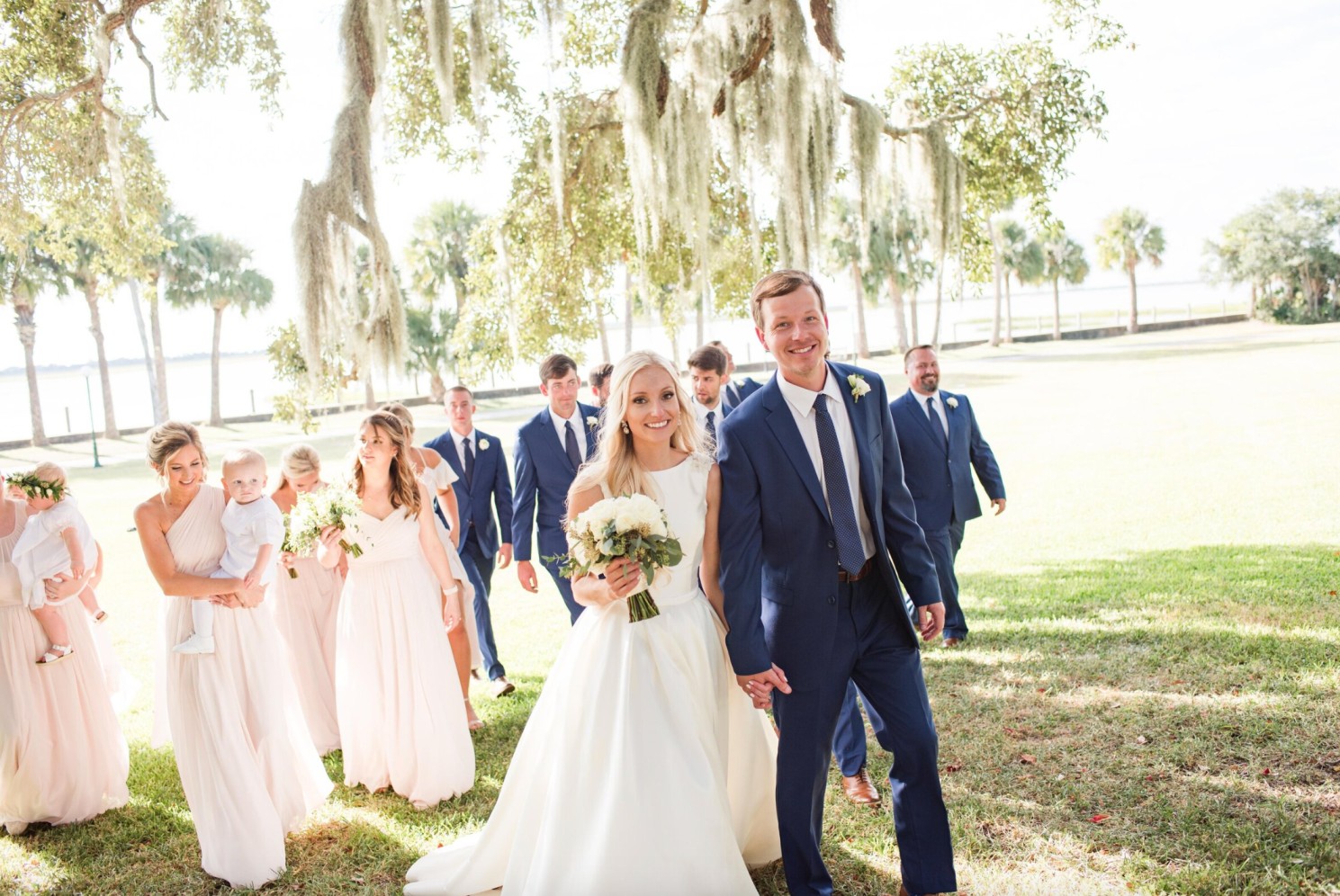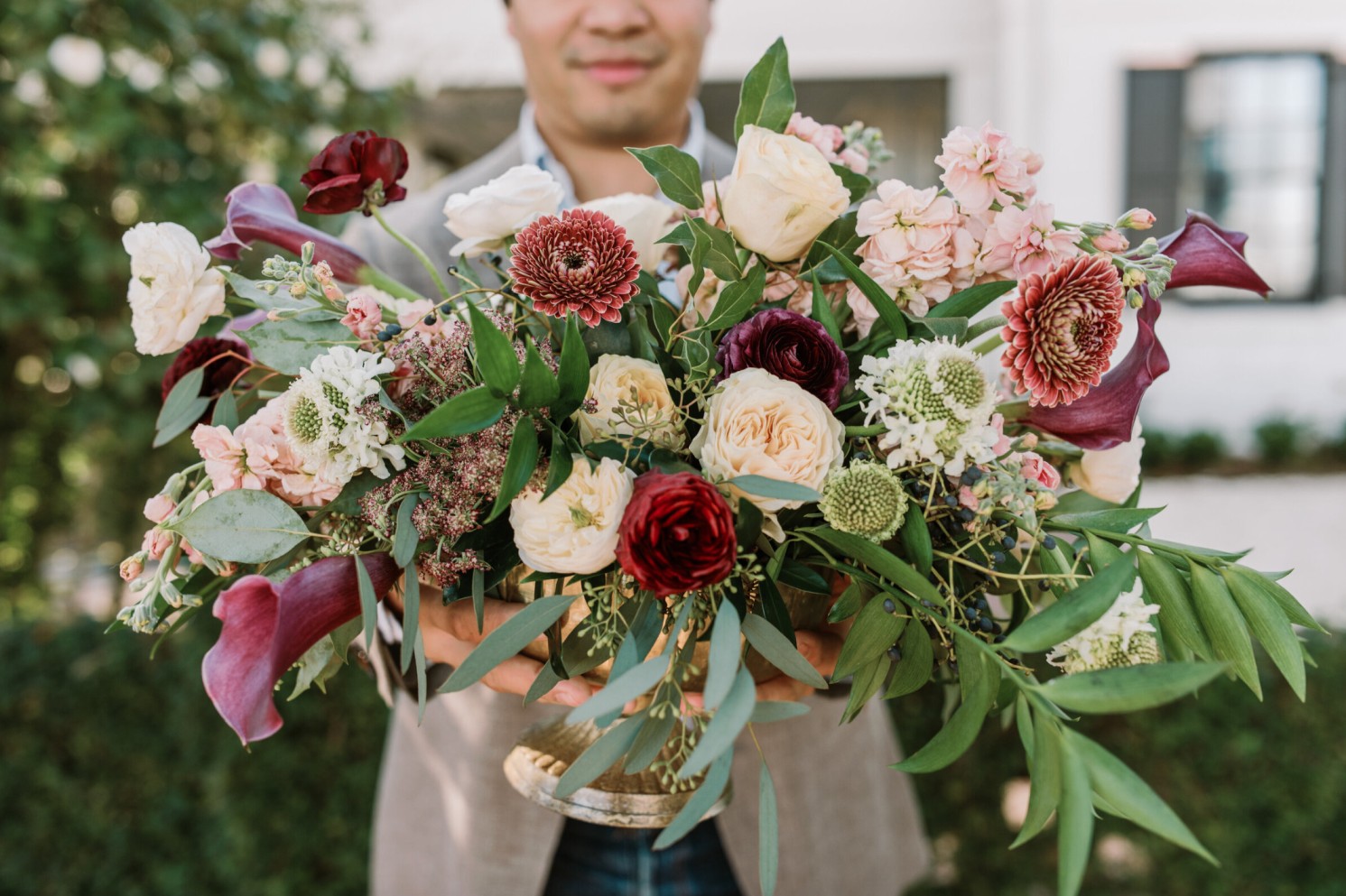 Being a mom isn't always easy and when you throw in being a business owner as well, things can get pretty chaotic.
Anything that I can do to speed up my tasks for work is a big deal to me. It allows me more time to spend with my family and not be stressed when I close the office door at the end of the day.
Aftershoot has given me back more time with my family and I love that!
Sophia Barrett
Follow Sophia on Instagram
Below is a photo of Sophia Barrett and her daughter, followed by examples of her inspiring work.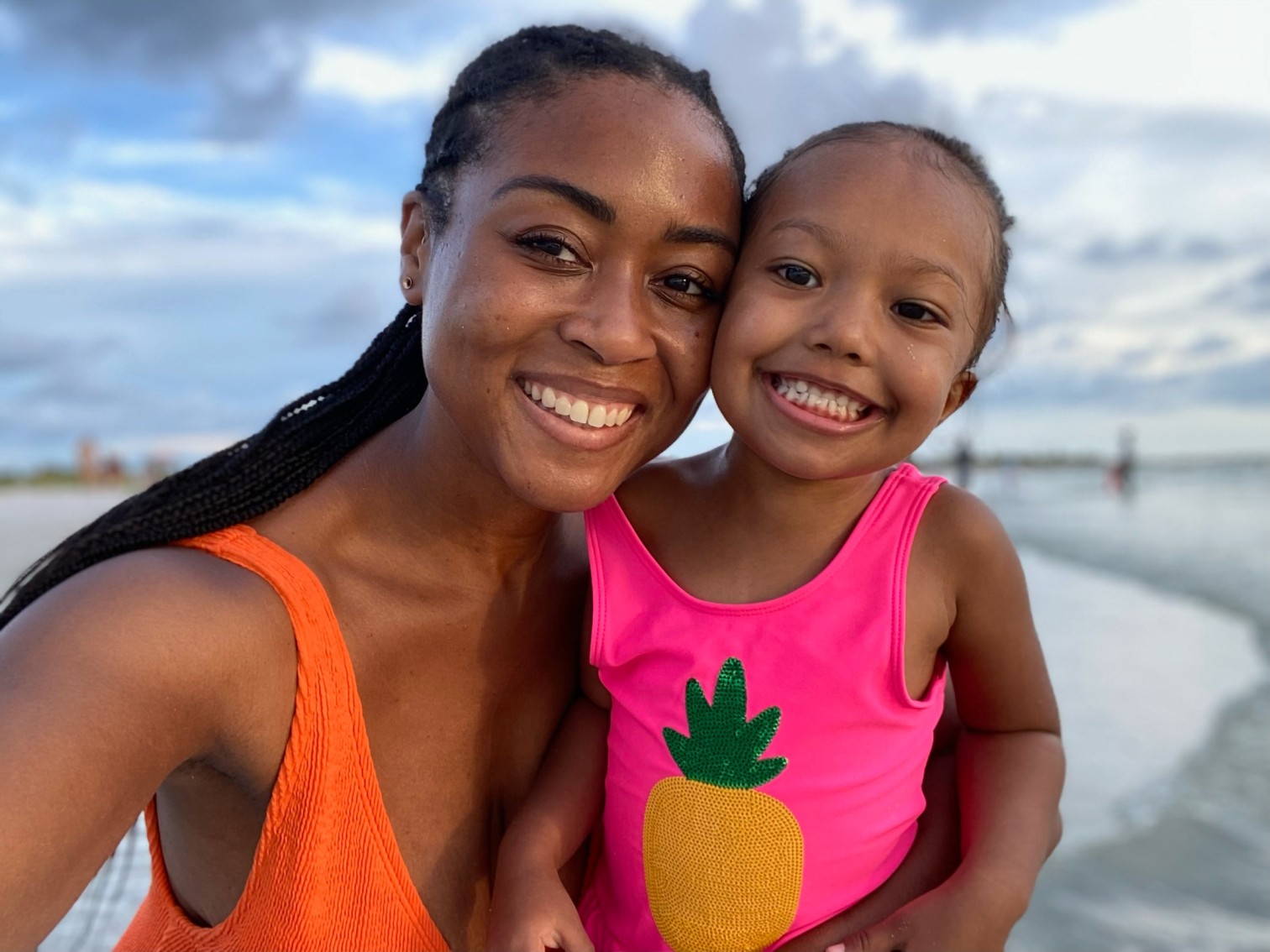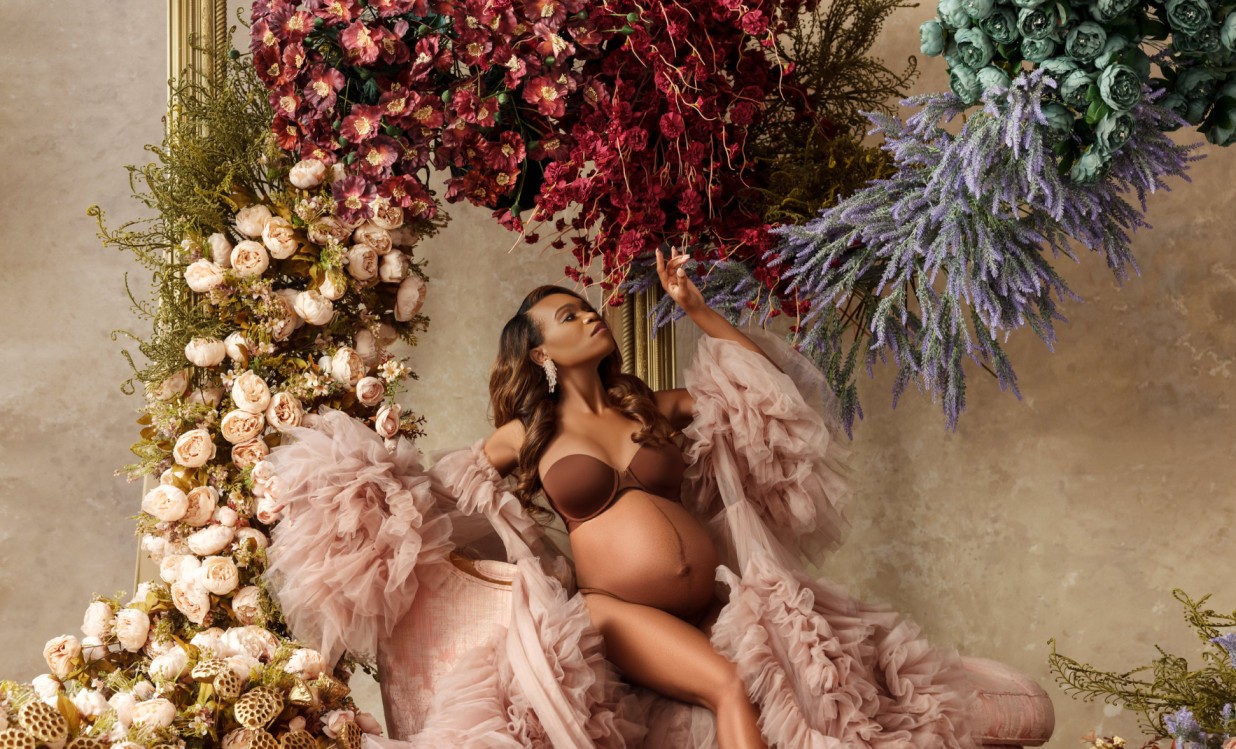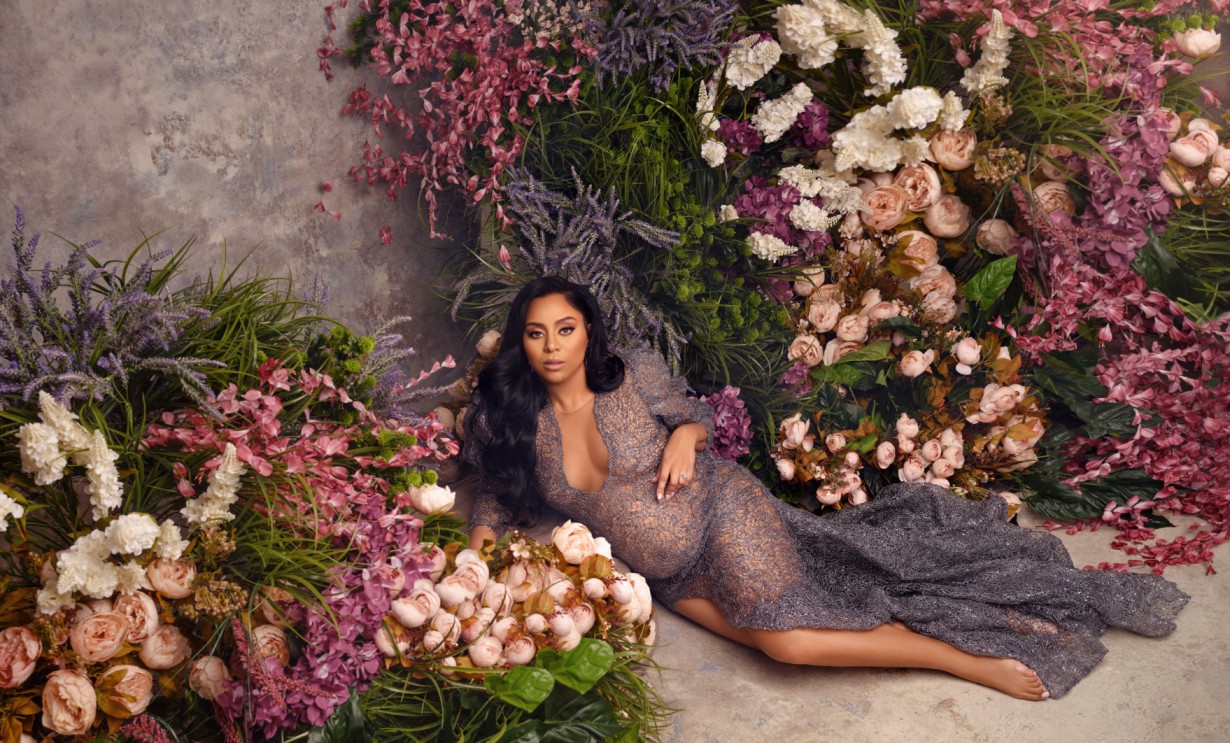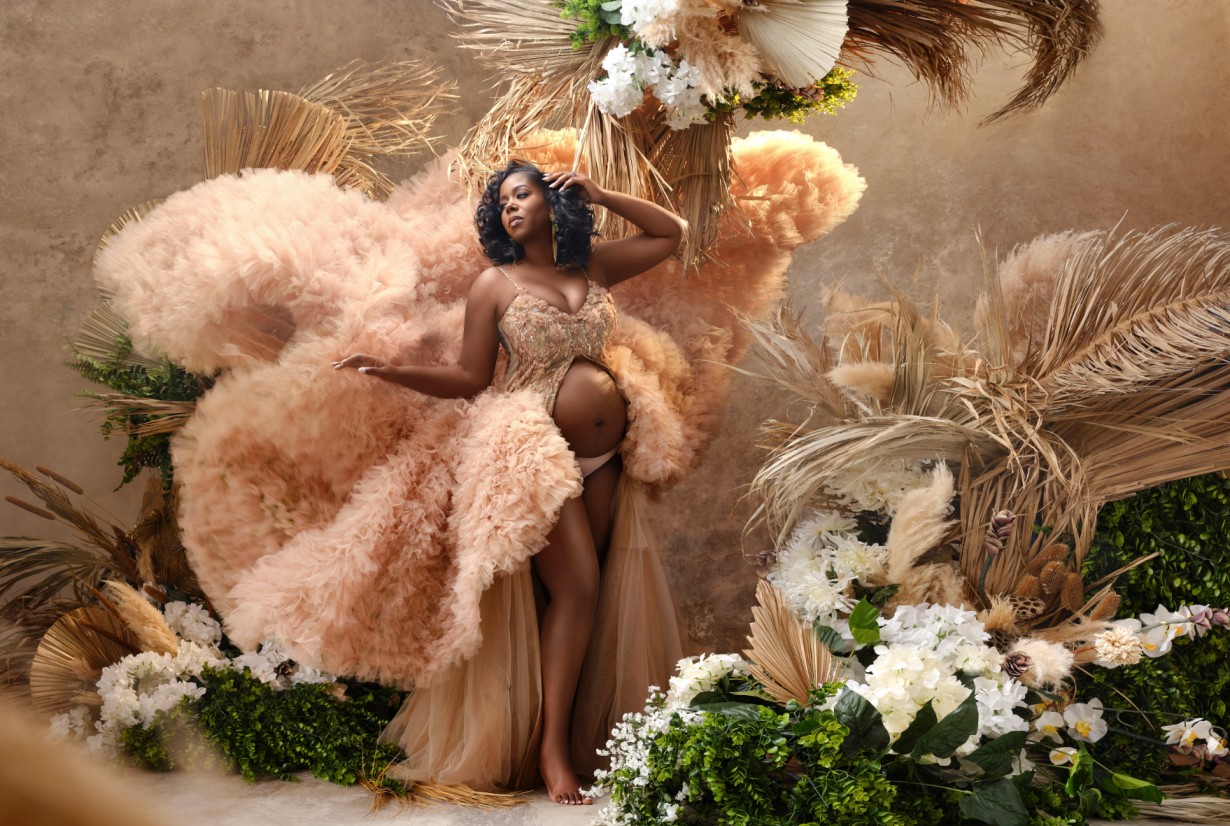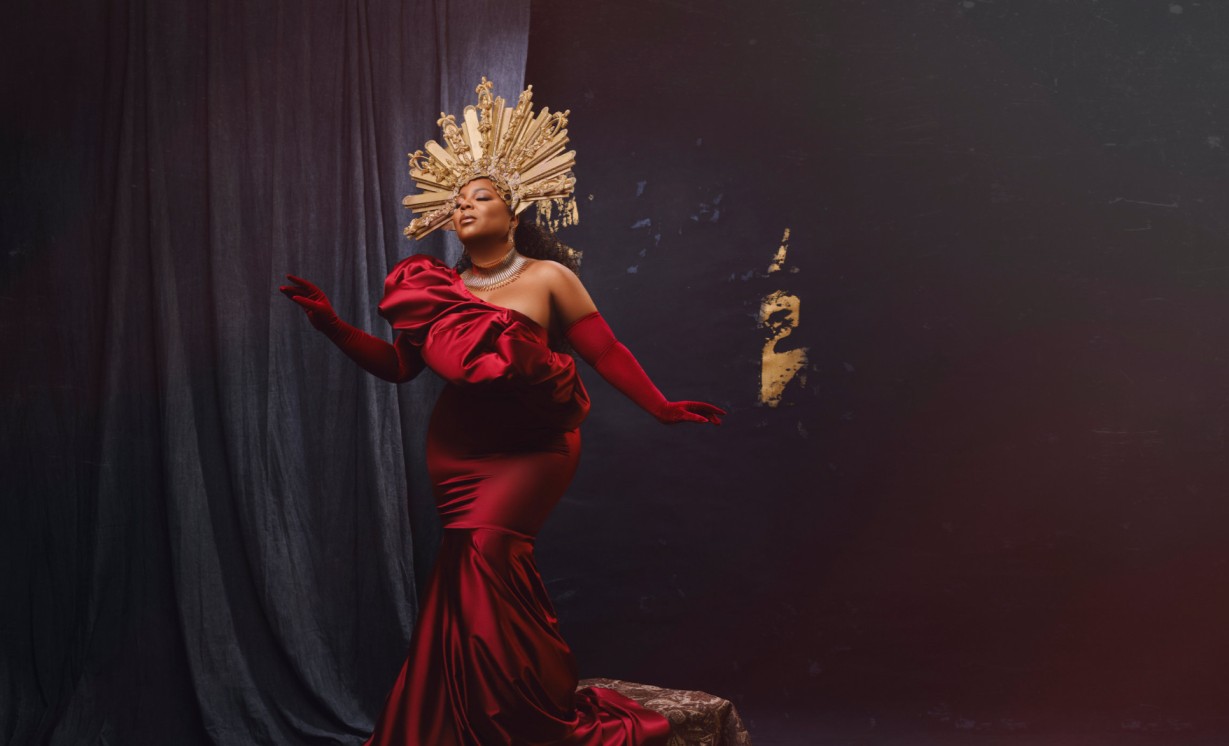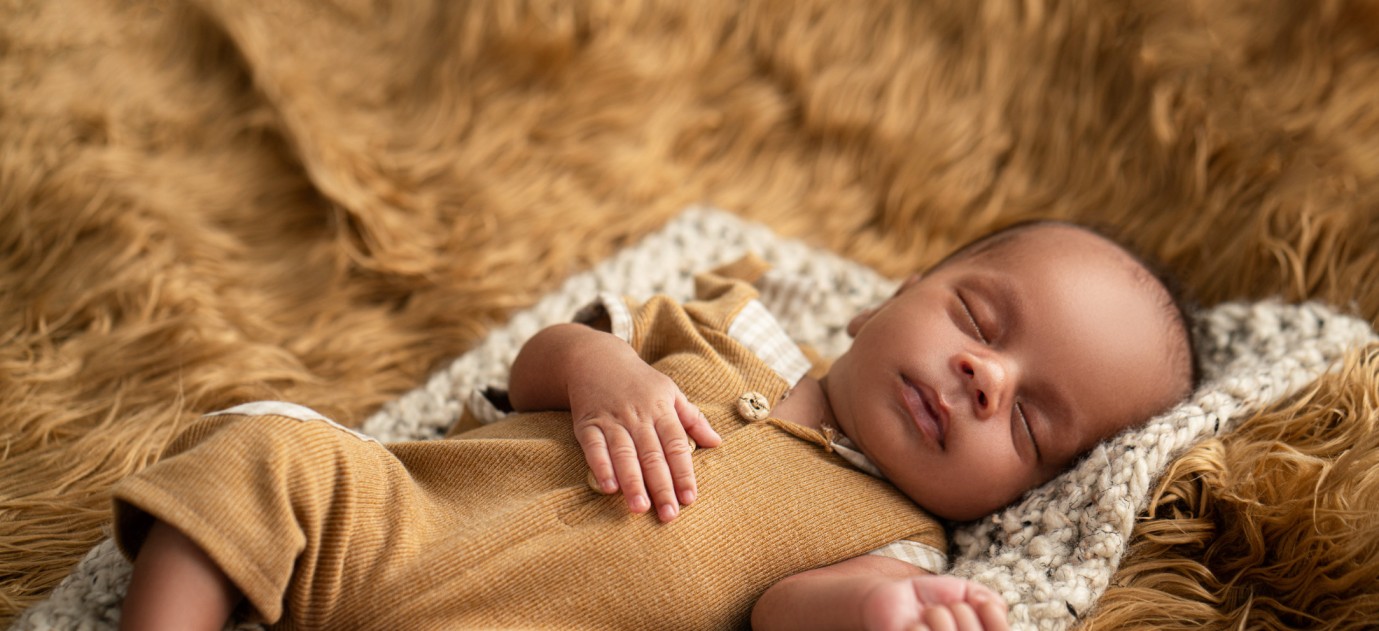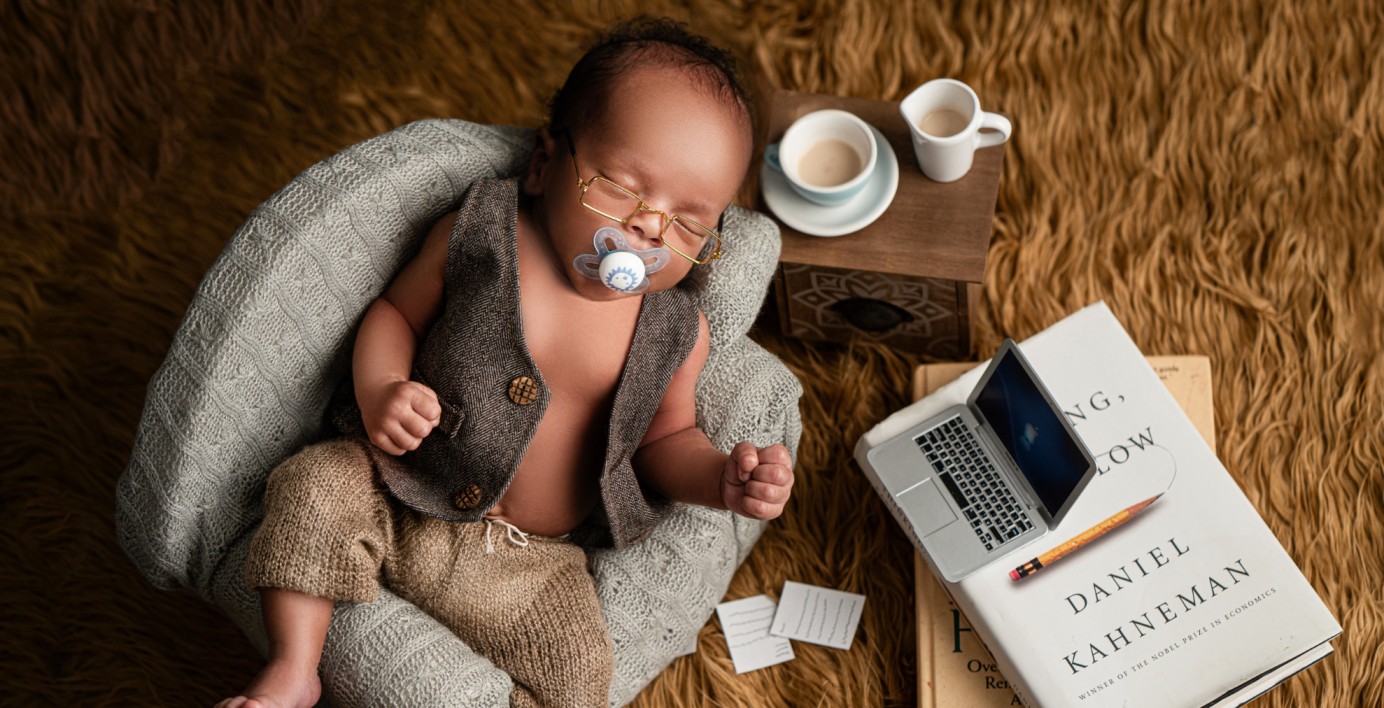 The beauty – and importance – of motherhood is something our studio is proud to celebrate and prioritize.
I feel blessed to do this for a living while I experience the joys of watching my beautiful daughter grow before my eyes!
While I love my job, I value practices and systems that help me spend more quality time with her and Aftershoot answers that need in spades.
Aftershoot allows me to focus on the art and saves me time on the backend. The precious hours I save I get to spend with my husband and daughter! What's more important than that?
Yakaly Di Roma
Follow Yakaly on Instagram
Below is a photo of Yakaly Di Roma and her children, followed by examples of her fantastic work.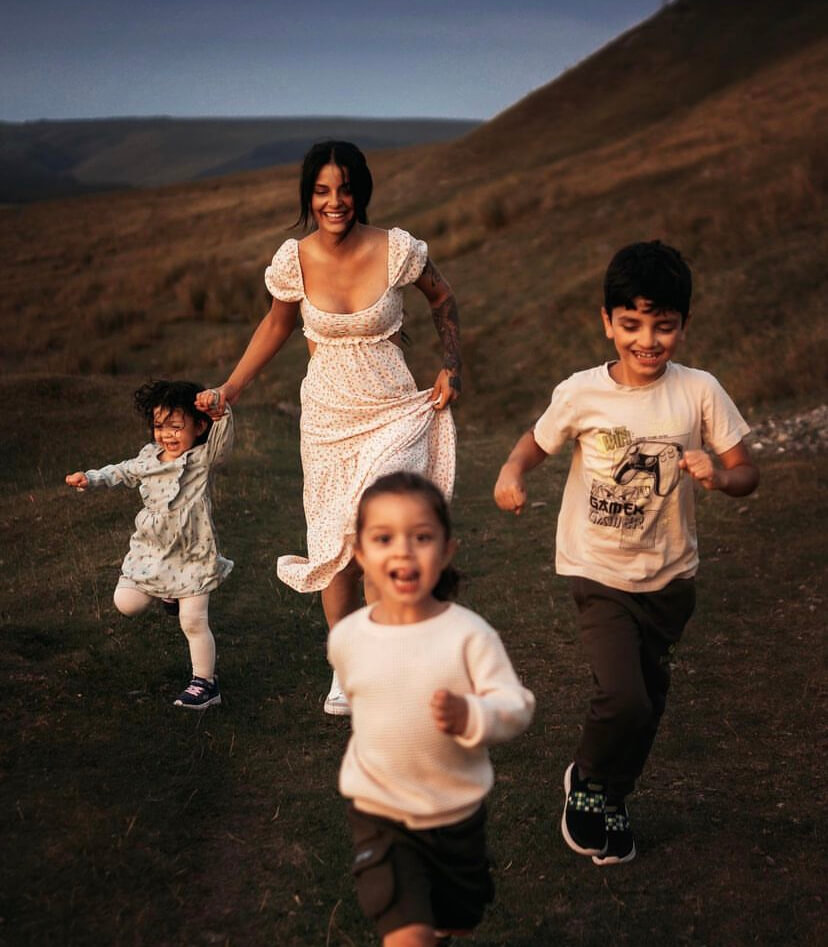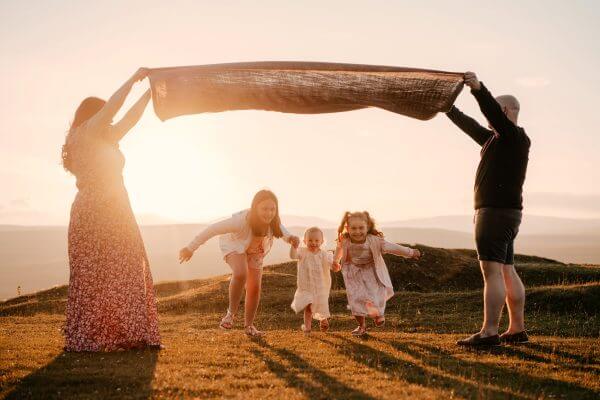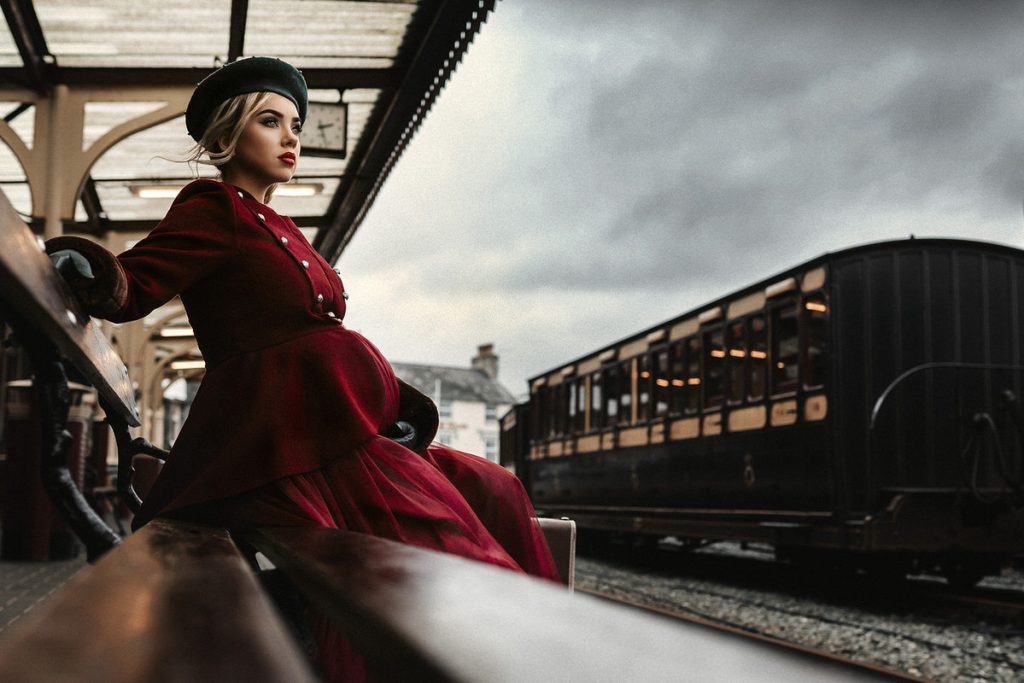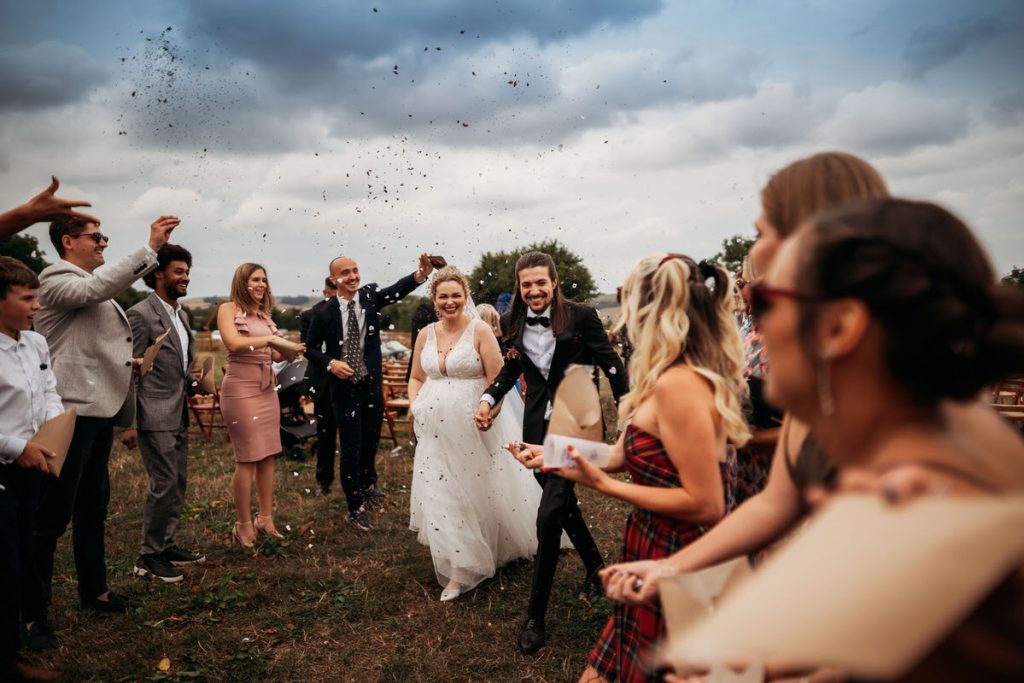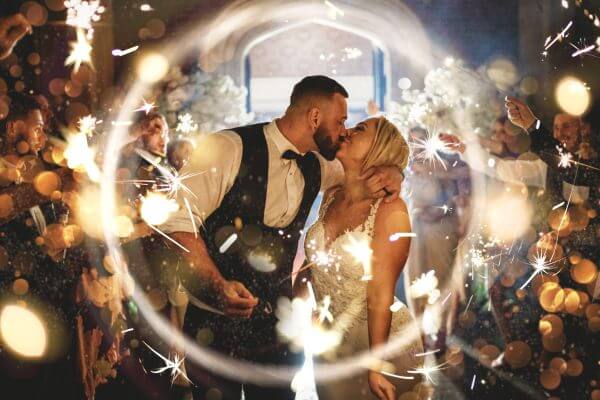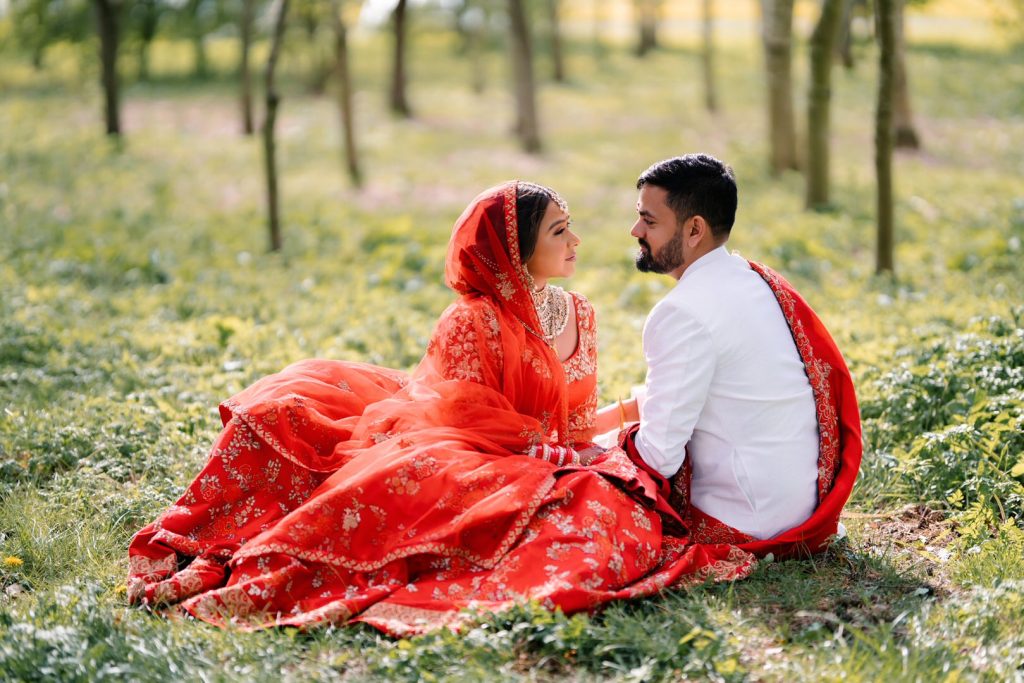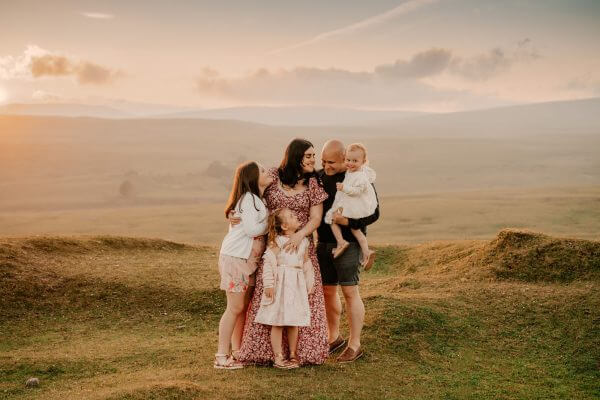 As a mother of 3 children, the most important thing for me is to be able to have weekends off to fully enjoy time with my children.
Aftershoot reduces my workflow and allows me to have two days off that I didn't have before, while still being able to deliver a quality product to my clients.
I have gone from doing the culling and editing in 2-3 days to doing it in 3-4 hours total.
To recap
Being a photographer mom can (and will) be challenging, but with these tips and words of inspiration from your fellow boss-lady photographers, you can survive and thrive in both roles.
Establish boundaries, prioritize and delegate tasks, streamline your workflow, be present with your family, and practice self-care.
Remember to take it one day at a time, and don't be too hard on yourself. Want more work-life balance tips? Hit that link to keep reading.
You are doing an amazing job juggling both roles, and we know your hard work and dedication will pay off in the end!

---