How Studio Ninja Simplifies Your Photography Workflow
You know by now that our primary goal at Aftershoot is to speed up your workflow.
That's why we're so excited to announce our partnership with Studio Ninja – the world's highest-rated photography business app that simplifies your administrative workflow.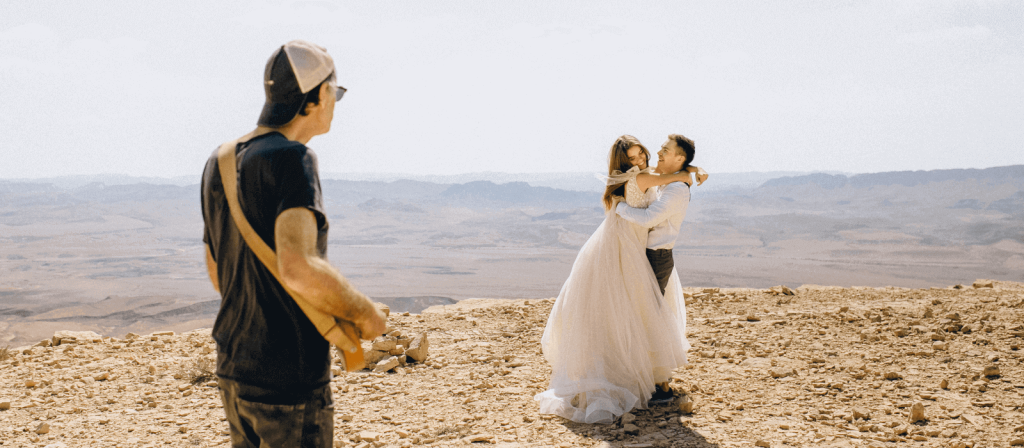 What is Studio Ninja?
Studio Ninja helps photographers work less and earn more with its all-in-one photography business management software.
Admin, shmadmin! Just think of all the time you could save – all the things you could do – if you had an all-encompassing app to manage your photography business no matter where you are.
That's exactly what Studio Ninja is all about.
In this one app, you can:
Track all your clients, leads, and jobs
Automatically book clients and send automatic emails
Easily get quotes accepted and contracts signed electronically
Send invoices, get paid, and more!
The app is available on desktop and mobile. Download the mobile app from the App Store or Google Play Store.
Best of all, Aftershoot has partnered with Studio Ninja to bring you an exclusive offer!
New subscribers can now get a 30% discount on any Studio Ninja subscription by using the code AFTERSHOOT30 at checkout.
Studio Ninja's key features
From boosting your sales to workflow automation, let's break down what Studio Ninja can do to simplify your workflow.
CRM & leads management
The Leads Management function helps you convert leads into sales with a streamlined workflow system – even when you're offline.
A directory helps you find all your customers in one convenient location. You can also send a series of automated emails whenever you get website inquiries or if you need to follow up on invoices.
If you shoot in different countries, you can even choose the language you want for your communication in those locations.
To top it off, you can book clients automatically using their brand-spanking new Online Booking system.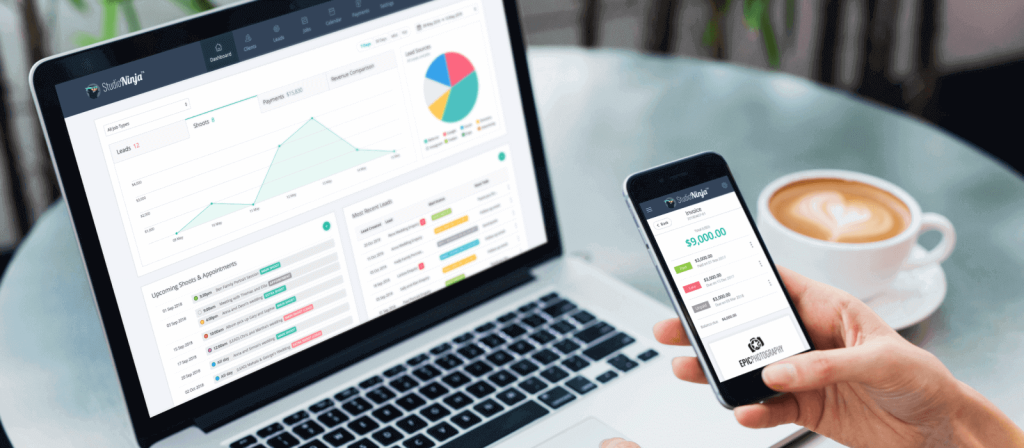 Workflow automation
Boost your productivity by choosing from pre-made workflows designed to keep your business on track. Don't worry, you're still in control with Studio Ninja's fully customizable workflow automation.
Use it as you see fit – either by relying on checklists to keep you accountable or by activating automated emails, contracts, and questionnaires that go out to your clients.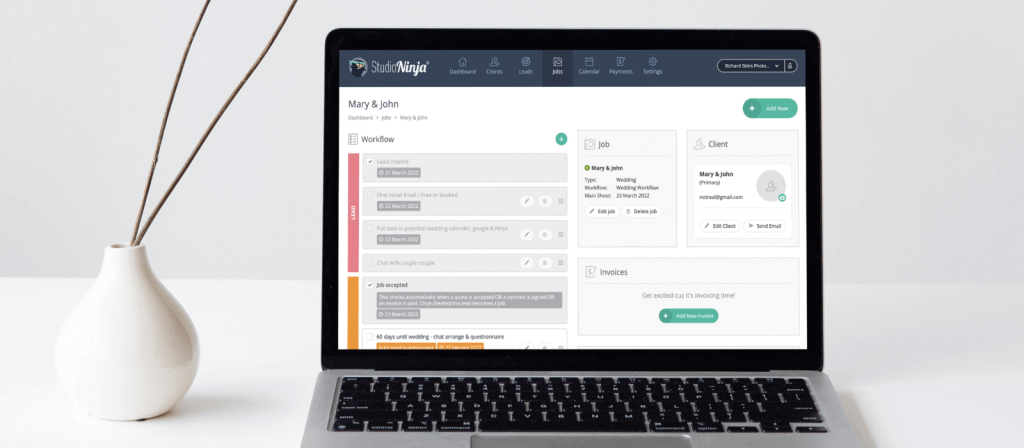 Job tracking
Gone are the days of frantically cross-checking your calendars and notes. All your jobs and to-do lists are easy to track on one screen.
You'll see a progress bar and status to keep all your deadlines and invoices up to date.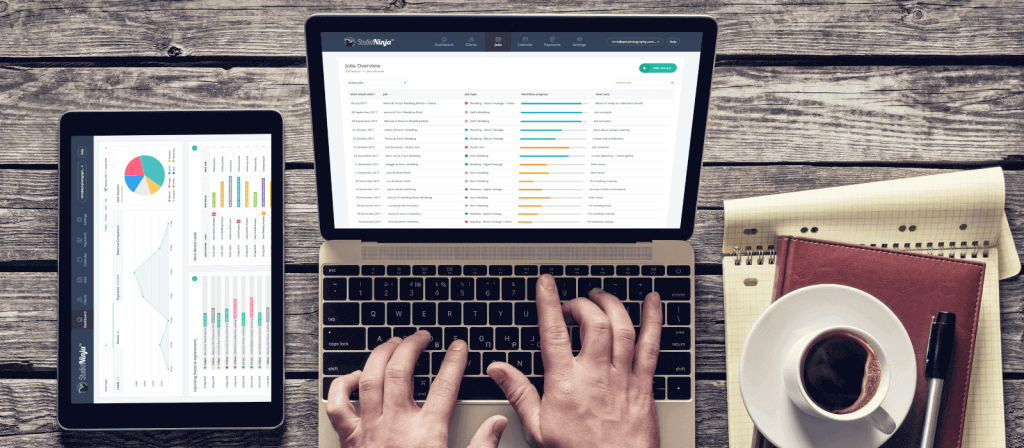 Quotes and contracts
Set up your Client Portal with your own branding so contracts, invoices, and questionnaires all keep in line with your brand identity.
You can send quotes and contracts, get them accepted and signed electronically, and receive online payments in one convenient place. The app even reminds your clients when payments are due.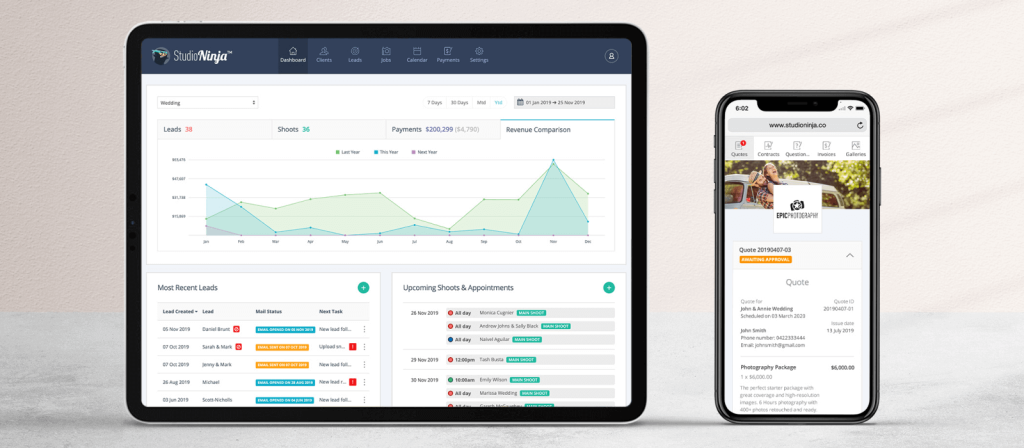 Payments and reports
Invoicing is easy and automated with Studio Ninja. It is integrated with PayPal and Stripe for easy credit card payments straight into your account.
Stay on top of your income without having to stare at boring spreadsheets. You can view your annual revenue and compare yearly results in beautiful graphs and reports.
The reports will show your recent leads, the number of jobs you've accepted, and your revenue.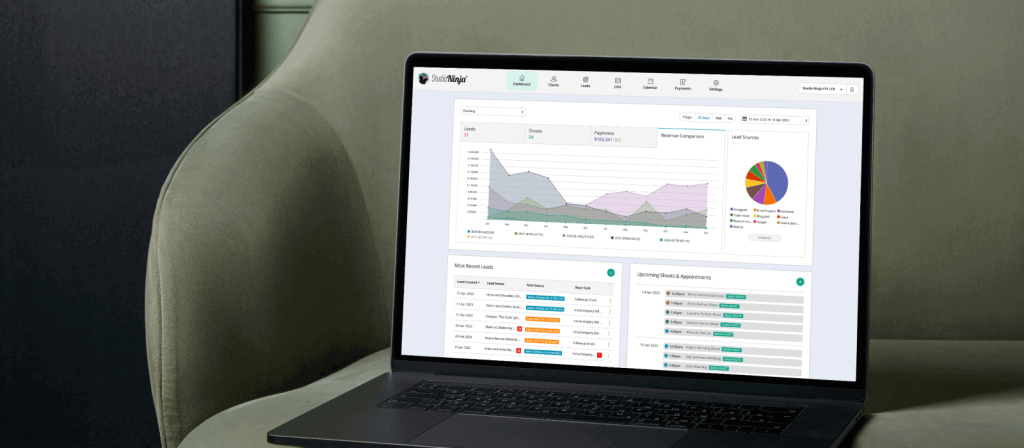 Integrations
Studio Ninja offers integrations with:
Gmail
Google Calendar
Accounting software Xero and Quickbooks
Fundy
ProSelect
PayPal and Stripe
ShootProof
Pic-Time
If you have been using different business management software up to now, Studio Ninja will help you migrate for free. Their support team is available 24/7 if you need any help at all.
Ready to supercharge your workflow?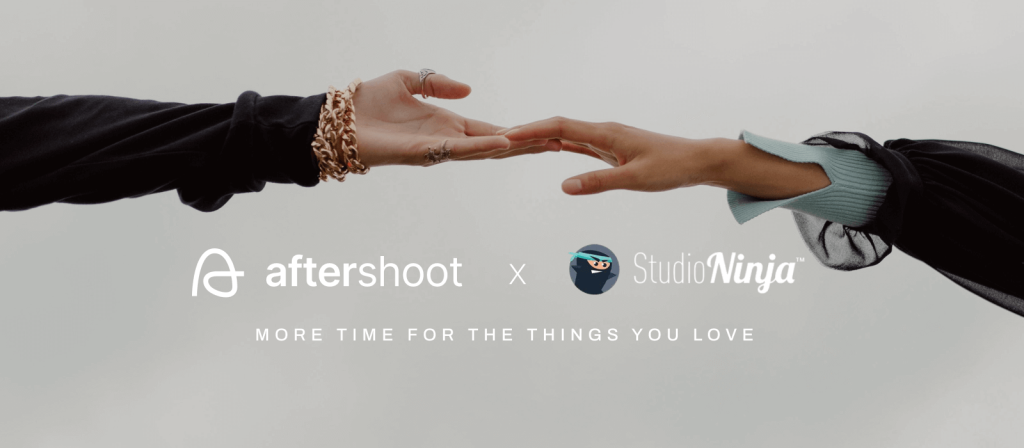 When you combine the forces of Aftershoot's AI software and Studio Ninja's business management capabilities, you get a turbo-charged workflow that leads to:
Less admin
Less stress
More time to do the things you love
Shift your focus to the creative side of your business while Aftershoot helps you select and edit photos faster than ever, and while Studio Ninja keeps the business side of things in check with automated administrative functions.
Speaking of the business side of things... do you have a gorgeous proofing gallery where you can showcase your work and potentially make sales?
You might want to check out our list of the 11 best proofing galleries on the market.
How to redeem your 30% discount
Studio Ninja offers a 30-day free trial to all new subscribers. Here's a step-by-step rundown of how to get started and then redeem your discount once your trial has ended.
Click Start your 30 day free trial
Enter AFTERSHOOT30 in the Have a promo code? field
Enter your credit card information and click Pay now
Don't sleep on this fantastic deal! This offer won't be available forever, so redeem your 12-month discount as soon as possible.
Wrapping up
There's a reason why Studio Ninja is rated as the best photography business app in the world. Over 30,000 photographers use it to streamline their workflows and grow their businesses.
Stop wasting your time stressing about admin. You don't need to take an Excel spreadsheet course to track your income or type your fingers to the bone sending countless emails to clients.
Studio Ninja is an all-in-one solution for professional photographers.
We partnered with Studio Ninja because we have a common goal – to save you time! So, what are you waiting for?
Take full advantage of software that can speed up your pre- and post-shoot workflows and help your photography business grow.
Sign up for Aftershoot (if you haven't already), and download the Studio Ninja app from the App Store or Google Play Store today!
Go out and live your life while we take care of the tedious tasks for you.
Don't forget to redeem your 30% discount on any Studio Ninja subscription with our code: AFTERSHOOT30

---