Introducing Aftershoot EDITS – AI Automated Editing
Updated April 3rd, 2023
Aftershoot EDITS is here!
Aftershoot EDITS is ready to supercharge your editing workflow, FREE of charge for a limited time.

Ever dreamt of having your own editing assistant? Better yet, how about one that works whenever you need them, never complains, and does everything just the way you like it?
Aftershoot EDITS is finally turning that dream into reality!
Aftershoot CULL is already speeding up your post-shoot workflow by cutting down selection time, and now, EDITS takes it a step further by saving even more of your time without compromising the quality of your work or infringing on your editing style.
Get all the features of CULL and EDITS in one app
We want to make your after-shoot workflow as streamlined as possible, which is why the features of both Aftershoot CULL and EDITS are combined into the Aftershoot app as one all-encompassing package.
If you're already an active Aftershoot user, simply update your app and all the Culling and Editing features will be there. Go to account.aftershoot.com to update your app or connect with support if you need any help.
If you're a new user looking to start a free trial, both Aftershoot CULL and EDITS features will be included in your trial. When your free trial expires (and you don't want to upgrade), your CULL option will be downgraded, but you'll still be able to use EDITS to full capacity for a limited time.
All our new Aftershoot Pro subscribers will get the full package with EDITS as a free add-on for a limited time.
What is Aftershoot EDITS?
In short, Aftershoot EDITS uses AI technology to automate your editing style and help you edit photos faster. You simply add your images, hit a button, and wait for the magic to unfold.
Let's dive a little deeper into how Aftershoot EDITS works and its features.
Our editing AI is a flexible intelligence that learns from you, for you. First, you'll need to upload photos from your Lightroom Catalog because it uses them to learn the ins and outs of your editing style and then creates an AI Profile for you.
The more photos you upload, the more accurate your editing profile becomes. ​​You can get started with as few as 2,500 images, but we recommend uploading 4,000 to 5,000 images for the best training results.
The learning process can take up to a few hours to complete, so take a well-deserved break while our AI does the heavy lifting. Once your AI Profile has been created, you can add an unedited catalog and start running your first edits.
It's that easy! You'll never go back to the old way of doing it.
Aftershoot EDITS features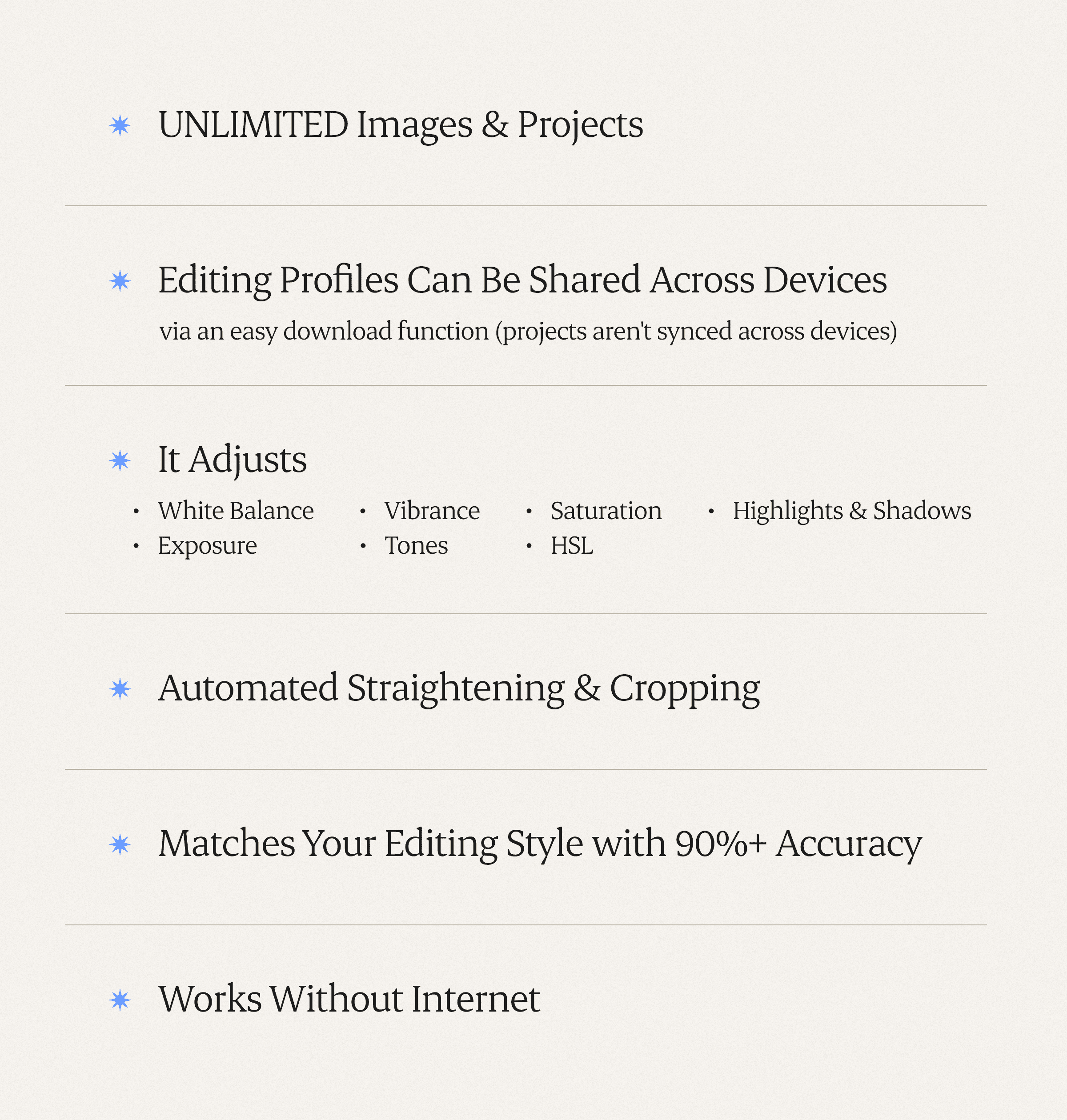 Besides these amazing features and saving hours of your time, you'll be happy to know that you will NOT be charged per image when using Aftershoot EDITS. It will be available on a fixed pricing structure, which means you can edit as much as you want or need.
See how the magic happens
Want to take a closer look at how Aftershoot EDITS works? Watch this video and let Justin guide you through every step.
Are you excited to try Aftershoot EDITS?
This time-saving software will revolutionize how you feel about your after-shoot workflow, ultimately making your editing process more enjoyable and giving you more time to do the things you love.
At the end of the day, Aftershoot EDITS is not here to replace you or your personal editing style. Instead, you can see it as an extension of your genius that works with and for you.
Go on, give it a try! We would love to know what you think of our new magical unicorn. Share how much you love it on Instagram and tag @aftershootco.

---