11 Best Online Proofing Galleries for Photographers
Let's talk about proofing galleries. While the word "proofing" can cause confusion if your business model doesn't require a client selection process before editing, they are also commonly referred to as "online client galleries."
Proofing galleries are essential tools for any kind of photography business.
In this article, we will talk about why that is, what functionalities to look for in a proofing gallery, and we'll tell you more about the top 11 proofing galleries that are currently on the market.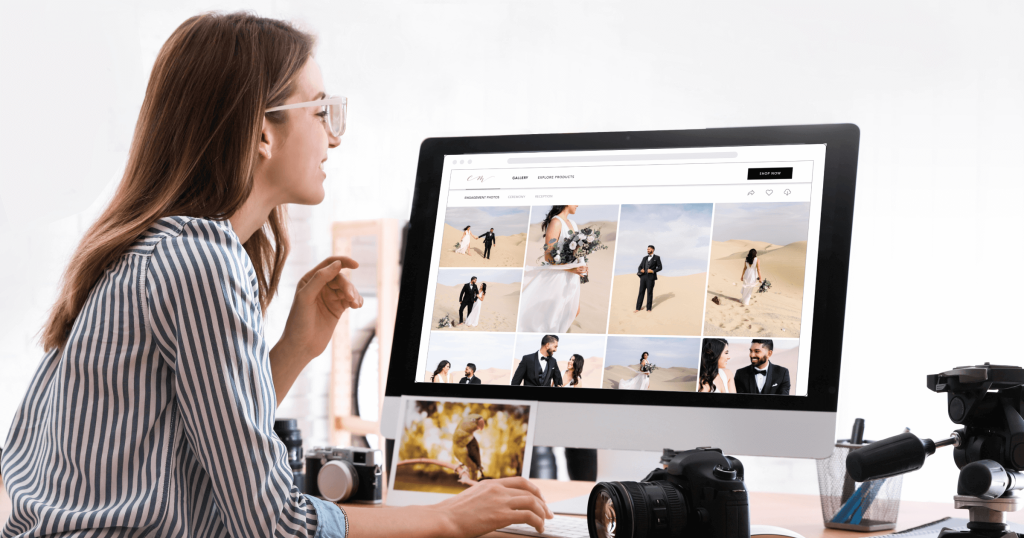 What are proofs in photography?
Proofs in photography are a selection of preliminary images that a photographer provides to clients for review before finalizing the prints or digital files.
These proofs allow clients to choose their preferred photos for printing or further editing, ensuring they are satisfied with the final outcome.
Photographers can share photos in several ways – via email, client portals, physical media like USBs, cloud storage platforms, and online proofing galleries.
Email: For smaller batches of photos, photographers may email them directly to clients.
Client portals: Photography studios may have dedicated client portals on their websites where clients can log in to access their photos and manage their orders.
Physical media: In some cases, photographers provide clients with a USB drive or a DVD containing the image files.
Cloud storage: They may use cloud storage services like Dropbox or Google Drive to share high-resolution image files securely with clients.
Online galleries: Photographers often create online galleries where clients can view and download their photos conveniently from anywhere with internet access.
Why use proofing galleries?
Proofing galleries or apps enable photographers to upload images for their clients to view without needing a USB or file-sharing system (like Dropbox or iCloud).
Online proofing galleries shift the responsibility over to the client, allowing them to decide what they want to download, share, or purchase.
Functionalities to look for in proofing galleries
Functionality varies from platform to platform, but some key features to look for include:
Client feedback options
E-commerce capabilities
Customizable websites
Video hosting
Slideshow and album design
Adequate storage limits
Good security measures
Other functionalities to consider are whether the platform supports RAW image uploads, has a mobile app, customer relationship management (CRM) features, or studio management bundles.
E-commerce functionality creates opportunities for passive income and upselling.
Depending on your business needs, the right proofing gallery can also help you create an immersive brand experience for your clients from beginning to end. Combining studio management and client galleries under one umbrella can impact your entire workflow.
Having a proofing gallery of some kind really is a win for you and your client.
How to decide which proofing gallery software to use
It's important to consider the functions listed above, the cost, as well as the ease of use for your client.
The key features you need will be specific to your process, so to simplify your search, we've summarized 11 of the best proofing galleries on the market.
We've outlined their best features, potential downsides, and the cost to help you make the best decision for your business!
Before diving in, there are a couple of things worth noting:
All prices are a reflection of annual pricing. Monthly costs (not on an annual plan) are slightly higher should you choose that route.
All of the proofing gallery options listed below have a free trial option.
In most cases, there is a free plan but the storage capacity is 10 GB or less, and there is a commission cut for the platform on any sales.
1. CloudSpot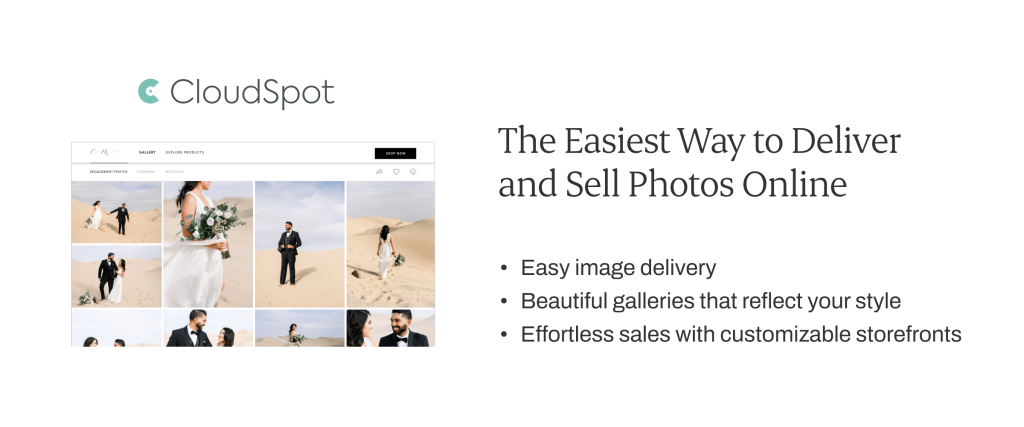 In their own words, CloudSpot is for "sending Grandma-proof downloads."
With customizable branding, e-commerce capabilities, and access to a substantial suite of integrations on all plans, the cost of entry is very low and the value is high.
Not only will a subscription to CloudSpot speed up the delivery process, but their integrations help too. Here are a few examples:
Export images directly from Lightroom to CloudSpot collections
Connect your Dubsado account to import collections directly into client portals
Add SmartSlides slideshows to galleries
Accept credit card payments via Stripe
Other integrations include JPEGmini, Zapier, Plann, Vimeo, and YouTube.
CloudSpot has announced that a new business management tool called CloudSpot Studio will be released very soon. This means invoicing features might be available by the time you're reading this article.
The Lite and Pro plans give access to the mobile app and eliminate the 15% platform commission cost on all sales. Should your needs exceed 350 GB or 70K+ photos, there is an unlimited plan available for $34.
Pros:
A huge suite of integrations to speed up the whole business workflow
Sophisticated mobile app
User-friendly gallery navigation
An immersive shop experience with AR store previews
Lower cost for unlimited storage
Cons:
If you're unfamiliar with integrating applications, you won't be able to access studio manager capabilities
It doesn't support RAW files
Best for:
Either a beginner photographer looking for basic online photo delivery or a tech-savvy business owner who wants to build a robust and integrated workflow.
2. ShootProof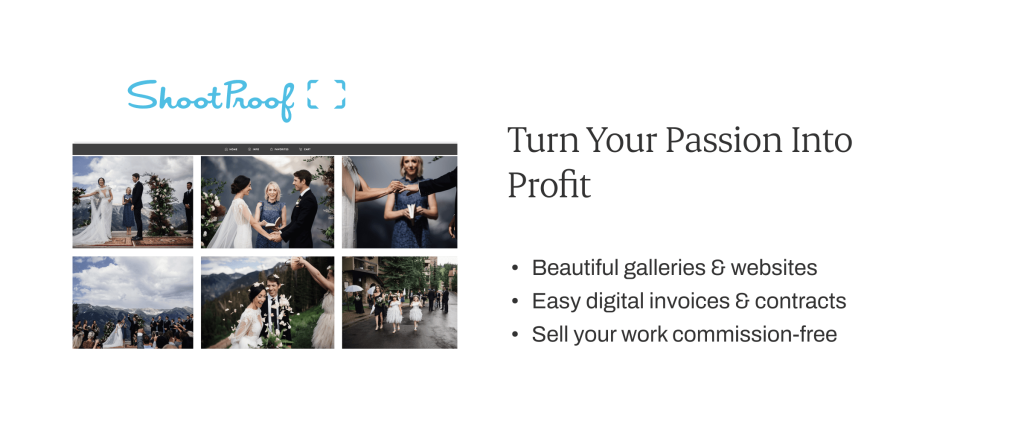 In addition to helping you turn your passion into profit with beautiful online galleries and a store, ShootProof also includes an assortment of other client management tools.
They include fill-in-the-blank contract templates, easy digital invoices, and optional instant payouts.
It's important to consider additional offerings when looking at the plans and pricing model. While the most popular plan is priced comparably to CloudSpot, it includes much less storage; coming in at 25,000 images instead of 70,000.
However, if you take into account the cost of a CRM with contract templates and invoicing capabilities, having both studio management tools and gallery storage could make it worthwhile.
Pros:
They offer client management tools, including contract and invoice templates
Simple and user-friendly portfolio websites
Cons:
The cost of unlimited storage is one of the highest out of all listed here
Best for:
Building a beautiful portfolio website with a side of administrative templates.
3. Pixieset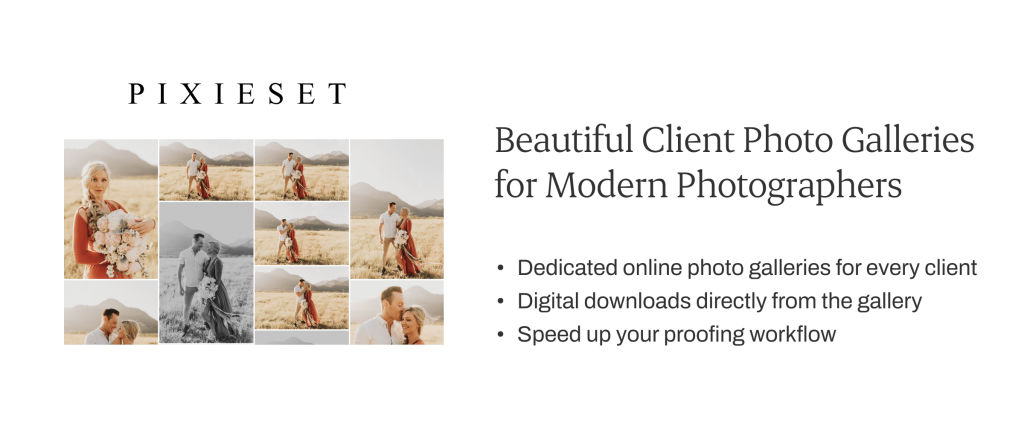 Pixieset is one of the most popular online proofing galleries. This is the result of minimal and aesthetically pleasing galleries and a growing list of additional apps that can be used individually or as a suite.
Because there are multiple offerings and pricing can be confusing, we'll start with proofing gallery details. Similarly to other platforms, there is a free option that allows for 3 GB or 1,000 photos. This is a great way to get your foot in the door and properly test out what Pixieset has to offer.
More storage requirements come with increased pricing of $8, $16, or $24 a month (most popular) and up to 1 TB of storage space. Unlimited is also on the table for $40.
Now, if you're looking to have your proofing gallery, video hosting, studio management, and website design all under one roof, the Pixieset Suite plans are absolutely the way to go. The $38 per month plan even includes 2 TB of storage.
Pros:
A suite of applications that can be bundled together
A beautiful interface
It's user-friendly for clients
More image storage on the free plan
Cons:
The cost of unlimited storage is on the high end
Best for:
The photographer looking to have studio management, a proofing gallery, and to store it all under one umbrella.
4. Pixpa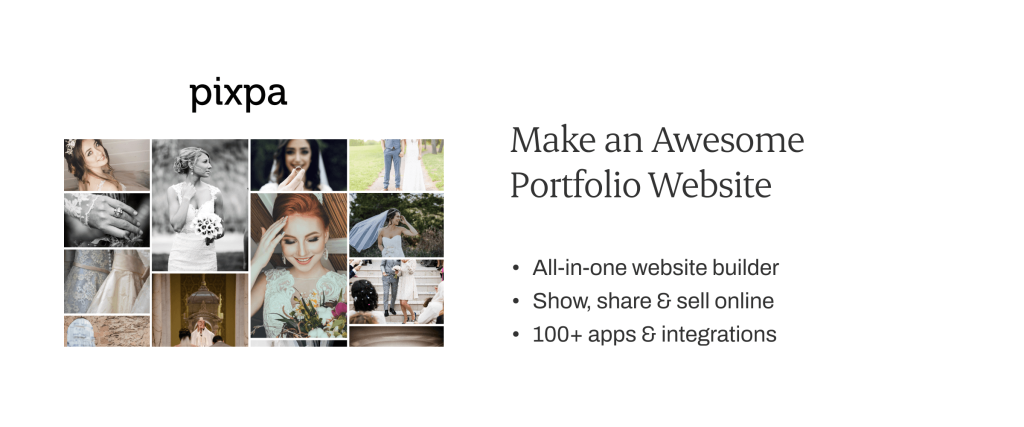 Pixpa's focus is on custom portfolio website creation.
Its intuitive drag-and-drop website builder makes it an easily accessible tool for photographers and creatives – no coding skills are required.
Using their premade gallery templates and e-commerce features, photographers can upload proofing galleries and create a storefront as well.
While it is integrated with over 100 other applications (Stripe, Square, MailChimp, and HotJar, just to name a few), Pixpa on its own is specific to the website and gallery portion of a photographer's workflow. Unfortunately, there are no contract templates or invoicing capabilities.
Because there isn't a free plan and the cheapest one doesn't allow for sales, the minimum investment to have products in your store is $12. However, they do offer a 50% discount for students and teachers.
Pros:
A discount for students and teachers
Easy drag-and-drop website builder
Cons:
No free plan
No contract or invoice templates
Best for:
Straightforward portfolio website creation and affordable image storage.
5. SmugMug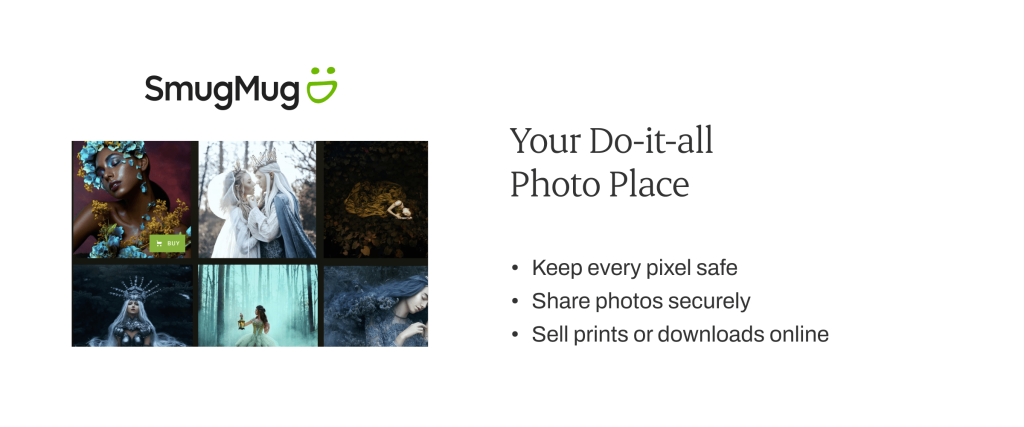 SmugMug showcases a seamless Lightroom integration, unrivaled privacy controls, and unlimited storage for the lowest price point on this list.
It is also one of the only online storage options to support RAW files. This is significant, especially if your workflow involves client selection before you start editing.
The platform can also act as an online backup for your backups, with powerful AI-driven search tools in the same place as where you're showing and selling photos.
If making sales from each gallery is the goal, the Portfolio and Pro plans include customizable profit margins and full-service order fulfillment.
More integrations, including payment processing, are also available on the two higher plans (with no processing fees), and you can offer marketing promotions and give additional staff members access.
Pros:
Additional staff member access
Cheapest unlimited image storage with RAW image support
Lightroom integration
Mobile app
Cons:
No studio management or website creation options available
Best for:
Organized, secure, and cost-effective storage (and backups).
6. Pixellu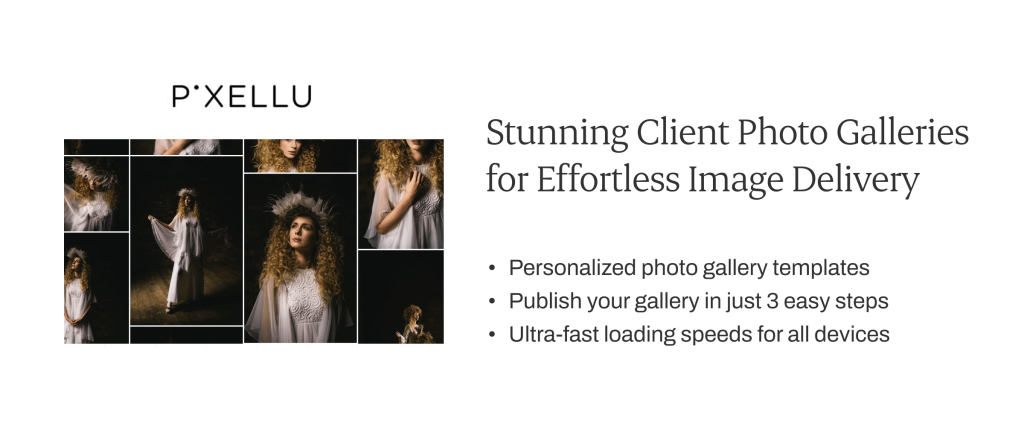 Pixellu is a one-stop shop for proofing galleries, slideshows, and album design.
Instead of capping storage, the plans allow for a specific number of galleries. The client galleries are incredibly tasteful with customizable elements, and the paid plans are accompanied by Google Analytics.
While Pixellu is a fantastic platform for user-friendly slideshow creation and album design, there isn't a store option. This removes potential opportunities for passive income and upselling other products.
If sharing galleries for immediate download is your goal, you can opt for their free-forever plan with 10 galleries. For $16 per month, the gallery limit increases to 100 and includes Google Analytics.
Unlimited proofing galleries on the $32 Unlimited plan is one of the lower price points. However, it is important to note that clients will not be able to purchase prints from you without an online store.
The All Apps Bundle is enticing if you want album design and slideshows.
Pros:
You can customize your gallery appearance
Google Analytics on paid plans
User-friendly album design if using the All Apps Bundle
Cons:
No e-commerce opportunities outside of album sales
Best for:
Photographers who offer albums in their deliverables.
7. Pic-time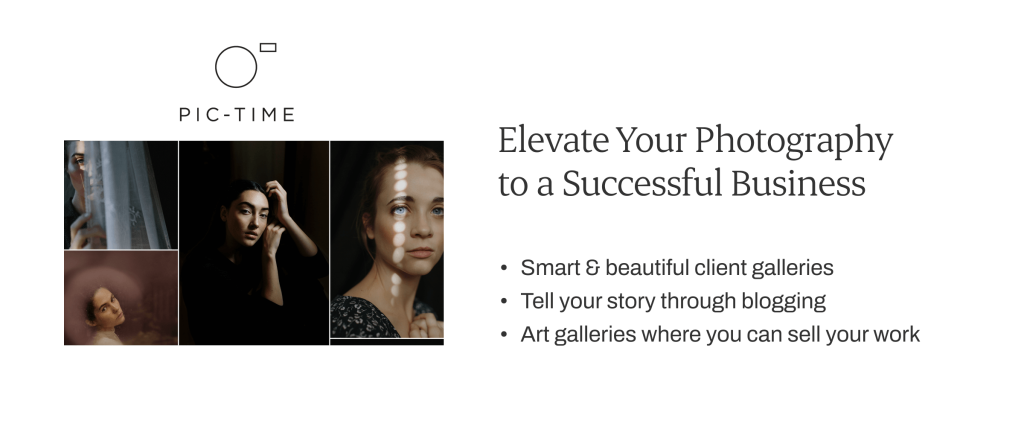 Pic-time is newer to the space, but they have been giving some veteran online proofing galleries a run for their money.
With competitive storefront options and sophisticated automated marketing abilities, it has become a one-stop shop for online gallery needs.
While they do have a Lightroom plugin, other integrations aren't as necessary when slideshows and albums can be created directly inside a client gallery. They offer video hosting and make it possible for you to have a multi-brand hub. Blogging is included in the Professional and Advanced plans.
Pros:
30-day free trial
A free plan that includes marketing automation, easy slideshow creation, video/GIF hosting, and multi-brand access
Cons:
Doesn't support RAW images
A higher price point for unlimited storage
Best for:
Print sales and album design all in one place.
8. Zenfolio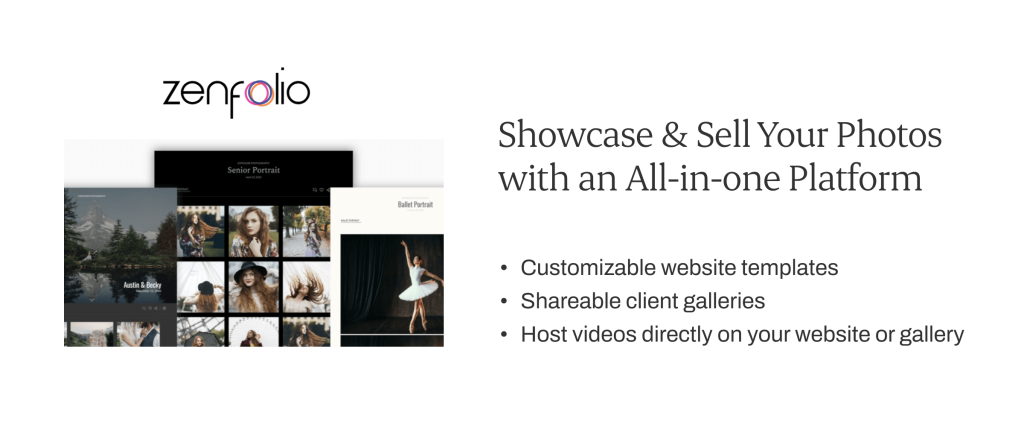 Zenfolio lets you build a custom photography website with customizable templates and without coding requirements.
You can showcase and sell your images from interactive online galleries that are designed to impress. Video hosting, automated workflows, and multi-user account access are other notable features.
For $36 a month, the ProSuite plan offers unlimited storage, the ability to upload 4K videos, and it includes the Book.Me integration. This is very competitive pricing compared to other platforms.
Pros:
Cost-effective
Video hosting
Marketing tools are available on all plans
User-friendly website templates
Cons:
Not as aesthetically pleasing as other platforms
Best for:
Quick and easy website or storefront setups or for video hosting needs.
9. PhotoShelter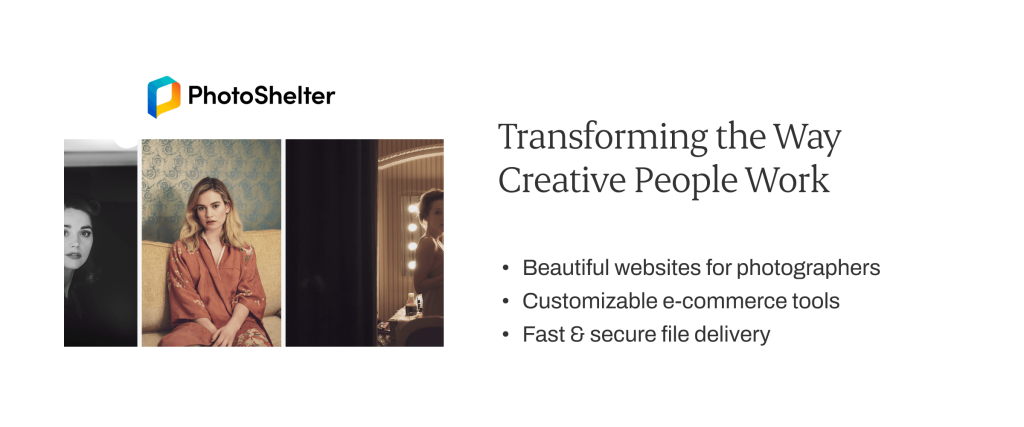 PhotoShelter is one of the only proofing gallery platforms to support RAW files.
This is a huge advantage for photographers who don't edit images before uploading them for clients to see and select. Lightroom and PhotoMechanic plugins enable direct photo uploads. Combined with sophisticated file organization, these functions have the potential to speed up your workflow even more.
$10 gains access to the Basic plan, and the only difference between the other plans (other than storage limits) is that it does not include the client proofing tool.
Unlimited storage is available for $45 per month, a median cost in comparison to the rest of the platforms listed here.
Pros:
Supports RAW images
File organization and search
Accepts orders in 23 global currencies
Importing plugins
Cons:
There is no free option
The cheapest plan only allows for 4 GB of storage
Best for:
Secure image storage and remote access via the PhotoShelter app.
10. Lightfolio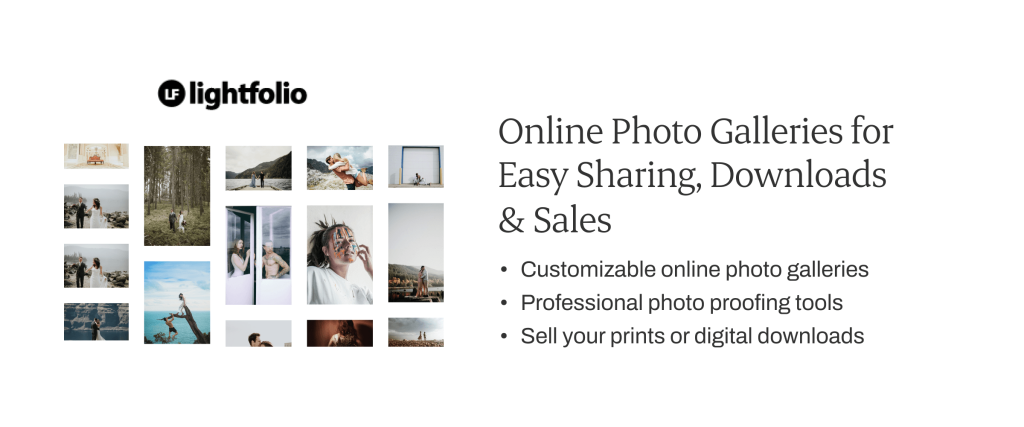 Lightfolio is a great option for photographers who require a collaborative proofing process where the client makes selections before the images are edited.
It goes beyond the basics, giving clients the ability to save and view selections across multiple devices. It allows for in-app messaging between the photographer and client and also offers CRM options.
There is a free plan. However, it only allows for 1 GB of storage. At $7, the Lite plan is the cheapest 30 GB allowance out of all of the platforms listed here.
One of Lightfolio's perks is that it also has a proofing gallery and studio manager bundle. This combines the online gallery capabilities with CRM services: project management, contract templates, invoices, questionnaires, and client portals.
Pros:
A great option for actual proofing
In-app messaging
CRM capabilities
Cost-effective storage
Cons:
The free plan only allows for 1 GB of storage
Best for:
Photographers who need clear and easy communication with clients during the proofing process.
11. Photonesto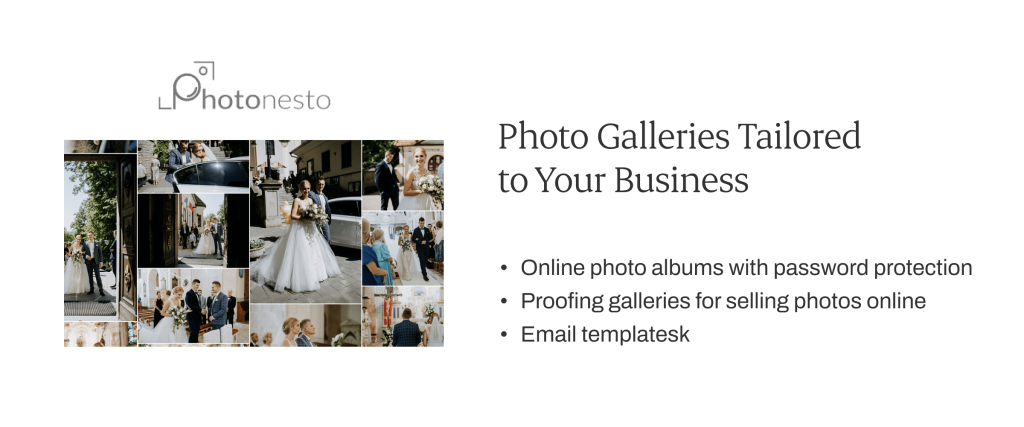 Photonesto has a unique approach to their plans, but we'll do our best to break it down.
They offer two types of galleries. One refers to each gallery as an album and is for showcasing, sharing, and delivering your images online.
The other is the actual "proofing gallery" for proofing, selling, and delivering images with watermarks.
There aren't subscriptions in either case. Instead, you pay for each gallery you want to publish – with the price varying depending on the number of images and for how long it needs to be available.
For example, if you want to publish a proofing gallery with over 300 photos online for 3 months, it will cost $4. 6 months will cost $4.50, and one year will cost $6.
Pros:
No subscription required
A sliding scale of payment options
Album design
Cons:
The pricing can be confusing
Best for:
The photographer who only needs to upload a limited number of sessions or images in an allocated period of time.
To summarize
There are many online client- or proofing galleries to choose from, but we've searched far and wide to bring you the best 11 proofing galleries currently on the market.
Whether you are a beginner or a seasoned photographer, be sure to assess what your business needs before selecting a proofing gallery.
Considering all of the key features, functionality, and price points, this list should help you find a proofing gallery that can simplify your workflow and provide the most value. At the end of the day, you know your business best.
For more photography business tips, check out some of our other articles.
---