7 Free Photo Editing Apps for Mac & PC
We've curated a list of useful free photo editing apps for Mac & PC, complete with the features, pros, and cons of each platform.
If you're a hobbyist exploring your passion, and you're not quite ready to take the leap into professional editing tools, this list is for you!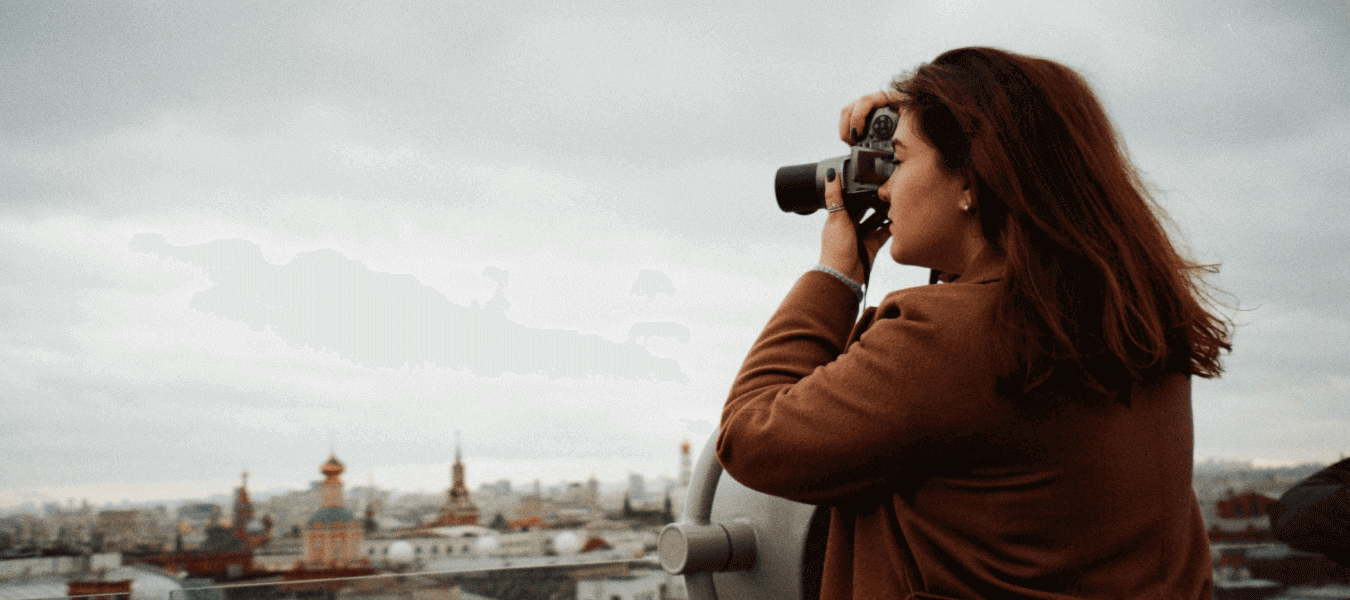 In this day and age, social media is swarming with zillions of beautiful pictures. The standard of quality is far beyond what it used to be just five years ago.
For aspiring photographers, it is becoming easier to achieve that high quality without breaking the bank.
If you're ready to dip your toes into creative waters, the free editing tools in this article offer a range of features to transform your images with just a few clicks.
Most of the options on this list are more suitable for beginner photographers but read until the end to see which editing tools we recommend for advanced photo editing (they are paid options that offer free trials).
All of the editing tools in this article are compatible with Mac and PC devices, with some offering mobile versions as well.
Free Photo Editing Tools
Pixlr
Fotor
GIMP
Darktable
Adobe Photoshop Express
RawTherapee
Photopea
Please note: While these software solutions are free, some may offer premium versions or additional features through paid subscriptions.
Now, let's talk about these free photo editing apps in more detail.
7 Free Photo Editing Apps for Mac & PC
1. Pixlr
Pros:
User-friendly interface
Supports layers
Variety of filters and effects
Templates for creative projects
Cons:
Requires an internet connection for web-based use
Limited offline functionality
Occasional stability issues
2. Fotor
Pros:
Intuitive to use
One-click enhancements
Batch processing
Collage creation options
Cons:
Limited advanced editing capabilities
Occasional performance issues
Some features are restricted to the paid version
3. GIMP (GNU Image Manipulation Program)
Pros:
Rich in features
Supports various file formats
Advanced editing tools
Extensive community support
Cons:
There could be a steeper learning curve for beginners
The interface may feel cluttered
Lacks some of the more advanced features found in commercial software
Trustpilot Review:
"This software is really good if you want to make a YouTube thumbnail or cut something out of a photo. The layout is extremely easy and simple to navigate. It even has all the necessary keyboard shortcuts. If you're debating whether or not to take the 15 minutes to install this and try it out, I suggest you do it since it's only about 250 MB."
4. Darktable
Essentially, it is both a photo management tool and an advanced RAW file development solution.
Pros:
Layout quite similar to Lightroom
Supports various file formats
Completely free to use
Growing user community
Cons:
May feel a bit too technical and advanced for beginners
Some reliability and support issues at this stage
Trustpilot Review:
"For a free program, it's great. It successfully replaced a paid competitor for me. It has everything you need to process photos, and from what I can see, the program is constantly developing."
5. Adobe Photoshop Express
Pros:
User-friendly interface
Seamless integration with other Adobe products
Basic editing tools for quick enhancements
Cons:
Limited functionality compared to the full version of Photoshop
Requires an Adobe account
Some features are restricted to the paid version
6. RawTherapee
Pros:
Advanced tools for RAW image processing
Non-destructive editing
Extensive customization options
Cons:
User interface may not be as intuitive for beginners
Limited support for non-RAW image formats
Some features may require technical knowledge
7. Photopea
One of the standout advantages of Photopea is its broad file format support, including PSD, XCF, Sketch, XD, and CDR files.
Pros:
It works offline
Great selection of brush tools
Suitable for beginners and more advanced users
Cons:
The learning curve can be steep for beginners
Limited integration with other creative applications
Support and updates are slower than other tools
Trustpilot Review:
"Great tool, but too many ads. Overall, it's a good alternative if you don't have any photo editing software installed."
Editing Tools for Advanced Users
While we'd all love to save a few bucks, investing in paid editing software is the way to go if you want to unlock advanced editing features.
Luckily, most paid photo editing tools offer free trials so you can test the waters before committing to a subscription.
The following platforms are the most popular and trusted photo editing tools for professional photographers.
Lightroom
It also provides advanced features such as batch processing, presets, and the ability to work seamlessly with RAW files, making it an indispensable tool for photographers who require precision and efficiency in their editing workflow.
Price:
7-day free trial
$9.99/month
Pros:
Intuitive interface and user-friendly design
It offers a seamless workflow; from organization and culling to editing and exporting
Integration with Adobe Creative Cloud
Extensive presets and customization
Cons:
There's a steep learning curve for new users
It's an Adobe subscription-based model
It can be resource-intensive, particularly when working with large files or editing multiple images simultaneously
Photoshop
From retouching and compositing to graphic design and digital art, Photoshop offers unparalleled flexibility and creativity for photographers looking to push the boundaries of their work.
Price:
7-day free trial
$20.99/month
Pros:
Its versatility makes it suitable for a wide range of editing tasks
Extensive third-party plugin support
Integration with other Adobe Creative Cloud applications offers seamless workflow integration
Cons:
Photoshop's extensive capabilities can be overwhelming for beginners
It can be demanding on computer resources, especially when working with large files or complex compositions
Like other Adobe software, it is available through a subscription-based model, which may not be ideal for users seeking a one-time purchase option
Capture One
With its intuitive interface and efficient workflow, Capture One enables photographers to enhance and optimize their images with speed and precision.
Price:
30-day free trial
Plans start at $17.15/month
Pros:
Outstanding RAW image processing
Advanced editing tools
Tethered soothing lets you capture images directly into the software, review them in real time, and apply adjustments on the fly
It enables an efficient workflow with file management, batch processing capabilities, and the ability to create customized workspaces
Cons:
The learning curve can be steep, particularly for photographers transitioning from other editing software
Limited plugin support
It can be demanding on computer resources, particularly when working with large RAW files or applying complex adjustments
Aftershoot EDITS
Once your AI Profile has been created, you're just one click away from getting thousands of images edited in minutes with Aftershoot's intuitive editing software.
For photographers who don't have enough images to create their own AI Profiles, there are 9 stunning AI Styles (pre-built AI Profiles) to choose from. They're like editing presets, only smarter!
Price:
30-day free trial
$9.99/month
Aftershoot EDITS is free for a limited time (included in the Culling subscription) – pricing will be unveiled soon
Pros:
Automated editing saves photographers hours of valuable time
The AI is intelligent and continues to learn from further adjustments made to the images
Photographers can edit an unlimited number of images with Aftershoot
Photographers retain complete control over their edits
Cons:
Only suitable for Lightroom or Capture One users
You'll have to figure out what to do with all the time you're saving
Here's what Australian maternity and newborn photographer, Linda Hewell, had to say about Aftershoot EDITS.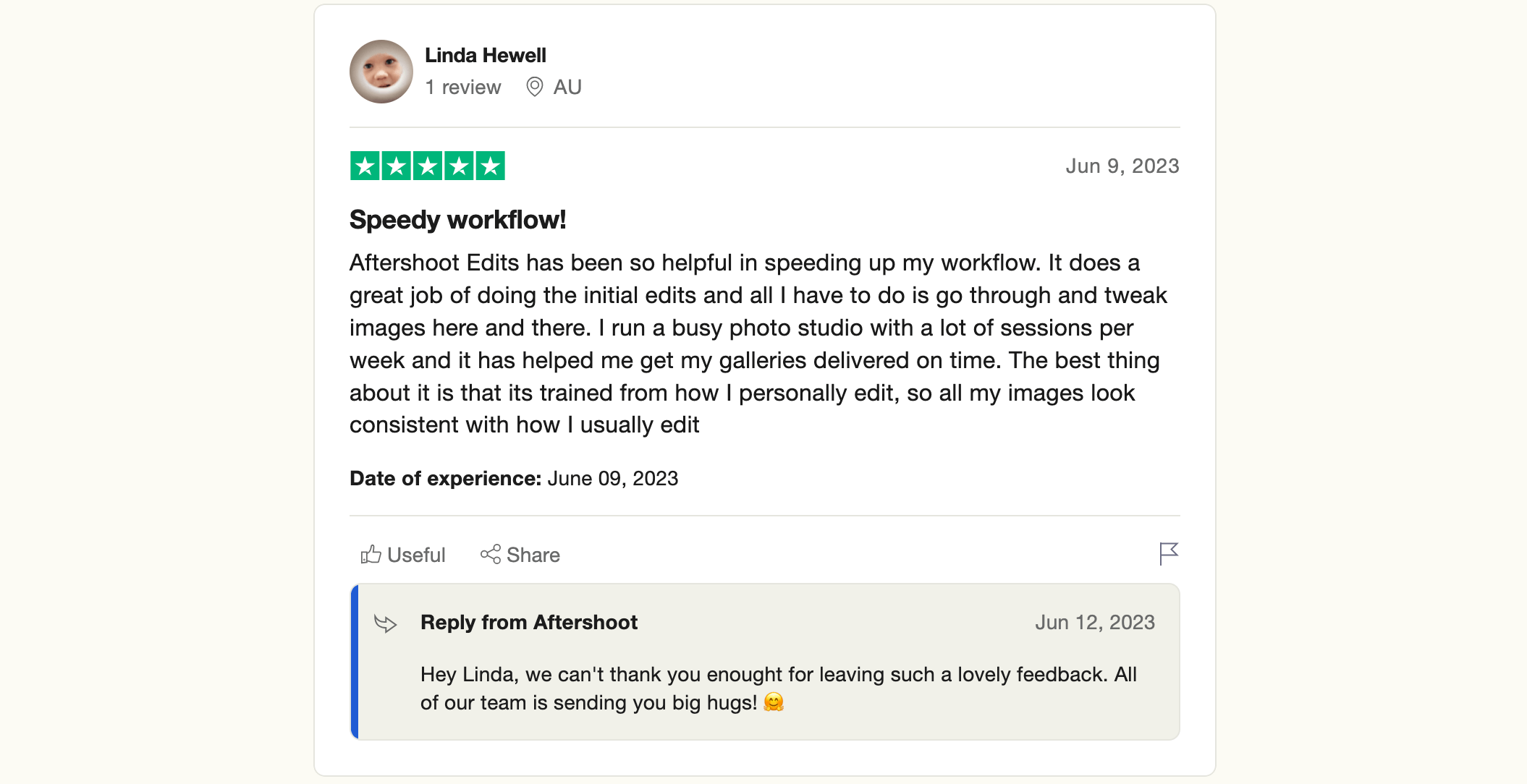 In conclusion
There is a wide range of free editing tools to choose from. We've condensed the options into this list of 7 free photo editing apps for Mac & PC to help make your choice a little easier. 
However, it's important to keep in mind that there are always limitations associated with free solutions.
Here are the 5 most common limitations you may encounter:
1. Limited features
Free software often lacks some of the advanced features and functionalities found in paid alternatives.
You may not have access to advanced retouching tools, complex selection options, or specialized editing capabilities.
This is especially true for solutions that integrate AI-powered tools, which are often reserved for paid plans.
2. Advertising and watermarks
Some free photo editing software may display ads or impose watermarks on your edited images.
This can be a drawback if you're looking for a clean and professional result or if you plan to use the images for commercial purposes.
3. Restricted file format support
Free software may have limited support for certain file formats, especially when working with RAW files or less common formats.
This can be a headache if you regularly work with specific file types that require advanced editing.
4. Performance and stability issues
Free software may occasionally suffer from performance or stability issues, especially when dealing with large file sizes or complex editing operations.
You could experience slower processing speeds or encounter occasional crashes.
5. Limited customer support
Free software usually provides limited customer support compared to paid alternatives.
While some projects have active communities that offer assistance, it may be more challenging to find prompt and personalized help when encountering issues or seeking guidance.
Despite these limitations, free photo editing software can still be a valuable resource for casual users, beginners, or those with basic editing needs.
They provide an accessible platform for enhancing and retouching images without the need for a substantial financial investment.
On that note, if you're ready to level up your professional editing game, we recommend considering the 30-day free trial of Aftershoot – the most advanced AI-powered photo culling and editing software.
You'll love Aftershoot's time-saving features, AI-driven culling, automated editing that reflects your unique style, and personalized support.

---