9 Best Lightroom Alternatives for Photo Editing
Yes, Adobe Lightroom is popular. But is it still the greatest app for photo editing? We've uncovered the best Lightroom alternatives that are worth paying attention to.
When someone says "RAW photo editing," the first thing that comes to mind is Adobe Lightroom.
Just like Photoshop, the famous Adobe RAW manipulation software has become an industry standard over the years.
However, as time goes by, new products and technologies emerge. Some try to mimic the giant, while others offer interesting alternatives and different approaches to RAW file editing.
Lightroom isn't just good at editing RAW files. Many photographers also use it to:
Organize their photos
Cull photoshoots
Assign metadata, and
Upload files online
There's a lot to take in when discussing Lightroom alternatives. But first, let's discuss why Adobe Lightroom has become so ubiquitous.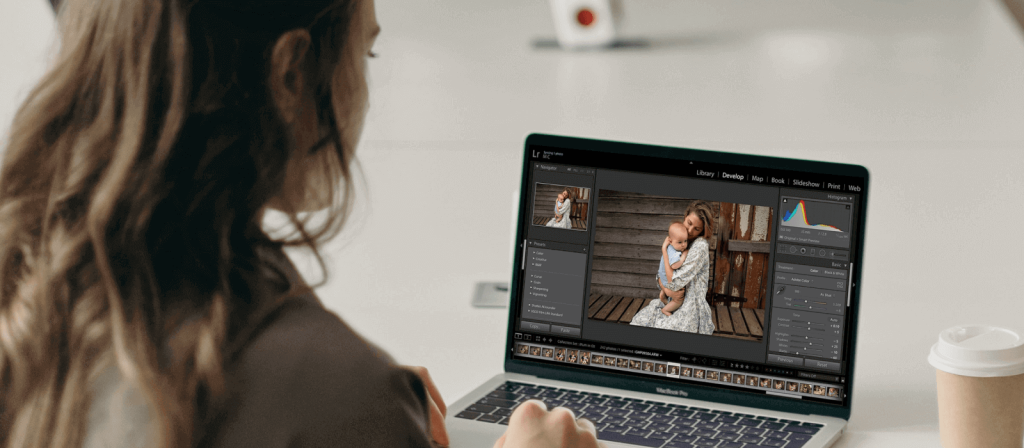 Why is Adobe Lightroom so popular?
The most obvious reason is that it's an Adobe product. This graphic software giant sure knows how to market and hook customers on products.
Not to say that their products are bad in any way!
On the contrary, the comprehensive approach this company has developed over the decades makes their products so attractive and easy to use. And yes, the integration between them is a nice touch.
Adobe Lightroom is a great all-in-one tool if you consider basic culling, photo management, and RAW file manipulation.
Take a look at our list of the best Lightroom presets for photographers in 2023.
When it came out back in 2007, it was quite unique and many existing rivals had to play catch-up to offer the same comprehensive set of options as Lightroom.
Think about file organization by shoots, assigning ratings to photos, filtering photos, culling shoots, assigning metadata, and syncing with cloud storage. That's all Lightroom.
Another reason why Lightroom is so popular is its intuitive design.
Sure, there are a ton of functions and tools here, but even at first launch, things are apparent and you know where to start.
There's a degree of familiarity if you've worked with Adobe products before.
But even if you're a novice, Lightroom looks quite approachable and inoffensive. Yet it delivers a powerful set of tools to edit your RAW image files, mostly by pushing sliders around.
However, even seemingly perfect products have their flaws, and competitors will gladly line up to provide solutions to users.
For Lightroom, the primary cause for criticism over the years has been its rather bulky architecture that relies on Catalogs. They take up a lot of disk space and slow down your workflow.
There are also certain technical aspects of RAW file manipulation that critics tend to point out with Lightroom.
This is why we will review the most popular Lightroom alternatives and compare them with the famous RAW editor.
Best Lightroom alternatives for editing photographs
When analyzing the best Lightroom alternatives, we'll focus on different aspects of this comprehensive tool.
Since Lightroom can function as a file manager, photo culling software, and RAW editor, the focus is quite broad.
Still, our primary interest is alternatives to the Lightroom editing workflow, so let's look at what the market has to offer at the moment.
1. Aftershoot EDITS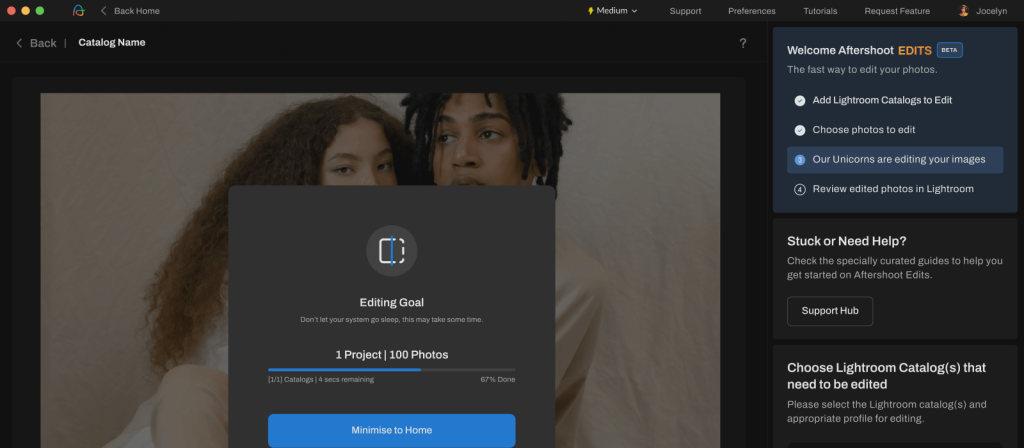 Aftershoot has grown popular as a fast photo selection (AKA culling) software.
Its secret is simple – Artificial Intelligence.
But what does culling software have to do with photo editing, you might ask? Recently Aftershoot rolled out its EDITS feature and it's a total game-changer.
Aftershoot EDITS uses the power of AI to edit your RAW files automatically. It uses your existing Lightroom or Capture One catalog to analyze the style of your past edits and then replicates that style onto your unedited photos.
What would have taken you hours, if not days, can now be done within minutes!
Sure, you might still need to fine-tune some things after the automated edit. But Aftershoot EDITS gets you super close to the finished product in no time.
And the best thing is that it takes your further manual edits into account and will use it in the next edit for better results.
It sounds like the future is here, and it looks mighty impressive! Learn more about EDITS and how it works in this article.
Pros:
AI-powered culling integrated
Edits photos based on your personal editing style
Unlimited photo edits
Great metadata management
Lightroom & Capture One catalog exports
Very easy to use
Free for now with a flat pricing structure in the future (still to be revealed)
Desktop app for macOS & Windows (no internet needed)
Cons:
You need Lightroom Classic or Capture One
Aftershoot vs. Lightroom
Software
Price
AI Editing
Works Offline
Aftershoot
30-day free trial
$14.99/mo. billed monthly
$9.99/mo. billed annually
🟢 Yes
🟢 Yes
Lightroom
7-day free trial
Plans start at $9.99/mo.
🟡 Some AI tools
🟡 Partially
2. Capture One Pro

The argument of Capture One vs. Lightroom never gets old. There are strong opinions in both camps to support the strengths and weaknesses of each product.
Developed by medium format camera maker Phase One, Capture One brings high-end RAW processing quality and editing options to the end user.
Just as medium format cameras can be powerful in the hands of a professional photographer yet produce mediocre photos when handled by a novice, so does Capture One.
However, when you spend enough time to familiarize yourself with the somewhat quirky and busy interface and workflow, Capture One is quite impressive.
It offers more control over how you edit each particular aspect of a photo, which is useful for professionals.
Pros:
Advanced tool selection
Faster and more powerful than Lightroom
Versatile and customizable UI
Fast and reliable tethering solutions
Better RAW processing on the initial import
Cons:
It can feel too technical at first
Too professional and specific at times
The UI isn't as intuitive as desired
Slow compared to AI-powered solutions
Capture One vs. Lightroom
Software
Price
AI Editing
Works Offline
Capture One
30-day free trial
Plans start at $17.15/mo.
🟡 Some AI tools
🟡 Partially
Lightroom
7-day free trial
Plans start at $9.99/mo.
🟡 Some AI tools
🟡 Partially
3. Skylum Luminar Neo

Luminar AI by Skylum took the amateur photographic community by storm because it offered AI-powered editing that enhanced your photos with just a few clicks of the mouse.
Skylum recently launched an upgrade to Luminar AI called Luminar Neo. It's a modular engine with various extensions (purchased separately) that offer more editing options than its predecessor.
There's no need for in-depth knowledge of editing principles. Just push the button and the software will make your dull photo pop like a pro's. Well, at least at first glance.
Luminar Neo delivers impressive and fast results, especially if you compare it to simple filters and plugins.
You can use Templates, which are smart presets that are adjusted automatically to each image, or you can use Edits, which offers a little more control over how your photos are edited.
But it falls short when fine-tuning the results if you're picky about the quality of the edits. It doesn't really edit precisely according to your style.
If you're a pro who's crafted a specific style, this alternative to Lightroom won't be your best pick.
It sacrifices depth and control in favor of speed and results. Besides, Lightroom's well-executed image management function is lacking in Luminar Neo.
Pros:
AI-powered photo editing
Very simple to use
It can deliver impressive results without in-depth editing knowledge
Competitively priced
Cons:
No metadata editing option
Finer edits can be a problem
The AI is limited to specific adjustments and profiles
Cumbersome catalog import mechanics
Not ideal for pro photographers
Luminar Neo vs. Lightroom
Software
Price
AI Editing
Works Offline
Luminar Neo
7-day free trial
Plans start at $9.14/mo.
🟢 Yes
🟡 Partially
Lightroom
7-day free trial
Plans start at $9.99/mo.
🟡 Some AI tools
🟡 Partially
4. Adobe Photoshop

Adobe Photoshop is the oldest entry on our list of Lightroom alternatives. For a very long time, it was the industry standard for photo editing, and in many ways, it still is.
Where Lightroom excels in photo management and RAW file editing, Photoshop is still unparalleled in terms of local edits, layer blending, photo manipulation, and fine retouching required for professional work.
So why don't people use it instead of Lightroom?
The reason is simple. To a great extent, Lightroom was developed to cover the shortcomings inherent to Photoshop in terms of RAW file editing and file management.
Have you ever tried working with Adobe RAW integrated into Photoshop? Yep, that's the reason.
Not to mention that the newer spin-offs, such as Photoshop Elements and Express, offer even less functionality in favor of easier photo manipulation and fine edits. So it's more of a complimentary package than alternatives in this case.
In May 2023, Photoshop added an exciting addition to its line-up with a new AI-powered tool called Generative Fill.
This tool allows you to add or remove items inside a photograph with simple text prompts. You simply highlight an area in a photo, click the Generate icon, type in what you want to replace your selection with, and then watch the magic happen!
Pros:
A true classic for local editing
Great functionality and tool selection
Adobe Suite integration
A vast number of third-party plugins
Some AI-powered features in the latest versions
Good for post-production and re-touching
Cons:
It can feel too technical, especially to novices
Not very good for bulk photo editing
Slow compared to AI alternatives
Complicated to use
No catalog organization
Photoshop vs. Lightroom
Software
Price
AI Editing
Works Offline
Photoshop
7-day free trial
Plans start at $24.14/mo.
🟡 Some AI tools
🟢 Yes
Lightroom
7-day free trial
Plans start at $9.99/mo.
🟡 Some AI tools
🟡 Partially
5. ACDSee Photo Studio

Old-timers probably remember ACDSee as an alternative photo viewer and management tool rather than a photo editing product.
Yet, here we are in 2023, and ACDSee Photo Studio is in many ways closer to the Lightroom editing workflow than to its original iteration.
Sure, you still get great file management and viewing functionality, but many tools are also available for editing your photos.
What you will definitely notice about ACDSee as a Lightroom alternative is that it offers easier and quicker file management, which is a true bane of the Adobe offering.
However, in terms of photo editing, Lightroom's interface is more intuitive and easier to grasp than ACDSee's somewhat busy architecture – where many useful options and tools are hidden in numerous menus.
And if you compare it to today's AI-powered products, it's too busy and slow.
Pros:
All-in-one photo editing and management tool
Various editing features
Metadata management functionality
Convenient pricing options
Cons:
The UI needs some getting used to
No AI-powered bulk editing
Some redundant features make it bulky
Super slow compared to AI alternatives
ACDSee Photo Studio vs. Lightroom
Software
Price
AI Editing
Works Offline
ACDSee Photo Studio
Subscription & one-time-fee packages
ranging from $89/year to $109 flat fee
🟡 Some AI tools
🔴 No
Lightroom
7-day free trial
Plans start at $9.99/mo.
🟡 Some AI tools
🟡 Partially
6. ON1 Photo RAW

As far as comprehensive packages go, ON1 Photo RAW is a decent option to consider.
It was originally designed as an all-in-one photo tool that allows you to import, manage, cull, edit globally and locally, export, and publish photos. These features make ON1 Photo RAW similar to ACDSee Photo Studio.
However, it also delivers an interesting selection of AI-powered tools that make some edits much easier and faster.
For instance, the Super Select AI tool allows you to make various adjustments to a particular detail of your photo, while the ubiquitous Sky Replacement tool is probably one of the most impressive we've seen.
The downside? These are still manual edits you need to go through yourself rather than having fully automated edits.
But as far as a Lightroom alternative, ON1 Photo RAW is a compelling offering.
Pros:
A great all-in-one editing tool
Interesting selection of AI-powered tools
Competitively priced
Cons:
Manual editing
Photo management options are limited
Slow compared to other AI alternatives
ON1 Photo RAW vs. Lightroom
Software
Price
AI Editing
Works Offline
ON1 Photo RAW
30-day free trial
$114.99 once-off
🟡 Some AI tools
🔴 No
Lightroom
7-day free trial
Plans start at $9.99/mo.
🟡 Some AI tools
🟡 Partially
7. RawTherapee

With the immense success of Adobe Photoshop and Lightroom and their exorbitant subscription fees making these products costly (even for professionals), it was inevitable that an open-source, free-to-use alternative would arrive.
And so, RawTherapee came to the party.
Hailed as the best free alternative to the photo editing giants, RawTherapee delivers functionality that allows both global and local photo editing.
It aims to replace Photoshop and Lightroom, but does it stand up to the challenge?
Well, yes and no. On the one hand, RawTherapee offers a great selection of editing tools. This is awesome if you consider the wonderful price of zilch.
Its UI is intuitive and it doesn't take long to familiarize yourself with most of its functions, especially if you've spent enough time with Adobe products.
However, due to its open-source nature and lack of actual investment, the software could be more optimized to match its commercial counterparts.
With customer support lagging at best, no AI-powered automation, and insufficient educational material online, the drawbacks of it being free become crystal clear.
Pros:
Open-source, free tool
It combines the functionality of Lightroom and Photoshop
Great intuitive UI
Yes, it's absolutely free
Works on Linux, macOS & Windows
Cons:
The software can be bulky and take up many resources
Feeble customer support
Few online resources to learn from
No batch editing automation
Super slow compared to AI alternatives
RawTherapee vs. Lightroom
Software
Price
AI Editing
Works Offline
RawTherapee
Free
🔴 No
🟢 Yes
Lightroom
7-day free trial
Plans start at $9.99/mo.
🟡 Some AI tools
🟡 Partially
8. DxO PhotoLab

If you haven't heard of DxO Mark, you probably haven't been geeking out about camera gear much. It is one of the most reliable camera and lens testing, rating, and calibration resources.
Their testing technique consists of shooting thousands of images with each particular camera body and camera lens – and their combinations – using various test scenes under different lighting conditions.
But aren't we talking about RAW files and Lightroom alternatives?
Well, this is where DxO PhotoLab comes in. It's a comprehensive RAW editing tool that uses the technical database DxO Mark has accumulated over the years to enhance your photos in relation to the gear you've used to take the shot.
And yes, the results are impressive.
In many ways, it offers functionality similar to a Lightroom editing workflow. However, certain proprietary tools such as noise reduction and detail enhancement make DxO PhotoLab a promising competitor to the Adobe offering.
Pros:
Impressive camera and lens-based edits
Very professional and in-depth RAW manipulation
Great built-in tools that enhance certain aspects of the image
Reasonable price
Cons:
Photo management could use some improvement
No AI-powered batch edits
Slow compared to AI alternatives
DxO PhotoLab vs. Lightroom
Software
Price
AI Editing
Works Offline
DxO PhotoLab
30-day free trial
$219 once-off
🟡 Some AI tools
🟢 Yes
Lightroom
7-day free trial
Plans start at $9.99/mo.
🟡 Some AI tools
🟡 Partially
9. Affinity Photo

Affinity Photo is another take on the all-in-one photo editor.
However, at first glance, it becomes apparent that its focus is primarily on replacing Photoshop rather than being a Lightroom alternative.
Yes, it allows you to edit RAW files.
Yes, it provides masking and layers.
Yes, it comes with cool features that neither of the Adobe products offer (working with vector and raster graphics).
But if you consider the photo management options Lightroom offers on top of RAW editing, Affinity Photo is lacking.
On top of that, it can become a chore to edit large batches of files, especially if you're a wedding or events photographer who needs work done fast.
Pros:
A good all-in-one photo editing tool
Affordable
"Personas" help organize the editing workflow
Works with vector and raster graphics
Cons:
RAW editing can be slow
The UI is not as intuitive as the competition
No automation and file management features
Super slow compared to AI alternatives
Affinity Photo vs. Lightroom
Software
Price
AI Editing
Works Offline
Affinity Photo
30-day free trial
$52.99 once-off
🔴 No
🟢 Yes
Lightroom
7-day free trial
Plans start at $9.99/mo.
🟡 Some AI tools
🟡 Partially
Our recommendations
Whether you're looking for fast AI-powered bulk editing of large batches or overly technical manipulation of every single photo, there is a product for you.
So what should you try if you're looking for the best Lightroom alternatives?
If you're like most photographers where time is limited, you'll want to consider the speed of your editing workflow and good file management capabilities.
This makes Aftershoot EDITS the clear winner.
It's simple to use and drastically reduces your editing time, but it won't completely replace Lightroom – you'll still need it (or Capture One) when uploading your edited images to train your AI Profile.
You can learn more about creating your AI Profile in Aftershoot EDITS here.
Aftershoot EDITS offers a massive improvement to your workflow without requiring much of a learning curve.
The fact that Aftershoot allows you to cull and edit photos in 1 app within just a few clicks is amazing.
You can save hundreds of hours annually, which is huge when you're a small business owner.
If AI isn't your thing, then using a tool with more technical editing options, such as Capture One, is a good option.
It's a powerful tool that will cater to professionals that need the highest level of control over a broad range of image characteristics. It won't be as fast as AI editing, but it will give you more control for now.
Honestly, the best option for your workflow may be a combination of both; using AI editing to get you 95% of the way there and then doing final retouches in another platform certainly gives you the best of both worlds.

---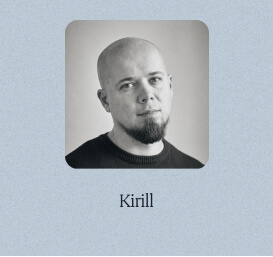 Whether it's photography, craft beer brewing, extended range guitars, or science fiction novels, Kirill switches between his passions like a vane during a Category 4 hurricane. But once he hones in on a topic, he becomes laser-focused, verging on obsessive, until the task is tackled and a well-deserved IPA is savored after a hard day's work.