What's new with Aftershoot? October 2022 Culling Release
We're excited to announce a brand new update to our Culling software - including feature improvements and new things for you to test and love.
Over the past 5 months, we've been carefully listening and collecting your valuable feedback and are happy to inform you of some major updates to help you save more time.
We know that sometimes image selections needed to be better, kisses weren't always being selected, duplicates weren't quite right, or the highlights didn't always make sense.
After hundreds of hours of interviews, feedback, and analysis of support requests, we've added some great new features and made some major improvements to our AI engine to address your feedback, and we think you're going to love it.
So let's take a look at how the latest update will make your life better and your photo culling easier.
So what's in it?
NEW
Spray Can mode
Genre Selection before you start culling
IMPROVEMENTS
Blur Detection
Duplicate Detection
Closed-Eye Detection
Kiss Detection
Best Highlight Selection
+ many other subtle improvements, that make a big difference, from how we label items in the app, to speed and efficiency.
Spray away the pain with "Spray Can" mode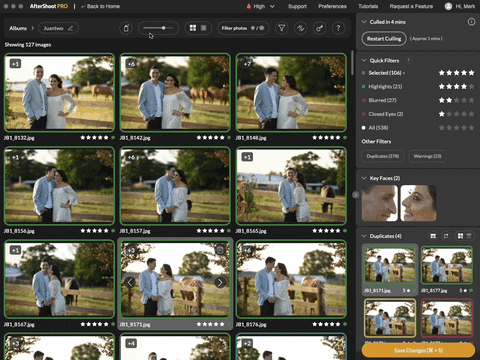 A revolutionary new way to cull - simply click to add or reject images from your final cull, which makes culling as simple as clicking a button.
With this feature, you get a much quicker way to accept and reject images in the grid view, perfect for when you've got hundreds (or even thousands) of images to cull.
Get the AI working even better for you with genre selection
We've been training our systems hard to better understand and cater to the needs of different photographers. Helping it help you - you can now select the Genre of photography you're culling to get a more decisive cull.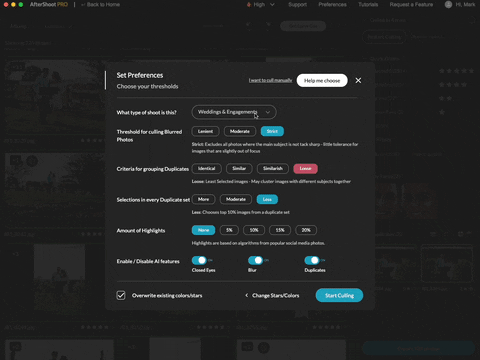 Focus on what matters, with your upgraded blur detection system
We know how painful it is for you when you've made it on purpose, and we've completely overlooked it. The improved Blur Detection system is better than ever, helping you remove the right kind of blurry images.
We've updated the subject's importance and added brand-new detection models to meet your needs. This should make a major impact on all of you portrait lovers and your need for strict culls.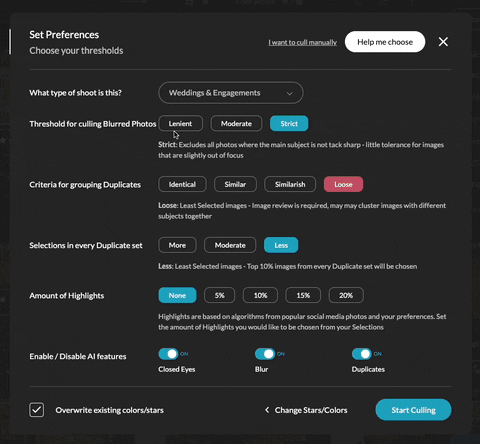 ⚠️ Some changes you'd want to apply to your Blur Detection settings:
If you previously used Strict you may want to switch to Moderate to get the same results as before
Moderate is now designed for sessions with mixed shooting scenarios, like weddings, fashion, or lifestyle
Lenient is designed best for shoots in underexposed, low-light, high-ISO situations, or if you have grainy photos
Learn more about the latest blur settings here.
Duplicate detection that leaves the competition in the dust
This one is massive. For all types of photographers.
Our latest Duplicate Detection system now clusters similar images together while keeping different people apart.
⚠️ There are also a couple of terms that have changed:
Identical is the setting of choice if you want the least amount of images grouped together (giving you the most number of selected images after culling)
Loose now offers the most images grouped together (giving you the least number of selected images after culling)
What does this actually mean?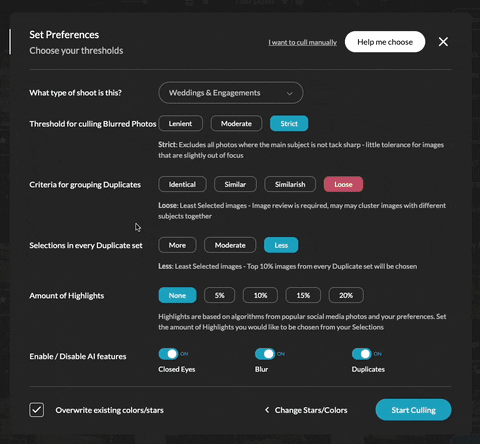 Identical is the setting that will cluster the least amount of images together. It will only look for almost exact identical images. This will result in the most amount of selected images.
Similar now replaces moderate. This will look for images that are somewhat similar allowing the groupings to contain more images and fewer total selected images.
Similarish now replaces Strict. Grouping many images together and clustering the most amount of images and selecting fewer images.
Loose replaces extreme, with loose being a "strict" cull run twice to try and reduce the images down as far as they can be without clustering too many different images together. One thing to note is that "Loose" does run the risk of clustering things that may not belong together.
Enhanced kiss detection
We've created a brand new kiss detection algorithm allowing you to get you the best moments before, during, and after a kiss.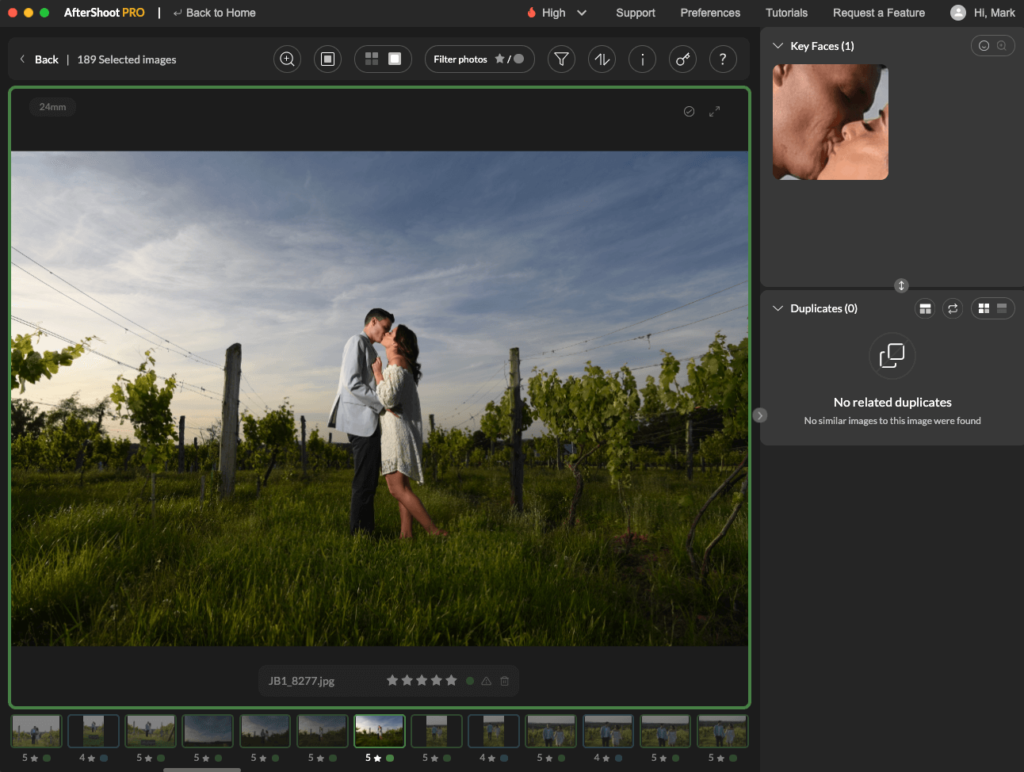 And those romantic moments near a kiss, like touching noses, don't go away either.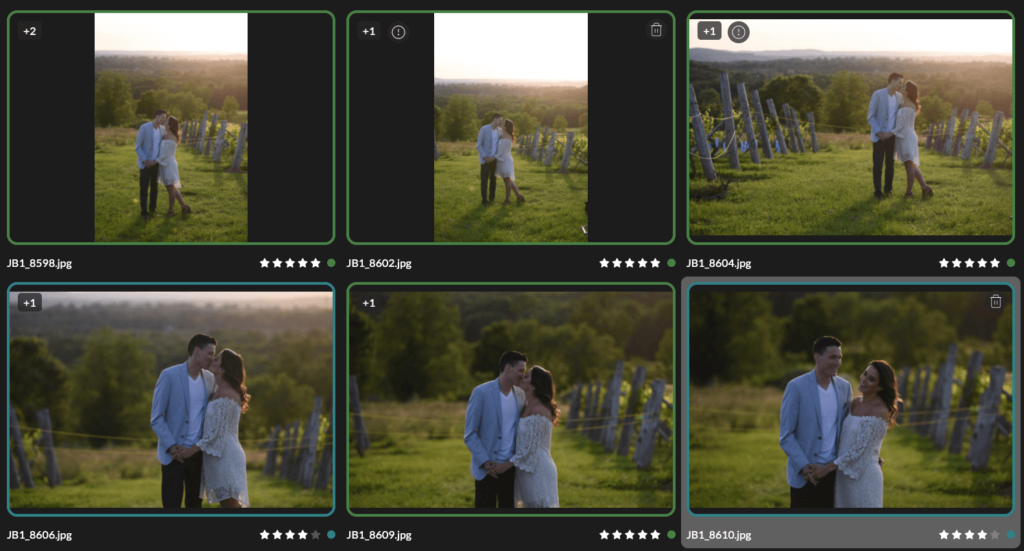 Improved closed-eye detection
You hate it as much as we do - getting closed eyes selected when there shouldn't be any. We're solving this, by introducing a brand new closed-eye algorithm, giving you the most accurate closed-eye detection yet.
A revamped highlights algorithm
We have completely revamped our highlights algorithm with a focus on showing you the images with the most emotion, the best composition, and with more variety.
You can feel more confident than ever that highlights will deliver the best of the best from any photo shoot.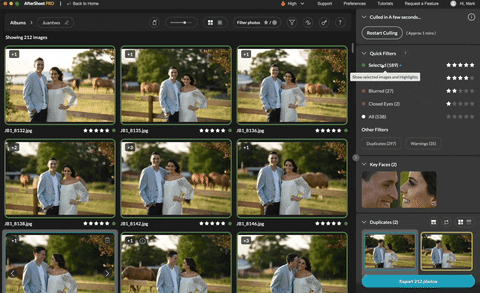 A couple of other things we've added
Key Faces in the Grid view - quickly review key faces whilst in the grid view, great for users who love to cull using the grid view.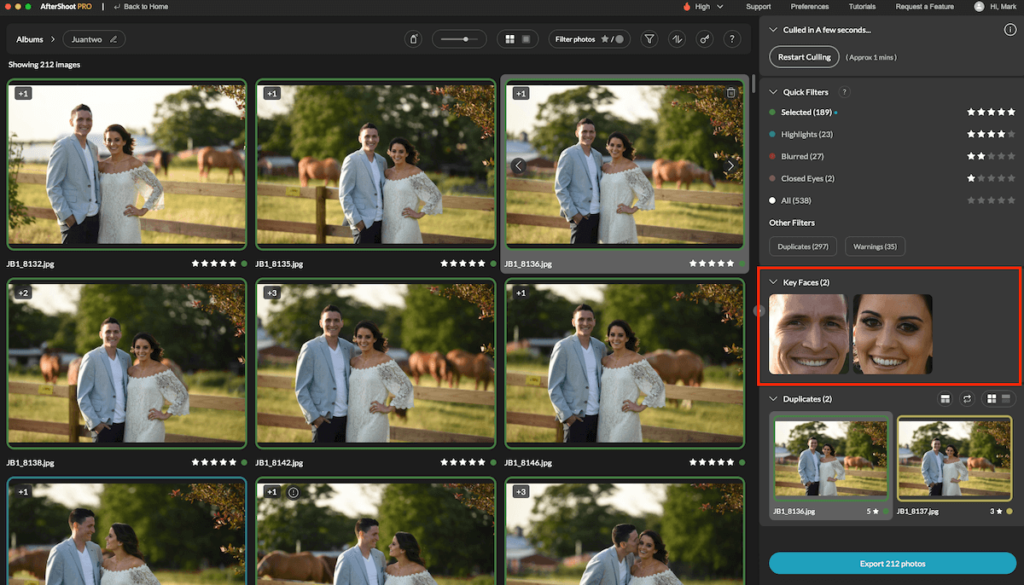 Detail zoom in Loupe view - zoom where your mouse points when in loupe view. Press L to switch from key faces to details zoom, and view all the details of your image.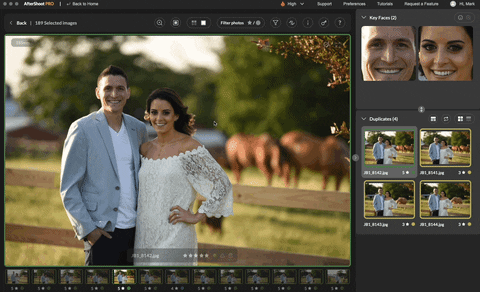 Warning: it's not you, it's us - we'll always pick the "best" image in a set, even if every image is blurry, or everyone has closed eyes. For some of you, this wasn't great, so we now provide you with a warning icon to let you know, it's not you, it's us.
In some cases you'll still want the image, most of the time, it's unlikely. This new icon offers you a quicker way to view images in the grid view so you can reject them much faster, helping you complete your cull quicker.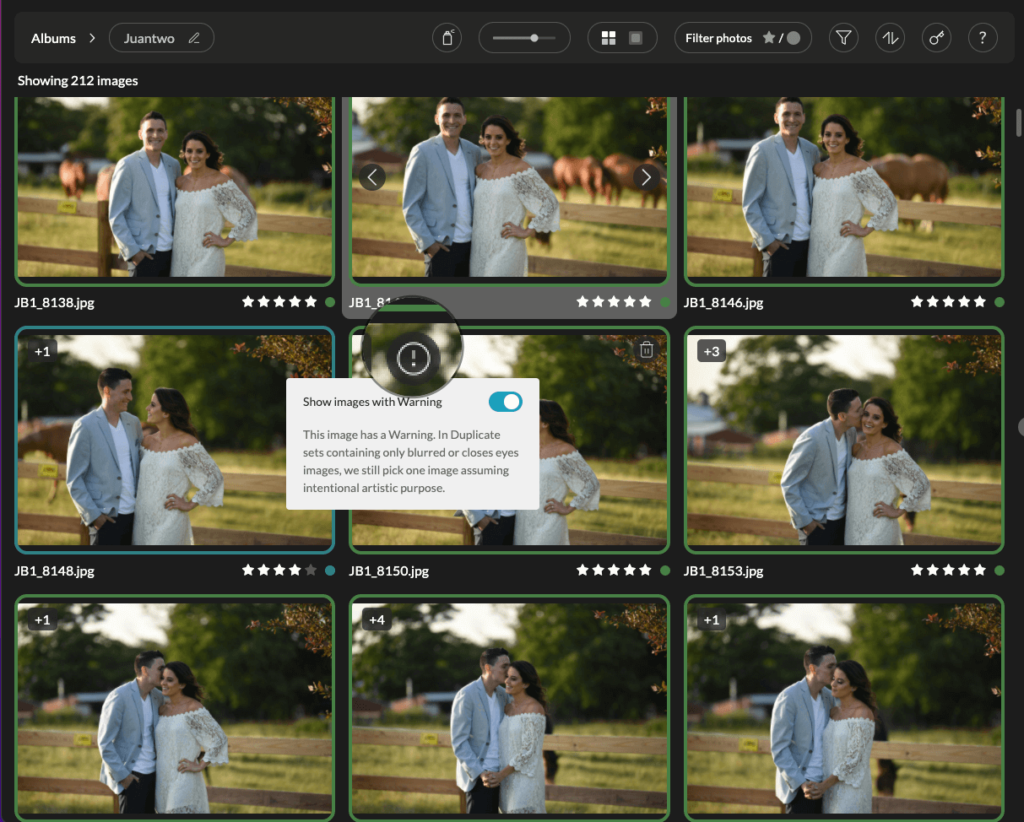 Other things we've improved
App speed and performance - the culling now runs around 33% faster, which means quicker culls, without the need for more processing power.
Improvements to the app interface to utilize space effectively - you must've noticed, we're rebranding, and with it, improvements come to the app's interface itself. Cleaner, sleeker, and easier to read - our goal is to make the experience seamless for you.
🐞Bugs we've crushed
Here comes the "nerdy" part, but there were a few pesky bugs that were, you know... bugging us. A quick recap on those:
A bug that caused some users to have low-resolution previews of some images in the loupe view - CRUSHED
A bug causing issues with the ingesting and exporting flow - CRUSHED
A bug that showed capture time incorrectly for some file formats - CRUSHED
Where can I get the latest version?
We run staged rollouts, which means we slowly transition everyone into the newest version, to make we solve any unexpected bugs. Head over to the downloads page and get the latest version today!
What's next?
This update has been long coming, but there's even more to follow, and we're excited to share some of it with you.
Aftershoot EDITS is in active Alpha now, with Beta coming up around the corner. Get on the list to test it out with us.
We're rebranding - a necessary change to reflect our commitment to you, the industry, and the technology making all of this possible, we're set to unveil a brand new website and enhanced communication, all as we aim to better connect and get on the same page with you.
An Innovative 2023 - we have a really aggressive roadmap to keep delivering you with more products that are going to save you time and help you manage your post-shoot workflows!
As always, thanks for your trust in us, and happy culling!