Best Photo Editing Laptops for Photographers
Laptops can be great, but they can also be a waste of money. Worst of all, manufacturers don't make the buying decision easy.
Most manufacturers let you configure a laptop a dozen different ways with what seems like two dozen different prices.
Pre-configured laptops (laptops sold as-is) often make compromises that can often affect some key aspects - performance (how quickly it does what you need it to do) or cost (so-called 'bang for the buck').
How do you figure out what to get?
We've done the research and have curated a list of what we think are the best photo editing laptops currently on the market.
If you want to skip ahead to the reviews, skip to 'The Best Laptops for Photo Editing'
What to look for when buying an editing laptop? (The nerdy stuff)
Here's a quick summary of the bits that we think are important:
CPU – for an Apple MacBook, get the M1 or M2. For a Windows laptop, there are quite a few choices but generally, opt for an Intel quad-core i7-8xxx or above or an AMD Ryzen 7 and above.
RAM - the more the merrier, we'd suggest at least 16GB. If you can afford it, get 32GB, which should future-proof your laptop.
Hard drive - get an SSD (Solid State Drive). It doesn't have to be the largest storage, you can have slower storage on an HDD (Hard Disk Drive) for your photos, etc, but you'll want an SSD for the system's primary drive.
Video card - most laptops have a decent integrated card. If there's an option, get at least 4GB of RAM to make editing smoother.
For a more in-depth look at all the nerdy stuff, keep reading, otherwise, skip to the best editing laptops section.
CPU - Central processing unit
This is the brain of any computer. It's also where manufacturers can complicate your purchasing decision.
The latest and greatest is always nice to have – this will be the most recent model with the largest number of cores and the fastest clock speed. However, that also means a higher cost that can eat up your budget fast.
If your budget is tight, you can opt for a slightly older processor, but beware of much older or slower processors – specifically Intel Pentium, Celeron, i3, AMD Athlon, and Ryzen 3.
If you're sticking solely to photography and won't do video editing, then an Intel i5 will save you some money over an i7 or i9. For instance, an Intel quad-core i5-8xxx and higher is better suited for photo editing than an Intel dual-core i7-8xxx. These laptops are getting harder to find new but there are still a lot available used.
Anything with an AMD Ryzen 5, Ryzen 7, Ryzen 9, Threadripper, and Threadripper Pro as well as an Intel quad-core i7-8xxx or higher (i7-9xxx through i9-12xxx), is worth serious consideration.
If you like Apple products, then don't go with anything with an Intel CPU. That means nothing less than an M1 or M2 (M1, M1 Pro, M1 Max, M1 Ultra or M2).
RAM
This one is simple - the more, the better. RAM is your laptop's short-term memory storage. More of it lets you run more (or bigger) tasks without performance slowdowns.
By today's standards, that should be at 16Gb of RAM to run any photo editing software. 32Gb is even better, but if it doesn't fit your budget, you might consider a laptop that can be upgraded. Note: Most ultra-lightweight laptops and all Apple MacBook laptops are not user upgradable.
That means what you buy today is what the laptop is until you decide to replace it.
Hard Drive
SSD is the answer.
It's the industry standard to boot your laptop and have all software run from an SSD (Solid State Drive) because it's so much faster than an HDD.
But the bigger the SSD, the higher the price of the laptop. Generally, 512 GB is the smallest SSD you should consider. If your budget allows, get a larger SSD, but typically 1-2TB is more than enough.
Some laptops come with both an SSD and an HDD installed. The SSD (typically about 256 GB) has all your software and the HDD is larger and that's where you can store any data files (photos, documents, etc).
Video Card
If you're not planning on doing any video editing or serious gaming on your laptop, the standard integrated video card should be more than sufficient for whatever you want to do.
If there's an option, try to get at least 4GB of video RAM to run things smoother.
Brand
For Mac users, this is definitely an easy question that is only limited by your budget – which MacBook to get.
But if you're a Windows user, then there are quite a lot of choices at all sorts of price points.
For instance, some brands such as HP, Dell, Lenovo, and Asus may not be the flashiest out there, but their overall quality and post-sale warranty are among the best available.
On the other hand, there have been complaints about customer support and warranty issues with Samsung and LG laptops. Be sure to read the fine print and ask around about the customer experience in your area before committing to any of those.
Sales Tax and Warranty
This may seem silly, but if you're on a strict budget, sales tax can make up a considerable portion of the final price. If you're in an area that charges sales tax, be sure to include it in your calculations right from the start.
As for the warranty, we'd strongly recommend getting one, even if it adds a few hundred dollars on top of the price.
Be warned, however, that you should avoid a depot service warranty. Depot service often means being without your laptop for up to 20 days. What's even worse - you may end up with the hard drive restored to factory settings, with all your data lost – even if the hard drive wasn't the reason for sending the laptop in for service in the first place.
That's why we recommend the Next Business Day On-site service. Apple users should consider Apple Care if it's available.
The Best Laptops for Photo Editing
Here are the best editing laptops available to photographers on the market right now.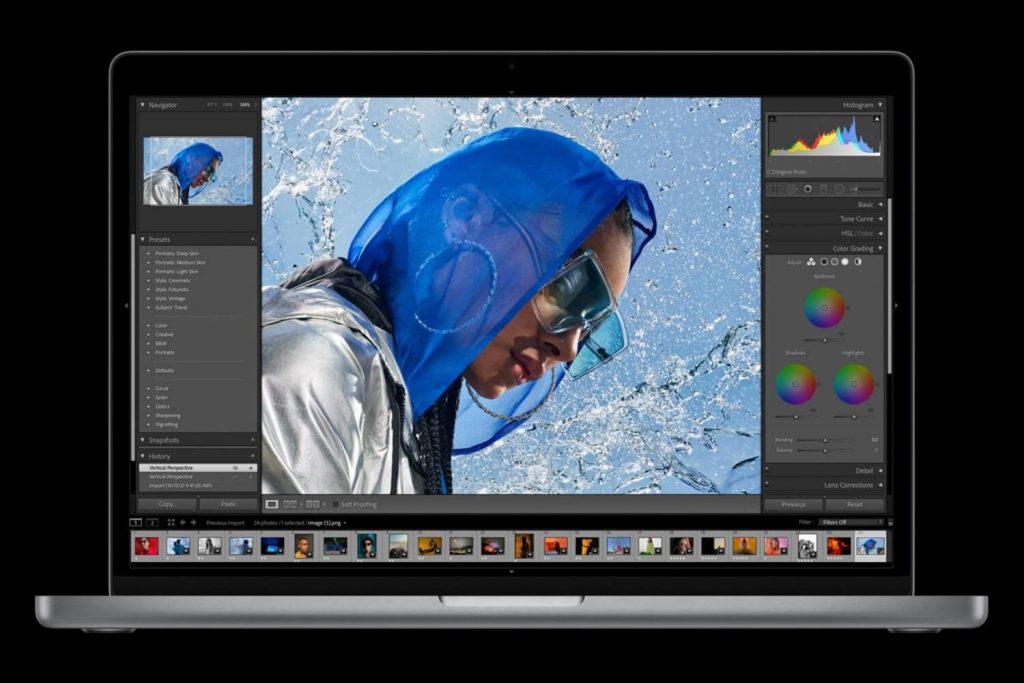 MacBook Pro 16-inch
Best Laptop Overall
Rating: 4.8
There's little that can be said about the new iteration of the famous MacBook Pro other than in superlatives. The new M2 Pro and M2 Max processors have addressed some of the serious shortcomings of the previous generation, and now you can add so much RAM to the system that it might actually become pointless.
The sheer power of this laptop is striking as any software runs smooth like butter, no matter whether you're just editing photos or messing with 3D or video. There's just so much it has to offer, really. And all that with almost 22-hour battery life and quiet fanless design that makes this beast extremely portable and usable in just any situation.
The only downside, of course, is the price. But if you're looking for the ultimate photo editing tool out there, well, this is it.
And if the large 16-inch Liquid Retina XDR display with 1,600 nits of brightness (triple that of the closest competition) and 3456 x 2234 pixels feels too large, we suggest opting for the MacBook Pro 14-inch version that offers all the features of its larger peer but in a more compact package.
PROS
+Best battery life out there
+Verging on overpowered
+Very bright and high-detail display
+Extremely quiet
+A variety of ports
CONS
-Expensive no matter how you spec it
-On the larger side
TECH SPECS
Processor: Apple M2 Pro 12-core – M2 Max 12-core
Graphics: Integrated 16-core – 32-core
RAM: Up to 96GB
Display: 16.2-inch Liquid Retina XDR display
Storage: Up to 8TB
Check out the deals: Amazon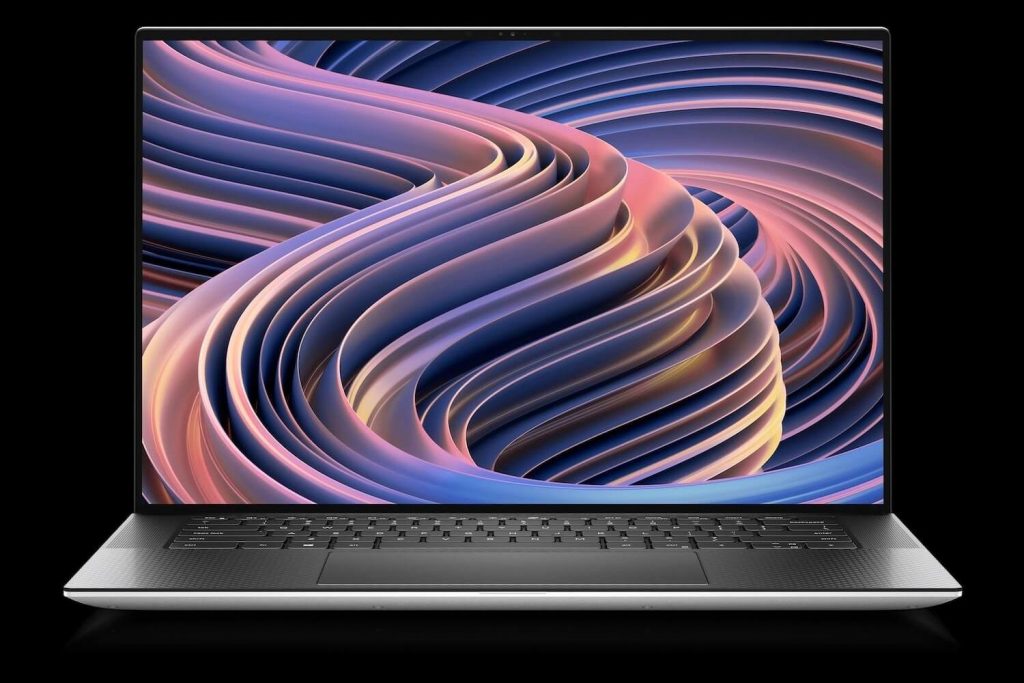 Dell XPS 15
Best Windows photo editing laptop
Rating: 4.7
If you're looking for the ultimate Windows laptop that would be on par with the MacBook, then this is it. Just looking at the specs, you will clearly see that it carries hardware that is often found in serious professional desktop builds, let alone compact laptops. And all that at a price comparable to an actual desktop computer.
The centerpiece of this laptop is the 12th-gen H-series Intel CPU, which is simply the best thing you can fit into a portable computer at the moment. Thus the overwhelming computing power will make just any graphic task a breeze, not just photo editing. Not to mention the Nvidia Geforce RTX 3060 graphics card that even the most avid gamers would love having on board.
And in case you're looking for something larger in order to enjoy your latest creations, we'd recommend going with the XPS 17, which ramps up the specs and has a larger 17-inch 500-nit display.
Check out the deals: Amazon
PROS
+Power on par with MacBook Pro
+Much more affordable
+Great selection of ports
+All-round great laptop for many tasks
+Very good display
CONS
-Battery life on the shorter side
-Can get hot while running intense tasks
TECH SPECS
Processor: Up to 12th-gen Intel Core i7-12700H (14-CORE)
RAM: 32GB
Storage: 1TB SSD
Display: Up to 15.6-inch IPS LCD, 3840x2400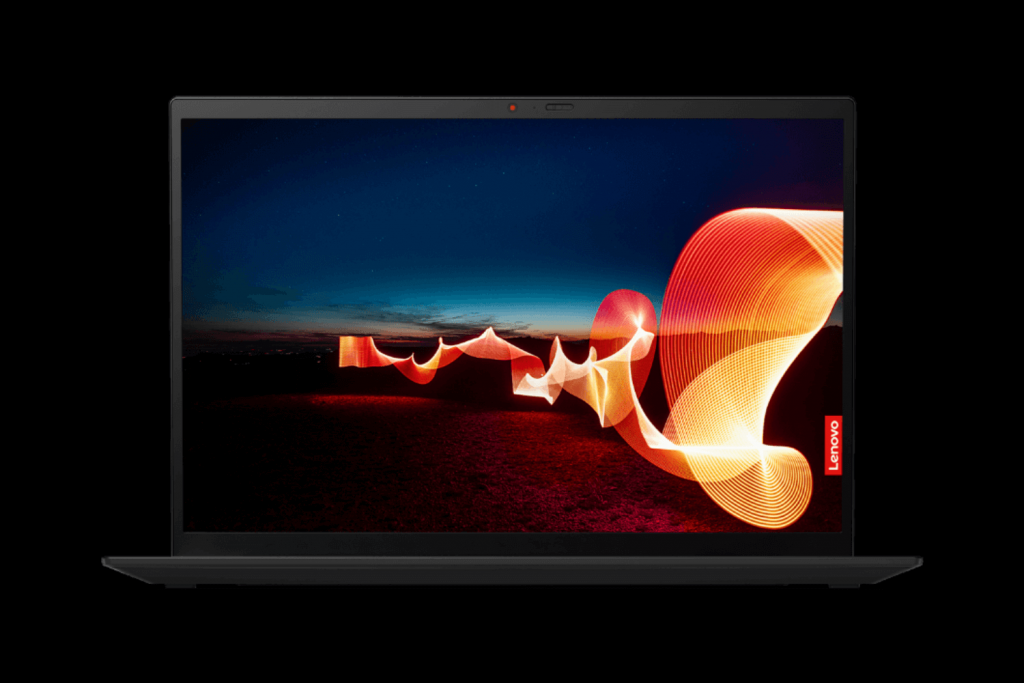 Lenovo ThinkPad X1 Carbon Gen 10
Best lightweight laptop
Rating: 4.3
The ThinkPad X1 Carbon laptop has always been built around the concept of being lightweight, slick, and easy to carry around, and its latest iteration proves that this concept has plenty of advantages.
So if you're the kind of photographer that will casually throw a laptop into your gear backpack along with a selection of lenses, you might actually find that it won't make it much heavier. But that doesn't mean this laptop won't complete the task.
On the contrary, the Lenovo offering brings a 12th-gen Intel processor capable of performing all the tasks a photographer might need on the fly. And the abundance of options for customizing your laptop gives you the ability to spec it just right.
However, this variety of hardware options might also feel a bit confusing at first. So if you're thinking of going with a Lenovo, make sure to pick at least 16GB of RAM and plenty of SSD storage for all your photos and software.
The RAM option is especially important right from the start, since the chips are actually soldered to the motherboard, and you won't be able to add more RAM later on. So choose carefully.
PROS
+Lightweight and sleek
+Good battery life
+Good screens even in basic options
+Plenty of options to choose from
CONS
-Too many options to choose from
-Non-upgradable RAM
TECH SPECS
Processor: 12th Gen Intel Core i7-1260P Processor (E-Core Max 3.40 GHz, P-Core Max 4.70 GHz with Turbo Boost, 12 Cores, 16 Threads, 18 MB Cache)
RAM: 16GB
Storage: 1TB SSD
Display: 14.0" WUXGA (1920 x 1200) IPS, anti-glare, touchscreen, low power, 400 nits, 100% sRGB; IR & 1080p FHD Camera
Check out the deals: Amazon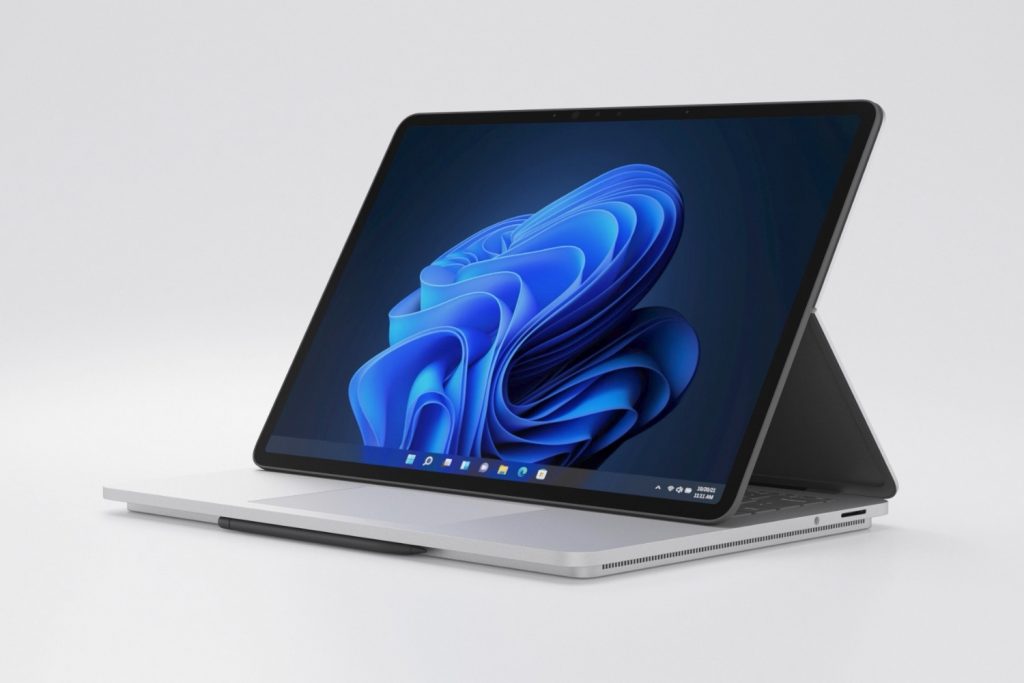 Microsoft Surface Laptop Studio
Best laptop/tablet hybrid on the market
Rating: 4.7
Sure, the Microsoft Surface Laptop Studio isn't the only laptop with touchscreen functionality, nor is it the only tablet/laptop hybrid out there. However, the way the hybrid design is implemented puts it into a category of its own, providing functionality and ease of use where other devices of this kind might feel more like a gimmick, if nothing else.
This specific laptop is aimed toward creatives, and it's the quality of the small things, such as great speakers and a high-resolution webcam, that speaks volumes about the attention to detail in this device.
But it would be a mistake to think that it comes underpowered, far from that. The 11th-gen Intel CPU paired with up to 32GB of RAM and fast SSD makes it a powerful option for those doing serious photo editing.
Just make sure to consider all the options to be included since getting the top-tier build quickly drives up the price and makes the Microsoft offering way less attractive than the competition at this price point.
PROS
+Great design
+Awesome touchscreen functionality
+Excellent Retina display
+Silent
CONS
-No HDMI port or memory card slot
-8-core GPU model on the expensive side
-Not as light as one would imagine
TECH SPECS
Processor: Up to 11th-gen Intel Core i7
RAM: 16-32GB
Storage: 256GB-2TB SSD
Display: 14.4-inch 2400 x 1600, 120Hz, multi-touch
Check out the deals: Amazon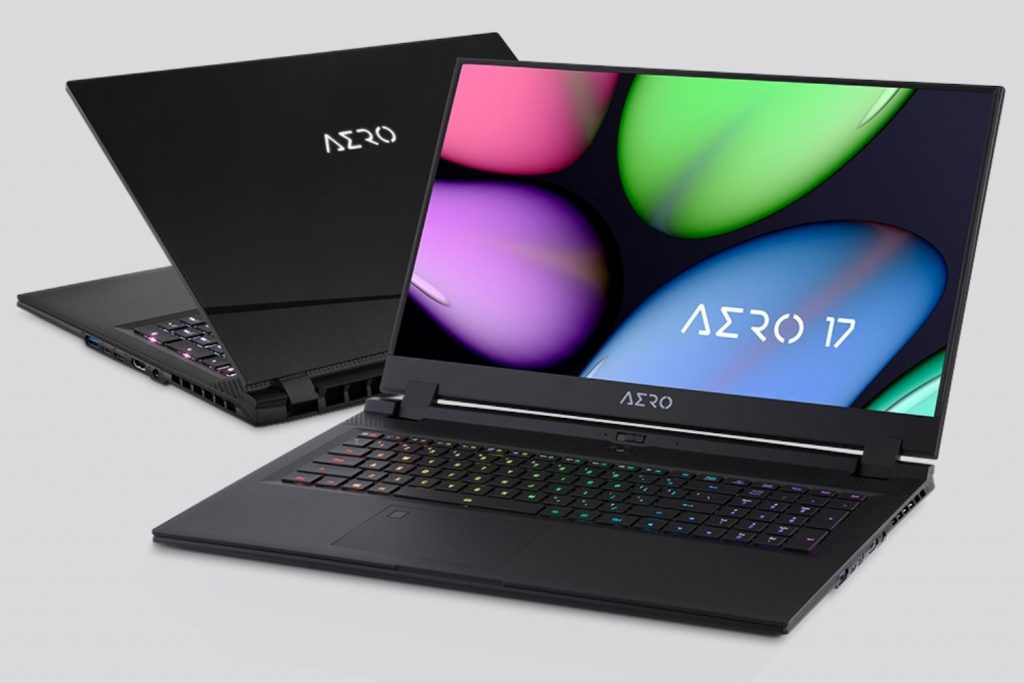 Gigabyte Aero 17
Best value for money
Rating: 4.3
Gigabyte Aero 17 is simply put, the ultimate mobile workstation built for creatives that are on par with most desktop builds at the same price point. Specifically, it was created to deal with intense 3D tasks such as sculpting and rendering on the go, so there's a lot of processing power for a professional photographer to tap into.
While the actual CPU might be of an older generation, it was the best you could get, and it still holds up to the test of time, especially compared to the more budget-friendly chips of the current gen.
The GPU, on the other hand, is something you'd find in a high-end desktop workstation, which is cool. And the high-definition 17-inch display definitely provides a great way of editing photos on the go.
PROS
+Great build quality
+Nvidia GeForce RTX 30-series GPU
+Best value for money spent
+Powerful even at mid-range builds
CONS
-Can be running hot while loaded with heavy tasks
TECH SPECS
Processor: (12th Gen ready) Intel Core i9-12900HK (2.5GHz~5GHz)
Graphics: NVIDIA GeForce RTX 3080 Ti
RAM: 64GB
Display: 17.3-inch UHD 4K OLED, HDR400, 100% Adobe RGB, Pantone-certified
Check out the deals: Amazon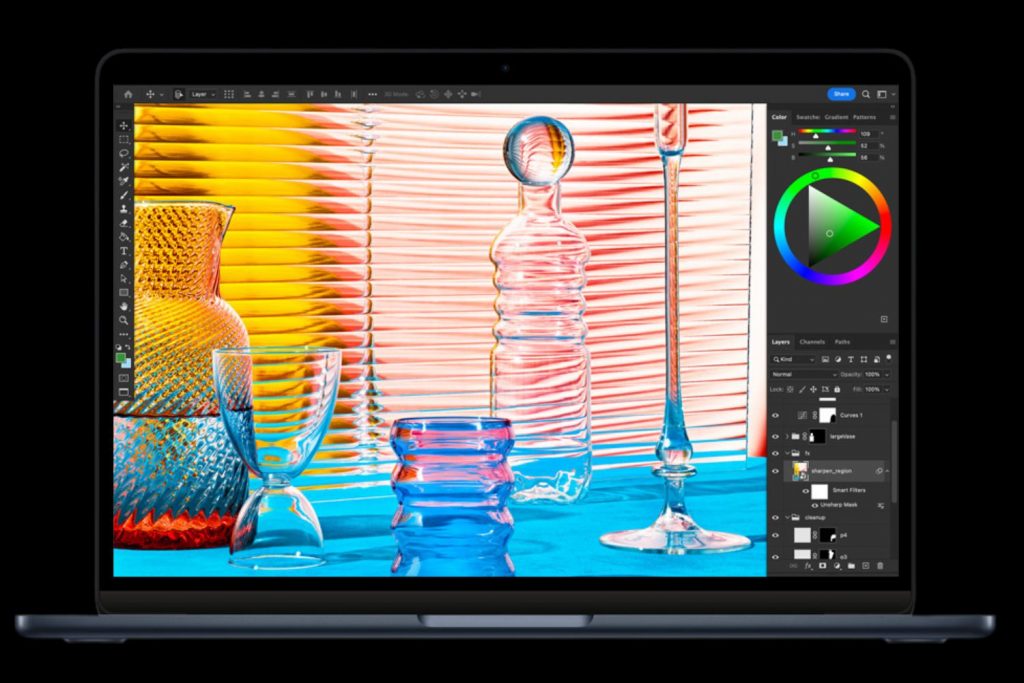 Apple MacBook Air 13-inch M1/M2
Best budget photo editing laptop
Rating: 4.5
While the MacBook Air is generally considered an entry-level offering in the Apple biosphere, its price and status shouldn't stop you from giving it serious consideration. Especially if your budget is on the limited side of the spectrum.
While it might not be an all-around awesome work tool like the MacBook Pro, it definitely makes great use of the M1 processor for any photo editing task. Paired with the awesome Retina display that provides unparalleled color depth and resolution, this might actually be a great option for many photographers out there.
The only real complaint is the total lack of an HDMI port and an integrated memory card reader, while only 2 USB ports make it a bit of a pain to get all the necessary peripherals plugged in if you rely on any in your workflow.
PROS
+Low weight, sleek design
+Excellent Retina display
+Silent, fanless design
CONS
- No HDMI port or memory card slot
-8-core GPU puts a strain on your budget
TECH SPECS
Processor: Apple M1 8-core
RAM: 8-16GB
Storage: 256GB-2TB SSD
Screen: 13.3-inch 2560 x 1600 IPS Retina
Check out the deals: Amazon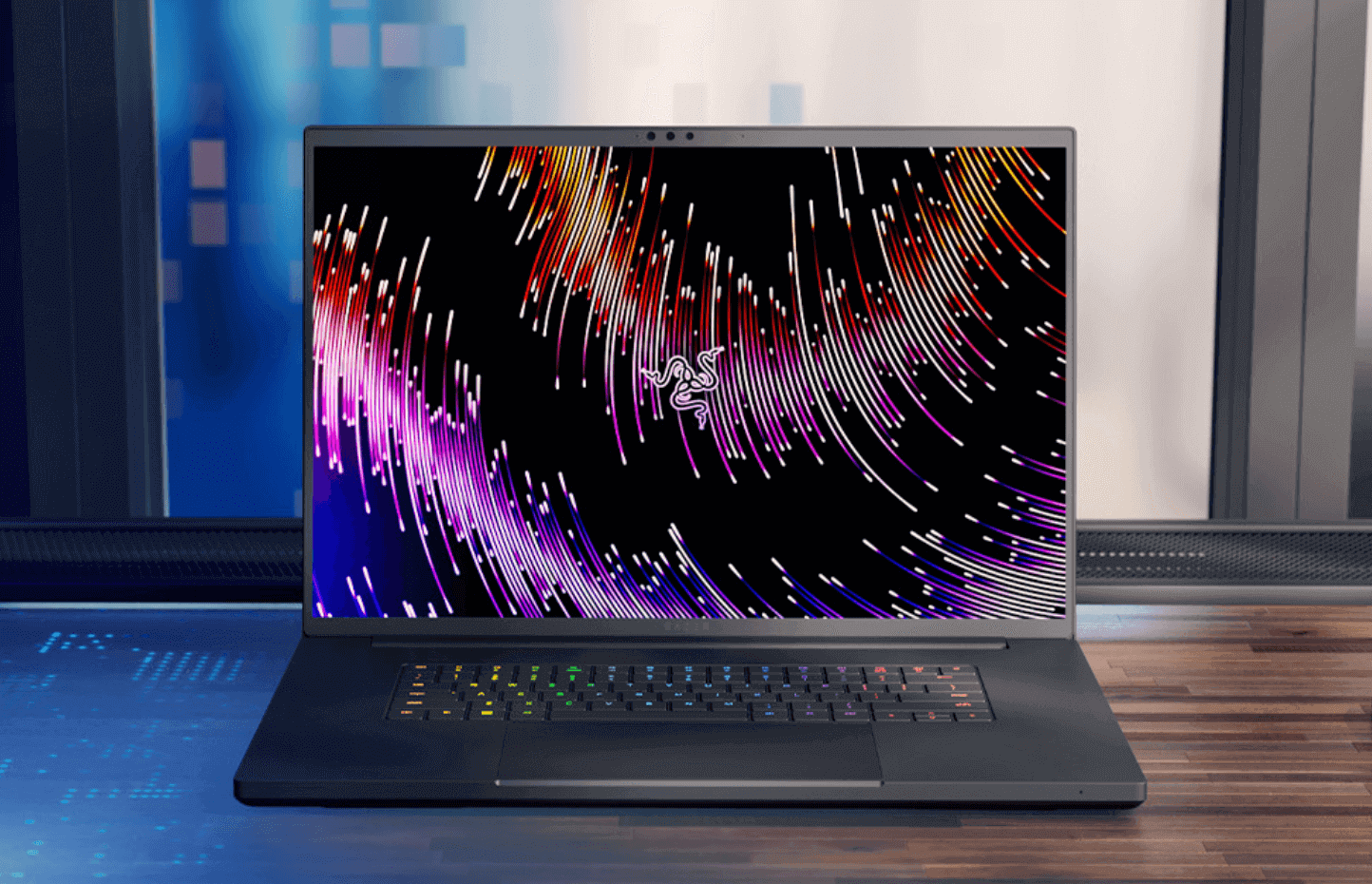 Razer Blade 18
Great workstation with the option of gaming
Rating: 4.6
The Razer brand is specifically tailored for gamers, channeling the vibrant and dynamic aesthetic in all of its products. However, this particular laptop, while also aimed at gamers on the go, provides a more sober overall look and, more importantly, a set of really attractive options that a professional photographer can make great use of.
Of course, the powerful CPU coupled with the ultimate GeForce RTX 4080 graphic unit might feel like overkill even for the demanding photographer since all this processing power adds little when dealing with software like Photoshop.
However, the 18-inch display makes this laptop such a compelling option. And if you're the kind of photographer who loves playing between shoots and editing sessions, this might be the best pick for you.
PROS
+Great performance
+Quality display and robust build
CONS
-Fast graphics might feel like an overkill
TECH SPECS
Processor: 13th Gen Intel Core i9 13950HX
Graphics: NVIDIA GeForce RTX 4080
RAM: 5200 MHz 32GB RAM and 1TB SSD
Screen: 18-inch QHD+ 240Hz
Check out the deals: Amazon
Our Verdict – Best Laptop for Photo Editing
Our top pick for editing laptops for photographers is the MacBook Pro 16-inch. If you have the budget, go for it; you'll struggle to find a better laptop for editing.
It's a powerhouse, easy to use, has the best screen on the market, and'll be quite a few years before you need an upgrade.
If you're looking for the ultimate Windows laptop that would be on par with the MacBook, choose the Dell XPS 15. It has the best specs and hardware that matches even serious desktop setups at a price that's comparable to a desktop computer.
So there you have it, the best photo editing laptops on the market. If you're still not sure, you can always join our Facebook community and find out what hardware other photographers are using for their editing laptops (or desktops).
P.S. We've curated the best Black Friday deals for photographers in case you're interested in snagging top-notch products at a great discount!
---