Connect & Learn: 20 Top Photography Groups on Facebook
There are hundreds of photography groups on Facebook, ranging from groups for beginners to groups for photography business owners, software-and-gear-specific groups, and just about everything in between.
For professional photographers, the pursuit of excellence is a never-ending journey. The quest to push creative boundaries and refine technical skills doesn't require talent alone but also a community of like-minded individuals who share the same passion.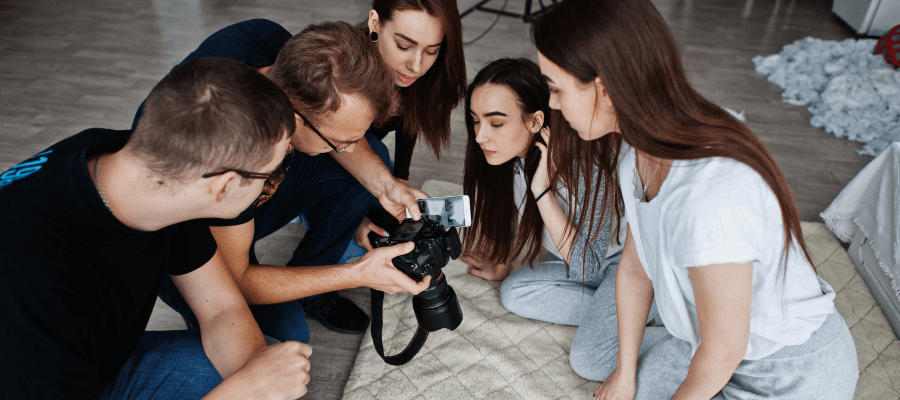 The power of photography groups on social media should not be underestimated, and when it comes to the crème de la crème, Facebook has proven to be a platform of choice.
If you're a photographer looking to expand your horizons, connect with industry peers, grow your business, and find inspiration in the works of others, this list of Facebook groups for photographers is for you.
These expert-run communities, curated by renowned photographers and mentors, serve as fertile ground for networking, artistic exploration, and professional growth.
In this article, we'll delve into each group's unique offerings. From photography business tips and technical discussions to thought-provoking critiques and stimulating challenges, these photography groups are goldmines of knowledge and camaraderie.
20 photography groups we recommend joining
Ben Hartley's Mastermind | Coaching For Wedding & Portrait Photographers

Private group
Members: 38K
Topics: photography business growth & marketing
Owned by: Ben Hartley
Link: Join the group here
The owner of this Facebook group, Ben Hartley, is a photography business coach and entrepreneur who shares his income-boosting tips freely in this group.
Not only will you learn from a highly successful business coach who has helped thousands of photographers maximize their profits, but you'll be joining a community of photographers who ask questions that could benefit your business greatly.
Get answers to your biggest marketing head-scratchers and take your photography business to the next level by becoming a member of this engaging and educational Facebook group.

Private group
Members: 46.2K
Topics: photography business, workflow & shooting
Owned by: Shoot & Share
Link: Join the group here
Picture this: a vibrant discussion group where photographers of all levels and all genres come together, eager to nurture their skills and passion… and have a little fun along the way.
Shoot & Share is exactly that!
From sharing breathtaking images and partaking in photography challenges to dropping valuable tips and tricks, there's no shortage of inspiration and learning opportunities within this Facebook community.
The group includes a section called "Guides" where you can watch helpful videos ranging from social media, marketing, and sales tactics to personal photography challenges and more.
Whether you have questions about growing your photography business, which camera you should buy next, or if you'd like to troubleshoot an editing issue, this highly active community will help you out.
Cassidy Lynne Education

Private group
Members: 25.3K
Topics: shooting & workflow, client management, software & business tips
Owned by: Cassidy Lynne
Link: Join the group here
Owned and moderated by elopement and wedding photographer Cassidy Lynne, this is a well-rounded group for professional photographers of all genres, where they can learn and grow among an uplifting community of fellow photographers.
If you're a photographer who uses Cassidy Lynne editing presets, this group is all the more tailored to you as it includes discussions and editing tips based on her presets.
That being said, the discussions in this group include a wide-spread variety of topics!
From business and marketing tips to questions about pricing, gear, shooting techniques, post-shoot software recommendations, and overall photography workflow tips, you'll find anything and everything related to photography here.
The group has many active users who will readily answer your questions and give advice when needed.
Bold, Emotional, Colorful Platform + Community

Private group
Members: 27.6K
Topics: photography business tips, editing, courses & more
Owned by: Bold, Emotional, Colorful
Link: Join the group here
Bold, Emotional, Colorful (BEC) is an educational platform and community that offers online courses, mentorships, online workshops, presets and tools, as well as the BEC magazine.
Their Facebook group comprises a vibrant and dynamic community tailored for lifestyle photographers.
Joining this group gives you access to insightful resources curated by BEC Leaders. Their knowledge and tools help photographers level up their shooting, editing, and business game!
More than an educational platform, this group was created to foster a sense of belonging and community for all its members.
Creativity and uniqueness are celebrated in this group, allowing photographers to draw inspiration from each other's work, learn new techniques, and refine their artistic vision.
Fuel Your Photos

Private group
Members: 26K
Topics: SEO & online marketing for photographers
Owned by: Corey Potter & Dylan M Howell from Fuel Your Photos
Link: Join the group here
This Facebook group is for photographers eager to enhance their online presence through SEO and online marketing strategies.
Whether you're a seasoned professional or just starting out, this group offers a plethora of educational resources and expert advice from Corey Potter, an SEO expert, and other experienced website owners.
Exclusively focused on online marketing for photographers, Fuel Your Photos welcomes all wedding professionals, creatives, and small local business owners who seek to drive more website traffic, increase social media reach, generate more inquiries, and secure more bookings.
From mastering SEO techniques to implementing effective online marketing strategies, this community provides the tools and knowledge necessary to thrive in the competitive online landscape.
Portrait Photographers

Private group
Members: 17.3K
Topics: portrait photography
Owned by: Bokehmaster Photography
Link: Join the group here
Are you a portrait photographer looking to share your work and find inspiration in other photographers' sunning portrait shoots? Then this group is the right fit for you.
The portrait photographers in this group range from novices to seasoned pros. It's a group for all portrait enthusiasts. But be warned, any non-portrait photos posted in the group will be deleted without notification.
If you have questions about posing or editing techniques or just want an honest opinion on your images, this large and encouraging community will help you out.
Steel and Flint Society: Wedding Photography Education - Esteban Gil

Private group
Members: 11.3K
Topics: wedding photography
Owned by: Esteban Gil
Link: Join the group here
Esteban Gil is a top wedding photographer and the owner of this inspiring Facebook group.
If you're a wedding photographer looking for a spark of inspiration, helpful tips on editing your shoots, workflow techniques for handling the busiest season of the year – or if you simply want to showcase a gorgeous image or two – this group will tick all your boxes.
The members of this community are active and engaging, so you can be sure to have your questions answered by industry professionals who have your back.
Although the main genre of photography in this group is weddings, the topics of discussion know no bounds – from lighting and gear to vendors and workflow, you'll find it all here.
The Art of the Second Shot

Private group
Members: 7.3K
Topics: wedding photography
Owned by: Easton & Laura Reynolds from The Art of Six Figures
Link: Join the group here
This group's focus is on helping photographers create captivating imagery that tells their clients' stories in the most creative and unique ways.
It encourages photographers to think outside the traditional wedding photography formula, emphasizing the importance of going beyond the "First Shot" staples and exploring new perspectives.
This interactive community is a place where photographers can share images that go beyond the norm, learn new techniques, and inspire one another to greatness.
Open to all levels of expertise, The Art of the Second Shot fosters a supportive environment where creativity is nurtured through the exchange of ideas and knowledge.
The group also values constructive criticism and encourages photographers to seek feedback to improve their craft.
You can request specific types of critiques using codes like CC, BCC, or PBCC. This open and honest dialogue helps photographers grow and refine their skills.
This photography group maintains a strict no-self-promotion policy, ensuring that the focus remains on learning, collaboration, and sharing valuable insights.
Additionally, the group's owners, Easton and Laura, occasionally post links to their own educational content, offering further opportunities for you to enhance your expertise.
Weddings & Wanderlust - Adventure Photographers

Private group
Members: 26.9K
Topics: wedding & elopement photography & business tips
Owned by: Maddie Mae
Link: Join the group here
This Facebook group gives you access to a worldwide community specifically tailored for adventure elopement and wedding photographers who embrace wanderlust in their work.
Owned by Maddie Mae, a renowned 7-Figure CEO, Elopement Photographer, and Business & Marketing Educator, the group offers valuable insights and resources to help photographers grow their businesses, attract the right clients, and increase their earnings.
You'll gain free access to a comprehensive library of 20+ workshops covering business, marketing, and photography topics, empowering you to take your photography skills to new heights and create epic photos that resonate with your clients.
Joining this group is a gateway to new connections and friendships with like-minded adventurers from all corners of the earth. 
The supportive community helps photographers shift their mindset, break free from limiting beliefs, and find inspiration in a world of boundless creativity.
Emotional Storytelling with Twyla Jones

Private group
Members: 18.5K
Topics: emotive storytelling through photography
Owned by: Twyla Jones
Link: Join the group here
Do you want your images to do more than just look beautiful – do you want them to tell powerful stories? Welcome to Emotive Storytelling!
Created by the talented Twyla Jones, this group is dedicated to elevating the art of storytelling through photography.
The group celebrates individuality, encouraging members to explore the unfamiliar and take creative risks in their work.
It's a community that values self-reflection and personal growth, prompting photographers to question assumptions, understand their emotions, and deepen their connection to the world.
Emotional Storytelling provides the tools, resources, and support you need to share your unique stories with the world.
With an array of free and discounted photography resources, editing courses, and educational content, this group offers a wealth of opportunities to hone your skills and develop your storytelling abilities.
By joining this community, you'll learn from Twyla Jones herself and connect with like-minded individuals who share your passion for emotive photography.
Build & Bloom

Private group
Members: 67.1K
Topics: photography tips
Owned by: Jessica Whitaker from Build + Bloom
Link: Join the group here
This Facebook group invites you into a nurturing and supportive community. It invites photographers to come together, encourage, and inspire one another.
If a strong sense of community is at the top of your list, this group is your safe haven. It nurtures creativity, builds self-confidence, and empowers photographers to bloom both professionally and artistically.
The group asserts, "There are no dumb questions," and members are encouraged to ask and answer inquiries related to their craft.
Be aware that this group is not a platform for self-promotion but rather a safe and welcoming space where photographers can freely seek and share valuable insights about all things photography.
The group's emphasis on encouragement and genuine engagement allows members to develop valuable connections, expand their knowledge, and find inspiration in the collective creativity of their peers.
LEARN! A Kick*ss Photographer Community

Private group
Members: 79.1K
Topics: editing & photography tips
Owned by: Anna Tenne
Link: Join the group here
This is one of the most popular photography groups for multiple reasons:
The community in this group is uplifting and informative
You can give feedback and ask any questions – from editing, software queries, posing, and gear… nothing is off limits as long as it's kind (and related to photography of course)!
You can post photos and ask for constructive criticism to keep improving your craft
There are weekly cover photo challenges where you can showcase your skills
For those looking to level up their editing skills or workflows, there are weekly editing videos and tips
Besides being an informative and fun group to be part of, the group admins are also open to any suggestions and new ideas to keep improving the group, making it a photography group that is by and for the community.
Fire & Ice Photography Society

Private group
Members: 41.7K
Topics: photography, videography & creative arts
Owned by: Fire and Ice
Link: Join the group here
This Facebook group goes beyond the realm of photography. It's a space for lively discussions on various topics in all forms of creative arts.
Embracing a spirit of camaraderie, the group encourages members to engage in humor and sarcasm while maintaining a respectful atmosphere.
Photographers of all skill levels are welcome. Seasoned professionals inspire others with their remarkable talents, while amateurs find support and guidance to improve their craft.
Beyond discussions, the Fire & Ice Photography Society also lets photographers share their work. Your images can become eligible to feature on their Instagram page, further extending the reach of your creative endeavors.
With a strong emphasis on knowledge-sharing, members are encouraged to ask questions, seek advice, and participate in challenges and competitions.
There is no shortage of valuable insights and assistance with this diverse pool of experienced members.
Professional Photographers

Public group
Members: 500K
Topics: sharing photographs
Owned by: Professional Photographers
Link: Join the group here
If you're looking for a platform to share your stunning images, this is it!
This group serves as a public hub for photographers to showcase their work, gain exposure, and engage in meaningful discussions with like-minded individuals from around the world.
Photographers from all backgrounds and genres are welcome, making it an open and inclusive platform for anyone passionate about the art of photography.
As an international community, it brings together both seasoned professionals and photography enthusiasts eager to learn and grow together.
With an impressive community of over 500k+ members, this group stands out as one of the top and most active photography communities on Facebook.
Fearless Critiques

Private group
Members: 5.5K
Topics: wedding & family lifestyle photography critique
Owned by: Huy Nguyen
Link: Join the group here
This is a dynamic platform dedicated to the discussion and critique of wedding photography and family lifestyle photography.
This is where photographers gather to fearlessly share their work and get valuable feedback from fellow professionals.
Engaging in this constructive dialogue helps photographers grow as artists and strengthen their presence in the competitive world of photography.
As you engage in discussions and share insights, you join a community of like-minded photographers dedicated to pushing the boundaries of their work and inspiring each other to achieve greater heights in their photographic journey.
The group is underpinned by its beliefs in the power of honest and constructive critiques, encouraging members to offer tough but kind assessments of each other's work.
Learn to Light - An OCF Lighting Community

Private group
Members: 112.2K
Topics: OFC (off camera flash)
Owned by: Francisco Joel Hernandez
Link: Join the group here
This Facebook group is the ultimate destination for photographers eager to master the art of off-camera flash (OCF).
Created by portrait photographer Francisco Joel Hernandez, this insightful community thrives on the joy of helping one another flourish.
Diving into OCF can be daunting, but this community is specifically designed to support you as you transition from natural light to becoming a true OCF expert.
You'll find a treasure trove of knowledge, tips, and tricks that demystify the world of off-camera flash in this group.
MagMod Community

Private group
Members: 99.7K
Topics: flash & MagMod photography
Owned by: MagMod
Link: Join the group here
The MagMod Community group is a warm and inclusive space for fellow MagMod users of all levels.
The primary focus of this group is to help photographers unlock the full potential of their lighting setups.
Be aware that this is NOT a support forum for MagMod product-related queries. Instead, it's a place that fosters an atmosphere of learning and growth, where photographers can exchange insights, tips, and creative ideas to enhance their lighting skills.
Connect, share, ask questions, and embrace the fun of flash photography in this group!
Embrace Presets & Editing Tools for Lightroom

Private group
Members: 30K
Topics: presets for Lightroom & Adobe Camera Raw
Owned by: Jasmin Jade Pickens
Link: Join the group here
This is boudoir photographer Jasmin Jade's official Embrace Presets community – a haven for photographers seeking to elevate their editing game using Jasmin's custom Lightroom and ACR presets.
Whether you're a professional photographer or aspire to be one, this group welcomes all with open arms, even if you don't yet own the presets.
This is one of the few photography groups that allow you to share links to your website and Instagram. It encourages photographers to meet fellow artists and form valuable connections.
If you're eager to enhance your editing skills, you'll find a treasure trove of free editing tutorials as well as discussions beyond the scope of editing and presets – including well-being, workflow, and photography business tips.
Photoshop and Lightroom

Private group
Members: 354.3K
Topics: Photoshop & Lightroom tips
Owned by: Andrew Kavanagh
Link: Join the group here
This group comprises a thriving community that has been actively growing since 2010.
If you're looking for a place where photography, Photoshop art, photo composites, and digital art intersect, this is the group for you.
It offers an abundance of content to explore and be inspired by. From Photoshop tutorials for beginners to advanced techniques, you'll find a wealth of tips, questions, and discussions related to Photoshop, Lightroom, and photography.
Be sure to check out the Guides section in this group for a plethora of educational content.
Led by digital artist Andrew Kavanagh, the group is for those who embrace the opportunity to grow and improve as artists.
Many members of this group are seasoned experts when it comes to dissecting artistic forms. It has been said that this is not a group for the thin-skinned.
Constructive criticism is an essential part of the learning process, so if you prefer to forego critiques, a simple "No CC" in your posts will do the trick.
The Aftershoot Community

Private group
Members: 8.8K
Topics: AI culling and editing & Aftershoot workflow tips
Owned by: Aftershoot
Link: Join the group here
This Facebook group is a space created specifically for professional and aspiring professional photographers who want to speed up their culling and editing workflows with the top-of-the-line AI software – Aftershoot.
Here, you'll find a supportive and inspiring environment that encourages collaboration and growth.
From sharing workflow tips and tricks to discussing photo editing software and business strategies, this group serves as a valuable resource to enhance your craft.
Through Facebook Lives, guest speakers, and informative posts, you'll stay informed about the latest industry trends and developments in Aftershoot's software.
Members of this group are welcome to ask any questions but are reminded that a dedicated team of Support Ninjas is available through live chat on the Aftershoot website.
As a member of the Aftershoot Community, you'll join a collective of photographers passionate about their craft, eager to uplift one another and share time-saving ideas.
In conclusion
As a photographer, your journey toward excellence can be even more fulfilling when shared with a community of peers who understand the intricacies of your craft.
Facebook photography groups offer a treasure trove of opportunities for professional photographers seeking growth, inspiration, and camaraderie.
Whether you're a seasoned pro looking to fine-tune your skills or an aspiring photographer eager to learn and connect, these 20 expert-run communities cater to photographers of all levels and interests.
From business strategies and marketing tips to technical discussions, editing tutorials, and photography challenges, each group brings something unique to the table.
Engaging with fellow photographers in these communities not only expands your knowledge but also fuels your passion for the art of photography.
The power of these Facebook groups lies in the diverse pool of talented and experienced members, all eager to share insights, answer questions, and provide valuable feedback.
Embracing a spirit of collaboration and continuous learning, these groups have become vital hubs for networking, artistic exploration, and professional development.
So, immerse yourself in a community that shares your passion, empowers your creativity, and helps you build lasting connections with like-minded photographers across the globe.
In the spirit of embracing the power of community, we invite you to take the next step in your post-workflow journey by embracing the power of AI.
Don't forget to join the Aftershoot Facebook group and become part of our family of Aftershoot users who share their workflow tips, get culling and editing-related questions answered, and grow their skills together.
Bonus: If you love listening to podcasts, check out our list of must-listen podcasts for photographers.
---