CRM for Photographers: Your Guide to Efficient Client Management In 2023
What does CRM for photographers entail and which CRM software is best for your needs?
In this article, we'll give you all the information you need to make the right choice for your photography business and show you 10 recommended CRM software solutions.
Professional photographers starting their own businesses often face the challenge of not just producing high-quality images but also managing their clients effectively.
As your business grows, so does the complexity of maintaining relationships with a large customer base.
This is where a Customer Relationship Management (CRM) system comes into play.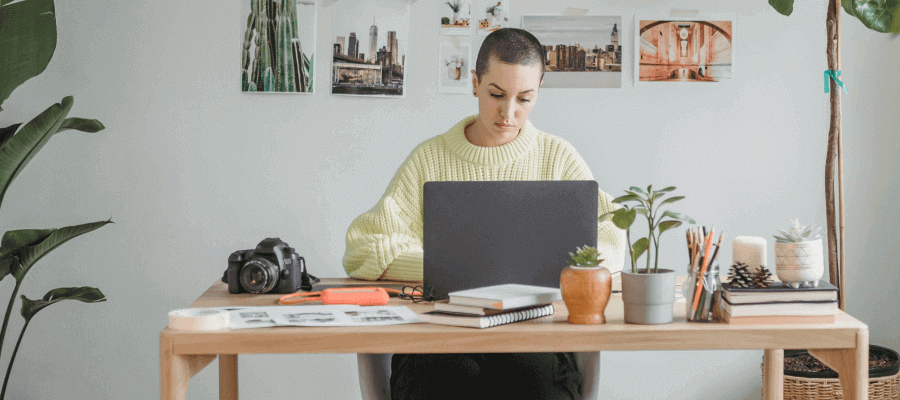 What is a CRM?
A CRM is a tool that helps businesses manage and analyze their interactions with current and potential customers.
It serves as a centralized hub for storing and organizing customer data, facilitating effective communication, and streamlining various business processes.
CRM platforms provide features and functionalities that enable businesses to track and manage customer interactions, such as contact details, communication history, purchase history, and preferences.
They also offer tools for automating tasks, such as scheduling, invoicing, and contract management
A CRM saves a business valuable time and improves operational efficiency.
Additionally, CRM platforms often include reporting and analytics capabilities, allowing businesses to gain insights into customer behavior, identify trends, and make data-driven decisions to enhance their marketing strategies and overall customer experience.
For photographers, a CRM app does more than just track clients – it can significantly enhance client relationships and contribute to business growth.
8 benefits of CRM for photographers
Managing a photography business is not just about taking beautiful pictures.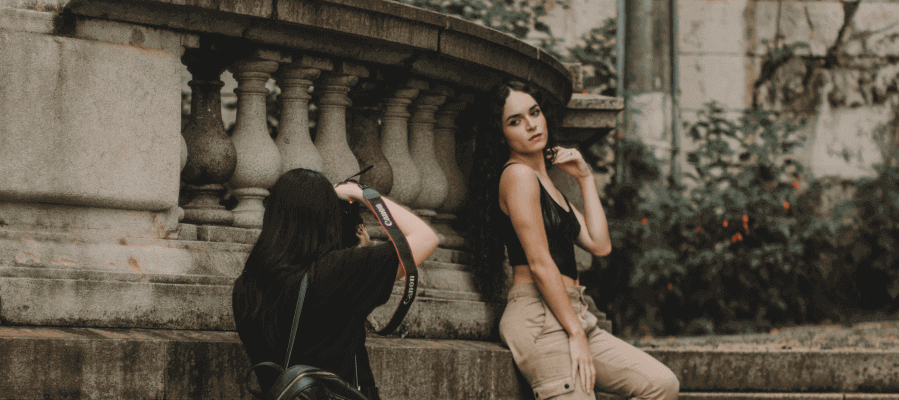 It involves many administrative tasks, customer management, marketing, and more. This is where CRM systems become indispensable tools for photographers.
Here are some of the significant benefits of using CRM for photographers:
1. Time-saving
One of the biggest challenges photographers face is efficiently managing their time.
CRM software can automate many administrative tasks like:
Invoicing
Contract management
Scheduling
Reminders
By cutting down the time spent on these tasks, photographers can focus more on their creative process and client service.
2. Improved client management & organization
A CRM keeps all client information and interactions in one place, making it easier to manage and maintain client relationships.
It stores everything from contact details to past communication records and purchase history, helping photographers deliver a personalized service to each client.
3. Enhanced communication & customer service
CRM systems often come with integrated communication features, enabling photographers to communicate with clients directly from the platform.
They can:
Automate email responses
Send out session reminders
Update clients on their order status
This leads to improved customer service and client satisfaction.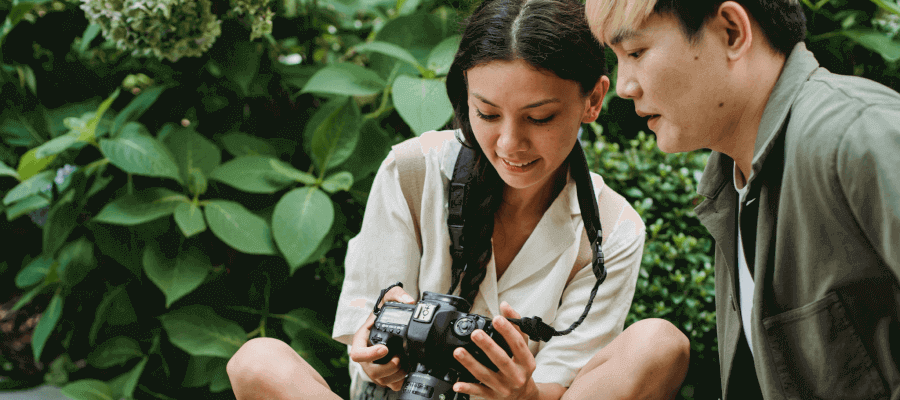 4. Streamlined workflow & task management
CRM systems can organize and automate workflows.
They can help manage tasks such as:
Scheduling shoots
Processing images
Delivering final products
Following up on payments
Some CRM platforms also provide task assignment features, which are particularly useful for photography studios with multiple staff members.
5. Effective marketing & lead nurturing
CRM systems can track leads and manage marketing campaigns.
Photographers can segment their client base for targeted marketing, helping them send the right message to the right people at the right time.
Furthermore, by analyzing customer data, photographers can identify trends and opportunities to grow their business.
6. Data-driven insights & analytics
One of the significant advantages of CRMs is their capability to provide data-driven insights.
Photographers can monitor key metrics like:
Sales trends
Client engagement
Campaign effectiveness
These insights can guide decision-making and help photographers strategically plan their growth.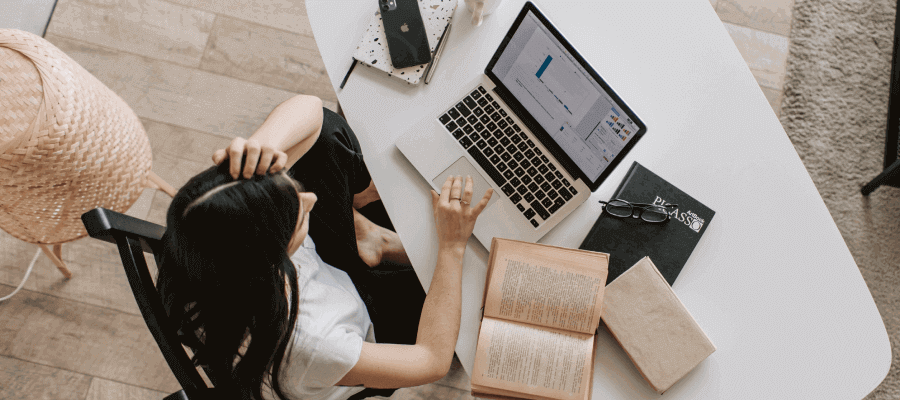 7. Centralized document management
CRM software provides a centralized location for storing:
Contracts
Invoices
Proposals
And other business-related documents
This reduces the risk of losing important paperwork and makes it easier to access and manage.
8. Financial management
Some CRM platforms come with built-in financial tools to:
Create and send invoices
Track expenses
Monitor outstanding payments
Generate financial reports
This simplifies the financial management aspect of running a photography business.
Key features to look for in a CRM platform
A good CRM system can streamline business operations, enhance client relationships, and ultimately help photographers grow their businesses.
It's an investment that pays off by freeing up more time for creativity and strategic planning.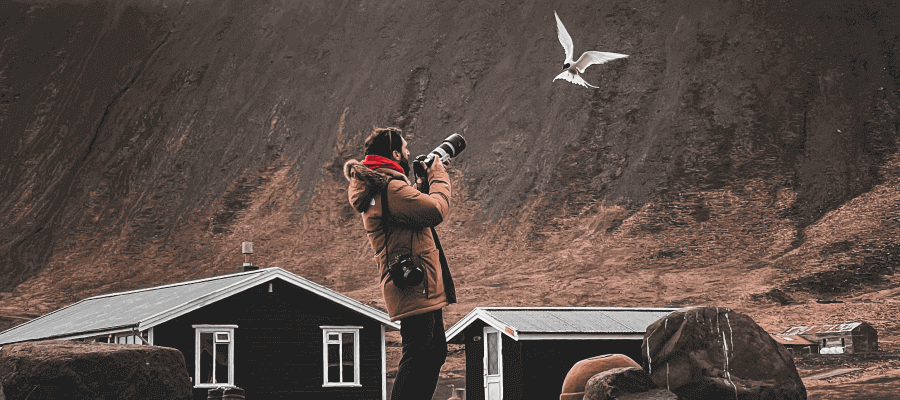 The perfect CRM platform for photographers should include these features:
Contact and client management
Project and task management
Communication and messaging capabilities
Workflow automation and reminders
Integration with other tools (e.g. calendar, email marketing)
Reporting and analytics features
Choosing the best CRM for your photography business
There are several factors to consider when choosing a CRM platform.
Let's dive into some key points to help you make an informed decision:
Define your specific needs
Consider your unique requirements as a photographer.
Do you need a CRM that focuses on client management, lead generation, or project tracking?
Identify the features and functionalities that align with your business goals.
Ease of use
Look for a CRM platform that is user-friendly and intuitive.
It should be easy for you and your team to navigate, input data, and retrieve information efficiently.
A steep learning curve may hinder adoption and productivity.
Integration capabilities
Ensure that the CRM integrates seamlessly with your existing tools and software.
It should sync with your email, calendar, invoicing system, and other essential applications.
This integration streamlines workflows and prevents data duplication.
Customization options
Every photography business has its own unique processes and workflows.
Opt for a CRM that allows customization to fit your specific needs.
Look for features like customizable fields, forms, and automated workflows to tailor the CRM to your business requirements.
Mobile accessibility
Most photographers are on the move regularly, so having a CRM that can be accessed on the go is crucial.
Check if the CRM offers mobile apps or responsive web interfaces, allowing you to manage clients and access information from anywhere, anytime.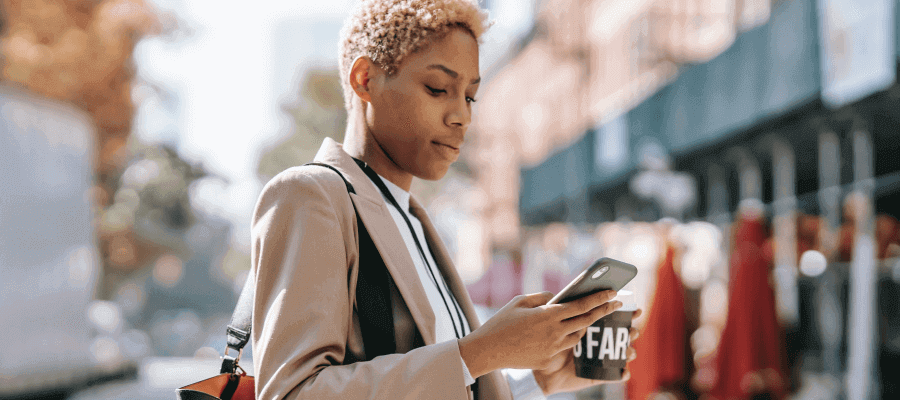 Pricing & scalability
Consider your budget and future growth plans.
Evaluate the pricing structure of CRM platforms, including any additional costs for extra users or features.
Ensure that the CRM can scale with your business as it expands.
Support & training
Look for a CRM provider that offers comprehensive customer support, including documentation, tutorials, and responsive customer service.
A robust support system will assist you in setting up, troubleshooting issues, and maximizing the CRM's potential.
Security & data protection
Safeguarding your clients' data is paramount.
Ensure that the CRM platform adheres to industry-standard security protocols and offers data encryption, regular backups, and access controls.
Review their privacy policy to ensure compliance with data protection regulations.
10 recommended CRM platforms for photographers
While there are numerous CRM platforms available, let's review a few that are particularly well-suited for photographers.
Note: The pricing reflected below might change over time.
1. HoneyBook
HoneyBook is a comprehensive CRM platform specifically designed for small businesses and freelancers, making it a fitting choice for photographers.
Its user-friendly interface is perfect for photographers looking for an all-in-one solution for managing projects, communicating with clients, and handling payments.
Photographers can handle all aspects of their project workflow, from inquiry to completion, within the platform.
The platform also places a strong emphasis on client communication, offering features that facilitate easy conversations and swift responses.
This includes integrated messaging systems, templates for emails, and automatic scheduling tools.
Additionally, HoneyBook supports online contracts and invoicing, with the ability to accept payments directly through the platform, making the payment process seamless for both photographers and their clients.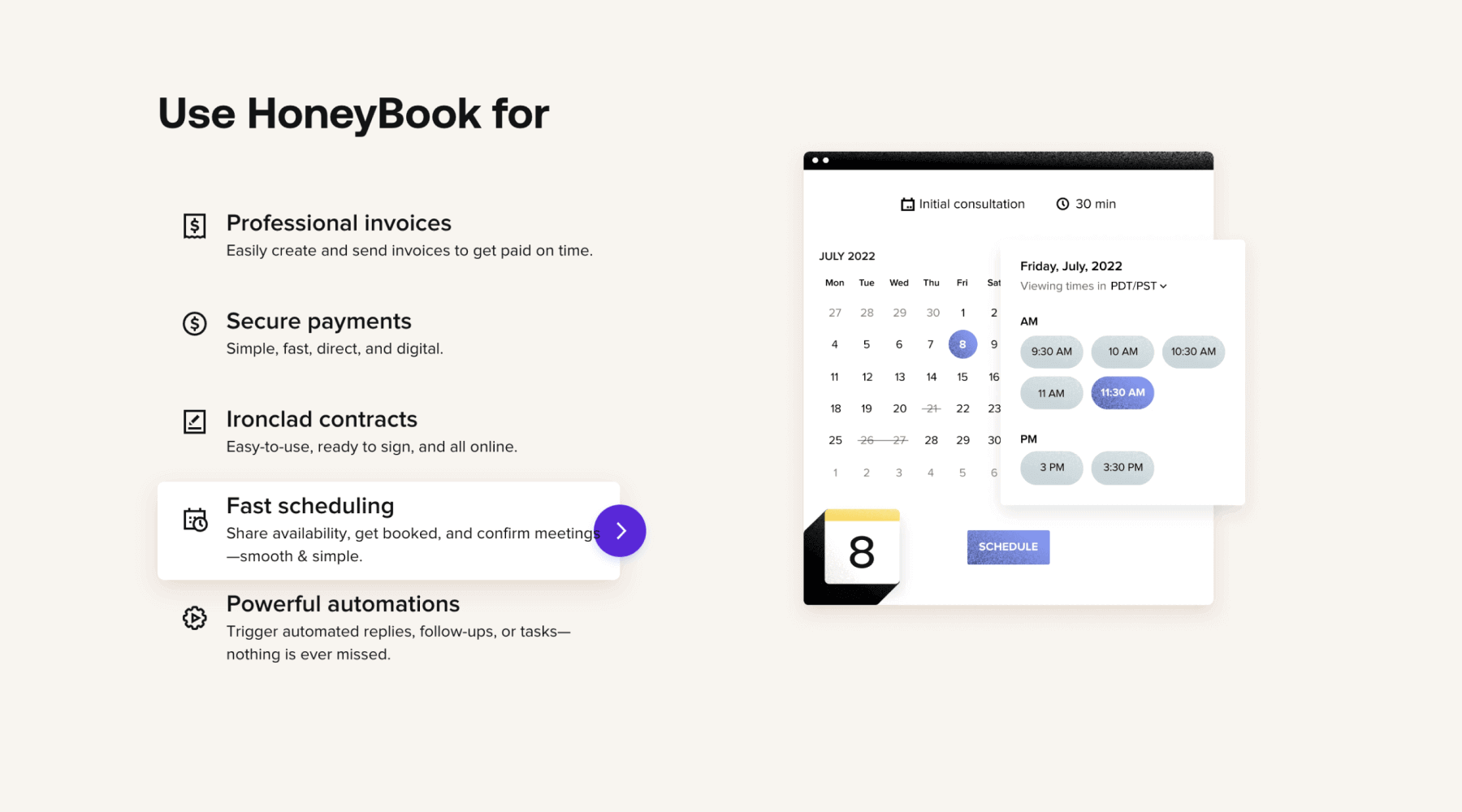 Pricing: The most popular Essentials plan costs $25.60/month (billed annually), and includes a 2-month free trial.
Pros: The platform is highly intuitive and offers a wide array of features. It also offers a strong community support network.
Cons: Limited customization capabilities, particularly in terms of email templates and forms.
Customer Review:
"Honeybook seamlessly handles every aspect of my clients' journey, from inception to completion. As soon as my clients fill out my contract form, Honeybook effortlessly manages the delivery of my packages, contracts, invoices, questionnaires, and all forms of communication. Utilizing Honeybook is an unequivocal choice for me and my business, as it simplifies the entire process without a second thought!"

Jamie Findlay,

The Landlocked Mermaid

Podcaster, Photographer & Business Coach
2. Studio Ninja
Studio Ninja's goal is to simplify business processes and streamline the photography workflow.
One of the standout features of Studio Ninja is its job workflow automation.
This enables photographers to create customized workflows for different types of jobs, automating processes like client onboarding, contract and invoice management, and task tracking.
In addition, Studio Ninja offers a comprehensive client management system.
From a centralized dashboard, photographers can manage all client communications, appointments, contracts, and payments.
The platform also provides a client portal, where clients can view and sign contracts, pay invoices, and communicate with the photographer.
Overall, Studio Ninja is a robust studio management solution that provides a wide range of features specifically tailored to meet the needs of professional photographers.
Read our article on how Studio Ninja simplifies your workflow to dive deeper into all the benefits and features this CRM platform offers.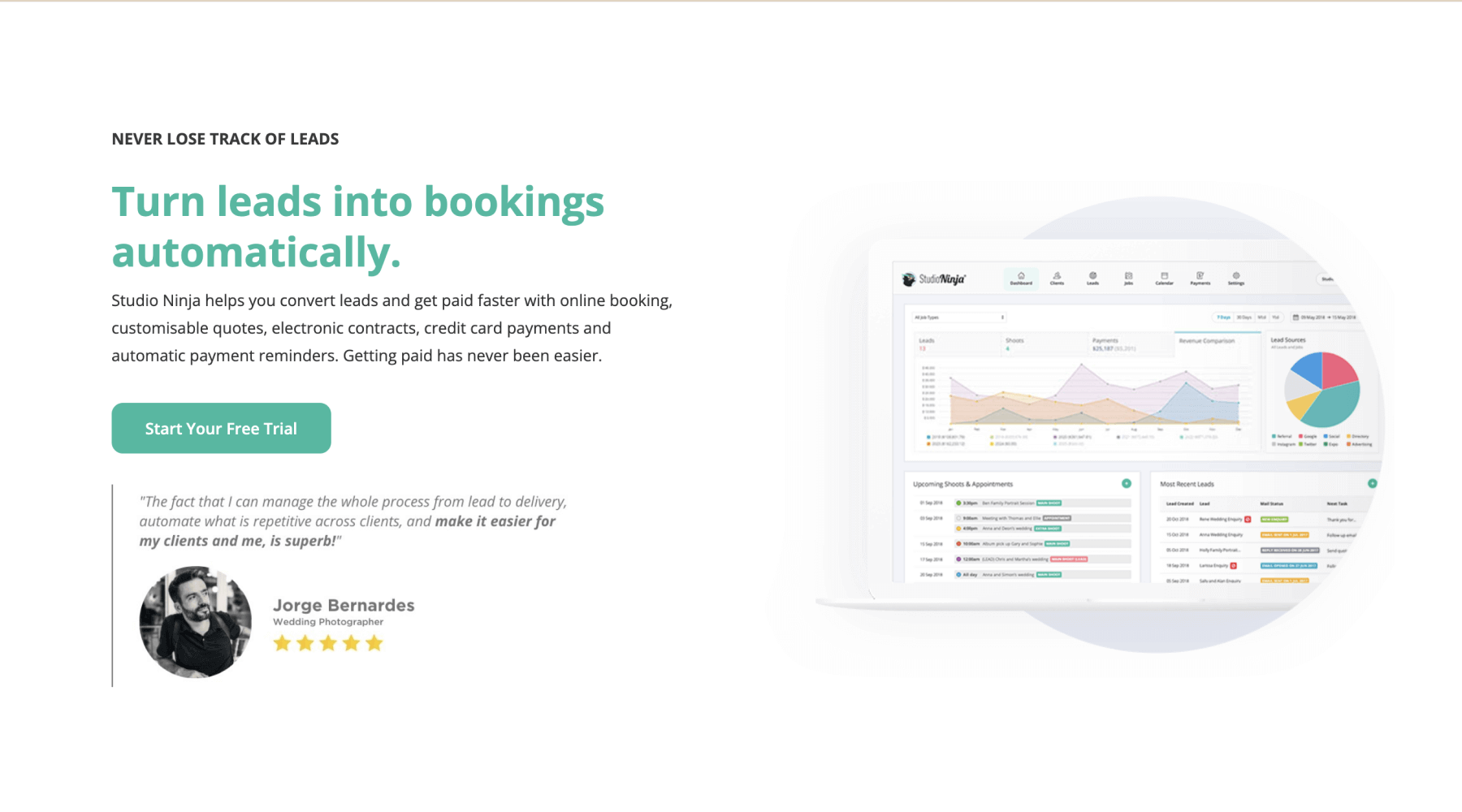 Pricing: Studio Ninja Pro costs $20.75/month and the Master plan costs $30.40/month (both billed annually).
Pros: Easy to set up and use, with customizable workflows.
Cons: Some have reported that the mobile app could be improved.
Customer Review:
"I would really like the staff to know how friendly everyone was and how easy it was for me to get help when I needed it. Everything about the product is great. I love being able to write out my invoices and keep everything on track. I know exactly what project I'm working on and at what stage I am. I know who hasn't paid, what needs to be completed next, and who is on my schedule."

Aaron L. (

G2

)
3. Dubsado
Dubsado is another popular CRM platform specifically designed for entrepreneurs and creative professionals, including photographers.
It's particularly useful for photographers who have unique business processes that require custom solutions.
The platform emphasizes business process automation, client management, and task tracking, helping photographers streamline their workflow and manage their businesses more efficiently.
One of Dubsado's standout features is its powerful business automation capabilities.
These tools allow photographers to create and customize workflows, automating processes like client onboarding, contract signing, and invoice sending.
Dubsado also enables photographers to manage all client interactions from a centralized dashboard, including emails, appointments, and project progress.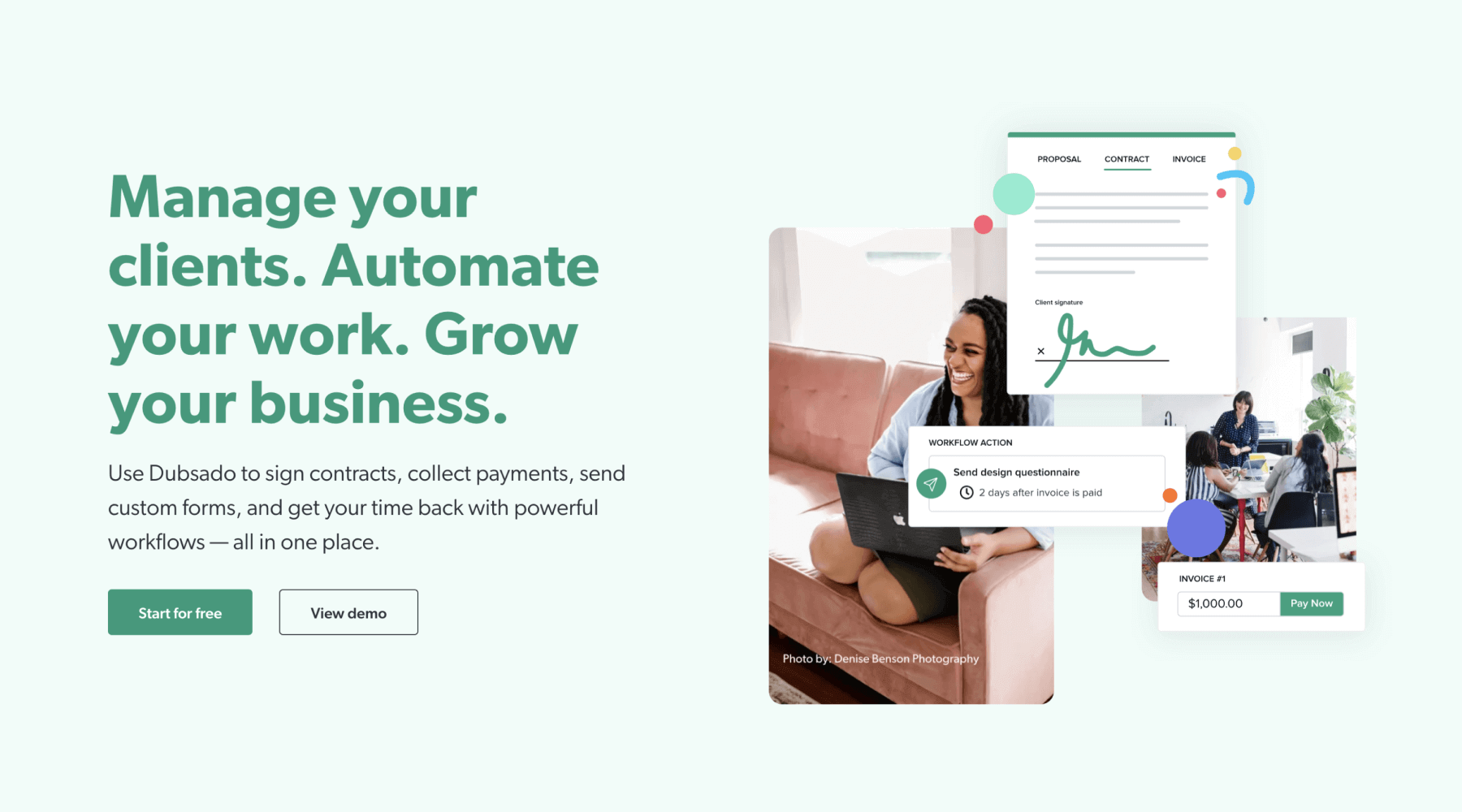 Pricing: Dubsado's pricing is $35/month for a monthly plan and $350/year for an annual plan.
Pros: Great customer service, highly customizable, and the ability to handle multiple brands within one account.
Cons: There can be a slight learning curve for some features, and it lacks robust financial reporting.
Customer Review:
"The automations are super helpful and made all the difference when I began to scale my pet photography business. I love being able to set up different workflows and let it run automatically in the background or send me reminders so I don't forget anything in my client experience. Also, the contract tracking is amazing!"

Anonymous (

G2

)
4. Bloom
Bloom provides a robust suite of tools to manage bookings, client communications, workflows, contracts, invoices, and more.
One of the key features of Bloom is its booking and scheduling system. This feature allows clients to view photographers' availability, book their services, and even pay for them online, all in one seamless process.
This not only enhances the customer experience but also reduces the administrative workload for photographers.
Another notable feature of Bloom is its project management capabilities.
The platform provides tools for creating and managing workflows, which can help photographers keep track of tasks, deadlines, and project stages.
These workflows can be customized to suit the needs of different types of projects and clients.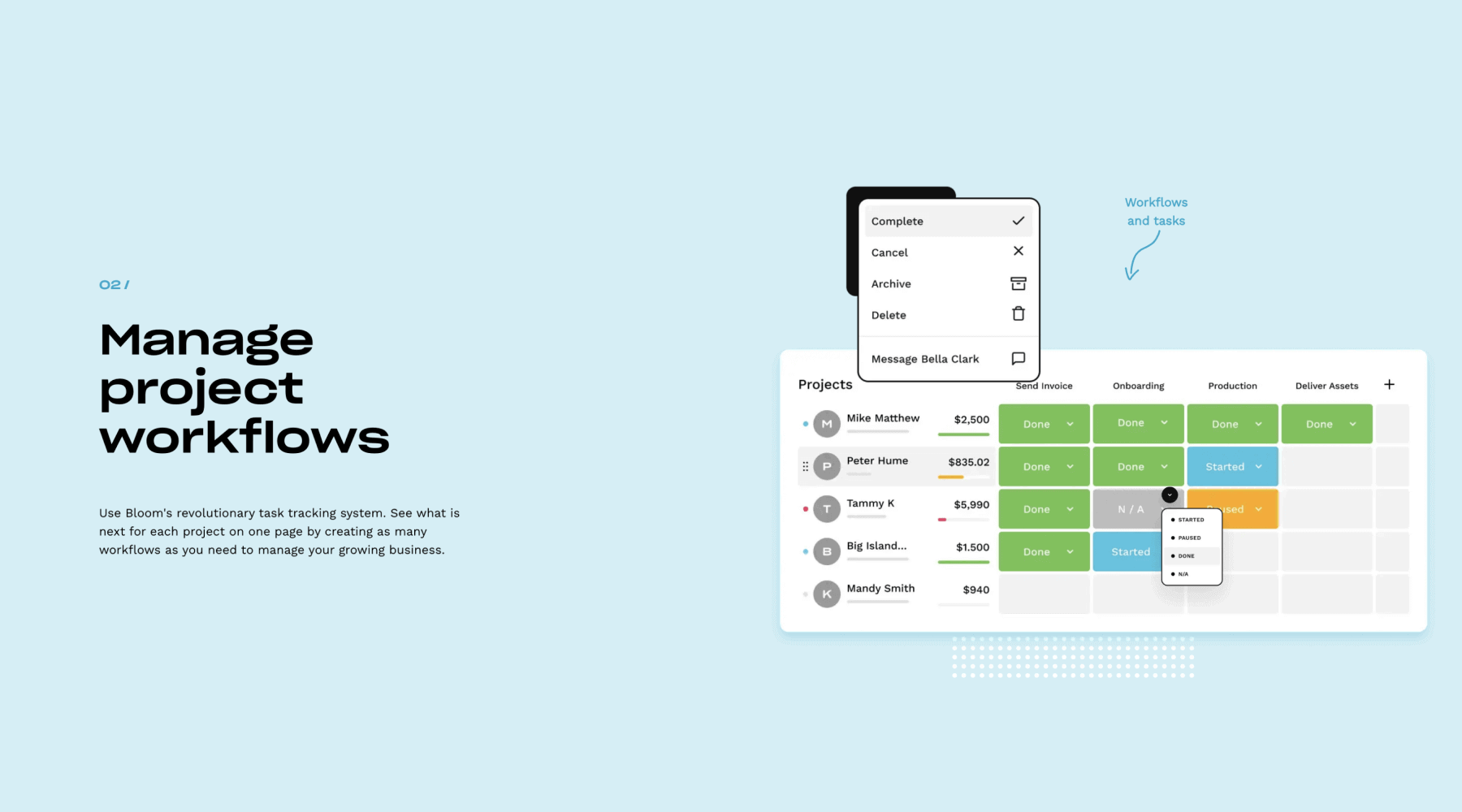 Pricing: The Starter plan costs $13/month (billed annually), and the Standard plan costs $29/month (billed annually).
Pros: It offers a simple and clean user interface and powerful features at an affordable price.
Cons: The platform is relatively new, so some features are still in development.
5. Táve
Táve is tailored to meet the unique needs of photographers, allowing them to manage their workflows effectively and spend more time on their art.
One standout feature of Táve is its job management system.
It allows photographers to manage every job from inquiry to delivery, with tools for tracking leads, managing bookings, and overseeing job progression.
Táve offers a customizable client portal, which provides clients with a professional, personalized experience. Clients can view contracts, make payments, and communicate directly with the photographer within this portal.
The platform excels in its financial management tools as well. It allows photographers to send quotes, contracts, and invoices, track expenses, and manage payments in a single platform.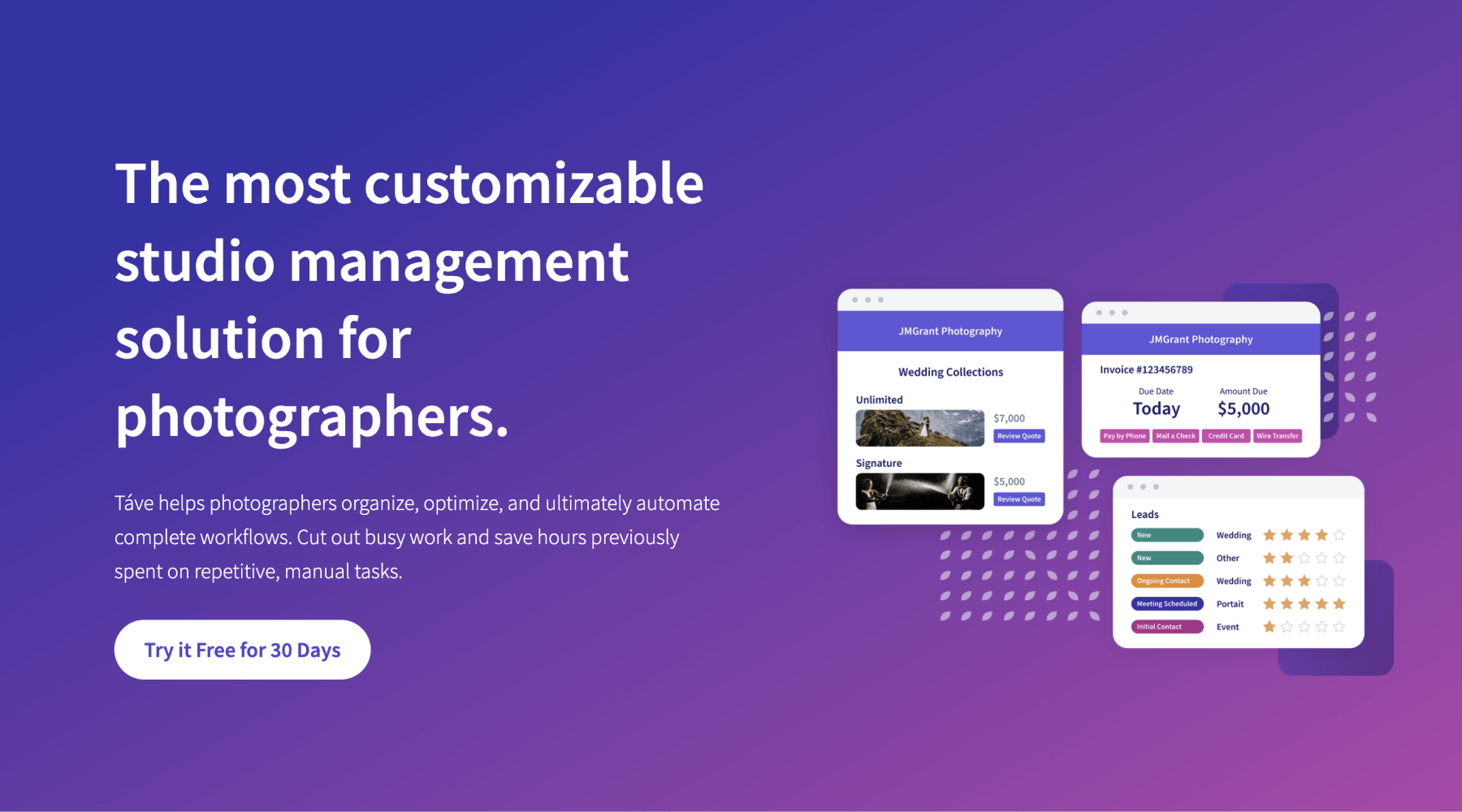 Pricing: Táve's most popular Solo plan costs $22.49/month (billed annually), and the Boutique plan costs $31.49/month (billed annually).
Pros: It's highly customizable and offers strong reporting capabilities.
Cons: The interface can be overwhelming for new users, and it has a steep learning curve.
Customer Review:
"I love the dashboard that puts everything that I need to know in my immediate visual field. Táve is a time saver. I can put everything I need for a client right into it and the client can access their portal as they need to."

Jenn G. (

G2

)
6. Pixieset
Pixieset is a well-rounded CRM platform that not only assists photographers in managing their businesses but also provides unique features that facilitate selling their work.
Pixieset Studio Manager focuses on providing comprehensive solutions for managing clients, projects, invoices, and scheduling in one place, while also allowing photographers to showcase their work effectively.
A standout feature of Pixieset is its client gallery system, which not only allows photographers to deliver stunning, high-quality photo galleries to their clients but also enables clients to select their favorite photos and order prints directly from the platform.
This makes Pixieset not only a business management tool, but also a sales and marketing platform.
In terms of project management, Pixieset provides tools to help photographers track the progress of each job, manage tasks, and handle scheduling.
The integrated scheduling system allows clients to view photographers' availability and book appointments directly.
Additionally, Pixieset offers a client management system to track and manage all client information in one place, which can be particularly useful for building and maintaining relationships with clients.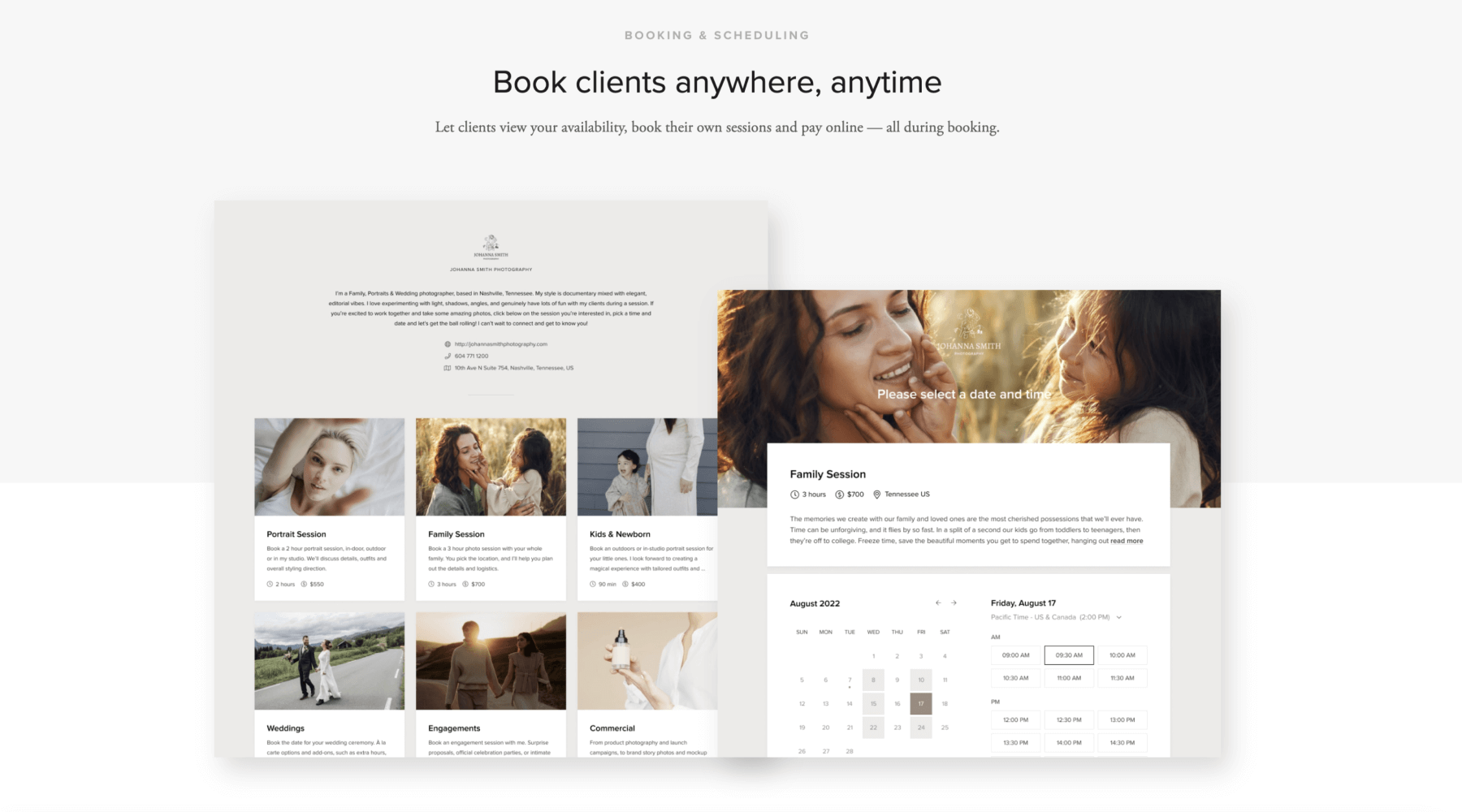 Pricing: Pixieset offers a free plan with limited features. Paid plans start at $12/month and go up to $28/month (billed annually).
Pros: Offers a beautiful and simple interface and seamless client delivery.
Cons: More focused on image delivery and sales than comprehensive client management.
Customer Review:
"Lots of features, great support. I've been jumping around a few platforms but always seem to be coming back to Pixieset, and this time I'm staying. They have everything I need to run my small business smoothly. When I had a few questions, their support team was quick and helpful."

Artur H. (

Trustpilot

)
7. Sprout Studio
Sprout Studio integrates business management tools with an online gallery, sales platform, and design proofing, aiming to provide photographers with everything they need to run their businesses efficiently and effectively.
Photographers can stay organized and keep track of their projects from start to finish with Sprout Studio.
It also offers a robust suite of financial tools, including the ability to create and send invoices, track expenses, and manage payments online.
The platform places a strong emphasis on facilitating effective client relationships.
It offers an integrated messaging system for communicating with clients, and client management features that allow photographers to keep track of all their client information in one place.
Overall, Sprout Studio provides a well-rounded set of features designed to help photographers streamline their business operations, improve client communication, and promote their work.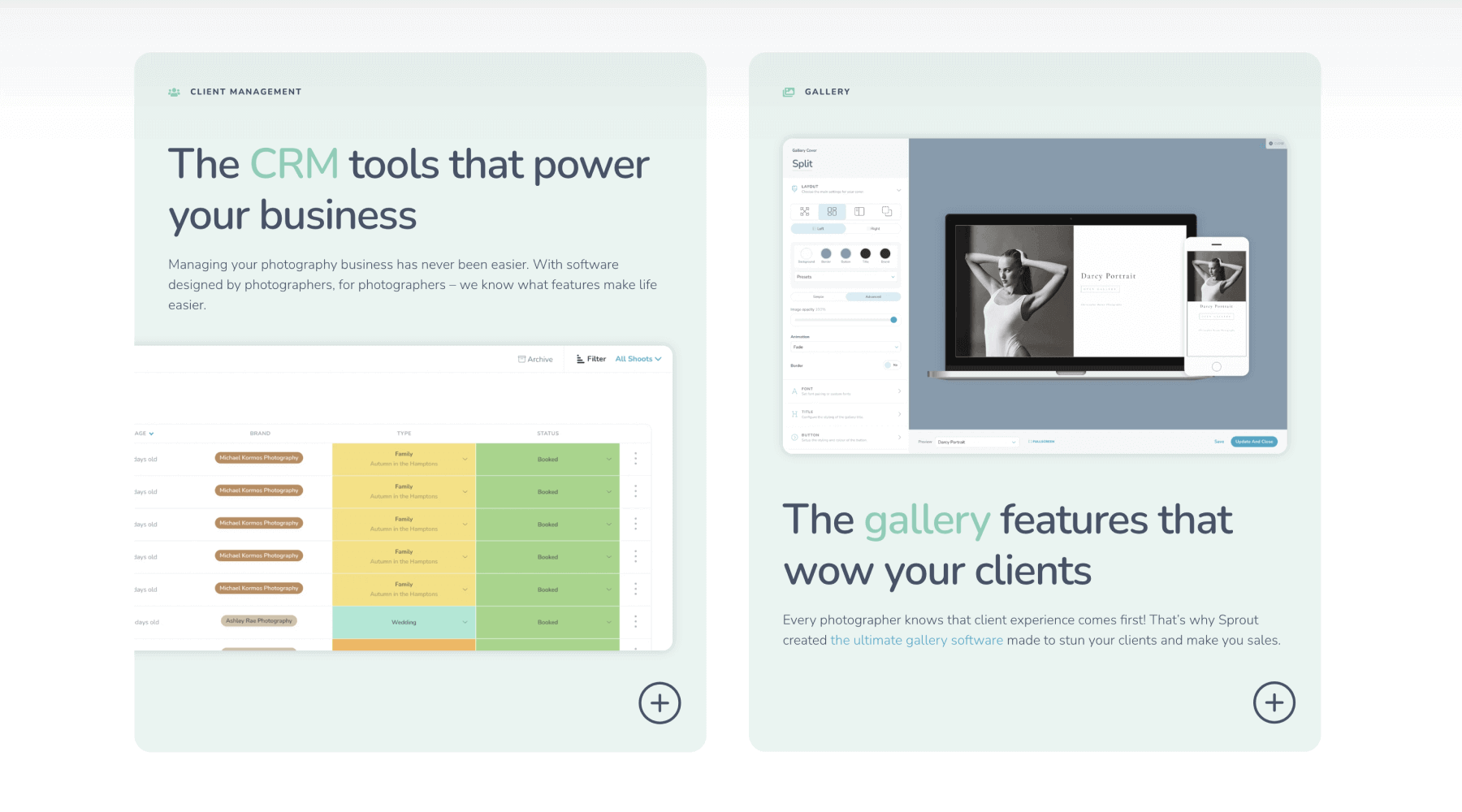 Pricing: Sprout Studio's pricing ranges from $17.42/month for the Lite plan to $63.25/month for the Unlimited plan (billed annually).
Pros: It combines CRM, sales, and project management into one platform.
Cons: Some users report the interface is not as intuitive as they'd like.
Customer Review:
"This program offers many tools that a photo management program should, all under one roof. Galleries, calendars, and workflows are all right there and relatively easy to use."

Kelsie D. (

G2

)
8. 17Hats
17Hats is a robust CRM platform designed to help solo entrepreneurs, including photographers, manage and streamline their business processes.
It provides a comprehensive suite of tools that address various aspects of running a business, such as client management, project tracking, invoicing, and more.
Photographers can easily manage their projects, with tools to track progress, set reminders for important tasks, and automate various aspects of the project workflow.
This can be invaluable in staying organized and ensuring no detail is overlooked.
Additionally, 17Hats offers robust financial management features. Photographers can create and send invoices, accept online payments, track expenses, and even manage basic bookkeeping tasks within the platform.
You can store all your client information in one place, send emails, schedule appointments, and even create customized questionnaires to gather more information about your clients.
17Hats includes a booking system that allows clients to book appointments directly through an online interface, which can be a major convenience for both photographers and clients.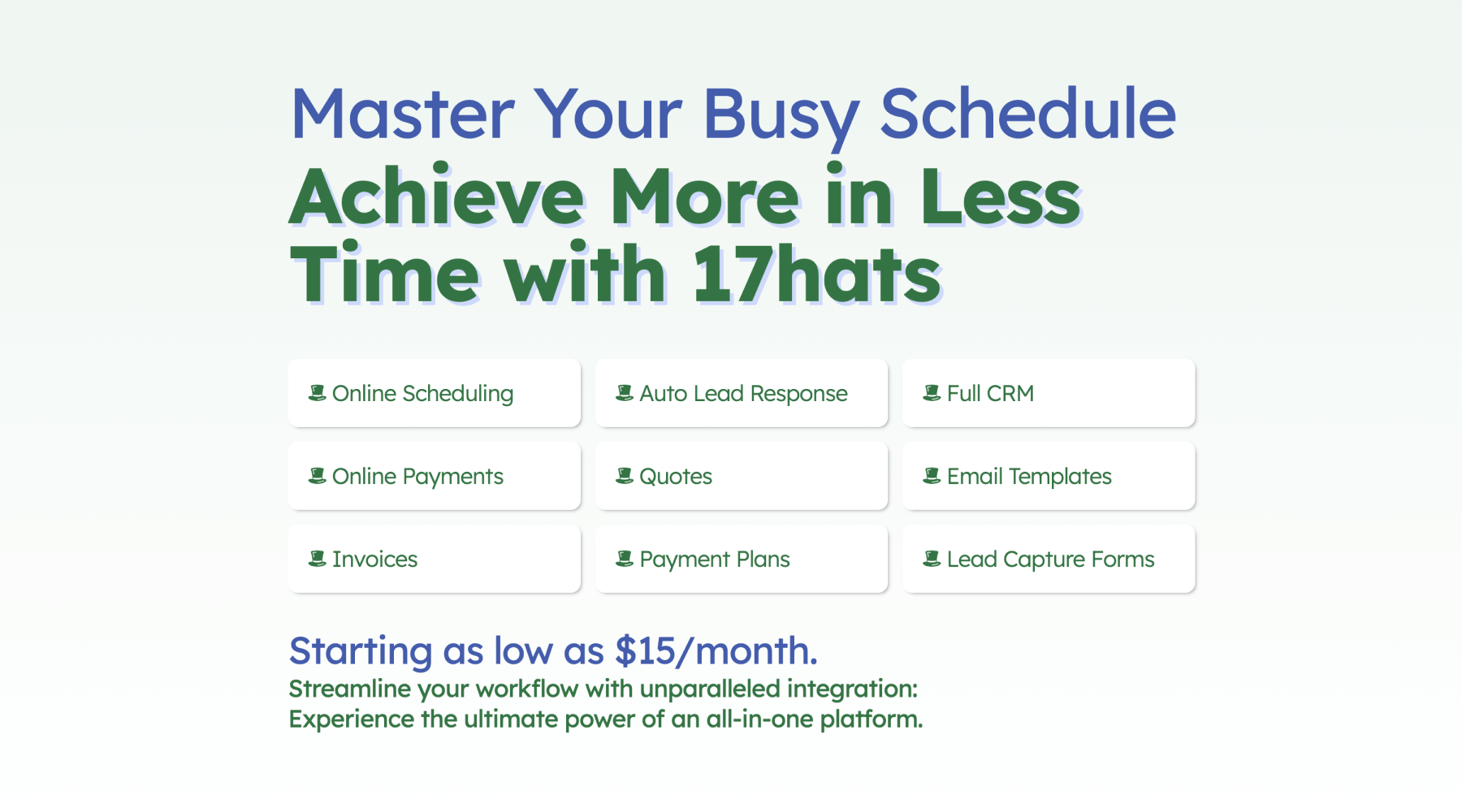 Pricing: 17Hats offers an Essentials package at $15/month, a Standard package at $30/month, or a Premier package at $60/month.
Pros: It offers a comprehensive set of tools in one platform.
Cons: The user interface can be confusing, and it may have more features than a small photography business needs.
Customer Review:
"I love the efficiency of keeping all details and documents about clients in one place. A great benefit is assigning tasks to staff and being able to see all tasks on each client's page."

Anonymous (

G2

)
9. Pixifi
Pixifi's diverse toolset allows photographers to manage their clients, bookings, invoices, workflows, and even studios from one central hub, thereby increasing organization and productivity.
It provides a dedicated client portal where clients can view contracts, make payments, and schedule sessions.
This enhances the client experience while making the administration process more streamlined for photographers.
Pixifi places an emphasis on booking and scheduling. Its booking system integrates with popular calendars, ensuring that photographers never double book or miss a session.
Automated reminders also ensure clients are up-to-date with upcoming sessions and payments due.
The platform also offers tools for creating and sending invoices, managing payments and tracking financial reports.
Its intuitive dashboard presents all essential information at a glance, providing a clear overview of a photographer's financial standing.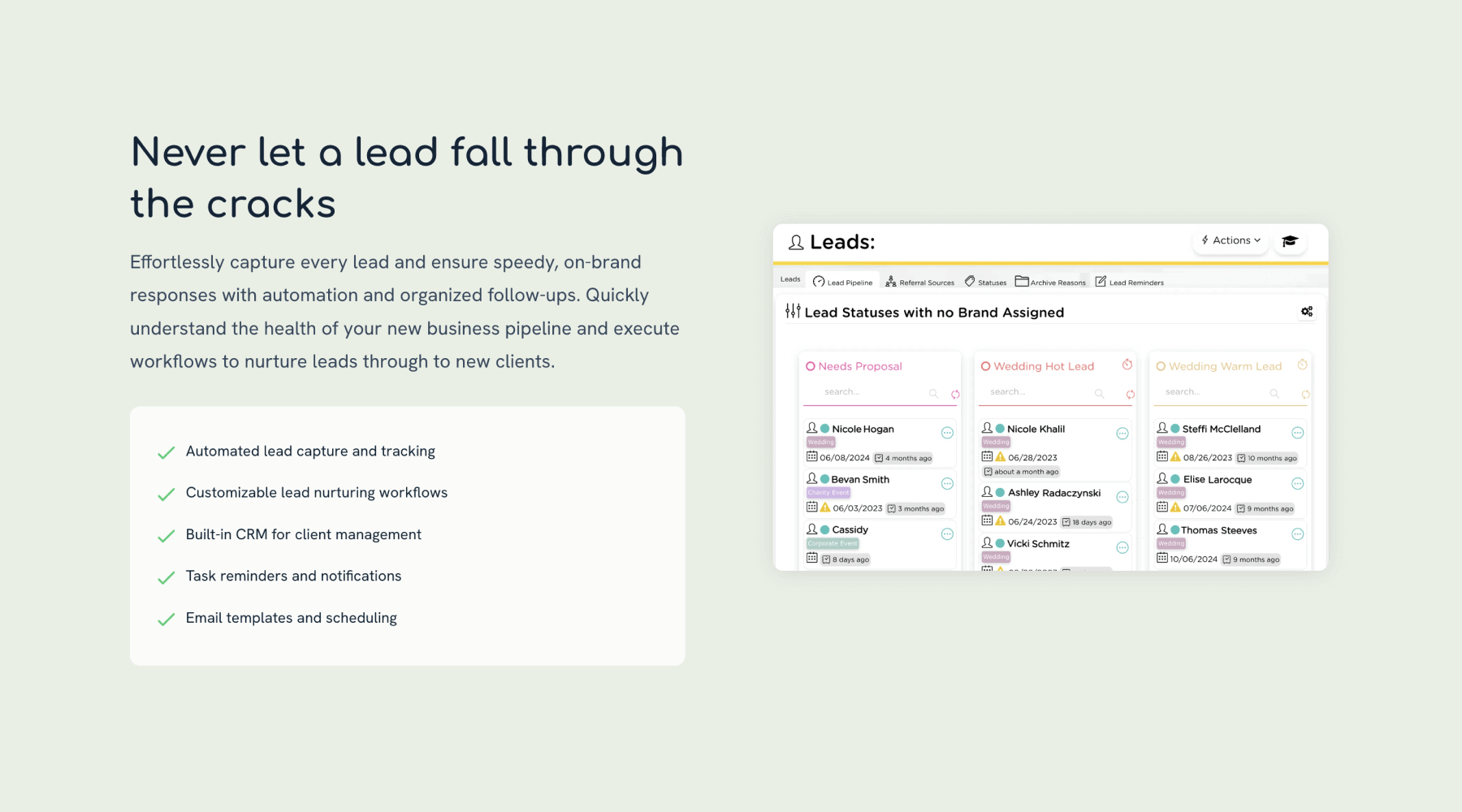 Pricing: Pixifi's pricing ranges from $29.99/month for the Essential plan to $139.99/month for the Elite plan.
Pros: It offers strong features for studio management and workflow automation.
Cons: Some have reported that it has a steep learning curve.
Customer Review:
"Best purchase that I have ever made for my photography business. So easy to use and it has all the features that I need. It covers all my needs from inquiry to post-shoot. More than the program I love the people behind it! They have answered questions at all hours when I have not been able to figure out how to do something. Literally, at all hours. They have a Facebook group where you can get help any time of day. The program and the people behind it are great."

Ashley C. (

G2

)
10. ShootQ
ShootQ emphasizes automating many of the processes associated with running a photography business.
It provides a set of powerful features to help photographers manage their business effectively, ranging from lead management and project tracking to invoicing and payment.
Its project management feature allows photographers to track their projects from start to finish, with automated workflows that can save photographers time and help ensure nothing gets overlooked.
The platform also features robust client management capabilities.
Photographers can easily track all client information and communication in one place, and ShootQ also provides a client portal where clients can view and approve quotes, sign contracts, and make payments.
The platform allows photographers to easily create and send invoices, track payments, and even offers insights into financial performance.
ShootQ includes a robust booking system that integrates with popular calendar applications, making it easy for photographers to manage their schedules and avoid double booking.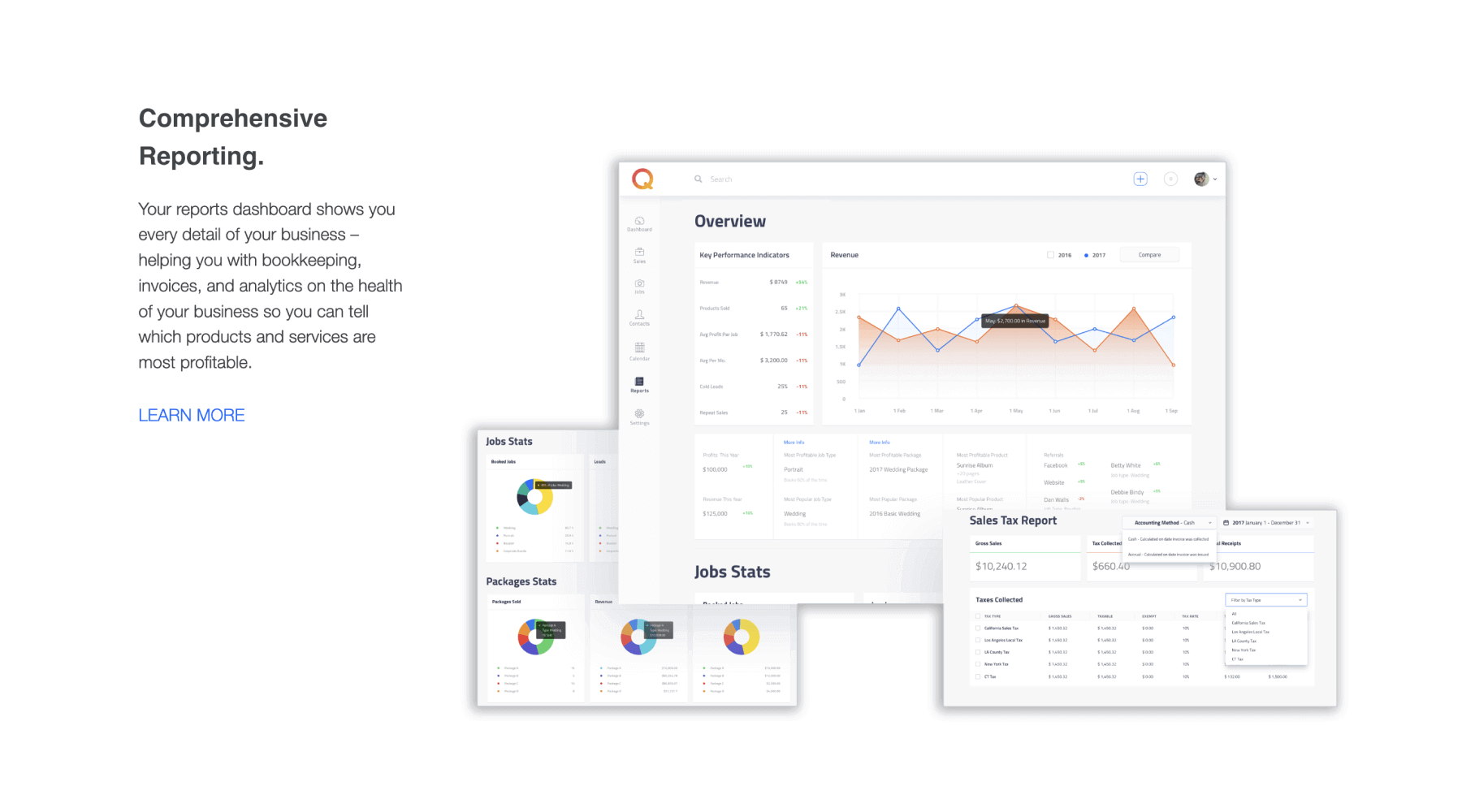 Pricing: ShootQ's pricing ranges from $24/month to $67/month (billed annually).
Pros: It offers robust features for tracking all aspects of a job from lead to delivery.
Cons: Some users report a less intuitive user interface compared to other platforms.
Customer Review:
"Shoot Q is a great resource for client management. It allows you to keep all communication and pertinent information/documents in one place and to automate communication with your clients."

Jordyn E. (

G2

)
In conclusion
A CRM for photographers isn't just a luxury – it's a necessity for running an efficient business.
Implementing a CRM system is crucial for photographers looking to streamline their business operations and enhance client relationships.
The benefits of using CRM for photographers can significantly contribute to business growth!
CRM software saves photographers valuable time by automating administrative tasks such as invoicing, contract management, scheduling, and much more.
This time-saving aspect allows photographers to focus more on their creative process and provide exceptional client service.
When choosing a CRM platform, photographers should define their specific needs and assess various aspects of each platform that is available to them before making a decision.
While there are numerous CRM platforms available, we've summarized some recommended CRMs for photographers in this article to help you make the right choice.
These platforms offer various features tailored to meet specific needs, providing comprehensive solutions for client management, project tracking, communication, workflow automation, invoicing, and more.
By saving time, improving client management, and providing valuable insights, a CRM can help you elevate your business to new heights.
To further streamline your photography workflow and save even more time, we recommend incorporating Aftershoot in your post-shoot workflow.
Aftershoot is your AI culling and editing assistant that will supercharge your post-shoot processes while staying true to your creative vision.
---