CloudSpot Review – More Than a Proofing Gallery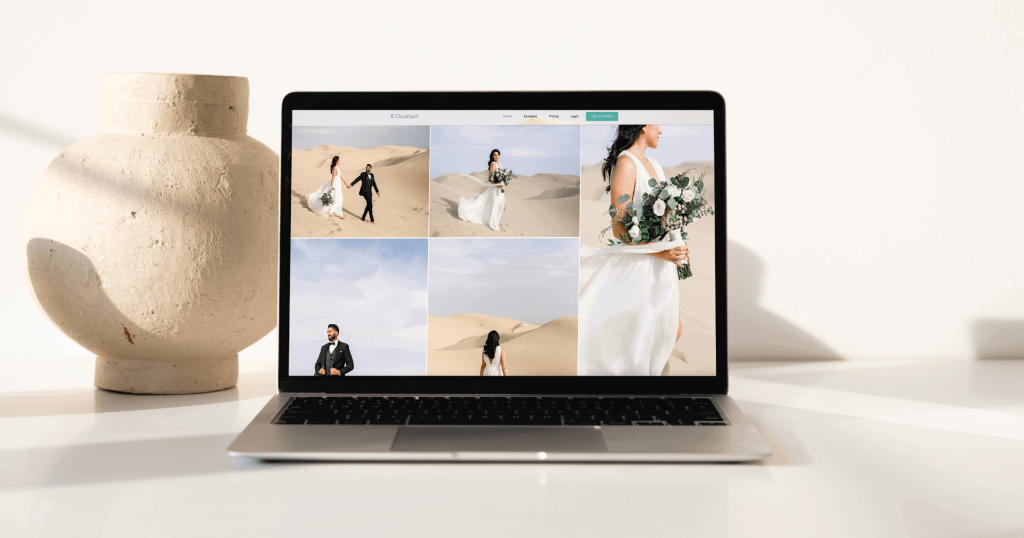 As a professional photographer looking for a tool to help streamline your client proofing processes and grow your business, CloudSpot seems to tick all the boxes.
✅ Easy image delivery
✅ Beautiful galleries
✅ Effortless sales
In this article, we'll take an in-depth look at what CloudSpot has to offer and how it can help your photography business grow.
CloudSpot is giving all Aftershoot users a 50% discount on a 12-month CloudSpot subscription. Claim your discount here.
What sets CloudSpot apart?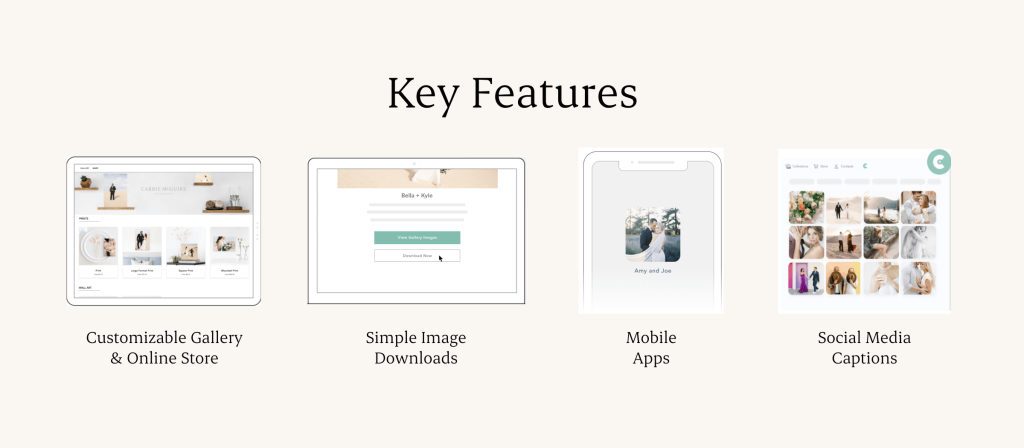 Many online proofing galleries offer just that – galleries where clients can check your work and make a decision about which photos they would like to download or purchase.
And while many of CloudSpot's competitors also have a few added bells and whistles, CloudSpot is breaking the mold with some impressive add-ons that make it a great all-rounder for professional photographers.
These include:
An immersive online shopping experience for your clients – with 0 commission fees on paid plans
Augmented reality previews on your online store
Custom mobile apps for every client with easy downloads, built-in sales, and unlimited images
A Captions feature that makes posting to Instagram and Facebook easier than ever, and
Integration with Plann, the all-in-one social media scheduler, content calendar, and designer
With this host of features, CloudSpot sets out to make it easier to send proofs to clients and reduces the stress of social media management while simultaneously helping your business grow with online sales.
CloudSpot has announced its plan to launch a new business management tool called CloudSpot Studio. So, keep your eyes peeled for invoicing features and more to come very soon.
What does CloudSpot offer?
Let's break down everything CloudSpot has to offer and see how this all-in-one tool can benefit your photography business.
Proofing gallery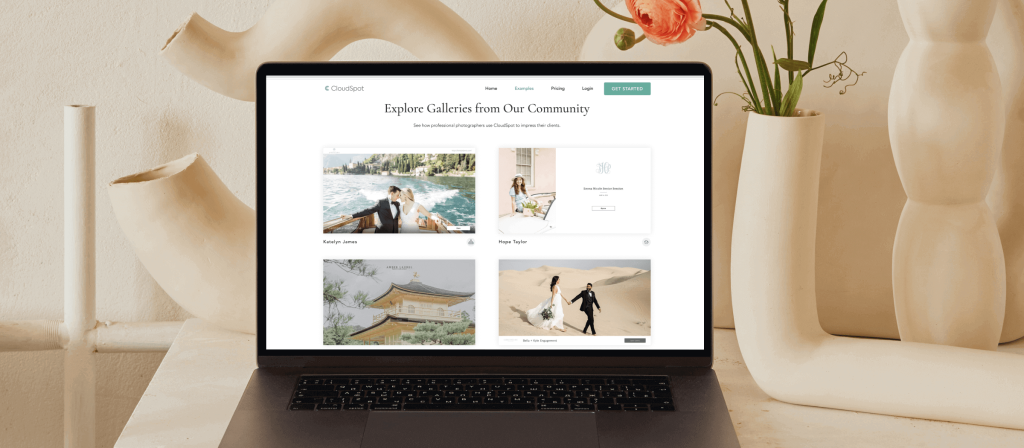 CloudSpot provides a range of beautiful and simplified proofing gallery templates for you to choose from, aiming to give your clients a seamless experience.
Every plan includes:
Unlimited proofing galleries
Social media Captions, and
Customizable templates that allow you to add your logo and branding to reflect your style
With every paid plan, you also get:
CloudSpot-free branding
Up to three custom watermarks
Full-resolution downloads
A notification center
The ability to add video links, and
Support for almost all file types
Unfortunately, CloudSpot does not support RAW file types, so that is definitely something to consider if you prefer working with RAW images.
Their claim to fame is that make image delivery effortless (in their words, grandma-proof), meaning your clients won't be asking as many questions about the review process and can navigate your gallery with ease.
You can explore some of the CloudSpot proofing galleries that professional photographers currently use here.
Online store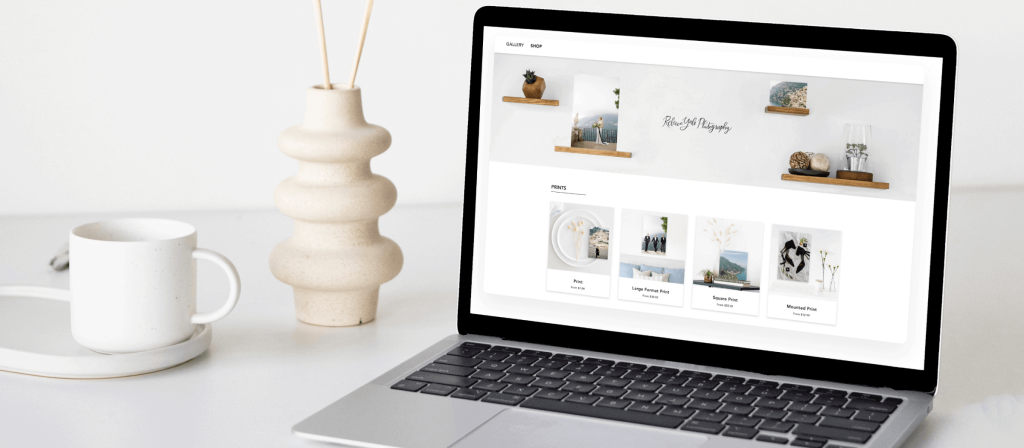 CloudSpot includes e-commerce capabilities that give your clients an integrated shopping experience.
You can sell digital files of any size – from single images to entire galleries – with credit card payment options, Apple Pay, or Google Pay.
As an added bonus, CloudSpot handles the delivery too.
Possibly one of the biggest perks is that you get to keep all the profits from your sales with no commission fees on CloudSpot's paid plans.
Although, the free plan will set you back 15% of your sales as a commission fee.
You're able to customize your storefront to your liking, even opting to display your client's images on the products you offer.
CloudSpot partners with pro labs such as WHCC, Mpix and Miller's so you can provide high-quality products to your clients.
If you want to sell custom products, you'll be happy to see that CloudSpot offers custom and automatic fulfillment options.
One way in which CloudSpot takes the online store experience to the next level is by allowing your clients to view items they want to order through AR (augmented reality) – seeing what it would look like in their space.
If you'd like to offer discounts to your clients, you can use any of these types of promotions in your store:
Free shipping
Percentage off
Fixed amount
Digital only
As a photographer, your clients will likely be interested in purchasing a personalized album instead of a collection of prints. CloudSpot allows your clients to create panoramic layouts and preview their books before they buy. Each photo album is hand-crafted and printed on museum-grade photo paper.
They also offer support through a live chat feature, free store setup, and a free one-on-one demo.
Mobile apps
Sharing your very own mobile app with your clients makes it effortless for them to proof your photos and make purchases. Plus, having a personalized app with their images will make them feel pretty darn special!
With every paid CloudSpot plan, you get unlimited mobile apps so that you can send each client their own download link. Unfortunately, this is not included in the free plan.
The mobile apps include built-in sales, easy downloads, and unlimited images.
Social media
CloudSpot offers a unique productivity hack in the form of their social media Captions tool and integration with Plann.
You can customize social media captions on any image directly in your CloudSpot dashboard, quickly copy and paste it on any device, add hashtags and emojis, tag vendors, and then automate your posts.
Plann allows you to schedule posts in advance and seamlessly drag and drop your posts to curate your grid.
You will need to download Plann to use this feature, but the good news is that they offer a free subscription.
Integrations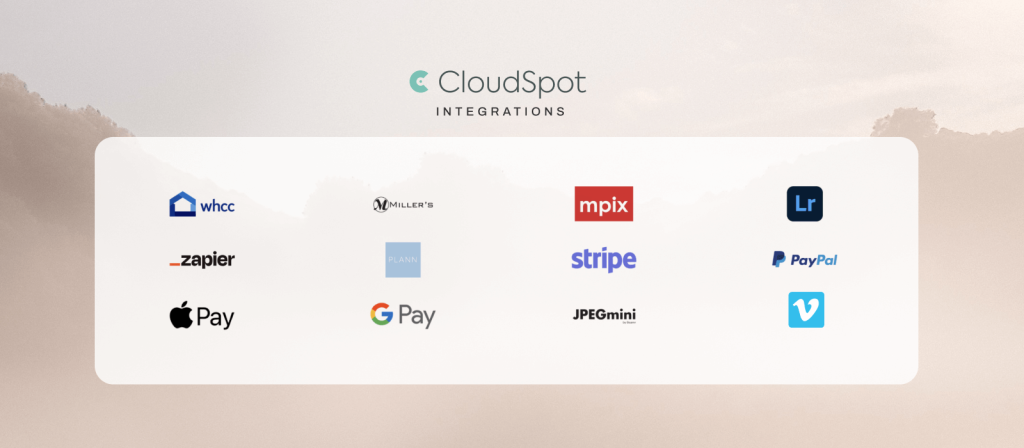 CloudSpot integrates with most of the services you need to run a successful photography business.
You can:
Export images directly from Lightroom to your CloudSpot collections
Connect your Dubsado account to import collections directly into client portals
Add SmartSlides slideshows to galleries
Accept credit card payments via Stripe or PayPal
Optimize file sizes with JPEGmini
Use Zapier to add your gallery visitors to email lists and save sales invoices to QuickBooks
Import your gallery images and captions to Plann for easy social media scheduling
Embed videos using Vimeo and YouTube
Aftershoot and CloudSpot will streamline your workflow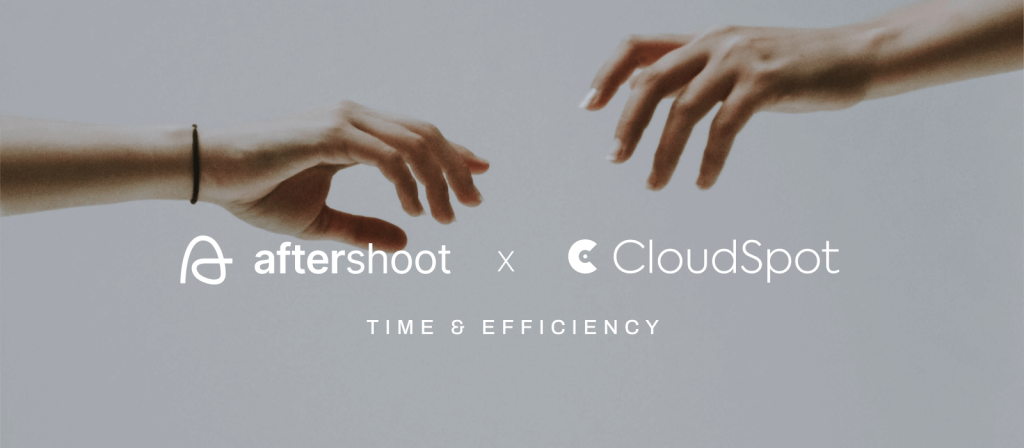 Armed with your go-to AI culling and editing tool, Aftershoot, and a beautiful proofing gallery slash e-commerce platform, CloudSpot, your photography business is geared for boss-level success.
It's easier than ever to speed up your entire post-shoot workflow and save more time for the things you love when you have automated post-shoot processes in place and a killer business management tool to make image delivery and sales flow with ease.
Now, you can shift your focus to the creative side of your business or spend more quality time with your loved ones.
Simply let Aftershoot cull and edit for you while CloudSpot takes care of your proofing workflow and helps your business grow.
Grab your discount
We at Aftershoot are excited to partner with CloudSpot to give professional photographers like you a fantastic deal that will help take your business to the next level.
Follow this link and select any paid plan to automatically get 50% off a 12-month CloudSpot subscription.
Hurry, this offer won't last forever!
Final thoughts
CloudSpot rating out of 5: 4.8
Ease-of-use: 4.9
Customer Support: 4.8
Value for money: 4.5
Functionality: 4.8
CloudSpot is one of the most popular and highly revered proofing gallery providers, and we can see why.
We recently reviewed 11 popular online proofing galleries that are currently on the market, so check out more options to make the best choice for your photography business.
CloudSpot gives professional photographers a user-friendly, aesthetically pleasing, all-in-one gallery and online store… with a sprinkle of social media management to boot.
We're impressed with CloudSpot's offer not only because of its quality product but because they endeavor to help photographers grow their businesses effortlessly.
As you know, we're all about minimizing effort and maximizing time saved!
In the end, we'd say CloudSpot is well worth a try for professional photographers looking for a streamlined yet beautiful gallery and online store.
Are you ready to take your business to the next level?

---