Aftershoot Update: Total Culling Control, 19 New AI Styles & More
This month, we pulled out all the stops to improve your culling and editing experiences to the maximum level.
We've listened intently to your feedback, polished our unicorn horns, and jumped over rainbows to make these exciting updates happen especially for you, our beloved users.
Here's what's new in October:
A NEW Culling Mode in Aftershoot SELECTS
A revamped Aftershoot Marketplace (with 19 New AI Styles)
Creator Profiles by Inspiring Photographers
Fixes for Color Profiles in EDITS
Now, let's dive into everything that's new this October.
What's new in Aftershoot SELECTS?
AI-Assisted Culling for complete culling control
Introducing a whole new way to cull in Aftershoot!
If you've been longing for a culling method within Aftershoot that puts you in control of your selections, this is it.
You can now choose whether you want Automated AI Culling, where our AI culls for you and gives you suggested selections based on your preferences,
OR
You can choose to use AI-Assisted Culling to make selections yourself and just get a little bit of AI assistance along the way.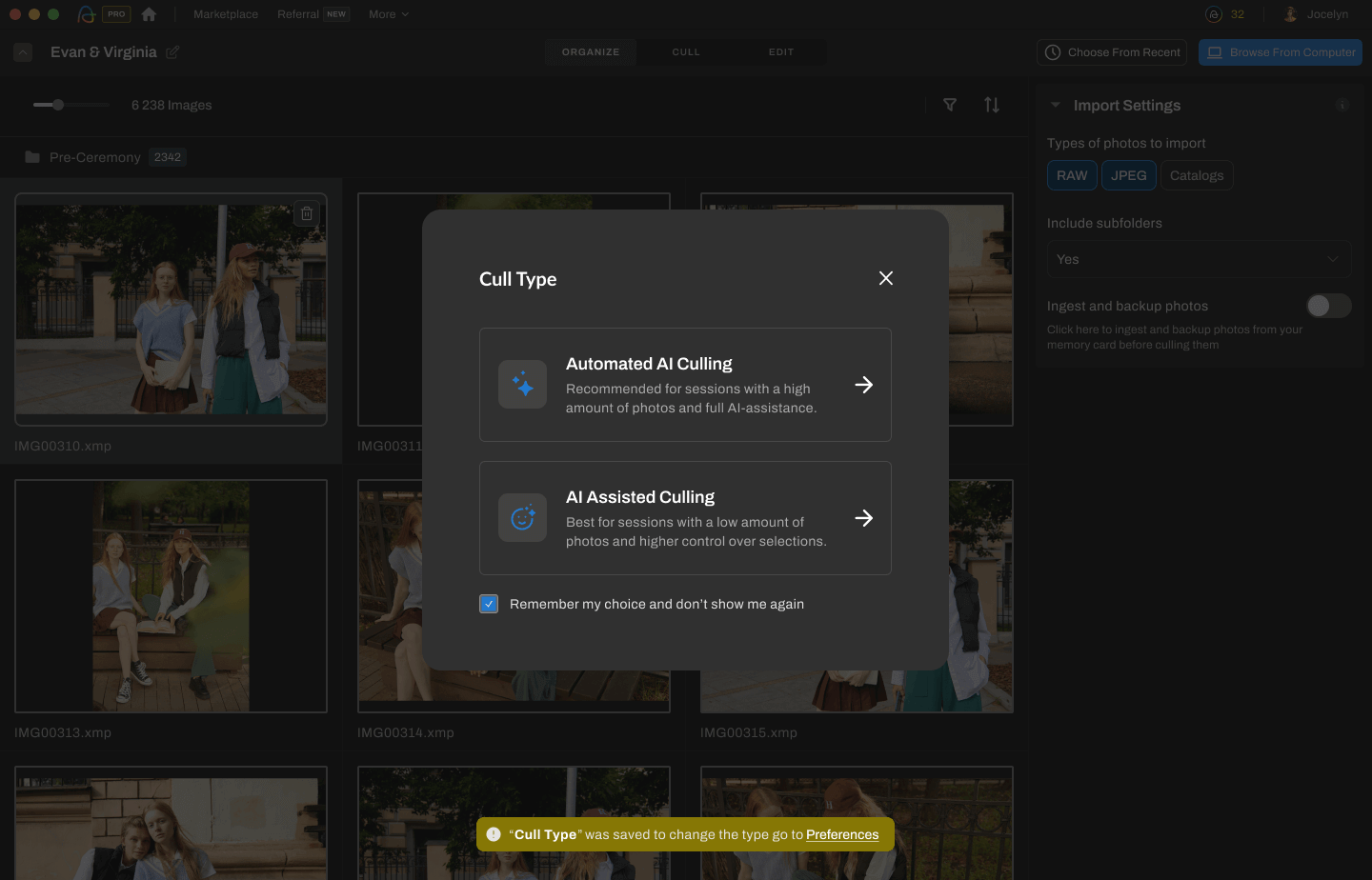 If you opted for AI-Assisted Culling, you'll simply set your preferences and start to cull.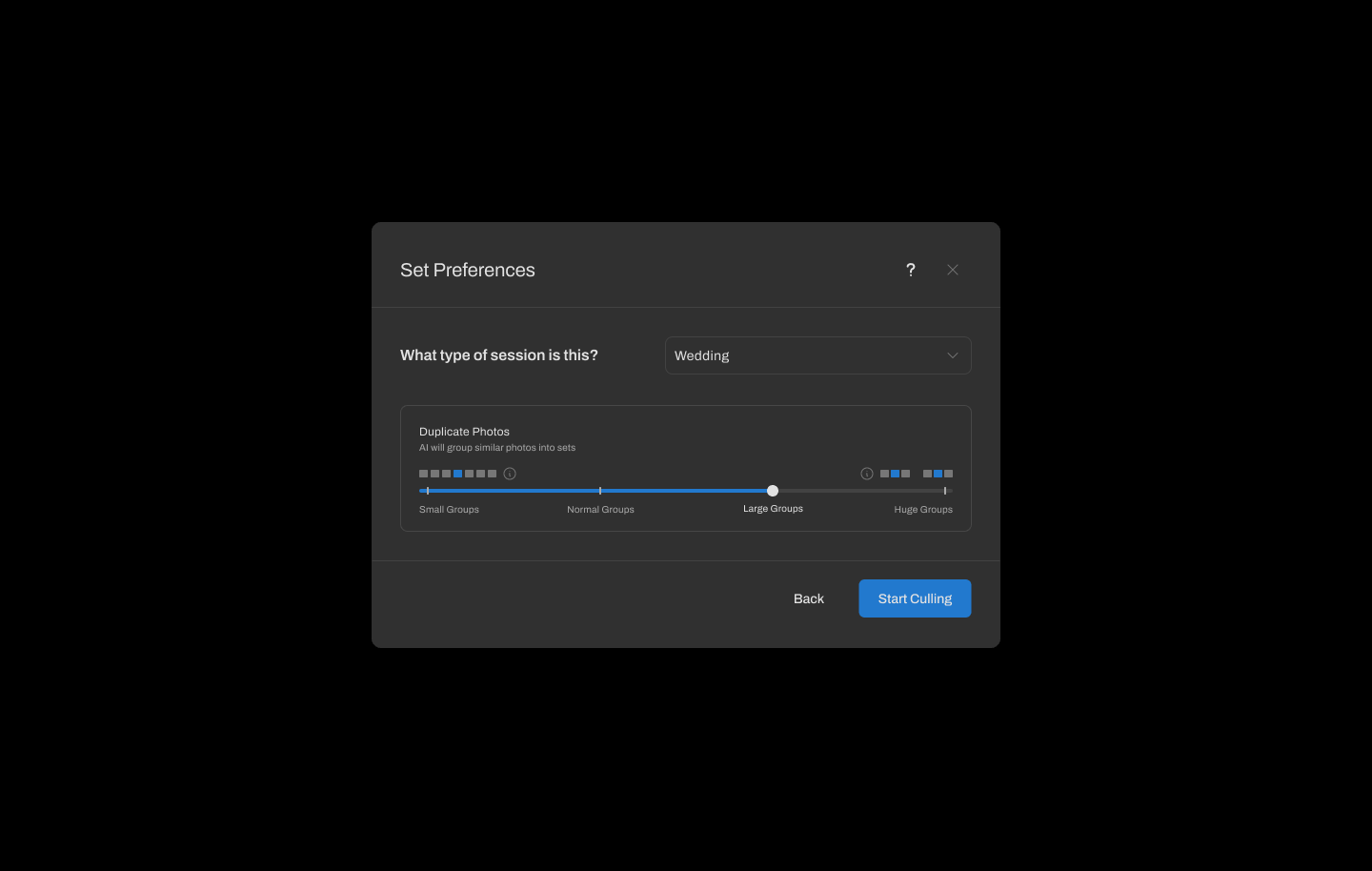 When using this culling type, you'll have access to AI with duplicates and key faces while maintaining control over your selections.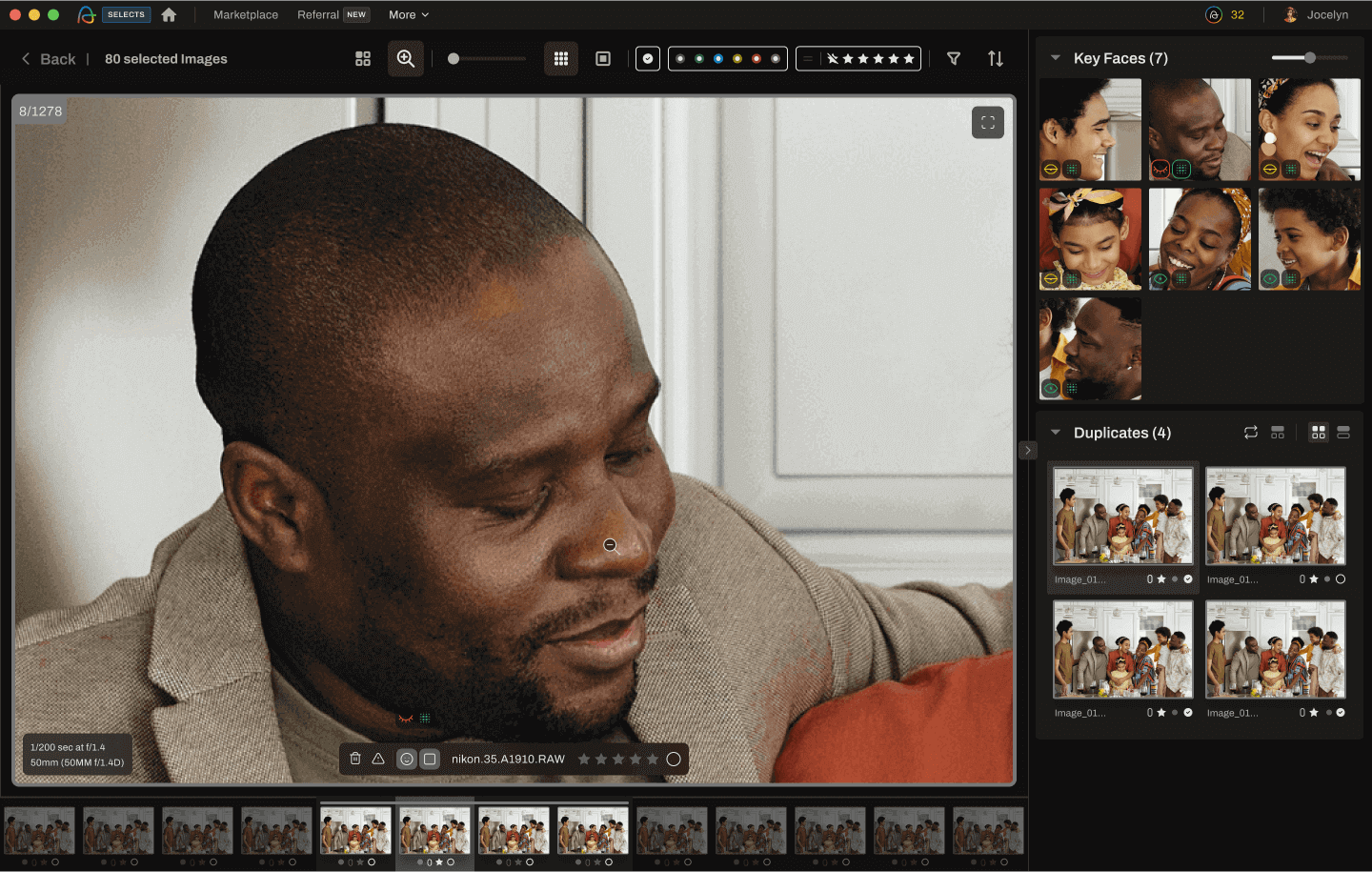 In this mode, Aftershoot will not make any selections of stars or colors, nor will it bucket images into "blur" or "closed eyes".
Instead, it will give you Image Scores that you can use to make judgments on the images you want to keep.
How does Image Scores work? We'll show you.
Introducing Image Scores
Image Scores is a new feature that goes hand in hand with AI-Assisted Culling.
So, what's the purpose of Image Scores?
It's there to help you get AI-assisted feedback on the quality of an image while giving you the autonomy and control to decide what to rate the image.
There are two scores:
Blur Score
Closed Eyes Score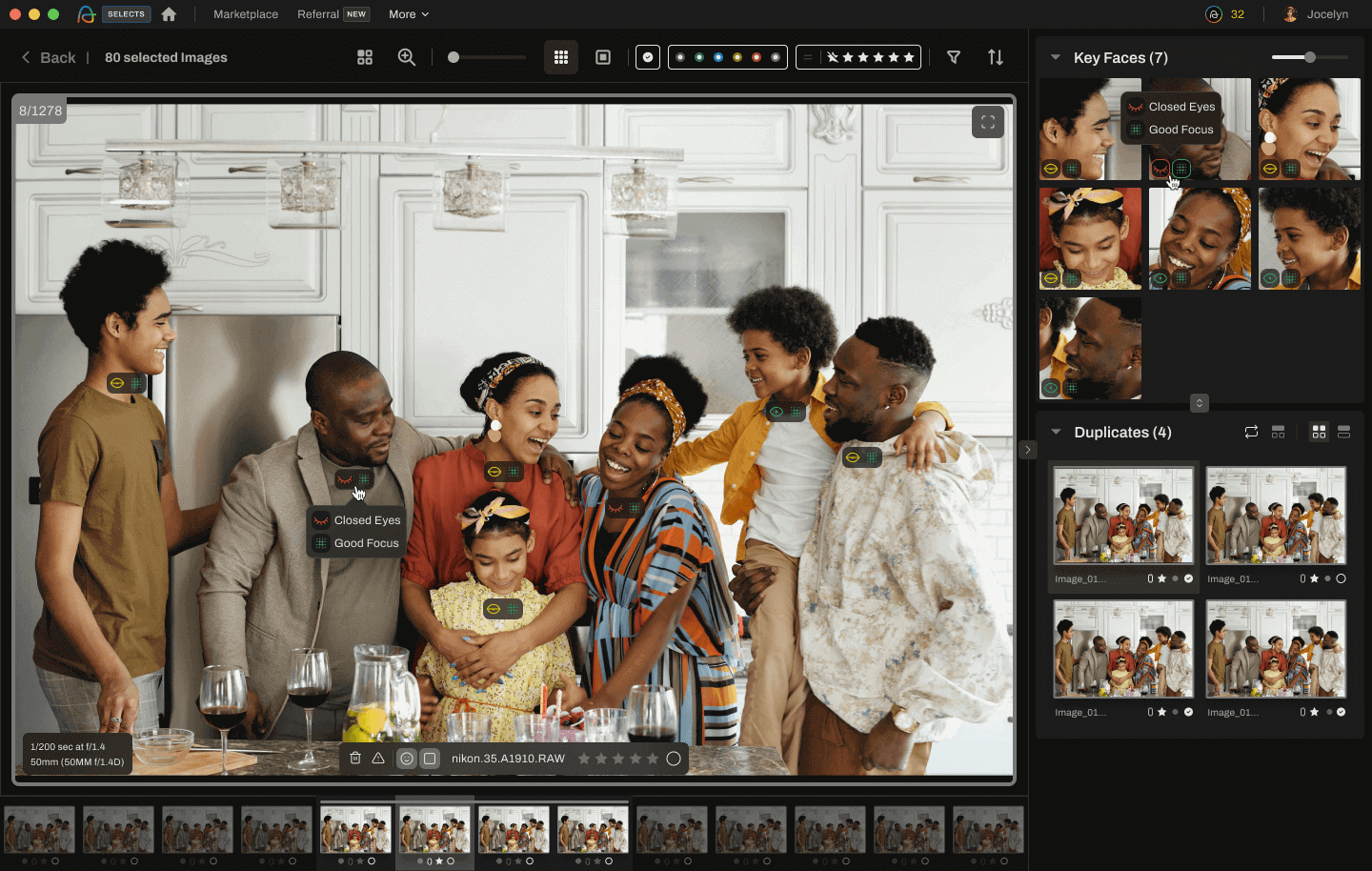 Each of the two scores has three states:
Blur Score
Good ➝ The highest rating, implying the image is sharp
Soft ➝ A medium rating, implying that you may want to review the image
Blur ➝ The lowest score that Aftershoot believes is technically blurry
Closed Eyes Score
Open ➝ Eyes are fully open
Partial ➝ Eyes are only partially open
Closed ➝ Eyes are closed
Image Scores is available to you whether you choose Automated AI Culling or AI-Assisted Culling, however, it will only be turned on by default when using AI-assisted culling.
You'll need to toggle it ON should you wish to use Image Scores with Automated AI Culling in Aftershoot.
You can turn the Image Scores on/off by clicking on the new score icon or by using the keyboard shortcut, Q.
Look out for our revamped Key Faces
We know you already love this feature in Aftershoot SELECTS, which is why we decided to boost your experience with Key Faces, making it even more intuitive and easy to use.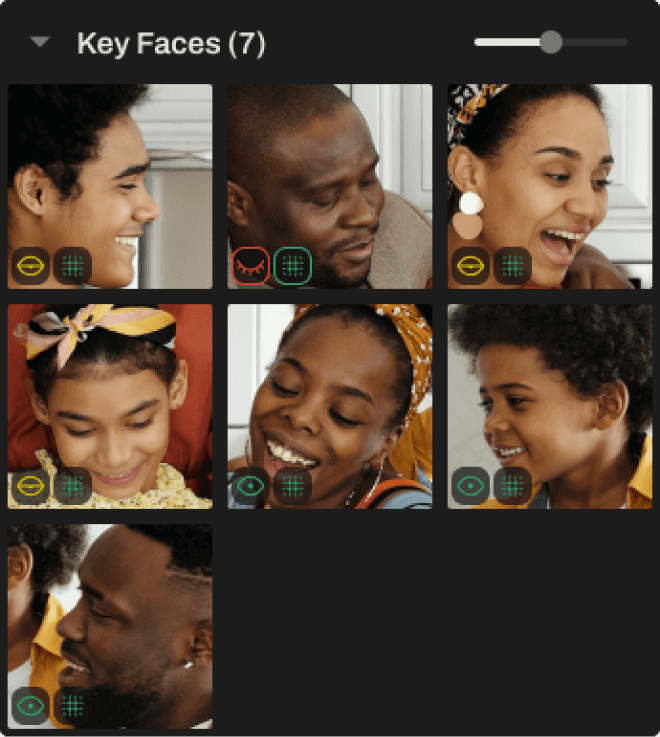 We removed the "detail zoom" feature from our Key Faces and replaced it with an easy-to-use slider that adjusts the size of the key face thumbnails.
We also tweaked our key face algorithm. Now, Aftershoot will sort key faces in order of Sharpest ➝ Most Blur.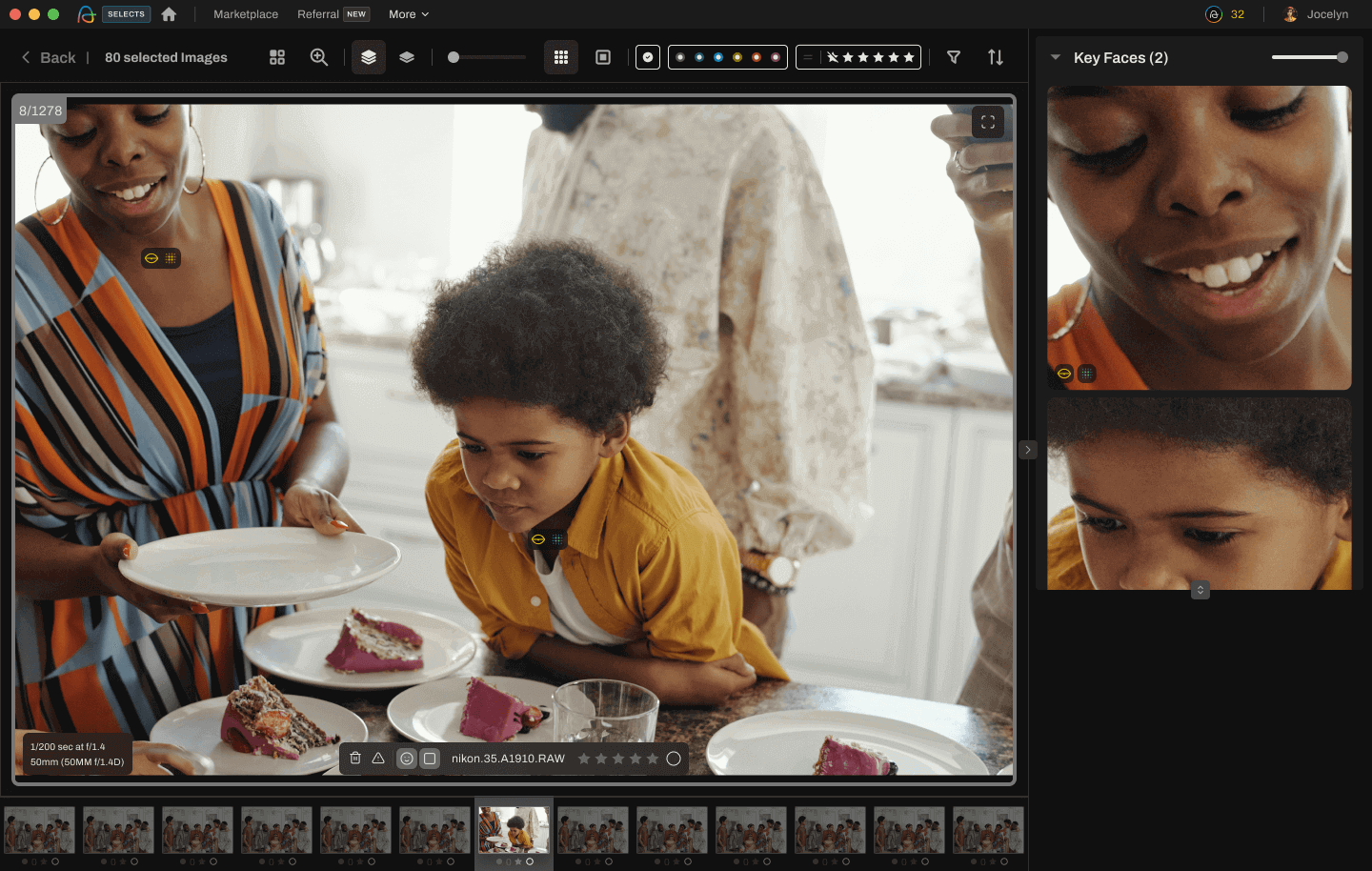 If you're excited to experience these new features and improvements, update your app now!
Aftershoot EDITS updates you'll love
More creative expression with 19 New AI Styles
We're incredibly grateful for all the positive feedback we have received upon releasing 9 pre-built AI profiles AKA AI Styles in our new Marketplace section of the app in August.
And now, we're ready to give you an even more varied selection of AI Styles to set your creativity free.
We can't wait for you to experiment with the 19 new AI Styles we created!
Check out what each new AI Style is all about:
Graicard Bold: Offers elevated contrast while preserving natural authenticity.
Crunchy Cone: Capture real moments with a hint of artistic punch.
Icy Crunch: Authenticity with a cool, artsy fade and textured finish.
Crispy Cream: Polished perfection with pristine whites and authentic, vibrant colors. It gives a depth that breathes life.
Courtroom Caramel: Warm indoor ambiance meets cool highlights, capturing action indoors and out. A sweet dynamic balance.
Berry Blast: Fast-paced, sunlit moments with an analog touch. It echoes the exhilarating highs and lows of outdoor sports.
Fudge Fervor: Bold, dramatic depth with potent colors. Not just a look, but a powerful narrative.
Cinematic Sundae: Classic allure and contemporary vision merge, offering depth, drama, and timeless cinema feels.
Dreamy Drizzle: Kodak Portra-inspired tones with a sweet twist of honeydew shadows. Cherished film aesthetic meets summer essence.
Caramel Fudge: High dynamic range with earth-toned splendor. Its muted greens and blues let authentic skin tones and browns shine.
Charcoal Cream: Monochromatic mastery with profound contrasts, inspired by Agfa Scala. A harmonious dance of light and shadow.
Moodberry Mousse: Immerse in vibrant yet moody colors, capturing emotion through a soft atmosphere. Think berry mousse: bold, yet mellowed by creaminess.
Creamy Ripple: A harmony of gentle colors perfect for intimate moments. The softness of a romantic whisper meets the allure of a layered ice cream treat.
Mocca Mystique: Deep emotion meets enchantment, with browns like fresh coffee and vintage greens. Perfect for moody weddings, it's contemporary yet timeless.
Vanilla Whisper: Embrace subtlety with almost-pastel hues in serene narratives. The soft murmur of artistry for moments craving gentleness.
Vanilla Roar: The bold counterpart of Vanilla Whisper, offering punchier contrasts and more depth. A delicate aesthetic that confidently makes its presence felt.
Vanilla Glow: Experience the Mediterranean's golden hour—sun-kissed warmth with pronounced contrasts. The refined desaturation bathed in a sunset dream.
Sprint Sundae: Vibrancy meets athleticism, amplifying every action-packed moment. Striking yet clean colors reminiscent of a refreshing fruit sorbet post-race.
Honey Crisp: Warm, sun-kissed sibling of Crispy Cream. A blend of precision and cozy sunset warmth, crafting radiant and genuine images.
Bonus: Graicard has been improved! We've tweaked our Swiss army knife AI Style, to turn its performance up a notch.
Explore our new AI Styles and learn more about their creative nuances in the Aftershoot Marketplace.
Note: These AI Styles will be part of the 30-day free trial. Once your trial expires, they are available for download for Edits Basic users (maximum 2), Aftershoot Pro users (maximum 2), and Aftershoot Max users or Founders Plan users (unlimited access).
Should you have an Aftershoot Edits Basic or Pro subscription and you want to use ALL of the AI Styles, you can purchase a Preset Pack for $99/year.
And that's not all…
Creator Profiles are here!
You know how we do things around here… you ask for it, we implement it!
We've had an overwhelming number of requests that you want to use the AI Profiles of your favorite photographers, so we're beyond excited to finally bring you brand-new Creator Profiles.
Our flagship Creator Profiles were made by none other than Justin Benson, our fearless unicorn wrangler (we mean co-founder & CIO), and Esteban Gil, world-renowned wedding photographer & Aftershoot Ambassador.
You can test out our Creator Profiles with a free trial where you can upload 100 images to try before you buy them.
Justin Benson's Collection
Justin has created two Creator Profiles, and they are available for free to Aftershoot Max and Founders subscribers in the Aftershoot Marketplace.
His profiles are available for purchase to Aftershoot Edits Basic and Pro subscribers at $49 each.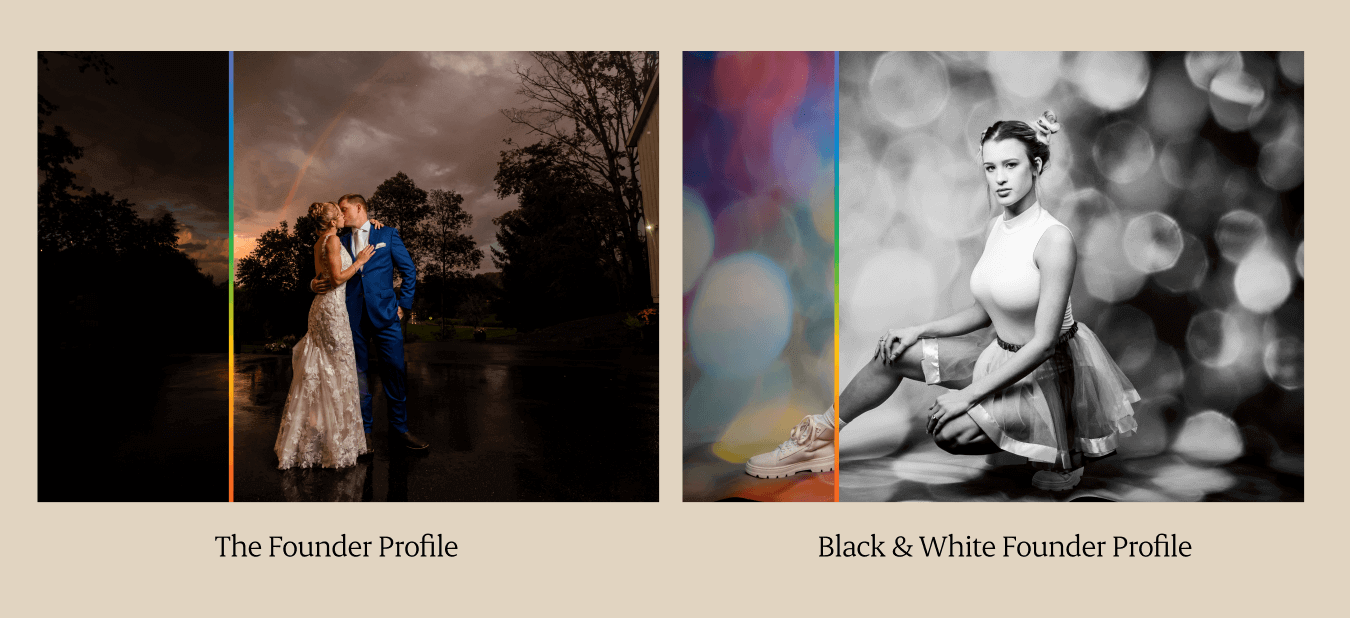 Justin has created a color profile with a true-to-life feel with slightly warmer tones, and a B&W AI Style with high contrast to give texture and clarity to your black-and-white images.
Justin's first profile is aptly named "The Founder Profile" and hails straight from Justin's 2021-2022 season.
With a habit of underexposing to preserve highlight detail, this profile pushes exposure to the max while pumping in plenty of contrast and retaining both highlights and shadows.
It has a kryptonite, though: indoors without flash. This profile will color balance very warm, and the "inspired by" version will suit you better there.
If you are looking for that true-to-life but slightly warmer feel, this profile will not disappoint.
Justin's second profile is called "Black & White Founder Profile." From the early days, Justin would wander the countryside looking for trains and waterfalls to photograph.
This profile was built using those old images filled with contrast, deep tones, crushed shadows, and nearly blown highlights.
This high-contrast profile will give you all the texture, clarity, and contrast to give dynamic images you will love.
Esteban Gil's Creator Profile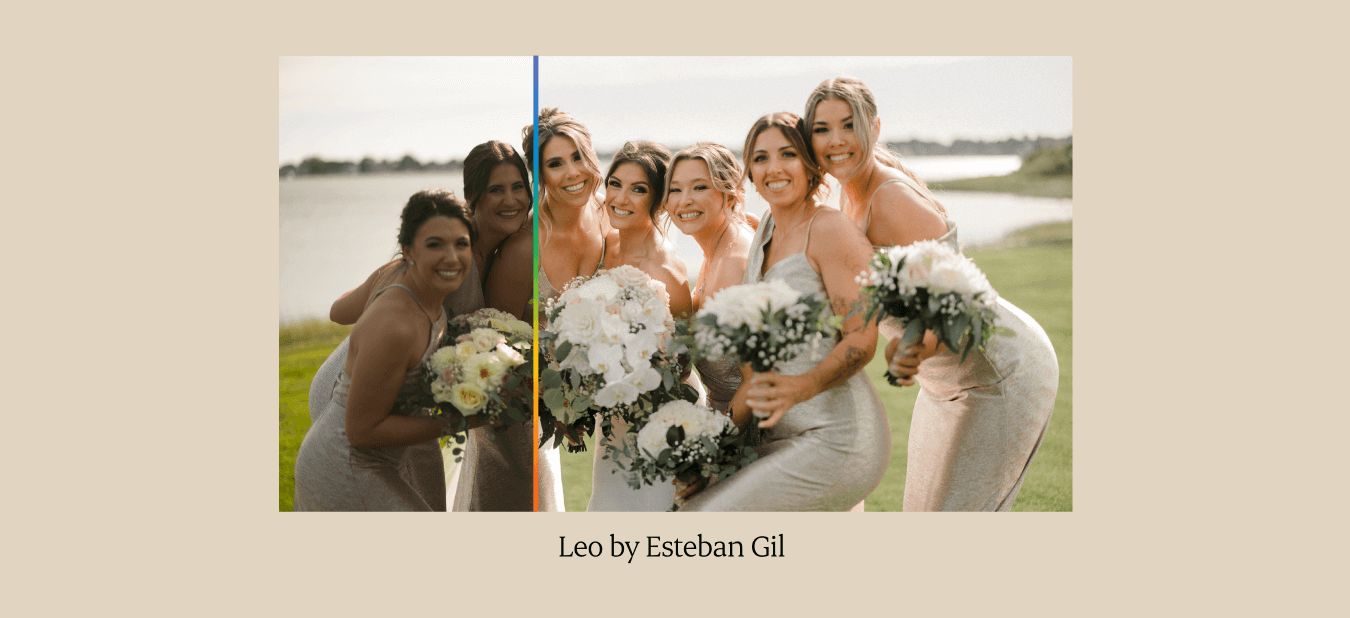 Esteban Gil's profile is called "Leo" and is available for purchase at a once-off cost of $99.
Leo is the essence of Esteban's style. Embracing his love for film, this profile takes tones and inspiration from some of the most iconic films and brings them into the digital realm.
The profile has soft greens, a gentle mood, and skin tones that embrace warm film tones while keeping a cool white balance.
Grain tops the entire look off with that unique style photographers have been chasing ever since the launch of the digital age.
New Marketplace, who dis?
With the addition of our new pre-built AI Profiles and Creator Profiles bringing the total up to 30 AI Styles, we had to shuffle some things around in our Marketplace to ensure you have no trouble discovering your favorite AI Styles.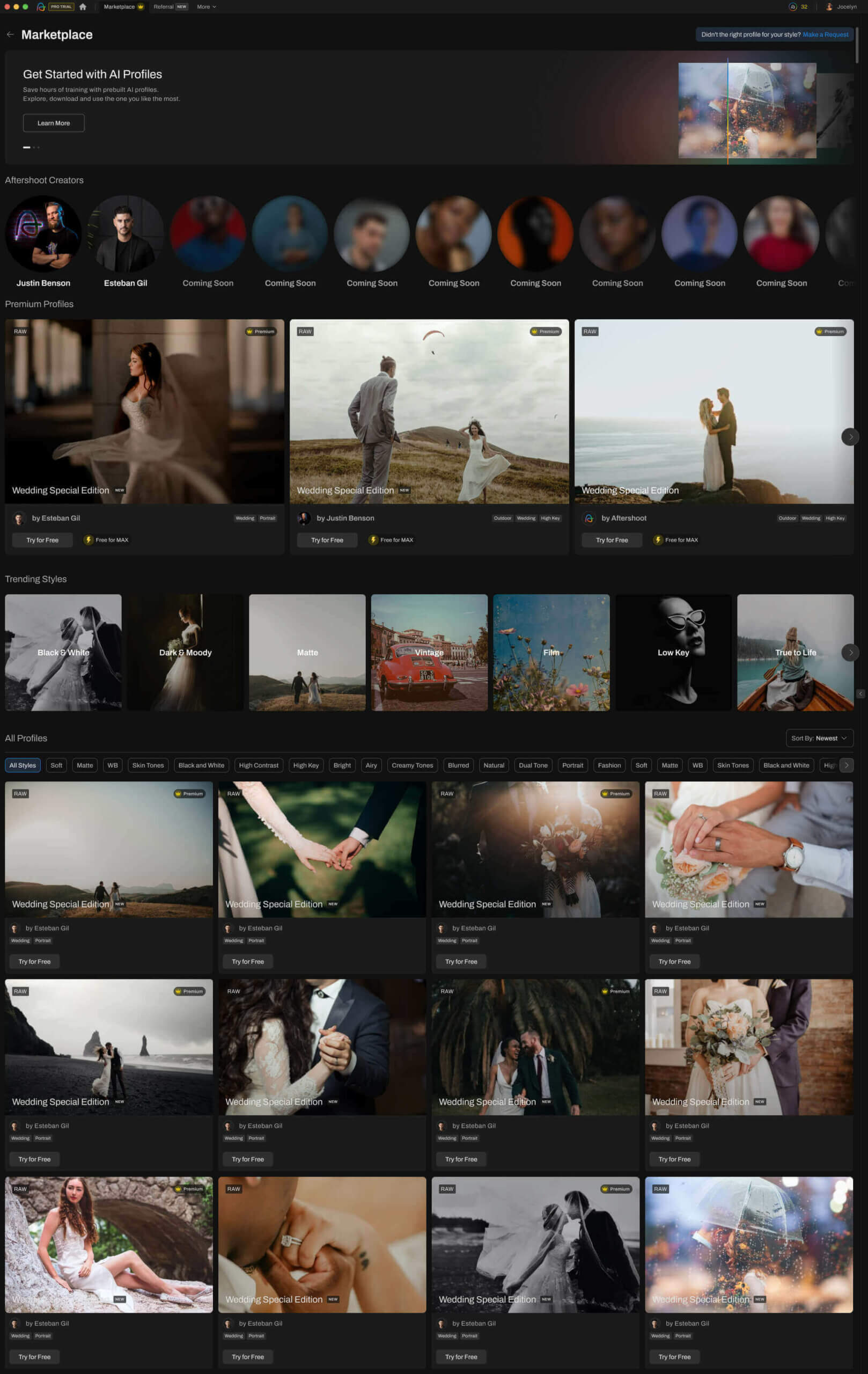 We've made improvements to the user interface with better sorting and filtering functionality.
You can now:
Filter by Tags
Filter by Creator Profiles Vs. Pre-built Profiles by Aftershoot
Sort by Newest, Oldest or Popular
We've added two new Sections:
Discover different Trending Styles, or
Explore Featured Profiles
Color Profile glitches, be gone!
We're constantly improving little gremlins in our software, and this time around we focused on fixing Color Profile issues, specifically related to White Balance.
Due to Adobe's recent silent update to camera color profiles, some camera bodies are still using the older presets and/or color profiles, which caused our AI model's head to spin.
These are the known cameras that exhibited such behavior:
Nikon Z6, Z7
Fujifilm XT-3
Canon EOS R, 5D, 5DS-R, Rebel T7
Thank you for helping us evolve
At Aftershoot, we care deeply about your creative journey and your experience with our software.
These October updates are our way of saying thank you for being a part of our community and for continually inspiring us to innovate and improve.
We can't wait for you to experience these enhancements and take your photography to new heights!
If you have any questions about our new features, don't hesitate to contact our 24/7 Support team who is always happy to assist.
Be sure to update your app to experience all of our latest features and improvements.

---